It was a simple and glorious assignment. Fly to Maui and go to the world famous Kanaha beach for a day and meet as many female windsurfers as possible. It was a perfectly logical thing to do for an issue totally devoted to women. We had to see for ourselves, who these everyday shredding bettys are today. What we found was absolutely astounding! There were at least 50% to 60% women on the beach. So many that the one-day assignment turned into two. For a sport that has always been dominated by males, women were estimated to make up only 10% of the population. What we witness on Kanaha is clearly a new movement in the making. Women are taking up windsurfing! If you're a man on the beach at Kanaha, you definitely feel fortunate! We apologize for not being able to capture all the streaking Bettys on the beach on those two days in June.
Advertisement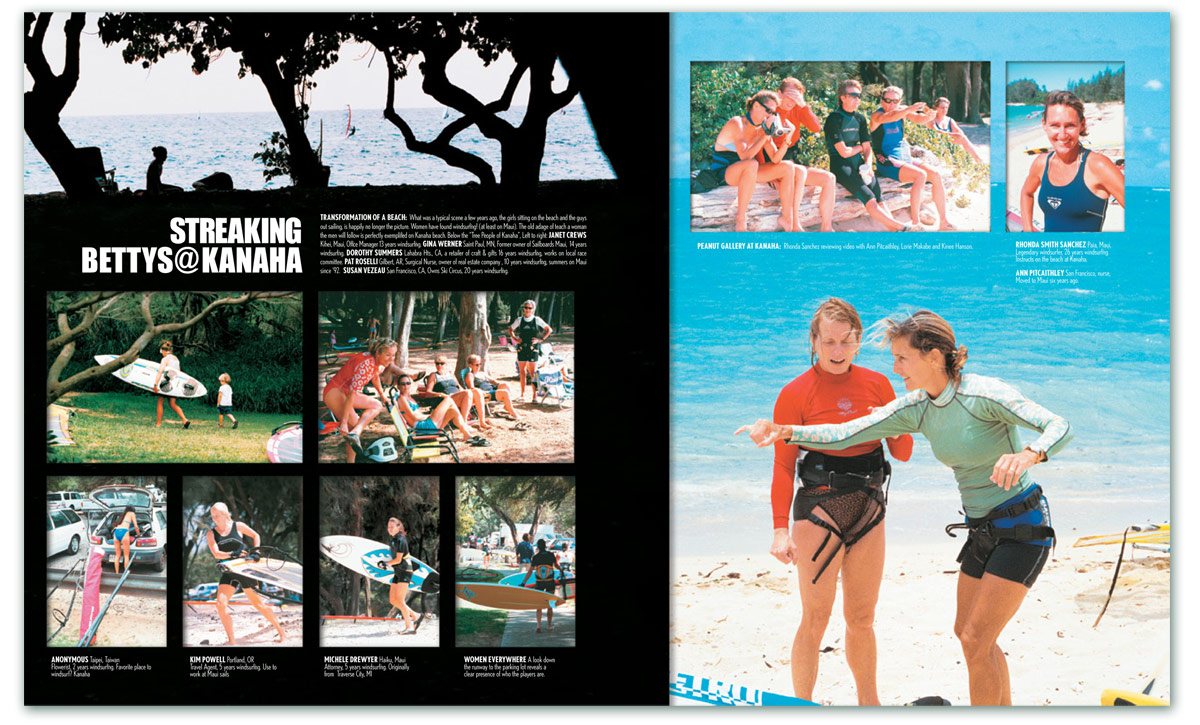 TRANSFORMATION OF A BEACH:  What was a typical scene a few years ago, the girls sitting on the beach and the guys out sailing, is happily no longer the picture. Women have found windsurfing! (at least on Maui). The old adage of teaching a woman the men will follow is perfectly exemplified on Kanaha beach. Below the "Tree People of Kanaha", Left to right: Janet Crews Kihei, Maui, Office Manager 13 years windsurfing. Gina Werner Saint Paul, MN, Former owner of Sailboards Maui,  14 years windsurfing. Dorothy Summers Lahabra Hts., CA, a retailer of craft & gifts 16 years windsurfing, works on local race committee. Pat Roselli Gilbert, AR, Surgical Nurse, owner of real estate company , 10 years windsurfing, summers on Maui since '92.  Susan Vezeau San Francisco, CA, Owns Ski Circus, 20 years windsurfing.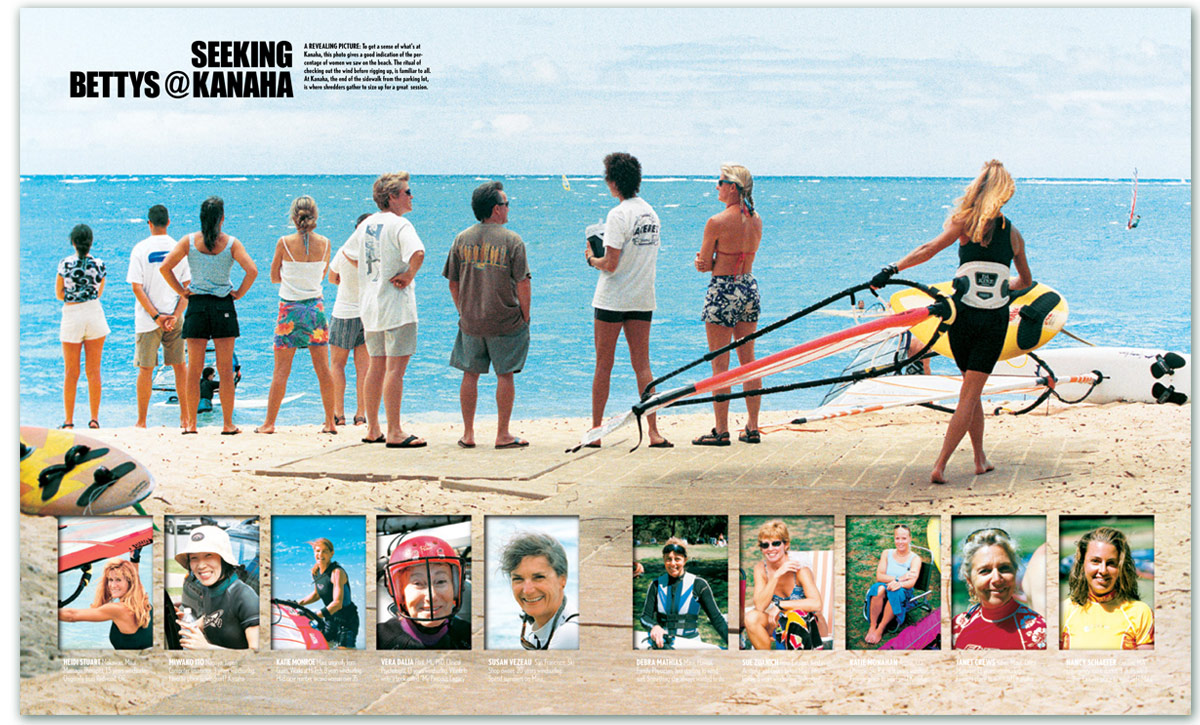 A Revealing picture: To get a sense of what's at Kanaha, this photo gives a good indication of the percentage of women we saw on the beach. The ritual of checking out the wind before rigging up is familiar to all.  At Kanaha, the end of the sidewalk from the parking lot is where shredders gather to size up for a great  session.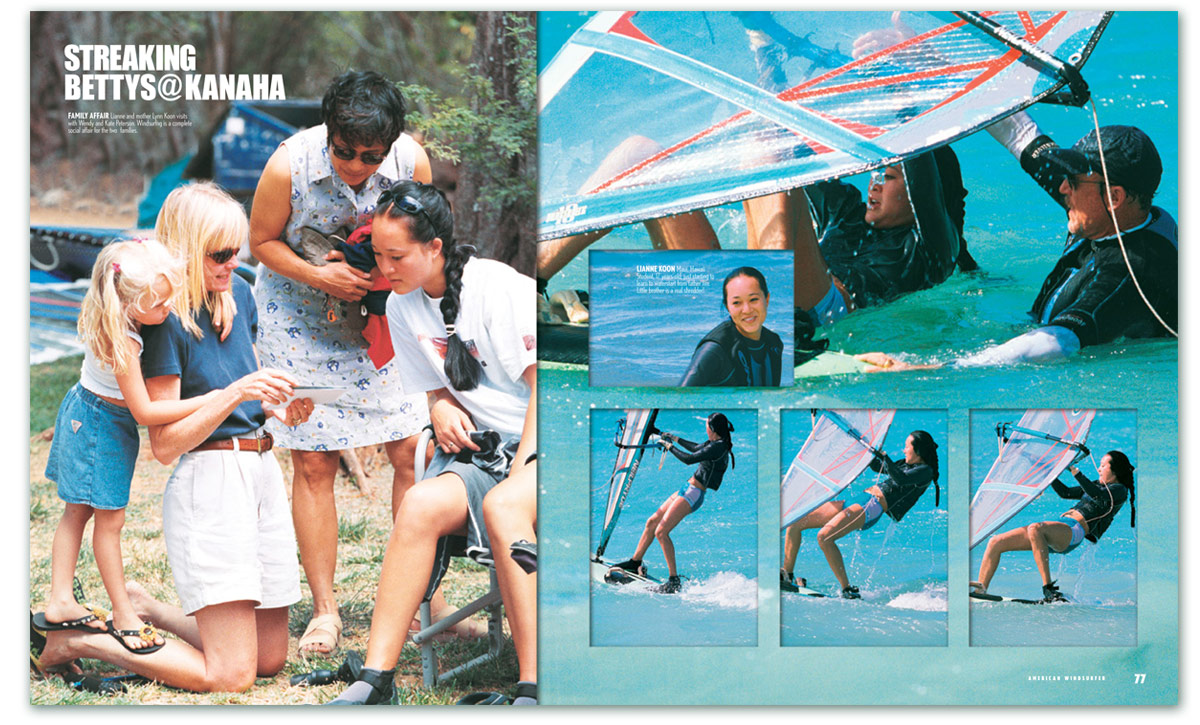 FAMILY AFFAIR Lianne and mother Lynn Koon visits with Wendy and Kate Peterson. Windsurfing is a complete  social affair for the two  families.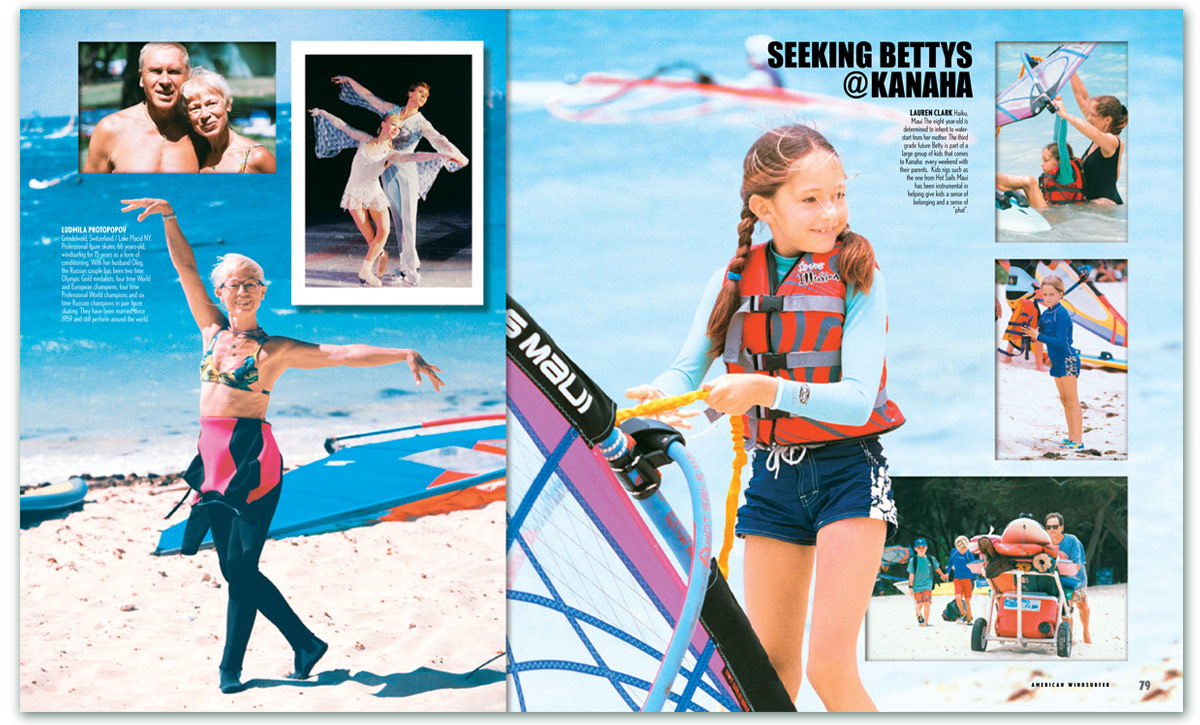 Lauren Clark Haiku, Maui The eight-year-old is determined to inherit to waterstart from her mother. The third-grade future Betty is part of a large group of kids that comes to Kanaha  every weekend with their parents.  Kids rigs such as the one from Hot Sails Maui has been instrumental in helping give kids a sense of belonging and a sense of "phat".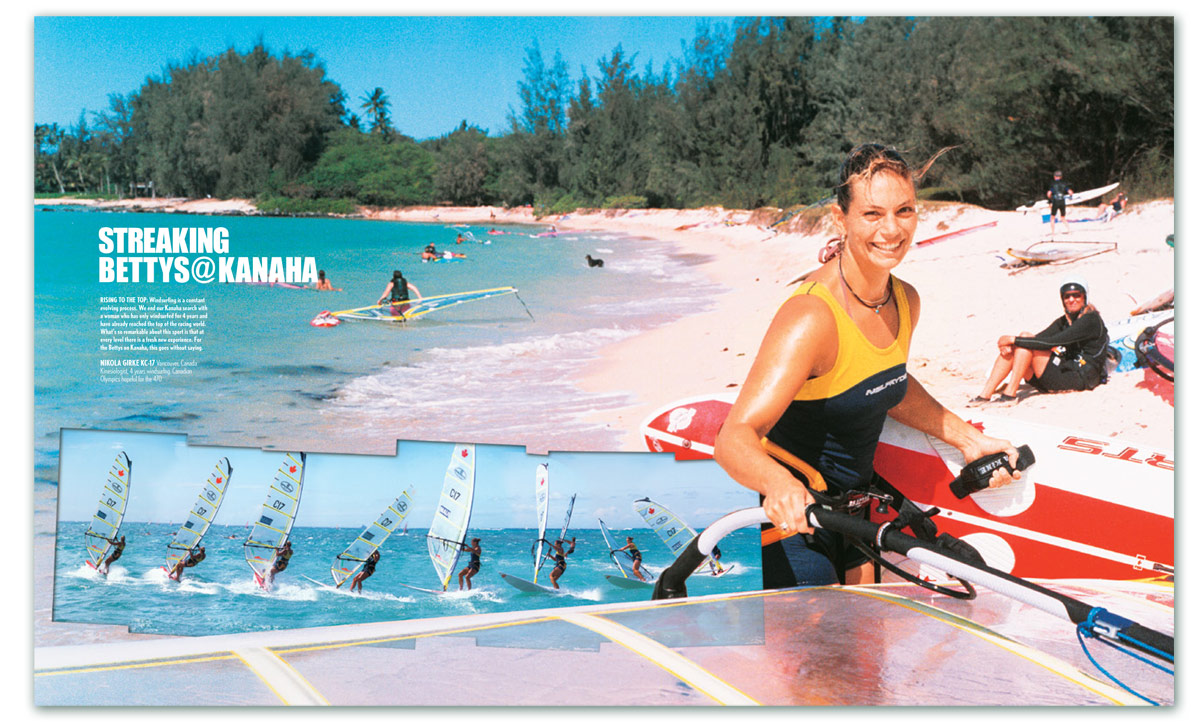 RISING TO THE TOP: Windsurfing is a constantly evolving process. We end our Kanaha search with a woman who has only windsurfed for 4 years and have already reached the top of the racing world. What's so remarkable about this sport is that at every level there is a fresh new experience. For the Bettys on Kanaha, this goes without saying.
NIKOLA GIRKE KC-17 Vancouver, Canada Kinesiologist, 4 years windsurfing. Canadian Olympics hopeful for the 470