WOMEN OF THE PACIFIC NORTHWEST gather together to celebrate the wind on longboards, big sails, 5/4 or 4/3 mm wetsuits, booties, and occasionally hoods. We generally utilize a wide range of sail sizes from 3 – 8 meters. We rarely pack solely our shortboards on a sailing trip unless the Gorge is our destination or if we're sailing locally during the winter.  I am proud to be a representative of this class of women because, as you can gather, windsurfing in the Northwest isn't solely about the warm thermals of the Gorge, but also about more grisly conditions that develop character among the participants.
For the gals around here, it doesn't take long from the first shaky windsurfing session on Green Lake in Washington where they're introduced to the sport to start contemplating the endless possibilities of maneuvers to be accomplished.  These thoughts are what get countless sailors hooked on windsurfing. Many women stick with windsurfing for the benefit that they can do it for life, enjoy the sport and scenery in light wind, and get a thrill from the adrenaline and challenges on heavy air days.  We come back to this sport that takes us from feeling proud to pathetic and back to proud as we are schooled and then accomplish a skill during every session.
The northwest is a great location for mastering everything from longboarding techniques to shortboarding and wavesailing tricks.  Around here we have ample places to sail for suitable sailing conditions from the coast of Washington and Oregon, Puget Sound to Lake Wenatchee in the east, north to Bellingham Bay, and as far south at Pistol River, OR with the Gorge in-between. The Seattle Women's Windsurfing Club (SWWC) teams up their parent club, the Northwest Boardsailing Association (NWBA), to plan three trips a year to locations in Washington that frequently offer good wind for all skill levels in a beautiful setting so sailors can learn a variety of accessible yet obscure windsurfing sites.  We call these trips the Blaze-n-Graze series where the objective is to blaze around all day at Lake Wenatchee, Dungeness Spit, and Rimrock Lake and then graze for nourishment at night.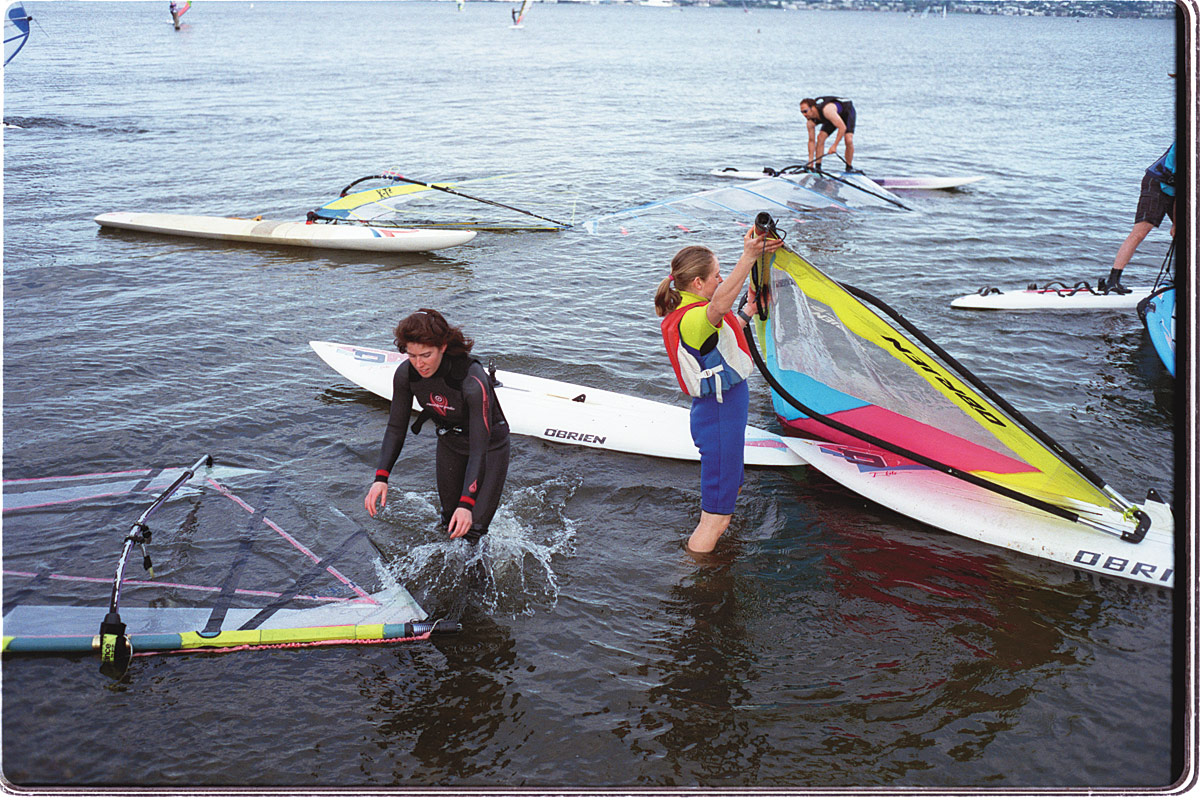 The SWWC offers an annual beginner clinic in May and has joined the Boeing Windsurfing Club (BWC) for their Waterstart Weekend clinic that teaches waterstarting skills as well as methods for getting into the footstraps, hooking in, and jibing on shortboards. To promote technical knowledge about the sport, SWWC has held board repair clinics for individuals who experience their first encounter when the mast collides with the board in overpowering conditions.  The SWWC has also been invited to join the WindWomen of the Gorge for a looping clinic and a cross-training clinic held by pro-wave sailor, Jennifer Henderson.  Most recently the NWBA, SWWC, and BWC welcomed Barry Spanier of Gaastra to Seattle for a clinic about sail equipment. 
Advertisement
The formation of the SWWC in 1997 has had a wonderful response from the windsurfing community.  The SWWC has benefited from NW Windsurfing Ambassador, Pepi Gerald, as he has divulged volumes of information regarding multiple generations of equipment, interpreting weather forecasts, and equipment repair.  Support from Gorge retailers, especially Windwing and Second Wind who have provided us with sails and boards for newbies, and Chinook and DaKine who have donated prizes for our Wednesday night City League series held in conjunction with the NWBA, is greatly appreciated.  Our local shop, Urban Surf in Seattle faithfully provides us with a fleet of equipment for our annual beginner clinic for which we would be floundering without, and several local sailors have donated personal equipment to the club.
To return the favor to our supporters, the SWWC and the NWBA came together to promote windsurfing at the Seattle Center's Extreme Sports Expo in 2000 and in 2001 the SWWC held a promotional booth at REI's Women's Sports Expo.
The women sailors of the northwest continually benefit from this support and we have noticed an influx of women who are trying out the sport for the first time as a result of all this assistance.  There is nothing more encouraging for folks looking at the sport for the first time to stick with it when all they see is enthusiasm, help, and a community of sailors to tell exaggerated sailing stories to at the end of a great day.
Erica Gerald is the president of the SWWC. For more information you can contact her at windlush@aol.com or http:// www.geocities.com/seattlewindwomen