FEEDBACK TESTERS:  (above) The American Windsurfer professional test team at rest in the Test 2000 +1 Feedback Festival at Club Paradise on Maui, (from left to right) Pasqual Bronnimann, Andy Gurtner, Royn Bartholdi, Claudia Grogor and Hedy Gurtner.
The sun shone, the tropical rains stayed away (mostly) and the wind blew—boy did it ever blow. The American Windsurfer 2000+1 Equipment Test held on Maui throughout the month of October was itself like a tropical clearing wind. The test was so thorough, so comprehensive, that it is blowing away the competition and clearing the way for all future tests. It broke new ground in cyberspace, getting the industry's attention like no other test has. But most significantly, for the first time ever, no one has to wait for the results. While the in-depth reporting and coverage of this year's Feedback/Festival will be printed in issue 8.2 due out early in 2001, the preliminary results are available right now at the AW website: https://www.americanwindsurfer.com.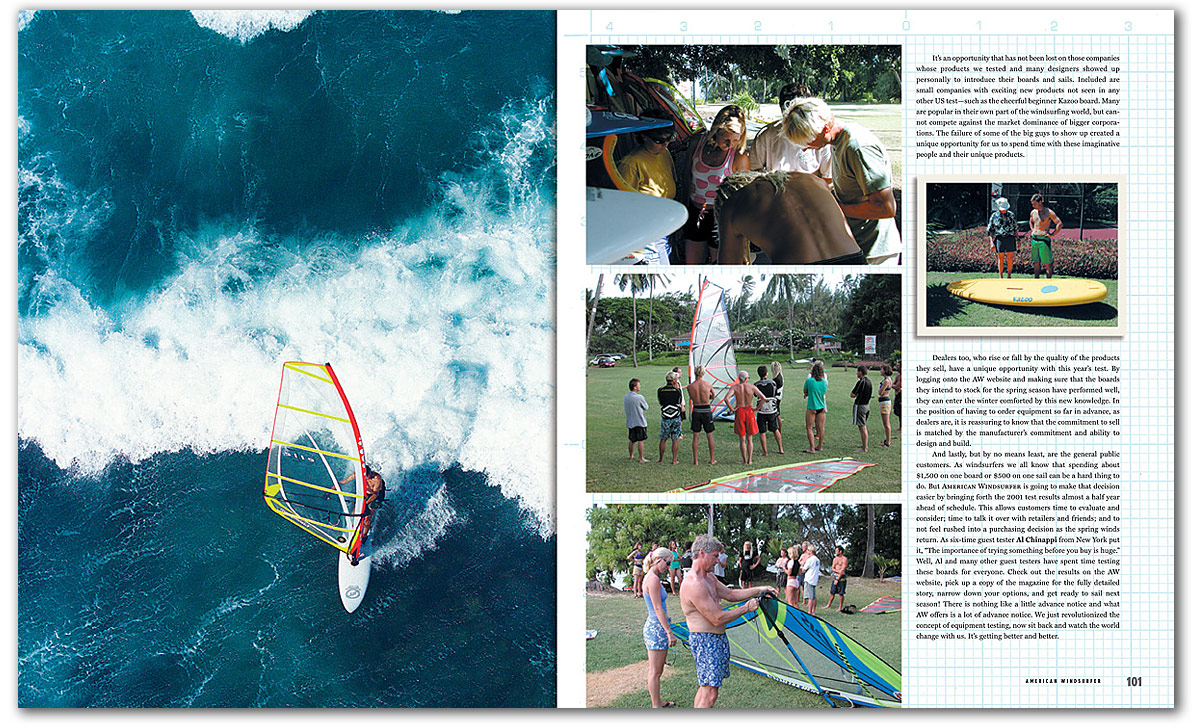 The benefit of this information being available a full five months ahead of any print version (ours or anyone else's) is immeasurable. Manufacturers can actually see how their boards have performed in an independent test which brings together the highly tuned skills and evaluation techniques of pro windsurfers with the many invaluable comments of dozens of recreational sailors of widely varying skill levels and experience.
It's an opportunity that has not been lost on those companies whose products we tested and many designers showed up personally to introduce their boards and sails. Included are small companies with exciting new products not seen in any other US test—such as the cheerful beginner Kazoo board. Many are popular in their own part of the windsurfing world, but cannot compete against the market dominance of bigger corporations. The failure of some of the big guys to show up created a unique opportunity for us to spend time with these imaginative people and their unique products.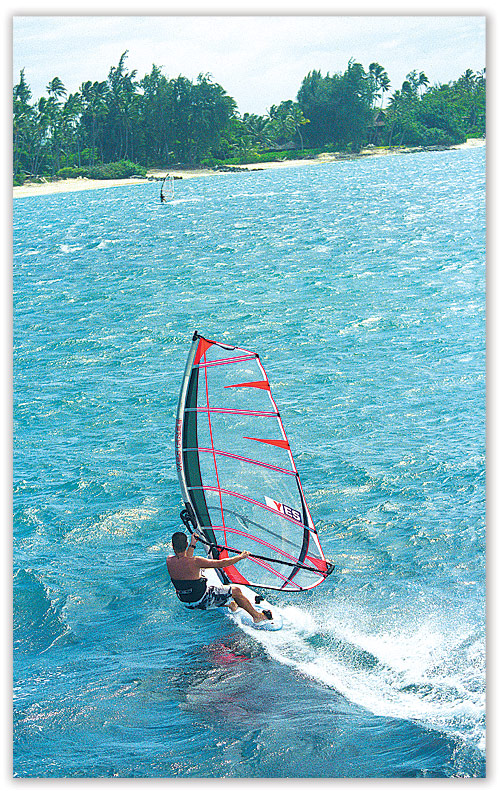 Dealers too, who rise or fall by the quality of the products they sell, have a unique opportunity with this year's test. By logging onto the AW website and making sure that the boards they intend to stock for the spring season have performed well, they can enter the winter comforted by this new knowledge. In the position of having to order equipment so far in advance, as dealers are, it is reassuring to know that the commitment to sell is matched by the manufacturer's commitment and ability to design and build.
And lastly, but by no means least, are the general public customers. As windsurfers, we all know that spending about $1,500 on one board or $500 on one sail can be a hard thing to do. But American Windsurfer is going to make that decision easier by bringing forth the 2001 test results almost a half year ahead of schedule. This allows customers time to evaluate and consider; time to talk it over with retailers and friends; and to not feel rushed into a purchasing decision as the spring winds return. As a six-time guest tester, Al Chinappi from New York put it, "The importance of trying something before you buy is huge." Well, Al and many other guest testers have spent time testing these boards for everyone. Check out the results on the AW website, pick up a copy of the magazine for the fully detailed story, narrow down your options, and get ready to sail next season! There is nothing like a little advance notice and what AW offers is a lot of advance notice. We just revolutionized the concept of equipment testing, now sit back and watch the world change with us. It's getting better and better.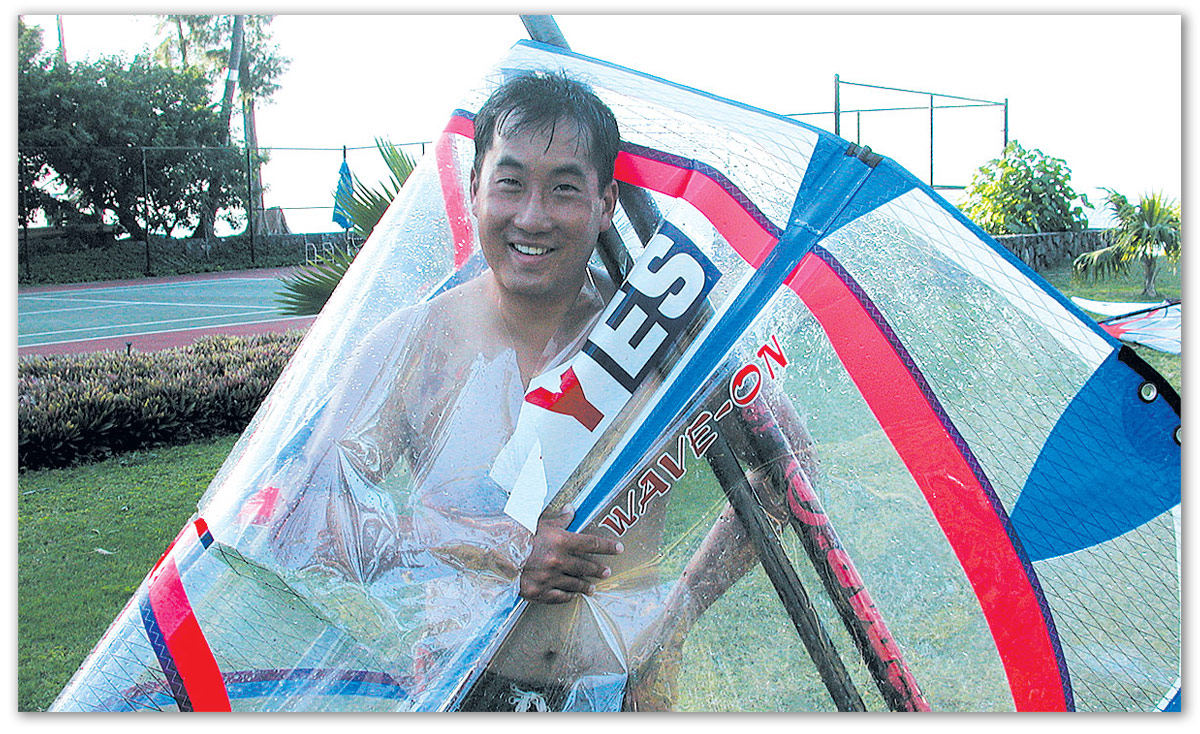 THE FEEDBACK
This year's assignment was to get together as many of the latest and best 2001 windsurfing boards and sails as possible and rigorously evaluate each piece for performance based on a predetermined list of criteria. This may sound familiar-even this magazine has performed such tests before. But this time, we took the regular notion of equipment testing and stood it on its head. Instead of only having professional windsurfers test equipment like the European magazines, we decided to have both pros and amateur guests. Instead of gathering just a few special people as Guest Testers, we opened the doors, and our board rack, to many intermediate, advanced, and expert sailors to test and evaluate the equipment. Instead of making everyone wait for the results, AW decided to deliver them online as the test was in progress. Instead of doing the same old thing we did a new thing and we paid the price-this was not a low-cost venture. However, a higher price was paid by those few companies choosing not to participate and denying potential customers the opportunity to examine their products. The US distributors for some of the best-selling brands chose not to attend this year's test. We understand they were acting independently of their international parent companies that eventually put pressure on them to take part in what was clearly an important and revolutionary equipment test. One company contacted us midway through the test wanting to be included. Even though we agreed to the late entry they let the window of opportunity pass for a second time and eventually were declared too late as the test was nearing its conclusion. Let's hope they get in at the start next year.
Early in the test, we realized we had created something unique. Its importance was beginning to be felt throughout the industry, and not only because the big boys then wanted in. Several important manufacturers of windsurfing equipment visited the test site frequently. One board designer considered withdrawing his boards as he had received no assurances about the outcome of the test. He was used to having the option of pulling out of the test if his products seemed to be not performing well. This has, apparently, been standard practice in previous tests, and we understand it is still the case with other US magazine tests. To his credit, this board shaper had enough confidence in his product to keep it in the test, despite being given no advance indication of the results.
Advertising is another issue. It's important to note that no prearranged advertising deals relating to the test were made between manufacturers and this magazine. I spoke with a senior representative from a small but very popular sail loft in the Gorge, who just happened to be on Maui at the same time as the AW test, and what he told me was astounding. His company does not participate in magazine tests because two years ago a magazine (not AW) hinted very strongly that his product would get better results if his company advertised with their publication. Disgusted, he withdrew his sails and refused to take part in the charade. He is still very leery but appeared eager to be included next year when he realized how thorough, unbiased, and genuine the AW test was.
THE FESTIVAL
The test center on Maui's north shore proved to be a magnet for many celebrity visitors. Pro windsurfers Josh and Jason Stone, Brian Talma, Francisco Goya, Kevin Pritchard, Keith Teboul, Phil McGain, Robert Teriitehau, and Rush Randall all came by frequently, as did newcomer Nat Gill. Nevin Sayre was present through much of the testing period and board shapers Svein Rasmussen, Tom Luedecke, Roberto Ricci, Bill Foot, and sail maker Bill Hansen was also there. Even the father of our sport, Jim Drake, spent time with us. The manufacturing industry, too, was in attendance with Vorpant Chotikapanich, owner of Thailand's Cobra board building factory, and Michael Lam who owns manufacturing facilities in China.
The festival attracted several people from outside the windsurfing industry with Senator John Kerry of Massachusetts and Chris Larsen, the CEO of E-Loan in San Francisco, flying in to spend a weekend with us. Also, in attendance was US property mogul Sam Grossman and his wife Peggy, who took windsurfing lessons with instructor Rafael Bach from Brazil, who teaches on Lake Garda, Italy and will be heading up the AW 2001 US Clinic Tour. Musician Thomas Dolby Roberston, an avid windsurfer whose hit songs "She Blinded Me With Science" and "Hyperactive" entertained us in the 1980s, attended this year's test and evaluated much of the equipment. His Internet company, Beatnik.com, is providing musical accompaniment to the AW website, which has received over three million hits in the past seven months alone.
This year we had the benefit of having many female windsurfers with us. They came from as far away as Spain and as close as the house next door, and unexpectedly even from another magazine test site. Their unique perspective on the sport was extremely valuable to the AW test. Claudia Groger from Tarifa, Spain was on the Pro Test team; Nori Hubbs, an expert level sailor, was literally staying in the house next door; Anne Delamate was actually attending another magazine test with her boyfriend and migrated to our equipment test as they had no suitable equipment for her. This year there are several product lines being created specifically for women sailors and our female testers helped us sort through them. Look out for an all women's issue of AW coming next year. (American Windsurfer supports women in windsurfing and openly invites women to sign up for next year's test 2002.)
For an exclusive look backstage at the AW test check out the varied stories and the many photographs available at <https://www.americanwindsurfer.com. For interviews with sail designers and board shapers see the Profiles section, and for a closer look at the festival action see Lifestyles and Behind the Scenes. The AW website offers a lot of flavor accompanying the detailed information contained in the Feedback section. That's where you'll find never-before-seen photos of the 2001 boards and sails together with test results on every piece from radical wave boards to the friendly family fun of the new Kazoo board. But remember, while the online results are complete, further expanded details will appear in issue 8.2 of the magazine early in 2001, including many more action pictures and new stories from the test.
TWO TESTS FOR THE PRICE OF ONE
Okay, so the month wasn't all work, but test validity certainly came ahead of leisure pursuits. It would have been easier and cheaper to perform a strictly regimented test involving only pro testers and limited equipment as the European magazines presently do. But while the merits of that can be justified in their bottom line (several magazines share the test data, thus keeping down the costs), it wouldn't be a real life test—and it would be no fun. AW has spent seven years providing readers with something a little different, often thought-provoking and unusual, and never dull. The dilemma this year at the Test 2000+1 was how to create a seriously professional test and still make it fun; how to get the results that the industry and individual windsurfers need (and have not been receiving in recent years), yet keep it entertaining. The answer was to create two tests with two distinct purposes.
Heading up the Pro testing team was Andy Gurtner, a one-time professional freestyle skier and snowboarder, and now a pro windsurfer. He brings fifteen years of technical windsurfing knowledge to this year's test and he knows exactly how to evaluate gear, having spent many years helping to design such products and having worked on similar equipment tests in Europe (he has worked with Robby Seeger and "The Team" in Germany). Andy is from Switzerland and brought his country's reputation for precision with him to the AW test. He left no stone unturned (no pun intended, Josh and Jason) in his goal to thoroughly evaluate the equipment and his team of men and women pro sailors was kept working into the night compiling their results.
Paralleling the pro test was the all-important guest test. There are simply too many participants to list them all here (check the website for photos and profiles of each one), but they came from varied backgrounds with differing sailing skills. They gave opinions and rated the boards and sails based on their knowledge and abilities. While such participation by non-professionals may not be the norm in other parts of the windsurfing world, we feel that encouraging recreational sailors to take part in such tests only enhances the sport. It lets the industry know what the recreational sailors really think of their products and it gives the pros a check with reality when it comes to high-performance equipment. Some gear is so radical that the pros can get it to work well where recreational sailors may not yet have the skills to enjoy it.
Go ahead and soak up some Maui atmosphere with these early photos from the 2000+1 Feedback Festival and check online for even more photos and details about the test. Subscribers, simply log-on to the Results pages, choose that next board and sail quiver, and begin dreaming about your next windsurfing adventure . . . Mahalo.
---
Martin Trees and his wife Kristen Olson are sponsored by Chinook, DaKine, NoLimitz, and Okespor.