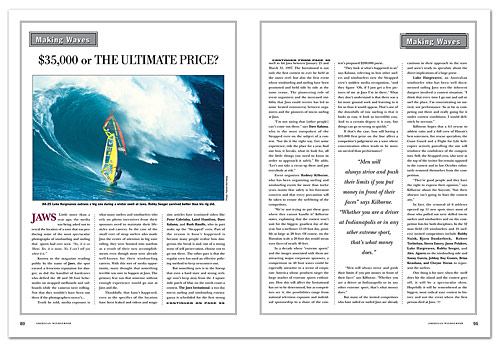 "Men will always strive and push their limits if you put money in front of their faces" says Kilborne. "Whether you are a driver at Indianapolis or in any other extreme sport, that's what money does."
LITTLE MORE THAN A YEAR AGO, the media was being asked not to reveal the location of a wave that was producing some of the most spectacular photographs of windsurfing and surfing that  sports had ever seen. "Yes, it is on Maui. Yes, it is mean. No, I can't tell you where it is."
KA-25 Luke Hargreaves outruns a big one during a winter swell at Jaws. Robby Seeger survived better than his rig did.
Known to the magazine reading public by the name of Jaws, the spot earned a ferocious reputation for danger, as did the handful of hardcores who defied the 40 and 50 foot behemoths on strapped surfboards and sailboards while the cameras were rolling. Not that they wouldn't have been out there if the photographers weren't…
Truth be told, media exposure is what many surfers and windsurfers who rely on photo incentives from their sponsors need to maintain their lifestyles and careers. In the case of the small core of strap surfers who made Jaws the center of attention in big wave riding, they were boosted into stardom as a result of their new accomplishments even though most were already well-known for their windsurfing careers. With this sort of media opportunity, many thought that something terrible was sure to happen at Jaws. The primary fear was that someone without enough experience would go out at Jaws and die.
Advertisement
Thankfully, that hasn't happened, even as the specifics of the location have been leaked and videos and magazine articles have iconisized riders like Peter Cabrinha, Laird Hamilton, Dave Kalama, and Rush Randle, who in part make up the "Strapped" crew. Part of the reason it hasn't happened is because many people realize how dangerous the break is and, out of a strong sense of self preservation, choose not to go out there. The other part is that the regular crew has used an effective policing method to keep newcomers out.
But something new is in the lineup that even a hard stare and strong verbage won't keep away from the 4 square mile patch of blue on the north coast–a contest. The Jaws Invitational, a two day tow-in surfing and windsurfing extravaganza is scheduled for the first strong swell to hit Jaws between January 25 and March 31, 1997. The Invitational is not only the first contest to ever be held at the outer reef, but also the first event where windsurfing and surfing have been promoted and held side by side at the same venue. The pioneering role of event organizers and the increased visibility that Jaws could receive has led to some heated controversy between organizers and the pioneers of tow-in surfing at Jaws.
"I'm not saying that [other people] can't come out there," says Dave Kalama, who is the most outspoken of the Strapped crew on the subject of a contest, "but do it the right way. Get some experience, ride the place for a year, find out how it breaks, what to look for, all the little things you need to know in order to approach it safely." He adds, "Let's not take a circus up there and put everybody at risk."
Event organizer Rodney Kilborne, who has been organizing surfing and windsurfing events for more than twelve years insists that safety is his foremost concern and that every precaution will be taken to ensure the well-being of the competitors.
"We're not trying to put these guys where they cannot handle it" Kilborne states, explaining that the contest won't wait for the biggest, gnarliest day of the year, but a mellower 15-18 foot day, possibly as large as 20 feet. Of course, on the Hawaiian scale a 20 foot day would mean wave faces of nearly 40 feet.
In a decade where "extreme sports" and the images associated with them are attracting major corporate sponsors, a competition in 40 foot waves could be especially attractive to a sector of corporate America whose products target the large market of extreme sports enthusiasts. How this will affect the Invitational has yet to be determined, but as competitors see it, the possibilities range from national television exposure and individual sponsorship to a share of the contest's proposed $200,000 purse.
"Men will always strive and push their limits if you put money in front of their faces" says Kilborne. "Whether you are a driver at Indianapolis or in any other extreme sport, that's what money does."
"They look at what's happened to us" says Kalama, referring to how other surfers and windsurfers view the Strapped crew's sudden media recognition, "and they figure 'Oh, if I just get a few pictures of me at Jaws I'm in there.' What they don't understand is that there was a lot more ground work and learning to it for us than it would appear. That's one of the downfalls of tow surfing is that it looks so easy, it look so incredibly easy. And to a certain degree it is easy, but things can go so wrong so quickly."
If that's the case, how will having a $35,000 first prize on the line affect a competitor's judgement on a wave where concentration often tends to be more  on survival than performance?
"Men will always strive and push their limits if you put money in front of their faces" says Kilborne. "Whether you are a driver at Indianapolis or in any other extreme sport, that's what money does." 
But many of the invited competitors who have sailed or surfed Jaws are already cautious in their approach to the wave and aren't ready to speculate about the direct implications of a large purse.
Luke Hargreaves, an Australian windsurfer who has been well documented sailing Jaws sees the inherent dangers involved a contest situation. "I think that every time I go out and sail or surf the place, I'm concentrating on survival, not performance. So as far as competing out there and really going for it under contest conditions, I would definitely be nervous."
Advertisement
Kilborne hopes that a 4:1 rescue to athlete ratio and a full crew of Hawaii's best watermen, fire rescue specialists, the Coast Guard and a Flight for Life helicopter actively patrolling the site will reinforce the confidence of the competitors. Still, the Strapped crew, who were at the top of the invitee list remain opposed to the contest and in late October voluntarily removed themselves from the competition.
"They're good people and they have the right to express their opinion," says Kilborne about the boycott, "but their absence isn't going to hurt the contest any."
In fact, the removal of 6 athletes opened up 11 new spots since most of those who pulled out were skilled tow-in surfers and windsurfers and on the competitor lists for both disciplines. In the 32 man field (16 windsurfers and 16 surfers) invited competitors include Robby Naish, Bjorn Dunkerbeck,  Robert Teriitehau, Sierra Emory, Jason Polakow, Luke Hargreaves, Robby Seeger, and Alex  Aguera on the windsurfing side and Sunny Garcia, Johhny Boy Gomes, Brian Keaulana, and Cheyne Horan to represent the surfers.
One thing is for sure: when the  swell does hit the island and the contest goes off, it will be a spectacular show. Hopefully it will be remembered as the biggest, most radical wave contest in history and not the event where the first person died at Jaws.