The final seconds of Air France Concorde Flight 4590 captured by a Spanish truck driver. Pilot Christian Marty is hailed as a hero for steering the blazing aircraft away from a densely populated center of town. The crash killed all 110 people aboard the supersonic jetliner on its way across the Atlantic. In 1982, Marty became the first person to windsurf across the Atlantic. He set sail from Senegal and arrived near Cayenne, French Guiana, on January 18, 1982.  3,860 kilometres in 37 days, 16 hours and 14 minutes and it is reported that he never left his board.  With his wife at the finish line, (above) Christian Marty toast the achievement of his trans-atlantic feat. He is said to have died with selfless heroism on July 25, 2000.
"Bien sur, je ne suis pas Robby Naish."
BY HIS OWN DESCRIPTION, he was not Robby Naish. But the gentle, somewhat disparaging humor he used to characterize his first attempts to balance on a sailboard would make you think that he was just another one of us. Can't most of us say, as he did, "My windsurfing debut was hardly brilliant?"
Few of us had heard of him, perhaps because he came from France, or perhaps because windsurfing had barely caught on, at least in the States, in 1982. Or maybe it has something to do with our media's general lack of interest in sailing events. Whatever, we should have known his name and honored his courage.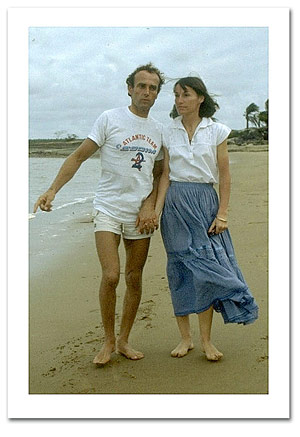 Modest beginnings notwithstanding, the man who "was not Robby Naish" went on to become more than any of us ever dare to dream—a pioneer, a conqueror, a philosopher-poet, and the first member of what may be the world's most exclusive fraternity of explorers. Christian Marty was the first person to windsurf, alone, across the Atlantic Ocean
Although he prepared meticulously for the physical, logistical, and technical challenges he would face, Marty understood that windsurfing across the ocean had more to do with challenging himself than taking on outside forces. "I love to do battle with myself. Spending a month on the ocean is a form of retreat that holds appeal for the contemplative side of me," he said after he made it from Dakar, Senegal to French Guiana in thirty-seven days. He added that "freedom, to me, means choosing my contests and my destiny."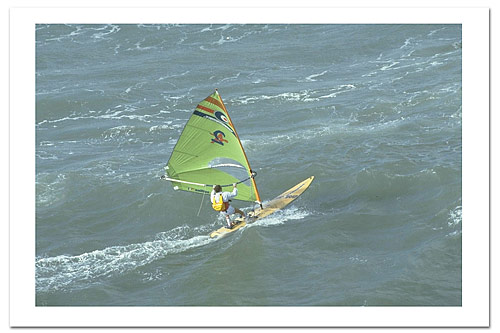 Marty's journey through his destiny nearly cost him his life at least once during the crossing. Although he was followed by a supply boat which provided him with food and contained extra gear and ship-to-shore communications equipment, he slept alone, on his windsurfer, at night, refusing suggestions to come aboard for safety. One night, he fell into the water. "Nobody on the support boat heard, or saw him, fall in," says Raphaela LeGouvello, the forty year old French veterinarian from Brittany who, in April, became the first woman to windsurf across the Atlantic, alone. "Anyone who windsurfs in the middle of the ocean has had the terrifying experience of realizing how quickly you can disappear into the sea if you fall off your board." And as anyone who has had to self-rescue in a strong current understands, it is not always easy to stay calm when your board is being carried away from you. "In Christian's case, his board was drifting away in the darkness. Fortunately, the flashlight he had onboard continued to work, so he could see where it was. His life was in danger and he must have had to fight to keep his own fear controlled while gathering the stamina and strength to swim back to his board."
Advertisement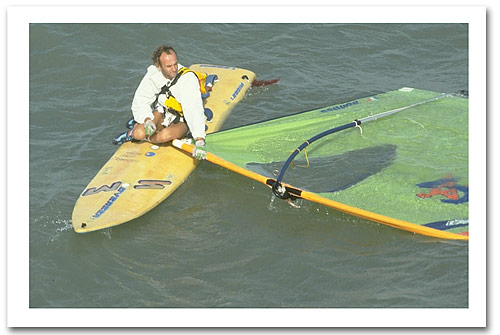 Even then, he refused to tether his windsurfer to the support boat while he slept. "I didn't want to gain a single mile unless my wrists and arms felt it," Marty told a reporter after his historic crossing.
Not content to relax, even after setting a world record, Marty went back to work as a pilot for Air France. Although I did not know it, he flew low over the skylight in my TV room almost every day as he brought the Concorde into land at JFK airport, about fifteen miles from where I live. Waving to the Concorde as it flew in low above the house had become something of a family custom over the past few years, and had I prescience to see that I would be writing this today, I would have made sure I met the man who was praised by his colleagues as "a meticulous pilot who never gave up, even in the toughest situations."
As a journalist and author, I have been reporting on the handful of explorers who have made it across the Atlantic Ocean on windsurfers ever since 1986, when I photographed Marty's friends and colleagues Stephane Peyron and Alain Pichavant arriving in New York Harbor from across the ocean on a tandem sailboard. On their second day at sea, Stephane and Alain hit a storm with fifty miles per hour winds which swept their fresh food and ship-to-shore radio overboard. They had struggled with seasickness, skin fungi, sunburn, boredom, fatigue, muscle cramps, and sharks and it fascinated me why anyone would put himself through that kind of pain. "Christian Marty had a dream to be the first man to cross the Atlantic on a windsurfer," observes Stephane Peyron, who followed Marty by windsurfing across the Atlantic alone, without a backup support boat, in 1987. "He was a very simple, modest man; very serious in everything he tried. He was not a champion windsurfer, nor did he want to become one of them," he says, adding that, "Christian Marty did not want to be compared to anyone."
While an Air France pilot, Christian Marty continued to pursue his passion for adventure sports by hiking, rock climbing, skiing, or mountain biking wherever he had a layover, going so far as to bring his own mountain bike in the cargo hold. "Whenever I fly on Air France, the crews always ask if I know Christian Marty," says Peyron. "Everyone knew him, not only because he crossed the Atlantic Ocean, but because he was a man with a big heart."

Determined, courageous, and a self-described "individualiste," Christian Marty personified the essence of what it means to be an adventurer. Had we known more about him during his lifetime, we could have celebrated his contribution to the history and spirit of windsurfing.
Unfortunately, it took his death for us to know him.
On July 25, Christian Marty was killed, along with all the passengers and crew members, when the Concorde he was piloting burst into flames after taking off from Charles deGaulle Airport. Even in the last few seconds of his life, this "man with a big heart" used all of his strength, intelligence, and experience to prevent the plane from crashing in a nearby town, becoming a hero to those whose lives he saved.
Christian Marty, aged 54, leaves behind a wife and two children.
And us.