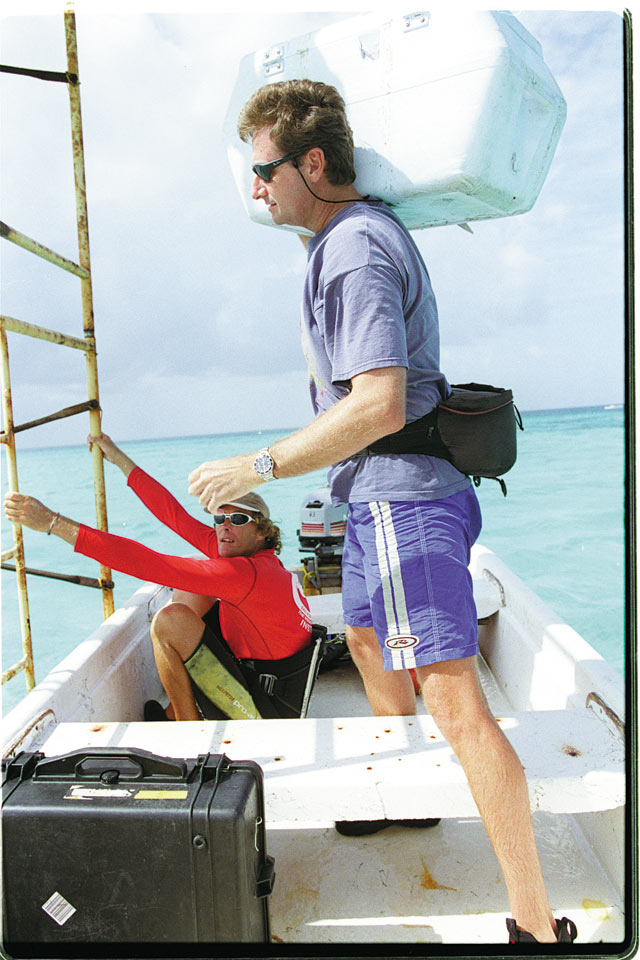 TO CARRY OUT an equipment test and capture the vitality of such an endeavor (in a foreign land) is not easy, to say the least. It helps when you have a bunch of dedicated windmakers to help pull it off. To begin with, getting the equipment down to Aruba was a monumental task. It took the help of many windmakers such as Laura Compos of Air Aruba, who made sure that the oversized windsurfing equipment and our AW team flew to Aruba. It took windmakers such as Chido Henriquez of the Aruba Tourism Authority to help get the gear out of customs and Roger Jurriens of Roger's Windsurf Place to help transport the gear from the airport to the beach and back.
The brilliant photographs you see in this issue did not come easy. Our senior staff photographer, Darrell Jones, spent hours everyday sitting on top of a scaffold to capture these Kodak moments. This was only after painstakingly erecting the scaffold out on the reef's spectacular vantage point. Behind every picture there are countless hours of preparation and refinement. We certainly have the best in the business perched on the scaffold snapping away at our team of testers, which included Technical Editor Ken Winner, Instructional Editor Mark Archer, Equipment Manager Glenn Fuller. A bunch of guest testers with notables such as Nevin Sayre, Kent Marinkovic and Roger Jurriens also got in the way of the camera.
During the Aruba test, between Darrell Jones and publisher/editor John Chao, 144 rolls of film were consumed. If you count the number of photographs published in this issue, we're proud to say that our percentage of usage is almost a tenth as bad as National Geographic Magazine.
The cost and challenge of doing a test in Aruba is high and it is not surprising that other publications chose to abandon such an endeavor. However, seeing the photographs and the beauty of the amazingly clear water, you will agree with us that it was well worth the effort and understand the reasons why we returned to Aruba.
Advertisement
The beauty of water is the subject of Douglas Faulkner's Water Colors essay. This, the third of a four-part portfolio by the poet photographer, might make you a bit squeamish next time you go in the water. But the beauty of a world windsurfers pass over will also astound you. Originally, a series of underwater nudes were scheduled to appear in this issue. But because of the unfortunate mistake and the uproar surrounding the distasteful photo that slipped into the last issue, this essay was postponed. For those who might have trouble with the thought, be forewarned. But be also assured that it will not be distasteful.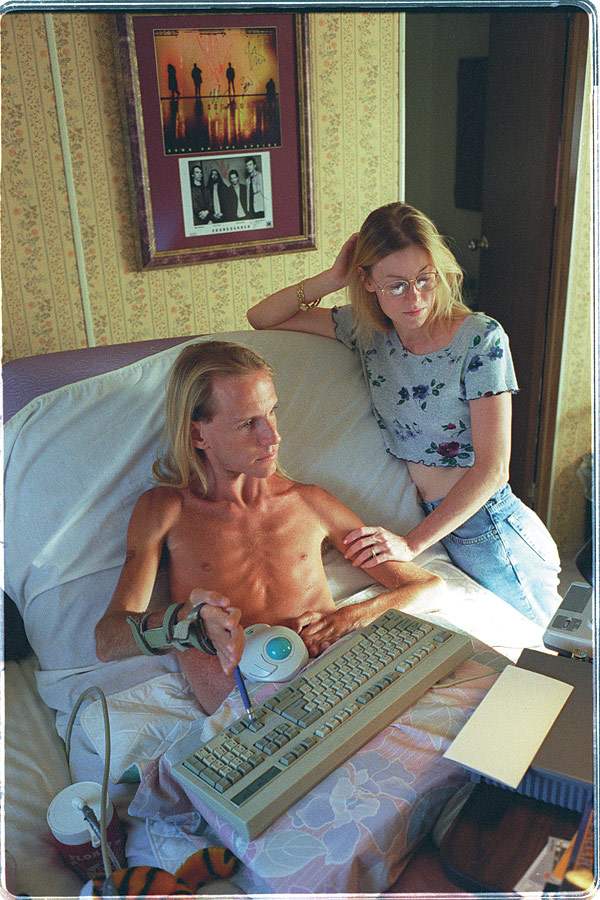 Also returning to our pages are the words of Gavin Grow. You will remember Gavin from Issue 5.5, where we published the young man's first article. We are proud to bring you Gulled, his second achievement as a writer. Grow is a windmaker stranded in bed but as evident by his writing, wanders all over with his wild imagination. His ability to describe objects is a gift from one who appreciates so many things taken for granted by we who have it all. We are still trying to raise funds to acquire a van with an electric lift for this windmaker. So far a little more than $3,500 has been raised for the goal.
Mike Gebhardt suggests awareness in his article Sail-Chi. The three-time Olympic Champion shares something that can help all windsurfers at any level to improve their performance. He too needs your assistance to achieve the impossible. Having won the Bronze and Silver and losing the Gold by half a point, Gebhardt is going for the Gold in Sydney. Like Gavin Grow, he needs your support to make the difference.
Improving is what Instructor Mark Archer hopes to do for you in many up coming issues. Welcome to Paradise is his third instructional article for AW and the first since becoming AW's Instructional Editor. Besides articles, Archer will be conducting clinic workshops around the country and abroad. His expertise and talent as a windsurfing instructor are apparent the moment you meet Archer. We are extremely excited to embark on an exciting Windsurfing clinic/adventure and photographic tour with Mark Archer. Where you find Archer is where you will most likely find the American Windsurfer developing instructional articles for up-coming issues.
These are all exciting visions and goals preparing some windmakers for a windy new millennium.