Click to Magazine View

UNASSUMING INVENTOR: Roger Juriens displaying his Deviator on his rental board in Aruba. (below) The evolution of the Deviator through the past three years. Juriens, the owner operator of "Roger's Windsurf Place," has also developed a reefable sail which he hopes will perk the interest of a sail manufacture. So far, the invention has been looked at as a threat to the short sighted industry.
ROGER JURIEN says he is a typical lazy windsurfer. He got tired of repairing boards in his windsurfing resort on Aruba. Clients would come to his "Windsurf Place" and inevitably get flung off their windsurfing board during a wind gust. As they flew through the air in a maneuver called the "catapult," the sail and their masts would slap forward towards the upraised nose of the boards and cause damage, sometimes even breaking the boards in half.
"I began looking at the problem and wondered what I could do to protect the board," said Jurien. His first thought was to put a triangular bumper at the nose of the board but quickly settled on a contraption very similar to his "Deviator" of today. The idea was simple and appropriately named. Why not put an obstacle to deviate the mast and sail away from the nose of the board. With the help of John Pardon of Pro-Tech the idea was developed and eventually received patent # 5,628,266. "I'm not going to get rich for it," said Jurien, "but it's nice to know I've contributed to this sport that I love so much."
His most recent creation is a reefable sail (a sail than can be made smaller) that he is trying to get a manufacturer interested in. Like flaps on an airplane wing, Jurien's sail can be quickly reefed with an ingenious set of movable panels along the sail's battens. "The industry must make the sport more affordable and practical," laments Jurien, who feels his reefable sail would make the sport less equipment intensive. Today, a serious sailor must have a "quiver" of multiple sails to suit the changing wind.
"I made the whole thing out of materials I found around the house," said Jurien. "If a company takes this idea, they can make it much lighter." Even so, the prototype was surprisingly light considering how much extra material it carries.
Advertisement
"I love this sport and it is heartbreaking how little energy is devoted to making the sport easier for a windsurfer like me."
---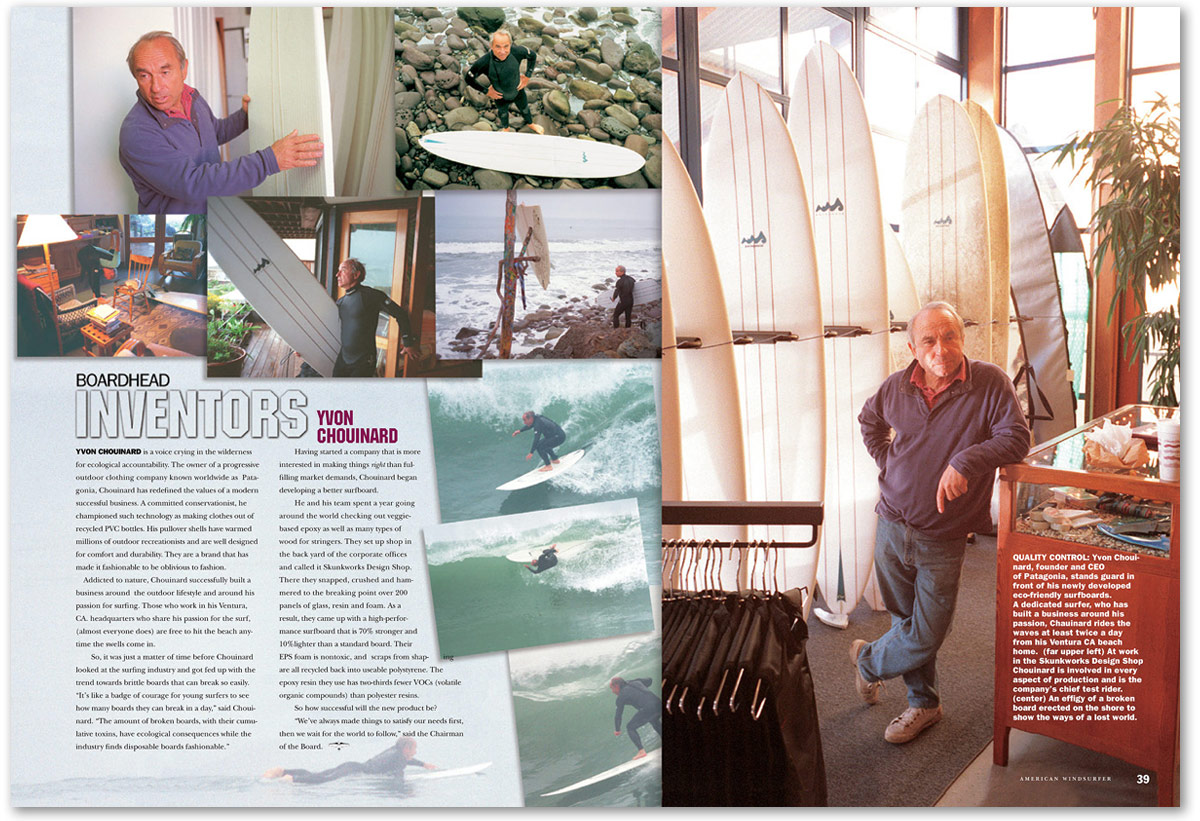 QUALITY CONTROL: Yvon Chouinard, founder and CEO of Patagonia, stand guard in front of his newly developed eco-friendly surfboards. A dedicated surfer, who has built a business around his passion, Chauinard rides the waves at least twice a day from his Ventura CA beach home. (far upper left) At work in the Skunkworks Design Shop Chouinard is involved in every aspect of production and is the company's chief test rider.  (bellow) Another day at the office and an effigy of a broken board erected on the shore to show the ways of a lost world.
YVON CHOUINARD is a voice crying in the wilderness for ecological accountability. The owner of a progressive outdoor clothing company known worldwide as Patagonia, Chouinard has redefined the values of a modern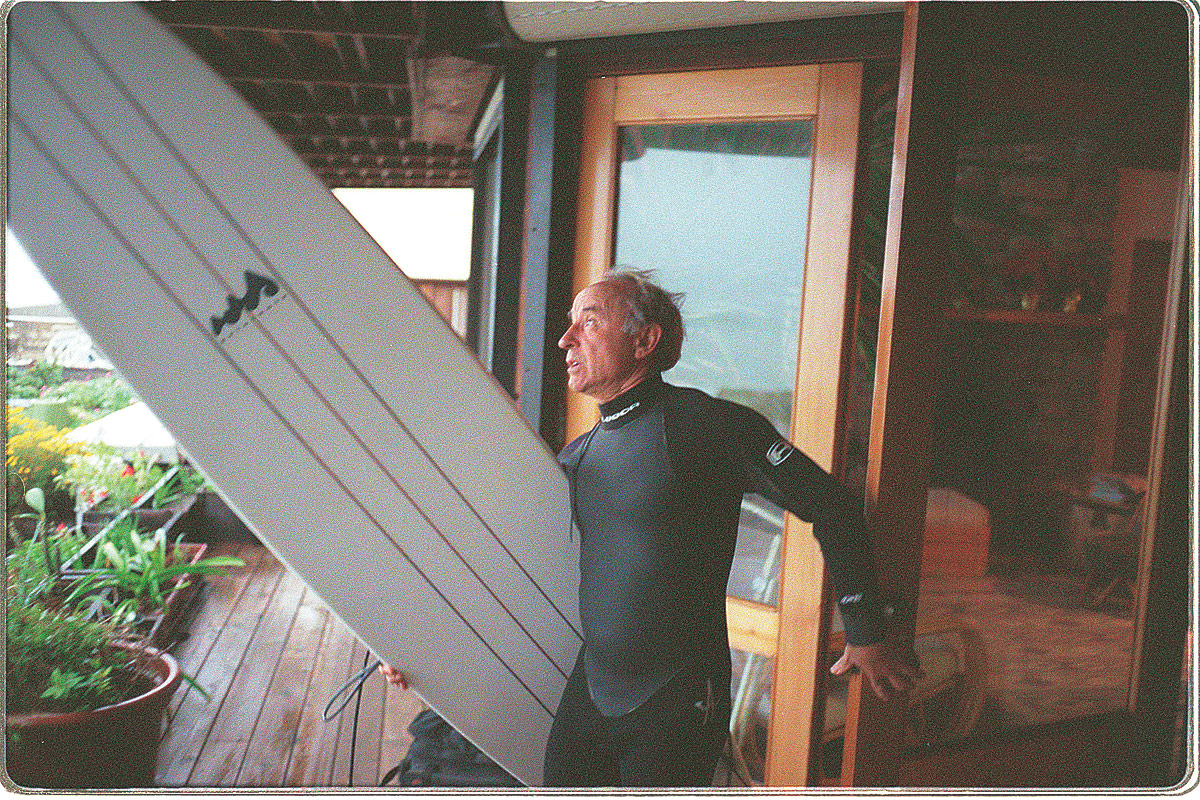 successful business. A committed conservationist, he championed such technology as making clothes out of recycled PVC bottles. His pullover shells have warmed millions of outdoor recreationists and are well designed for comfort and durability. They are a brand that has made it fashionable to be oblivious to fashion.
Addicted to nature, Chouinard successfully built a business around the outdoor lifestyle and around his passion for surfing. Those who work in his Ventura, CA. headquarters who share his passion for the surf, (almost everyone does) are free to hit the beach anytime the swells come in.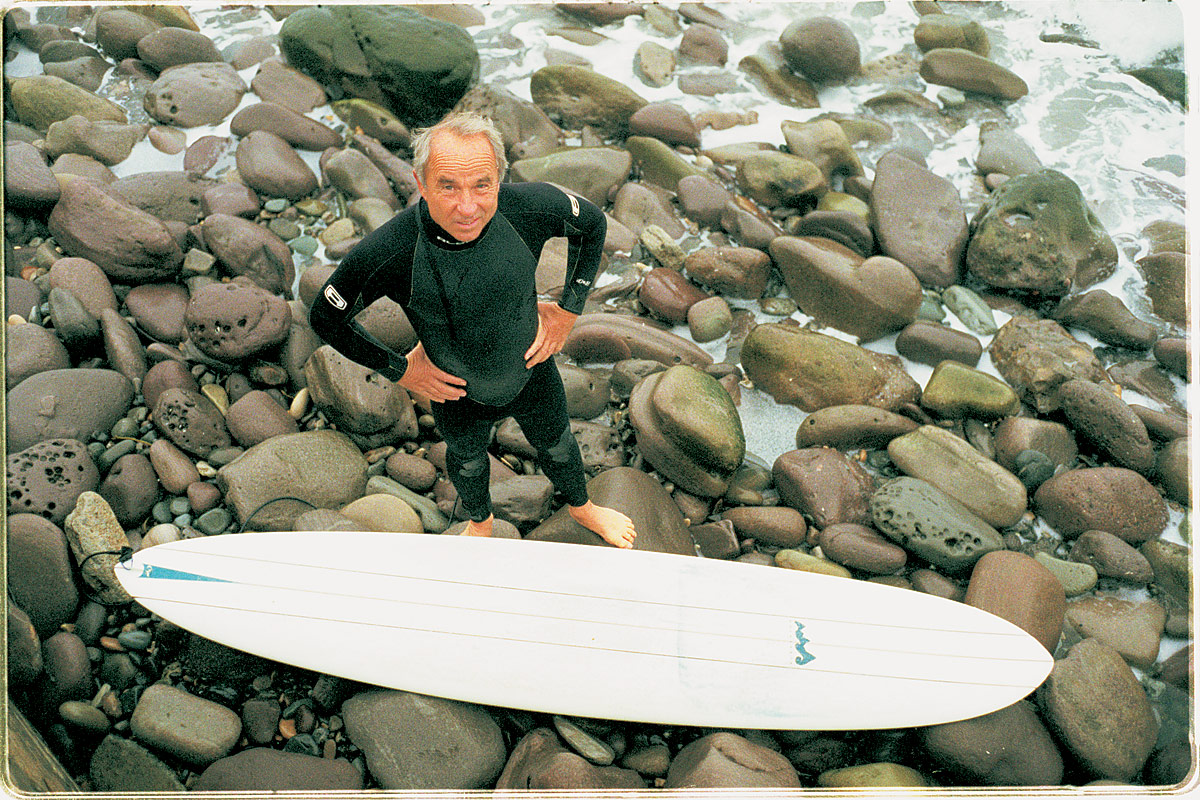 So, it was just a matter of time before Chouinard looked at the surfing industry and got fed up with the trend towards brittle boards that can break so easily. "It's like a badge of courage for young surfers to see how many boards they can break in a day," said Chouinard. "The amount of broken boards, with their cumulative toxins, have ecological consequences while the industry finds disposable boards fashionable."
Advertisement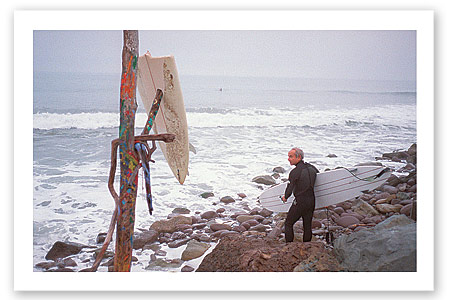 Having started a company that is more interested in making things right than fulfilling market demands, Chouinard began developing a better surfboard.
He and his team spent a year going around the world checking out veggie-based epoxy as well as many types of wood for stringers. They set up shop in the back yard of the corporate offices and called it Skunkworks Design Shop. There they snapped, crushed and hammered to the breaking point over 200 panels of glass, resin, and foam. As a result,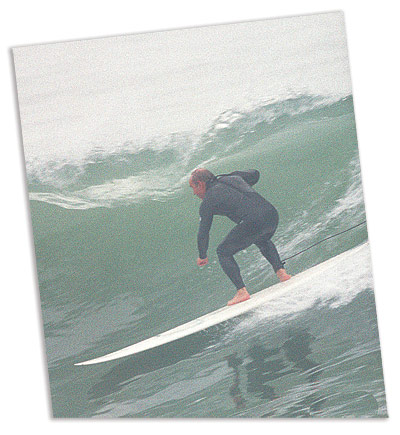 they came up with a high-performance surfboard that is 70% stronger and 10%lighter than a standard board. Their EPS foam is non-toxic, and scraps from shaping are all recycled back into usable polystyrene. The epoxy resin they use has two-thirds fewer VOCs (volatile organic compounds) than polyester resins.
So how successful will the new product be?
"We've always made things to satisfy our needs first, then we wait for the world to follow," said the Chairman of the Board.
---

---
More from Yvon Chouinard
---
LET MY PEOPLE GO SURFING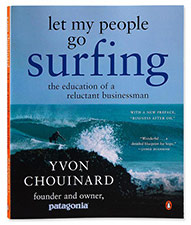 BY YVON CHOUINARD
Part memoir, part manifesto — legendary climber, businessman and environmentalist Yvon Chouinard, founder and owner of Patagonia, Inc. describes his life and his start in business as an itinerant climber selling pitons from the back of his car. Let My People Go Surfing: The Education of a Reluctant Businessman offers a look at the guiding principles that Chouinard used to build Patagonia into a global business — a business that has an environmental mission and is a fun place to work.
---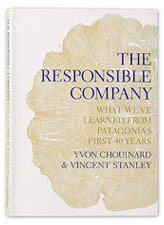 THE RESPONSIBLE COMPANY: WHAT WE'VE LEARNED FROM PATAGONIA'S FIRST 40 YEARS
BY YVON CHOUINARD & VINCENT STANLEY
Yvon Chouinard, founder and owner of Patagonia, and Vincent Stanley, co-editor of its Footprint Chronicles, draw on their 40 years' experience at Patagonia – and knowledge of current efforts by other companies – to articulate the elements of responsible business for our time.
---