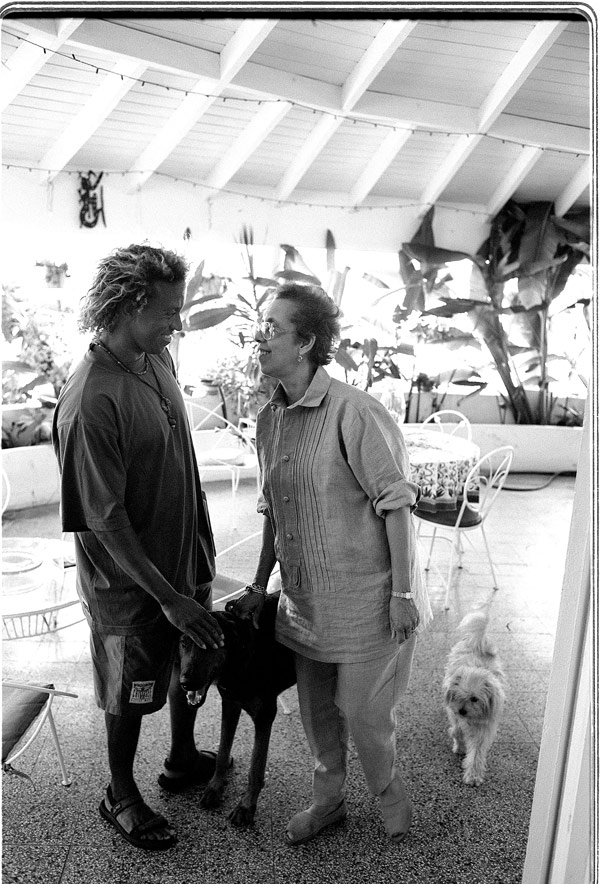 PEOPLE OFTEN DRESS to make fashion statements. Although vogue trend-setting is the last thing on Brian Talma's mind, what he wears every day is more than a statement, it's an exclamation point. Every morning Brian dons his smile. It is a smile that has gotten him places that no one could ever have imagined when he was a youngster.
The middle child of a Barbadian father and American mother of West Indian descent, Brian has lived his entire life on Barbados. As an internationally-popular veteran world class windsurfer, this 31year-old continues to compete on the world tour and remains the Caribbean's highest ranking professional—as well as the region's first to make a living at the sport.
Advertisement
While his popularity and world tour success are both impressive, what lies beyond that steady smile is far more compelling. It's hard to be indifferent about someone whose personality is so undeniably commanding yet utterly sincere. And Brian Talma is just that. An unwitting inspiration to most everyone he meets, Brian's evercheerful never-say-die spirit is contagious; it rubs off on you like wet paint on a wall.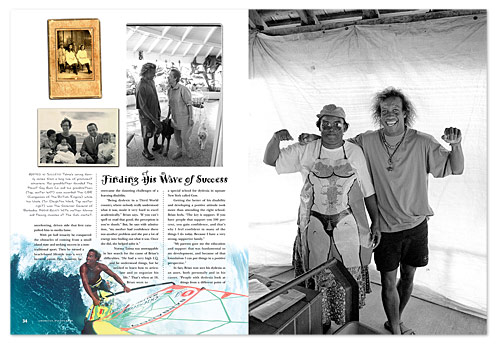 One tour regular who knows Brian well is PWA representative Phillippe Charron, who tries to define the essence of the man: "There's only one like Brian Talma on the tour. He's one of the most relaxed competitors, and is respected by everyone because of his sailing quality, his attitude, his professionalism and his presence." But perhaps his mother, Norma, best explains it through an experience when he was a late teen. As a rule, West Indians tend to lose much of their accent and dialect once they spend time in North America. Brian, however, proved the exception.
…he has not only conquered the obstacles of coming from a small island state and garnering success in the non-traditional sport of windsurfing, but he has overcome the daunting challenges of a learning disability.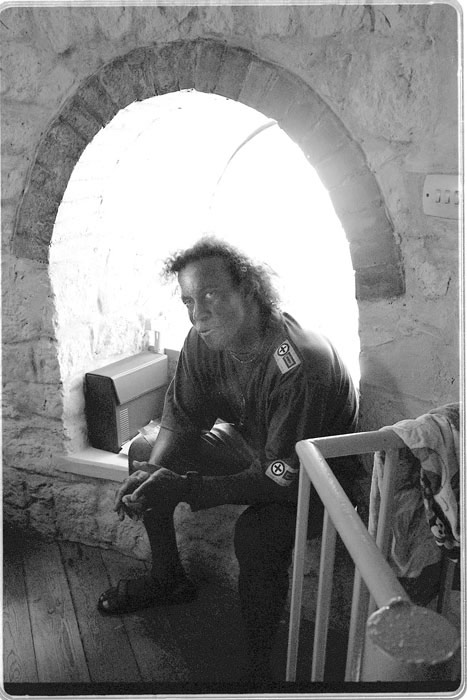 After Brian had spent a year at a New York school, Mrs. Talma said, "We noticed absolutely no change in his accent or colloquialisms." Nearly another year rolled by when the Talmas visited Brian for a parents day. "We were greeted by one of his teachers, who we noticed was using Brian's terms. Then we met his friends who were also using Brian's expressions. Then the headmaster gave an address, and he used Brian's idioms and expressions in his speech.
So Brian introduced all these people to a new way of speaking. And that's the nature of the boy."
Although it is Brian's ever-sunny nature that helps him hold his international sports personality status, it is his unrelenting, driven side that first catapulted him to media fame.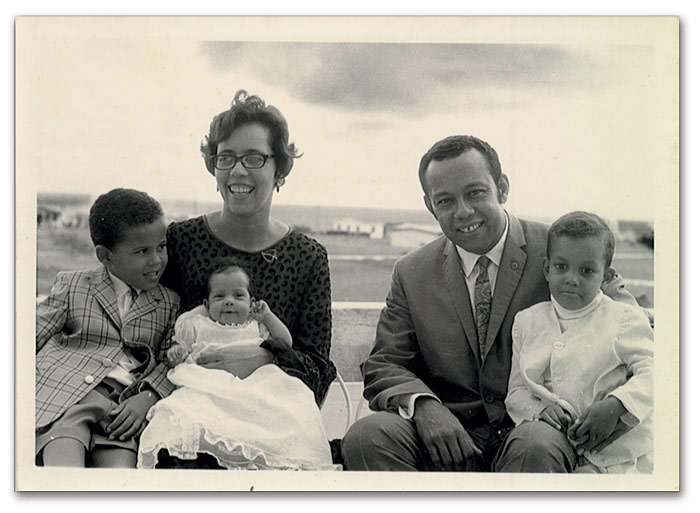 ROOTED IN HARD EARNED SUCCESS: Brian Talma's tight knit and caring family comes from a long line of prominent achievers. His grandfather founded the Mount Gay Rum Co. and his grandmother,  (center) was awarded the prestigious CBE (Companion of the British Empire) while his Uncle, Sir Deighton Ward, (seen in the old family memorabilia standing in background center) was the Governor General of the island of Barbados.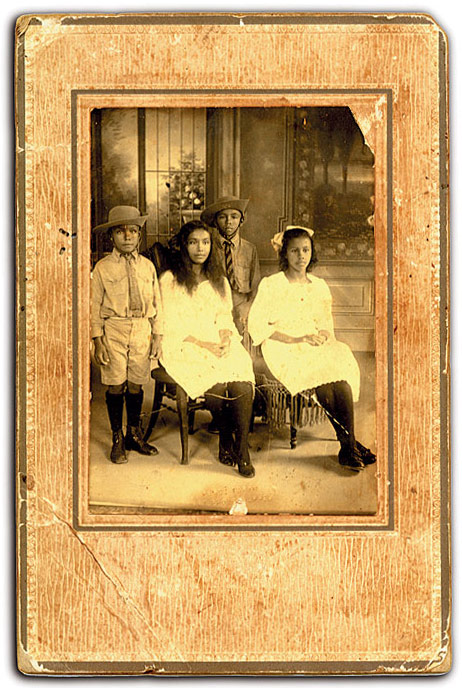 With pit bull tenacity he conquered the obstacles of coming from a small island state and seeking success in a non-traditional sport. Then he turned a beach-based lifestyle into a very lucrative career. First, however, he overcame the daunting challenges of a learning disability.
"Being dyslexic in a Third World country, where nobody really understood what it was, made it very hard to excel academically," Brian says. "If you can't spell or read that good, the perception is you're dumb." But, he says with admiration, "my mother had confidence there was another problem and she put a lot of energy into finding out what it was. Once she did, she helped solve it."
Norma Talma was unstoppable in her search for the cause of Brian's difficulties. "He had a very high I.Q. and he understood things, but he needed to learn how to articulate and to organize his life." That's when at 18, Brian went to a special school for dyslexia in upstate New York called Gow.
Advertisement
Getting the better of his disability and developing a positive attitude took more than attending the right school. Brian feels, "The key is support. If you have people that support you 100 percent, you gain confidence, and that's why I feel confident in many of the things I do today. Because I have a very strong, supportive family."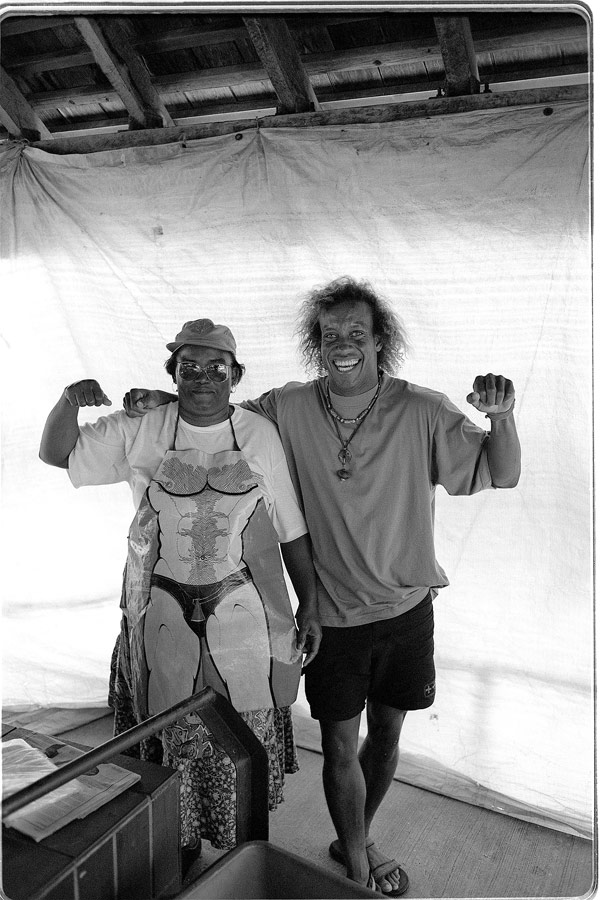 "My parents gave me the education and support that was fundamental to my development, and because of that foundation I can put things in a positive perspective."
In fact, Brian now sees his dyslexia as an asset, both personally and in his career. "People with dyslexia look at things from a different point of view. Because they often see life from another angle, dyslexic people tend to be more creative and excel in other areas." Also, "It gives you a humanistic view of life. You tend to be more understanding of other people's faults because of your own, and that is a big plus in the long run."
For years Brian not only grappled with an undiagnosed learning disability, but he also coped with subtle prejudice. "When I was young I wasn't accepted much because of my poor academics and also because my eyes and my color were different. That could have steered me in a bad way, but I realized that people that were judging me would not determine my destiny."
Brian's mother was baffled by the prejudicial attitudes. "Brian does have a startlingly different look. But it (the prejudice) still surprised me since there is such a tremendous mixture here, it's like a melting pot. The children were accustomed to mixing with people of all races and descriptions when they were growing up." Norma remembers "at that time groupings tended to be by racial lines. But there was this little group with a sprinkling of every color, having a great time. I think people resented seeing them get along so well." Instead of deterring his spirit, the group only strengthened Brian's self esteem. "My culture played a very important role in developing my confidence. The way of life here and growing up in a strong beach and group-oriented atmosphere gave me a sense of identity and made me more solid as a person."
(enlarge)

Finding Waves and Success: (above and far right) Scouting Barbados and discovering waves at Cow Pens. Success and recognition on the water, on MTV, and on the awards podium. Right: At home in a converted backyard windmill.
Brian attended college and graduated with a B.A. in Business Administration which he used to open his Silver Rock windsurfing shop in 1989. That same year, he joined the PWA and the world tour with his first sponsor. In 1991 he proved his mettle with a string of top ten results, and came third in the year's biggest wave performance, the Hawaiian Break Out. Still, Brian's greatest source of pride, "is paving the way in a non-traditional sport and being an ambassador for my sport and homeland."
In 1994, for his high-powered promotion of windsurfing and his homeland, Brian became the youngest recipient of the Barbados Service Star, a national honor bestowed on those who have made a significant contribution to the country.
Although Brian is riding a long wave of success right now, he remains pragmatic about the future. "Your longevity depends on your creativity. You have to keep developing and moving forward. While I've achieved most everything I can as a professional sailor, I see windsurfing as a vehicle to go on to other things."
Though he will always windsurf, Brian is also moving in a different direction. In fact, he is now using what was once a source of pain and frustration as a mode of expression. Under his popular name, 'Irie Man', he has already published a number of his own essays and poems that reflect his life views and feelings about windsurfing. The poems and essays have been extremely popular overseas, even having been translated into four other languages. Still, Brian's sincere nature endures. It is best expressed in one of his essays: "I love to smile. It comes from deep inside my heart. My smile reaches out to all people because there is nothing better than a smile returned."