Throw in the largest Open Class field ever, add five days of the windiest conditions in the 10-year history of the US Windsurfing National Championships, toss in a veteran race crew with a couple of clipboards, and you've got the ingredients for a National Championship that made everybody . . . Cry Uncle!

---

Reported by: Kevin Ozee, Jace Panabianco Photographs by: John Chao, Eugene Tanner, Matt Thayer
The reason for the surrender was 144 slalom heats, 12 course races, and one 12-mile upwind—downwind distance race during five days of racing with winds ranging from 15 to almost 50 knots.
There were a few guys who didn't raise the white flag, they just kept getting better and better. A pair of sun-bleached blonde brothers from, of course, Sun City, California, and their fatherly-like training buddy from Aussie land showed why all three have been at the front of the pack on the international Professional Windsurfer Association (PWA) tour the whole year.
Kevin Pritchard, 22, the quieter, younger, taller, skinnier brother, and Matt Pritchard, 25, the more vocal, shorter, stockier sibling with the receding sun-bleached blonde hairline, and Phil McGain, the Sydney, Australia native-turned Maui local, gave a high speed racing lesson to all the other 158 competitors.
Sure race veterans like Maui's Alex Aguera, Austria's Reinhard Elischka, and Argentina's Sergio Mehl, and current PWA youngsters like New Zealand's Scotty Fenton and the Virgin Island's Jimmy Diaz, had their moments in the Maui sun, winning an occasional slalom heat or leading a course race. But for this race week, the Pritchards and McGain took center sand.
McGain, whose age is as closely a guarded secret as the formula for Viagra, gave everyone some slalom racing lessons on Tuesday, Day One of the "Windiest" US Windsurfing Nationals.
McGain made the most of the 15-25 knot northeast tradewinds. He won five of six slalom heats, his only stumble being a runner-up finish to Kevin P. in his second heat of the day.
Another legend—veteran—old guy, who handed out some slalom pointers on Day One, was Alex Aguera. Although the body is not as young as it used to be, the fire and competitiveness is still burning intensely inside this guy's heart.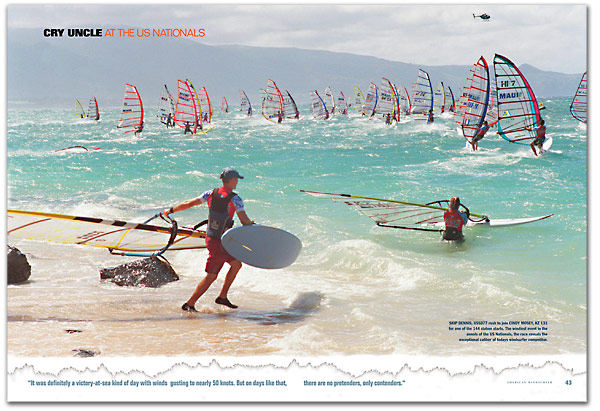 "It was definitely a victory-at-sea kind of day with winds  gusting to nearly 50 knots. But on days like that, there are no pretenders, only contenders."
Aguera, 37, won three of six heats to finish second for the day, but all he wanted to talk about was the fourth heat he should have won. His Cuban blood started to boil as he described an incident in which he was leading both Pritchards heading to the first outside mark.
At the mark, the jet ski carrying a television cameraman moved in front of Aguera, forcing him to go wide and allowing Matt P. to cut inside and steal his good air, and before Aguera could pump onto a plane, Kevin P. had also passed him. As Aguera was pumping his sail, he had some choice words for the jet ski driver and the cameraman. He, no doubt, wasn't complimenting them on their choice of wetsuits for the day.
Day One also saw the emergence of a new woman's star on the horizon. Although the contingent of Latin—South American competitors had been singing her praises prior to race day, few Americans knew who 18-year-old Collette Guadagnino was. Guadagnino, who calls San Juan, Puerto Rico, her home, but represents the Venezuelan island of Margarita on her sail (V–711), quickly adapted to Maui's choppy waters and strong tradewinds.
Guadagnino won three of six heats to claim the Day One slalom lead. Mariel Devesa, 23, an accountant from Torrance, California, and the defending national champion, scratched and clawed her way to second place, finally winning a race in her sixth and final heat.
Advertisement
"I started off slow," Devesa complained. "My starts were so atrocious that I always had a lot to make up."
Devesa (Womens Open) and San Francisco Bay Area sailor Steve Sylvester (Mens 50) kept the Maui locals from making a clean sweep of Day One. The Maui locals were whooping it up as the other nine divisions were headed by competitors who honed their skills at the summer-long Nifty Maui Race Series.
Leading the Maui contingent were Mike Yasak (Mens 40) of Kula, winning all six of his heats. Jim Sumners (Mens 55) of La Habra Heights, California, (who commutes to Maui for the summer races) won five of six, as did Fran Brewer (Womens 45) of Pukalani, and Denise Vetromile (Womens 35) of Aspen, Colorado (who spends summers on Maui and is married to a certain race director).
---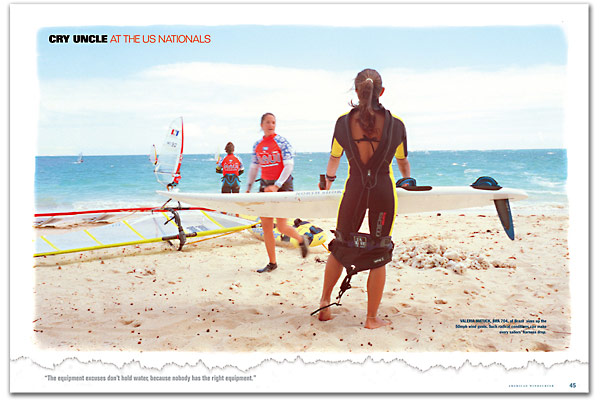 "The equipment excuses don't hold water, because nobody has the right equipment."
Day Two will forever be known as "Big Windsday" or "The Day that Jaime Torres pleaded with race director Rick Vetromile not to run the course racing".
"You'll be making the biggest mistake of your life", Torres, a Mens 35 competitor, contest organizer, and windsurf shop owner from San Juan, Puerto Rico, wailed at Vetromile. "This is crazy, people aren't used to racing in this kind of wind, much less course racing! I beg you, I implore you, please run slalom today!"
So naturally after that kind of plea, Vetromile, like any good race dictator with oversized flower-print shorts, refused to change his decision, and a short W course was set.
It was definitely a victory-at-sea kind of day with winds gusting to nearly 50 knots. But on days like that, there are no pretenders, only contenders. The equipment excuses don't hold water, because nobody has the right equipment. No windsurfing manufacturer builds equipment for 50 knot course races, and no one, except a homing pigeon, practices racing in 50 knot winds.
For finishing races in those conditions, it's sheer guts, determination and will, and the love of getting launched through the air every few hundred yards like a Mark McGuire homerun ball.
One person who stood out like Barney at a beanie baby convention on Big Windsday was Kevin Pritchard. He was head and shoulders above everyone else. Big Windsday gave everyone a chance to see why Kevin P. could be the next world champion.
Kevin P. convincingly won three of the four course races. Afterwards Pritchard commented matter of factly, "Course racing is my strong point. I knew I just had to get a good start and then connect the dots after that (go to each mark on the course)."
Kevin P. was a Rembrandt at connecting the dots. He toured the course, which had a half-mile upwind leg, in about 12 minutes. The average racer took about 24 minutes to do the same.
Kevin P.'s use of a 7.4 square meter sail and a 9-foot 4-inch board was like Tiger Woods using a 3-wood instead of a pitching wedge, way more club than the conditions called for. Experienced racers were white-knuckling it while holding on to 5.5 meter sails, four sail sizes smaller than Kevin P.'s.
Kevin P. likely would have made it a clean sweep if not for equipment problems. He was leading the fourth race when his carbon composite mast snapped into two pieces three-quarters of the way to the windward mark. Matt P. took advantage of his brother's misfortune and sailed past him to win that race and finish second for the day.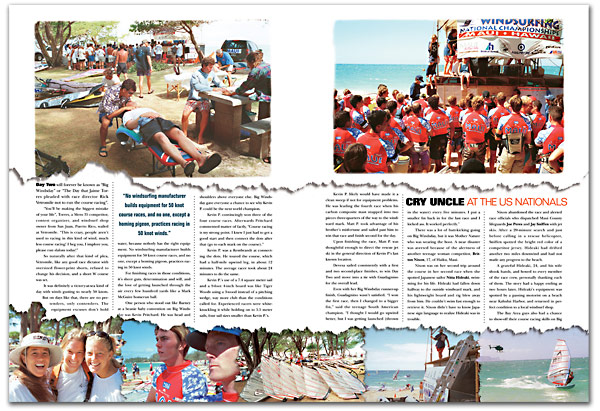 "No windsurfing manufacturer builds equipment for 50 knot course races, and no one, except a homing pigeon, practices racing in 50 knot winds."
Upon finishing the race, Matt P. was thoughtful enough to direct the rescue jet ski in the general direction of Kevin P's last known location.
Devesa sailed consistently with a first and two second-place finishes, to win Day Two and move into a tie with Guadagnino for the overall lead.
Even with her Big Windsday runner-up finish, Guadagnino wasn't satisfied. "I won the first race, then I changed to a bigger fin," said the teenage South American champion. "I thought I would go upwind better, but I was getting launched (thrown in the water) every five minutes. I put a smaller fin back in for the last race and I kicked ass. It worked perfectly."
There was a lot of butt-kicking going on Big Windsday, but it was Mother Nature who was wearing the boot. A near disaster was averted because of the alertness of another teenage woman competitor, Britton Nixon, 17, of Haiku, Maui.
Nixon was on her second trip around the course in her second race when she spotted Japanese sailor Nitta Hideaki, swimming for his life. Hideaki had fallen down halfway to the outside windward mark, and his lightweight board and rig blew away from him. He couldn't swim fast enough to retrieve it. Nixon didn't have to know Japanese sign language to realize Hideaki was in trouble.
Nixon abandoned the race and alerted race officials who dispatched Maui County lifeguards Joe Peres and Jay Sniffen with jet skis. After a 20-minute search and just before calling in a rescue helicopter, Sniffen spotted the bright red color of a competitor jersey. Hideaki had drifted another two miles downwind and had not made any progress to the beach.
A grateful Hideaki, 24, and his wife shook hands, and bowed to every member of the race crew, personally thanking each of them. The story had a happy ending as two hours later, Hideaki's equipment was spotted by a passing motorist on a beach near Kahului Harbor, and returned in perfect condition to a local windsurf shop.
The Bay Area guys also had a chance to show-off their course racing skills on Big Windsday. Bill Weir (Mens 30) of San Francisco, Rob Hartman (Mens 35) of Mountain View, and Steve Sylvester (Mens 50) of El Cerrito, led their respective divisions in the course chasing, and Chip Wasson (Mens 30) of Emeryville, Vlad Moroz (Mens 40) of Berkeley, and Dianne Younger (Womens 35) of San Francisco, were near the leaders as well.
Despite the overpowering conditions, Big Windsday yielded only one other broken mast rescue, that of the youngest competitor in the field, 10-year-old Mark Boersma, of West Olive, Michigan. Boersma (who could pass for a junior hockey player with his helmet and padded life vest), and his broken mast and his ripped 2.7 meter sail, were given a five-minute jet ski ride back to the beach by Sniffen—a small reward for breaking your equipment.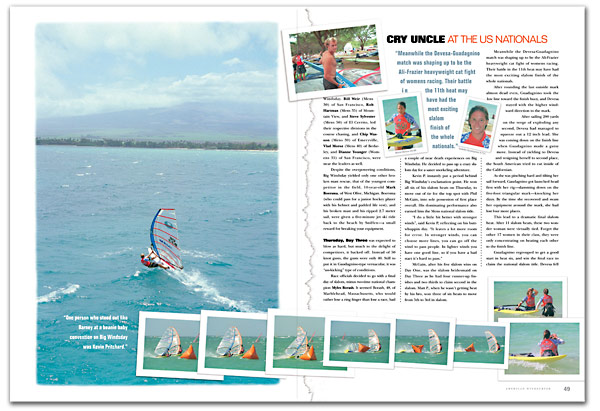 "Meanwhile the Devesa-Guadagnino match was shaping up to be the Ali-Frazier heavyweight cat fight of womens racing. Their battle in the 11th heat may have had the most exciting slalom finish of the whole nationals."
Thursday, Day Three was expected to blow as hard, but much to the delight of competitors, it backed off. Instead of 50 knot gusts, the gusts were only 40. Still to put it in Gaudagnino-type vernacular, it was "ass-kicking" type of conditions.
Race officials decided to go with a final day of slalom, minus two-time national champion Myles Borash. It seemed Borash, 48, of Marblehead, Massachusetts, who would rather lose a ring finger than lose a race, had a couple of near death experiences on Big Windsday. He decided to pass up a crazy slalom day for a saner snorkeling adventure.
Kevin P. instantly put a period behind Big Windsday's exclamation point. He won all six of his slalom heats on Thursday, to move out of tie for the top spot with Phil McGain, into sole possession of first place overall. His dominating performance also earned him the Mens national slalom title.
"I do a little bit better with stronger winds", said Kevin P, reflecting on his butt-whuppin day. "It leaves a lot more room for error. In stronger winds, you can choose more lines, you can go off the wind to pass people. In lighter winds you have one good line, so if you have a bad start it's hard to pass."
McGain, after his five slalom wins on Day One, was the slalom bridesmaid on Day Three as he had four runner-up finishes and two thirds to claim second in the slalom. Matt P., when he wasn't getting beat by his bro, won three of six heats to move from 5th to 3rd in slalom.
Meanwhile the Devesa-Guadagnino match was shaping up to be the Ali-Frazier heavyweight cat fight of womens racing. Their battle in the 11th heat may have had the most exciting slalom finish of the whole nationals.
After rounding the last outside mark almost dead even, Guadagnino took the low line toward the finish buoy, and Devesa stayed with the higher windward direction to the mark.
After sailing 200 yards on the verge of exploding any second, Devesa had managed to squeeze out a 12 inch lead. She was coming down on the finish line when Guadagnino made a gutsy move. Instead of yielding to Devesa and resigning herself to second place, the South American tried to cut inside of the Californian.
As she was pinching hard and tilting her sail forward, Gaudagnino got launched head first with her rig—slamming down on the five-foot triangular mark—knocking her dizzy. By the time she recovered and swam her equipment around the mark, she had lost four more places.
This lead to a dramatic final slalom heat. After 11 slalom heats, these two wonder woman were virtually tied. Forget the other 17 women in their class, they were only concentrating on beating each other to the finish line.
Guadagnino regrouped to get a good start in heat six, and win the final race to claim the national slalom title. Devesa fell at the first mark rounding, but recovered to capture second place, and finish a mere 1.2 points behind.
But that wasn't the end of it. The girls carried their battle to the beach as both were involved in a collision in the ninth heat.
"I rounded the first mark and she hit me and I fell. She fell, too", Devesa said. "She said I hit her. I protested and she counter-protested. But they (three-person protest committee) disallowed both of them. They said there was not enough information to decide who was the overtaking boat."
With the protest tossed out, Guadagnino's results stood. Her slalom title was the only one that escaped the Maui racers as they continued to flex their slalom muscles. The Valley Isle slalom contingent swept every other title including part-time Maui resident Kevin P.'s win in the 35-person Mens Open division.
The biggest slalom upset was Szabolcs Maguranyi's win over Steve Sylvester in the Mens 50. Sylvester, 51, who handily defeated Maguranyi in the 1993 Maui Nationals and has won six US Windsurfing national overall titles, hadn't lost to someone in his own age category since the invention of harness lines.
Maguranyi, 51, of Haiku, also enjoyed seeing his son, Tyson Aflalo, a recent Los Angeles high school graduate, claim the Junior title. The other slalom titles went to Mark Nelson (Mens 30) of Haiku, Victor Janssen (Mens 35) of Paia, Michael Yasak (Mens 40) of Kula, Doug Hunt (Mens 45) of Paia, Jim Sumners (Mens 55) of CA, Denise Vetromile (Womens 35) of Aspen, and Fran Brewer (Womens 45) of Pukalani.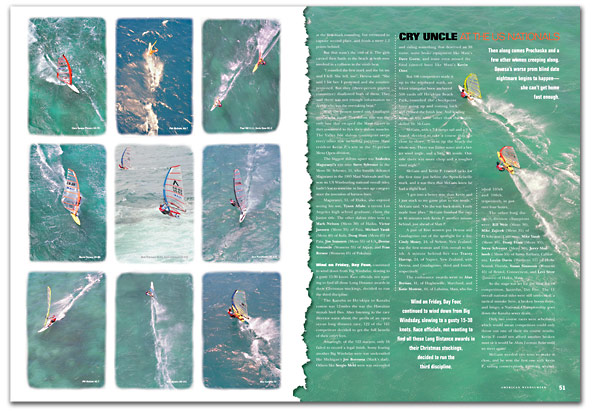 Then along comes Prochaska and a few other women creeping along. Devesa's worse prom blind date nightmare begins to happen—she can't get home fast enough.
Wind on Friday, Day Four, continued to wind down from Big Windsday, slowing to a gusty 15-30 knots. Race officials, not wanting to find all those Long Distance awards in their Christmas stockings, decided to run the third discipline.
The Kanaha to Ho'okipa to Kanaha course was 12-miles the way the Hawaiian mynah bird flies. After listening to the race director warn about the perils of an open ocean long distance race, 122 of the 161 competitors decided to get the full benefit of their entry fees.
Amazingly, of the 122 starters, only 16 failed to record a legal finish. Some fearing another Big Windsday were way undersailed like Michigan's Joe Boersma (Mark's dad). Others like Sergio Mehl were way oversailed and riding something that deserved an SS name, some broke equipment like Maui's Dave Goetz, and some even missed the final control buoy like Maui's Kevin Ozee.
But 106 competitors made it up to the windward mark, an 8-foot triangular buoy anchored 500 yards off Ho'okipa Beach Park, rounded the checkpoint buoy going up and coming back, and crossed the finish line. And leading them all was none other than the highly-skilled Mr. McGain.
McGain, with a 7.4 meter sail and a 9'6" board, decided to take a course that ran close to shore. "I went up the beach the whole way. There was flatter water and a better wind angle, and a little lift inside. Outside there was more chop and a tougher wind angle."
McGain and Kevin P. crossed tacks for the first time just before the Spreckelsville mark, and it was then that McGain knew he had a slight lead.
"I got into a better sync than Kevin and I just stuck to my game plan to stay inside," McGain said. "On the way back down, I only made four jibes." McGain finished the race in 46 minutes with Kevin P. another minute behind, just ahead of Matt P.
A pair of Kiwi women put Devesa and Guadagnino out of the spotlight for a day. Cindy Mosey, 24, of Nelson, New Zealand, was the first woman and 35th overall to finish. A minute behind her was Tracey Harrap, 24, of Napier, New Zealand, with Devesa, and Guadagnino, third and fourth, respectively.
Advertisement
The endurance awards went to Alan Bernau, 41, of Hughesville, Maryland, and Katie Monroe, 44, of Lahaina, Maui, who finished 105th and 106th, respectively, in just over four hours.
The other long distance division champions were: Bill Weir (Mens 30), Mike Zajicek (Mens 35) of El Sobrante, California, Mike Yasak (Mens 40), Doug Hunt (Mens 45), Steve Sylvester (Mens 50), Jerry Shalhoob ( Mens 55) of Santa Barbara, California, Leslie Davis (Womens 35) of Hobe Sound, Florida, Susan Simmons (Womens 45) of Bristol, Connecticut, and Levi Siver (Juniors) of Haiku, Maui.
So the stage was set for the final day of competition, Saturday, Day Five. The 11 overall national titles were still undecided; a tactical mistake here, a broken boom there, and bingo, a National Championship goes down the Kanaha sewer drain.
Only two course races were scheduled which would mean competitors could only throw out one of their six course results. Kevin P. could not afford another broken mast or it would be Ahsta Laveesta Babee until we meet again!
McGain needed two wins to make it close, and he won the first one with Kevin P., sailing conservatively, finishing second. But in the second heat, McGain tacked a little early on the inside, and had to pinch to make the windward mark. Meanwhile Diaz was able to build a lead which he kept all the way to the finish, and Kevin P. was once again second, assuring him of the Mens overall national title as well as being the king of course racing.
McGain finished fourth in the final heat which put him third in course and second overall. Matt P. finished second in course and third overall.
The womens title literally went down to the final breath of wind. Julie Prochaska, 27, of Hood River, Oregon, made things interesting by winning the first course heat with Devesa, second, and Guadagnino, third.
In the second heat, Devesa opened a big lead over the womens fleet on the "reverse clockwise tetrahedral course". (Try saying that fast five times with a Power Bar in your mouth.) She was heading for the home stretch when she hit the dreaded big black hole of NO WIND. Devesa looked like she was treading in glue as she tried to get back on her board.
Then along comes Prochaska and a few other women creeping along. Devesa's worse prom blind date nightmare begins to happen, she can't get home fast enough. Finally, Devesa gets her engine revving again but Prochaska maintains her line on Devesa's starboard side.
Normally for the women, it's "you go first; no you; no, I insist; but, I went first last time….", but not this time, Devesa was yielding nothing, and Prochaska was giving her nothing. What was to follow was the slowest slow-motion crash in nationals history, in front of every race official, race fan, and leashed dog on the beach. Despite the collision, Devesa limped across the line ahead of Prochaska. Guadagnino was seventh, insuring the Womens overall and course race national titles for Devesa.
The other course race national champions were Bill Weir (Mens 30), Rob Hartman (Mens 35), Bill Anttila (Mens 40) of Truckee, California, Doug Hunt (Mens 45), Steve Sylvester (Mens 50), Jim Sumners (Mens 55), Tawney Hunt-Munoz (Womens 35) of Paia, Fran Brewer (Womens 45), and Levi Siver (Juniors).
Besides Kevin Pritchard and Mariel Devesa's titles in the open divisions, all the overall national titleists hailed from the high wind areas of San Francisco and Maui. The Bay Area champs were Bill Weir (Mens 30), Rob Hartman (Mens 35) and Steve Sylvester (Mens 50), while Maui claimed six champions: Mike Yasak (Mens 40), Doug Hunt (Mens 45), Jim Sumners (Mens 55), Tawney Hunt-Munoz (Womens 35), Fran Brewer (Womens 45), and Levi Siver (Juniors).
And now the race crew could go back to their regular jobs, the Hood River guys could go back to more wind, the Florida crew could go back to their 7.5's, the New England sailors could go home and reacquaint themselves with their drysuits, the Latin sailors could go home and have a race director understand Spanish, the Kiwi's could go home and start earning enough money to come back next summer, the Japanese sailors could go home to sail among the masses, the California dudes could go back and start planning next year's Nationals, and the Maui locals could stay home and reclaim their beach. And they could all tell anyone who cared, "I was at the 1998 US Windsurfing Nationals on Maui, the windy–est in history!".
Kim Ball is the president of Hi-Tech and the organizer of the US Nationals in Maui. He has a degree in Journalism from the University of Nebraska.
---