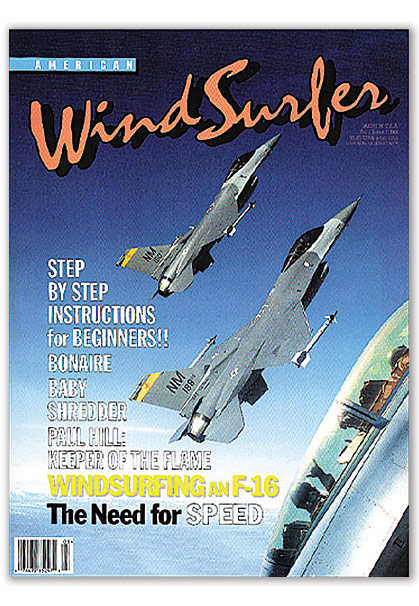 PREVIOUS ISSUE 4.3: What are we doing wrong? Have we gone so far as to provoke complacency among our usually vociferous readers? After putting fighter jets on the cover of our last issue, we were prepared to catch some grief about an apparent divergence from windsurfing. After all, when we published an issue about the America3 all women's sailing team, (Volume 2, Issue 5) we were chastised for the irrelevancy to windsurfing, even though many of the subjects were windsurfers. But to our surprise, American Windsurfer's F-16 ride garnered more praise than criticism in our mailbox. In fact, we only received one written vote against the cover–a hand scribbled note on a subscription renewal card that stated the jets were "a bit over the edge." The point is, he still renewed. That's probably the best compliment we could receive in our mailbox any day. As to Captain Allan Gabel, our windsurfing fighter pilot. A top Air Force General called the squad one day from Washington D.C. By coincidence, Gabel answered the phone and identified himself. To his surprise, the general asked, "Is this the Windsurfing Gabel?" Apparently the general had seen the magazine on the newsstand and picked it up because of the F-16 cover.
Joy of Flight
I've read a flock of pilot reports on various flying machines, but very few that signaled the pure joy of flight that you share in your Windsurfer's trek in the electric plane, the F-16. My cyclonic congratulations on your idea of an inter-active voice presentation as you windsurfed at 30,000 feet and high Mach in the pure blue. Loved it! Your good buddy Doc, USAF Air Guard, strikes me as a superb I.P., Instructor Pilot. Could be he really learned about high performance flying on his windsurf board.
Jerry Hannifin
TIME Magazine
Washington, D.C.
---
The Real McCoy
As an avid windsurfer and former Navy fighter pilot, I want to congratulate you on this accurate and sensitive article.
Accurate, because it takes the reader on an actual flight, with no hokey embellishments, and with unusually objective reporting of the flight. The radio and intercom transcription is recognizably the Real McCoy, and with over 5,000 hrs. in fighter aircraft, I sat and read with a huge smile on my face and continuous affirmative nods of approval at the flight experience on which you were taking the readership of American Windsurfer.
Sensitive, because of the real conversation between two humans reaching to each other with some common ground to introduce and explain some ground which was uncommon. The appreciation of the effects of speed, wind, and other aspects of our natural environment like our sensations of cold and fatigue, along with the personal elements of challenge, perseverance and the mastery of skills are shared by the windsurfer and the fighter pilot.
Alone on my familiar board, rigged for speed, eyes squinting into the wind and glare, inviting any challenge, I am one for whom this article was written.  I only wish I could have slipped the surly bonds of gravity with you myself.
Keep up the outstanding work.
Jim Hays
Reno, NV
---
Advertisement
Au Courant
I always keep a copy of American Windsurfer handy to peruse when I get bored with the local Daily Newspaper. Last evening, par hasard, I opened to the Starboard ad and suddenly recognized the picture of Aung San Suu Kyi. You guys at AW are certainly 'au courant'. She was just featured in a recent issue of the New Yorker magazine in an article on the political history of Burma. It is a moving story of Burma's repression by  military dictatorship, and Suu Kyi's efforts to unite Burma into a democratic state. Her revered father was near achieving that goal when he was assasinated in 1947. Suu Kyi was just a child. Her story of returning to lead the freedom effort, her house arrest for many years, and the honor of the Nobel Peace Prize is recommended reading.
Once again, American Windsurfer demonstrates its public service conscience and desire to serve mankind by bringing further attention to this dedicated and courageous woman and the plight of Burma. Every little bit helps! Congratulations and thanks.
Janet Bartlett
Ionia, NY
---
Navigable Passage
I would like to take this opportunity to  tell you how much I enjoy American Windsurfer magazine. The editorial dynamism to feature interviews from Bjorn Dunkerbeck to a fighter pilot in New Mexico shows creativity and liveliness to the diversity of those that share our sport.
In addition to the insightful interviews, my second read is always the travel stories. I have always loved reading about far-off and exotic places to windsurf, but the true test of windsurf travel stories is given by my non-windsurfing girlfriend. The article on Bonaire evoked such colorful images that she wants to learn to windsurf…in Bonaire!
My final applause is on your choice of adding Screamers. Seeing the radical and extreme in windsurfing further displays the diversity and often courage of those that seek the thrill of the handheld sailing. I may never land a loop, surfsail a wave as high as my house, or have a sail full of corporate sponsors, but seeing Robby Naish jump high into the sky with forty feet of air beneath his skeg leaves me in awe and admiration.
American Windsurfer has the right combination of ingredients that gives the reader a hearty taste of windsurfing. No one publication can capture all aspects of any activity, but American Windsurfer has given us a solid and navigable passage into the world of windsurfing. Keep up the great work!
Craig Low
Manteo, NC
---
Making a Difference
I am writing in response to Kelly Moore's article in your last issue entitled Crossing for Clean Water. Kely's dedication to the clean water issues is purely inspirational. Most people take clean water for granted when in fact many of the waterways we sail on are far from clean. Water testing and identification of pollution sources is not on the agendas or budgets of most local governments. She is absolutely correct that each sailor who gets involved can make a difference. With just an investment of $10 worth of materials and about one fourth the time it takes for one sailing session, every sailor could test the waters they sail on. This is the information that's needed to enact changes.
On a more fun subject, I just wanted to put a plug in for the longboard sailors out there. Kelly's choice of boards, she sheepishly admits, was a bit small. I've done some long distance ocean sailing and the one thing I would not go without is a longboard. Kelly is from Hawaii where the channels to be crossed are some of the most treacherous in the world, filled with tradewinds and huge Pacific swells. But most channels, including the one between the Bahamas and Florida typically yield more moderate conditions with winds ranging between 5 and 20 knots, perfect for a longboard. While sailing offshore on a longboard you can easily average 9-11 knots in 10-15 knots of wind. An Equipe II with a 7.5 probably could have cut three hours off her sailing time as well as been much more comfortable to sail (they're a lot easier to balance on when the windspeed drops, but can easily be sailed with a 6.0). Kelly was very well prepared with sponsorships and support equipment, but she did leave one thing behind—her longboard. I'm sure next time, she won't leave home without it.
Tom Fisher
San Diego, CA
---
Workshop of a Master
Thank you for publishing the lessons of Master Instructor Mark Archer. Mark has the gift of clearly pointing out the way to greater sailing performance and pleasure.
Mark's first "Workshop" article in a past issue of AW (Volume 3 Issue 1) gave me that crucial tip that enabled me to sail in the foot straps for the first time. The feeling that I got that day from riding in the foot straps and harness was so exhilarating that I lust for every opportunity to go windsurfing. Now in issue 4.3, Mark describes it well in "Driving Your Board":
"Once you're hooked in you become part of the sail. Once you're into the footstraps, you're part of the board. If you're hooked in and in the footstraps, you, the board, and the sail are one unit. That's where the real efficiency and real performance of windsurfing comes in."
If it could be possible to take someone who has never windsurfed and give them just a few seconds of the feeling while planing while in the harness and footstraps, that person would be hooked for life and windsurfing would be the most popular sport in the world.
Chris Cowan
Doylestown, PA
---
Triumph Enough
I'm writing on behalf of the article appearing in Volume 4 Issue 2 on the Martha's Vineyard race. I just wanted to convey my thanks to you for running the article on a seemingly odd and unknown course of events which takes place on the outer fringes of the East Coast each September. You truly did the race and its cult "summer season enders" justice.  It's nice to know that in a sport predominantly iconoclast by the Robby's and Bjorn's there is still a marketer of the goofy amateur and crazed wind rat. American Windsurfer continues to epitomize what the sport represents to many of us–that is those void of any sponsorships, headline articles, or helicopter defying front pagers. So, thanks for running the article and mentioning the names which mean little else to anyone directly and much for the sport in general. Although a revival of the early 80's tandem board concept seems as unlikely as an upstart of the Yamaha Waterspider Olympic class this summer in Atlanta, its photo in American Windsurfer is triumph enough. Thanks again, you're all good ambassadors to the sport.
Scot Brown Herbst
Member, Team Tandem
Martha's Vineyard Circumnavigation '95
"Blackflagged but not forgotten."
---
Advertisement
OK to be Happy
I've been windsurfing a long time now, just about ten years to be exact, and I have to say I truly love the sport. I like it more and more each day, actually., Want to know why? Okay! Because windsurfing is like no other sport in the world. It's physically and mentally demanding, being able to windsurf at any level is an incredible reward. I windsurf for me 100% of the time. That sounds pretty self-centered, I'm sure, but can I help it if the things that satisfy me most about being a windsurfer are going out in the wind and water and splashing around playfully with my friends? Just being away from the everyday world of politics, anger, frustration, and fear is a true gift. Windsurfing stops the world for me!
Because of windsurfing, I've learned so many things about life, such as patience, endurance, dedication, education, and mostly how to have fun. Life is about having fun! Am I right or what?
What I really like most though, is when Im done a session or a race and I have this windsurfing buzz going. My face has the biggest smile that seamingly could cover the earth and someone will come up to me to congratulate me on a win or to say that they had fun watching me sail and sometimes they will ask if I would go sailing with them. I always say Yeah! Anytime! Truly what I like best is when I'm shaking their hand, my smile transfers on to their face and I know that through me they can feel the true passion of windsurfing.
It is an incredibly spiritual feeling, in this day and age, to influence people in such a positive way. I like to rekindle peoples' fire for life. We need to be reminded that it is okay to have a happy life.
Jocelyn Hrkach
Hood River, OR
---
Salvation Surf Sailors
Just thought your readers would like to know that we of the Hueneme Surf Sailors Association find good homes for used and broken (though repairable) equipment for donation to financially challenged sailors in the greater Ventura County, California area. Our mission is to get more people into the greatest sport in the world.
One of the biggest impediments to beginners is the cost of equipment, even used equipment, since the vast majority of the population barely makes enough to pay rent, let alone spend a couple K on equipment. We have a waiting list for everything and most of the people on the list are quite resourceful in repairing and/or matching items.
If there is any interest in donating equipment (including shipping) please e-mail.
David DePaolo
david.j.depaolo@miller-folse.com
---
A Family Affair
Great Magazine. Our entire family (Kids 12, 9, and 4) has just started windsurfing here at Windy Point in Austin. (Saw your article about Windy Point, last issue). The kids and my wife are learning by your beginner article. It is great. We found a used Mistral Maui and we sure could stand to win a new sail! If it is not too late, please enter us in your drawing contests. Thank you so much, keep up the great articles.
Reese Rowan
Austin, TX
It's hard to believe, but you and your kids just won the Neil Pryde Team USA Sail. The computer selected you and Marilyn L.Sorrell as the winners of the last two drawings. Congratulations! Keep those great letters coming! -ED
---