REACHING FOR THE SKY:  Some of the kids from Bonaire discovering the joys of windsurfing. From left to right:  Ruben Petrise, 18 years old; Damanson "Piri" Thode (11); Elton "Pati" Frans (16), Junior North American Champion for IMCO; Choko Frans (12), 1st Mid Winters 13 & Under; Christian Dammers (17), 9th Overall Open A Class, 1st Junior; Ronald Mayer (19), 3rd Pro Freestyle; Shandle Baletin (10) and Valok Balentin, both orphans on the island.
RECENTLY, twenty-four kids from Bonaire were sent to a windsurfing event in the United States. The competitors, ranging from six to twenty-one years of age, raised money and sponsorships around their tiny island off the coast of Venezuela.
This was an unprecedented achievement for any country much less a sleepy island known only for its exquisite clear water and steady winds. It was not only an achievement of logistics and resources; it was also a coming out party for it is likely to be a future dominant force in the sport of windsurfing.
At the 16th Annual Midwinters Windsurfing Event sponsored by Calema Boardsports on Merritt Island, Florida, the Bonaire kids not only blew everyone away with their skills and competitive level, they also took home twenty trophies. This was probably the biggest news to hit the windsurfing industry in years. It was a "made for TV" irresistible news item that aired on CNN and received major international attention. No one took notice, however, that two of the kids competing were orphan boys on the island and had it not been for the work and kindness of Elvis Martinus and his partner Patun Saragoza, windsurfing would have been only something the rich tourists could afford on Bonaire.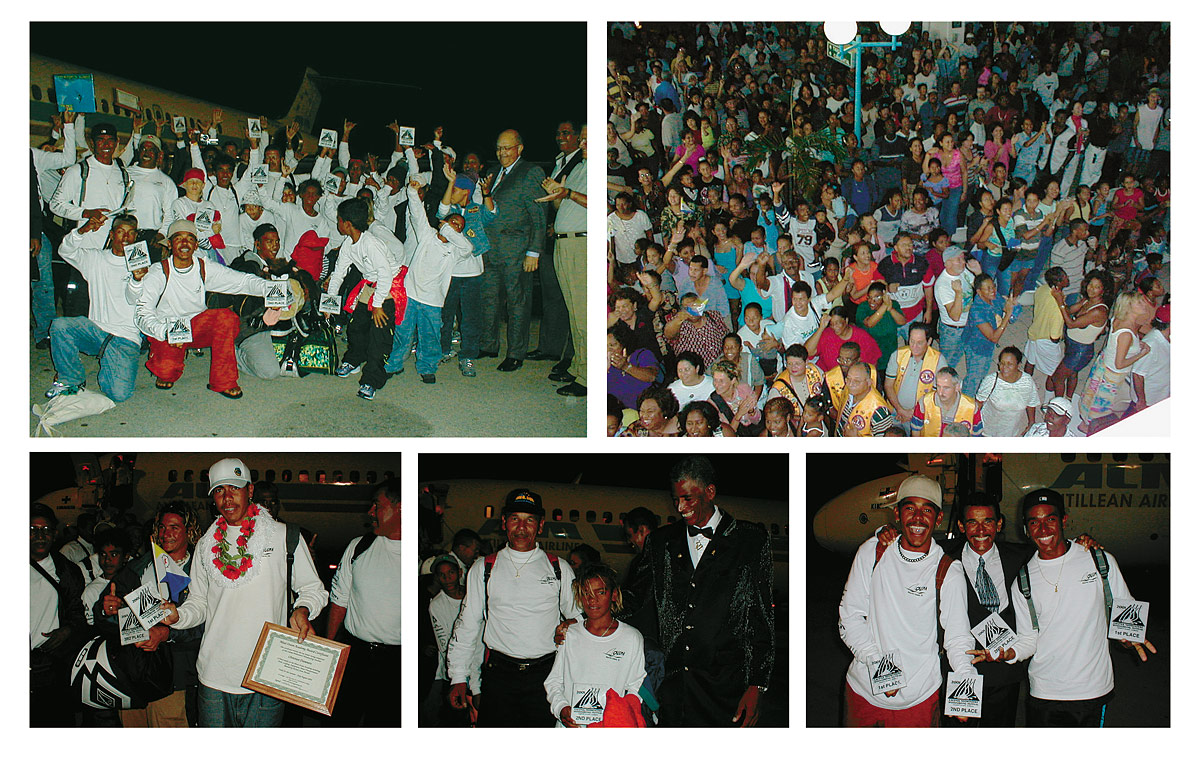 GLORY DAYS GLORY NIGHT: The coming home of the Bonairean kids team this past March was a national occasion. The whole island greeted the twenty-four young competitors who brought back twenty trophies among them. Dressed for the occasion, Elvis Martinus, the man that brought windsurfing to Bonaire (middle) and his business partner and Olympic sailor Patun Saragoza, share the well-deserved glory after fifteen years of unwavering dedication.
When the exuberant young team arrived back in Bonaire, eight hundred people greeted them at the airport. It was said that even the Dutch Queen had not received as big a reception as these kids commanded. Suddenly the whole island began to realize what an incredible resource they had in their own back yard. This coincided with the fact that American Airlines is starting to fly directly from Puerto Rico and eventually from Aruba. Suddenly windsurfing and the island of Bonaire have a new level of prominence.
The fifteen year struggle for this prominence can be clearly seen in the face and eyes of Elvis "Piskechi" Martinus. "It was really hard for the people to understand that windsurfing is important," Elvis described his challenge. Though he has received countless awards such as the Lion's Club "Person of the Year" award, the "Sportsman of the Year," and in 1995, "Sport Leader of the Year", his efforts to get windsurfing more recognized on Bonaire have often landed on deaf ears.
Advertisement
Elvis has been a mover and shaker on the island ever since he was a kid. His grandfather Martinus was the patriarch of one of the two fishing families on the island who owned the big nets to catch the mosbongu bait fish. Elvis' grandfather led the fishing and the task of getting the catch to Curacao to sell. By the time he was thirteen or fourteen Elvis had taken over the job and was making deals representing the other families. Like fishing, organizing things came naturally to the young Elvis. In the early 70s he and some friends put together the first baseball team in Bonaire. During the mid-70s he and (now Island Councilman) Peter Silberie studied karate and later began teaching it to kids. Then there was softball. His team became Bonaire champions in the early 80s. Always a volunteer, he worked with Little League and Senior League baseball. The members of his volleyball team, "Terremoto" (Earthquake), were Bonairean champions and Antillean sub-champions. Then he discovered windsurfing. During one Bonaire regatta a group of Venezuelans told Elvis that Bonaire was an ideal place for windsurfing. "I fell in love with the sport, and I wanted to make it happen here." He and pioneer windsurfer Erwin Muller caught peoples' attention when they windsurfed from Bonaire to Curacao and on to Venezuela. Then, along with Patun Saragoza, Roy Bottse, and Win Albertus, he competed in five world championships in Curacao, Aruba, in chilly Germany, and the U.S.A. He started the Aquaspeed Club to get local people, especially youngsters, interested in windsurfing and encourage them to compete.
It was Patun Saragoza, Elvis's partner in their concession "The Windsurf Place", that brought the needed link about with the kids. Patun, the 1986 North American Champion and veteran of two Olympic campaigns and World Championships had two kids of his own. He brought them to work at Lac Bay and found that the boys adapted to the sport remarkably well at a young age.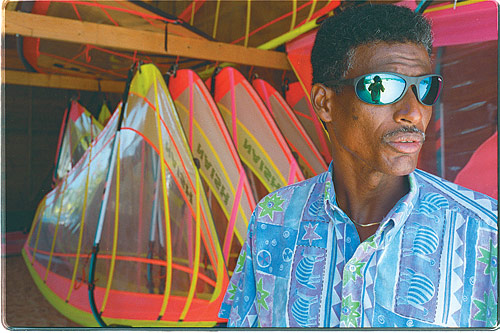 Seeing this transformation, their rental operation began to see more and more local kids drawn to the beach to watch an activity which they never thought they could do themselves. It wasn't long before the kids found themselves on the water learning to windsurf from the six foot tall and skinny Elvis. With a big heart and a propensity for making things happen, Elvis refused to yield to the complacency he found around the island and for fifteen years he carried out the fight.
Using the resources he managed to scrape together from their business of renting windsurfing equipment to vacationers, Elvis and Patun managed to teach and maintain a flock of over seventy kids on this tiny island.
If there were a race today, not one single country in this world could manage to assemble two dozen competitors like the ones Bonaire exhibited this past March. But such continued success demands greater effort and in Elvis's mind, the future looms with great uncertainty. Where can these talents go?
But then, after fifteen years, the Johnny Appleseed of Bonaire can take heart to the fact that the island has awakened with the knowledge that Bonaire is made for windsurfing, that its resources are no longer just wind and water, it now has world-class windsurfers for the world to emulate.
SEEING IS BELIEVING:  Bjorn Saragoza (6) and Damanson "Piri" Thode (5) (on the left) were already ripping it up on Lac Bay six years ago when this picture was taken. (See current photo of Piri, above) They are the foundation and inspiration for the formation of a summer windsurfing program aimed to help women and children discover the simplicity of riding the wind. The first camp will e held July 8-13. Look for follow up articles about this event. For information call 603-293-2727or email:  camp@americanwindsurfer.com, or Bonaire direct at:  011-599-790-2288.
Recently American Windsurfer magazine helped initiate a summer windsurfing camp on Bonaire. It is open to all participants but special efforts have been made to facilitate families, women and childre. With American Airlines servicing the island directly, access to this idyllic learning center is now a breeze. In addition, the magazine has committed half of the advertising revenue coming from Bonaire will go to benefit the island kids and help facilitate their development as windsurfing instructors and competitors.
Three five day camps are planned this summer starting July 8-13, August 5-10, and September 9-14.
Advertisement