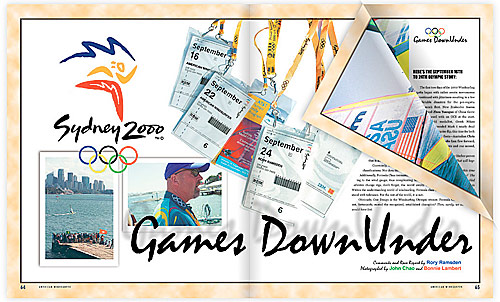 THE 2000 OLYMPICS WINDSURFING REGATTA was the best ever. The sport reached its pinnacle. Not only was it the best ever Olympic windsurfing event, it was alive with many "never befores". Never before were the fleets so right. Never before was the competition so high. Never before did spectators wait on the edge of their seats 'til the very last race to the very last mark in anticipation of knowing the winners. Never before in Olympic sailing history was a medal, and a Gold one at that, awarded on a count back after a tie. Never before was an entire race shown live on national TV with overall media interest intent throughout the regatta from the first day to the last. Never before did One Design equipment prove to be so right.
And never before were Sydney's winds unpredictably light to moderate shifting breezes. Sydney Harbor's courses were equally challenging, requiring keen attention, concentration, and ready response from the athletes and their equipment. With admirable skill the athletes lived up to every moment for seven days and eleven races. One Design proved its successful design for Olympic purposes.
Some proponents of the newly developed Formula Class advocate the replacement of the highly sensitive, robust One Design with Formula Class equipment. Thus far, Formula Class has answered the needs of today's windsurfing racers. However, the new format is challenged passionately by others claiming that Formula Class is unsuitable, without doubt, for Olympic windsurfing requirements and needs.
Firstly, One Design meets the requirements of its international yacht racing classification. Secondly, One Design equipment responds readily and performs with guaranteed satisfaction with zero to thirty knot winds while spectators and media watch enthusiastically. Only one board and one sail are used and that is all the athletes need to keep them moving at the whim of the wind.
Conversely, Formula Class does not meet international yacht racing classifications. Nor does the equipment sail successfully in zero to thirty knots. Additionally, Formula Class necessitates a variety of equipment, changed according to the wind gauge, thus complicating timely factors and economics. While athletes change rigs, don't forget, the world awaits with withering anticipation. Within the understanding world of windsurfing, Formula class necessities are understood with tolerance. For the rest of the world, it is not.
Obviously, One Design is the Windsurfing Olympic winner. Formula Class has not, fortunately, ousted the recognized, established champion? Then, surely, we all would have lost.
---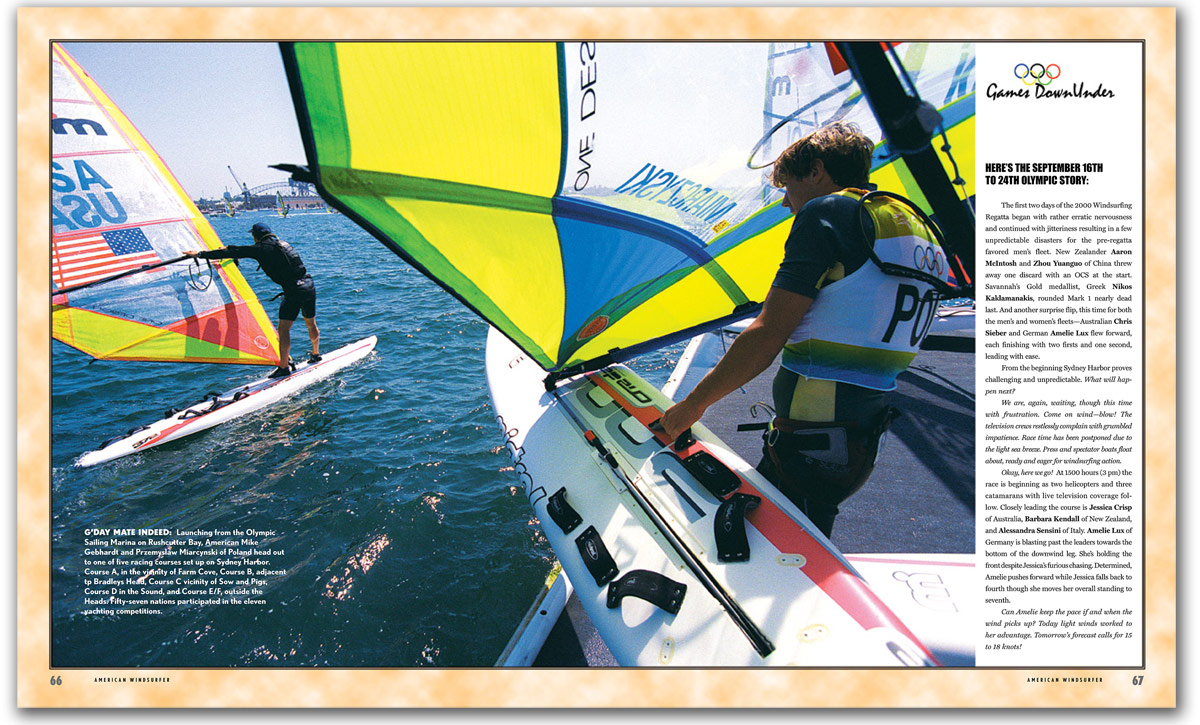 G'DAY MATE INDEED:  Launching from the Olympic Sailing Marina on Rushcutter Bay, American Mike Gebhardt and Przemyslaw Miarcynski of Poland head out to one of five racing courses set up on Sydney Harbor.  Course A, in the vicinity of Farm Cove, Course B, adjacent tp Bradleys Head, Course C vicinity of Sow and Pigs, Course D in the Sound, and Course E/F, outside the Heads. Fifty-seven nations participated in the eleven yachting competitions.
Here's the September 16th to 24th Olympic story:
The first two days of the 2000 Windsurfing Regatta began with rather erratic nervousness and continued with jitteriness resulting in a few unpredictable disasters for the pre-regatta favored men's fleet. New Zealander Aaron McIntosh and Zhou Yuanguo of China threw away one discard with an OCS at the start. Savannah's Gold medallist, Greek Nikos Kaklamanakis, rounded Mark 1 nearly dead last. And another surprise flip, this time for both the men's and women's fleets—Australian Chris Sieber and German Amelie Lux flew forward, each finishing with two firsts and one second, leading with ease.
From the beginning Sydney Harbor proves challenging and unpredictable. What will happen next?
We are, again, waiting, though this time with frustration. Come on wind—blow! The television crews restlessly complain with grumbled impatience. Race time has been postponed due to the light sea breeze. Press and spectator boats float about, ready and eager for windsurfing action.
Okay, here we go!  At 1500 hours (3 pm) the race is beginning as two helicopters and three catamarans with live television coverage follow. Closely leading the course is Jessica Crisp of Australia, Barbara Kendall of New Zealand, and Alessandra Sensini of Italy. Amelie Lux of Germany is blasting past the leaders towards the bottom of the downwind leg. She's holding the front despite Jessica's furious chasing. Determined, Amelie pushes forward while Jessica falls back to fourth though she moves her overall standing to seventh.
Can Amelie keep the pace if and when the wind picks up? Today light winds worked to her advantage. Tomorrow's forecast calls for 15 to 18 knots!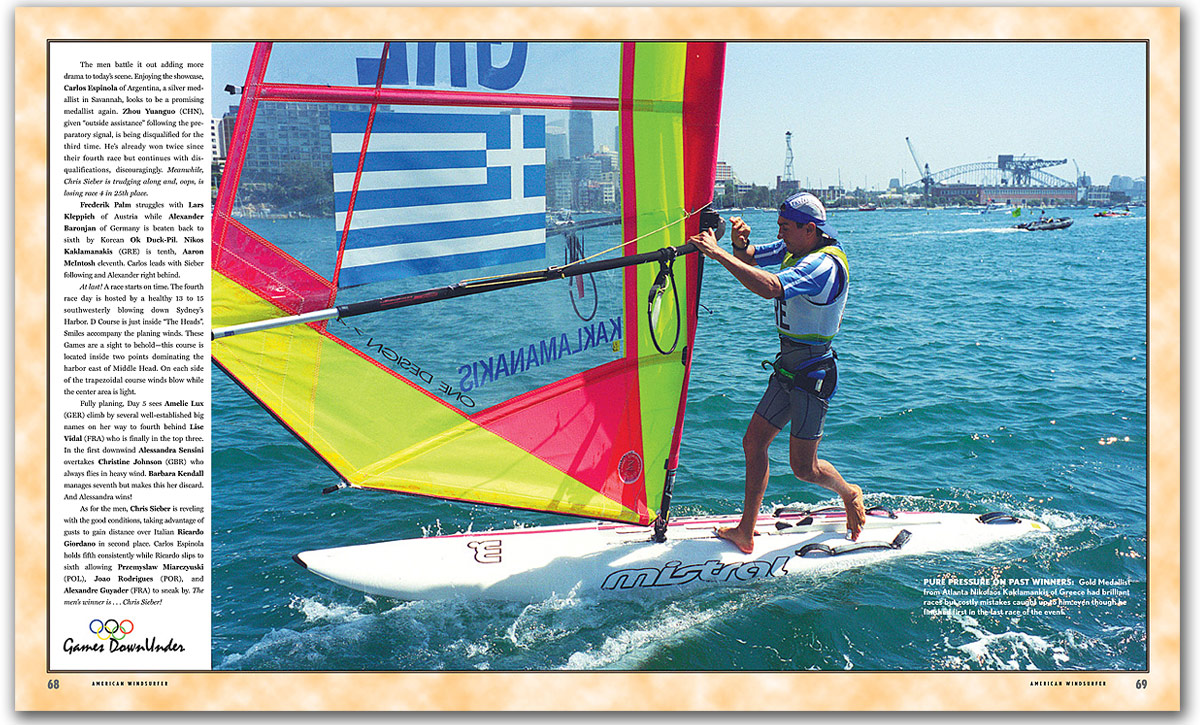 PURE PRESSURE ON PAST WINNERS:  Gold Medallist from Atlanta Nikolaos Kaklamankis of Greece had brilliant races but costly mistakes caught up to him even though he finished first in the last race of the event.
The men battle it out adding more drama to today's scene. Enjoying the showcase, Carlos Espinola of Argentina, a silver medallist in Savannah, looks to be a promising medallist again. Zhou Yuanguo (CHN), given "outside assistance" following the preparatory signal, is being disqualified for the third time. He's already won twice since their fourth race but continues with disqualifications, discouragingly. Meanwhile, Chris Sieber is trudging along and, oops, is losing race 4 in 25th place.
Frederik Palm struggles with Lars Kleppich of Austria while Alexander Baronjan of Germany is beaten back to sixth by Korean Ok Duck-Pil. Nikos Kaklamanakis (GRE) is tenth, Aaron McIntosh eleventh. Carlos leads with Sieber following and Alexander right behind.
Advertisement
At last! A race starts on time. The fourth race day is hosted by a healthy 13 to 15 southwesterly blowing down Sydney's Harbor. D Course is just inside "The Heads". Smiles accompany the planing winds. These Games are a sight to behold—this course is located inside two points dominating the harbor east of Middle Head. On each side of the trapezoidal course winds blow while the center area is light.
Fully planing, Day 5 sees Amelie Lux (GER) climb by several well-established big names on her way to fourth behind Lise Vidal (FRA) who is finally in the top three. In the first downwind Alessandra Sensini overtakes Christine Johnson (GBR) who always flies in heavy wind. Barbara Kendall manages seventh but makes this her discard. And Alessandra wins!
As for the men, Chris Sieber is reveling with the good conditions, taking advantage of gusts to gain distance over Italian Ricardo Giordano in second place. Carlos Espinola holds fifth consistently while Ricardo slips to sixth allowing Przemyslaw Miarczyuski (POL), Joao Rodrigues (POR), and Alexandre Guyader (FRA) to sneak by. The men's winner is . . . Chris Sieber!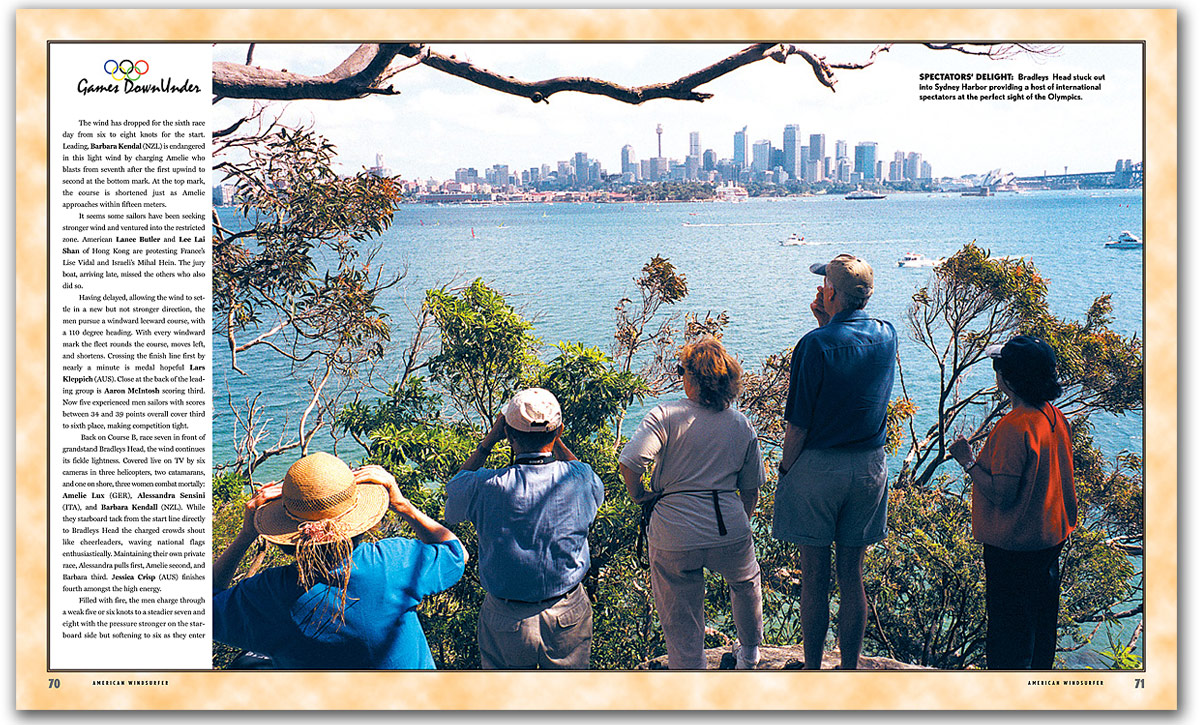 SPECTATORS' DELIGHT:  Bradleys  Head stuck out into Sydney Harbor providing a host of international spectators at the perfect sight of the Olympics.
The wind has dropped for the sixth race day from six to eight knots for the start. Leading, Barbara Kendal (NZL) is endangered in this light wind by charging Amelie who blasts from seventh after the first upwind to second at the bottom mark. At the top mark, the course is shortened just as Amelie approaches within fifteen meters.
It seems some sailors have been seeking stronger wind and ventured into the restricted zone. American Lanee Butler and Lee Lai Shan of Hong Kong are protesting France's Lise Vidal and Israeli's Mihal Hein. The jury boat, arriving late, missed the others who also did so.
Having delayed, allowing the wind to settle in a new but not stronger direction, the men pursue a windward leeward course, with a 110 degree heading. With every windward mark the fleet rounds the course, moves left, and shortens. Crossing the finish line first by nearly a minute is medal hopeful Lars Kleppich (AUS). Close at the back of the leading group is Aaron McIntosh scoring third. Now five experienced men sailors with scores between 34 and 39 points overall cover third to sixth place, making competition tight.
Back on Course B, race seven in front of grandstand Bradleys Head, the wind continues its fickle lightness. Covered live on TV by six cameras in three helicopters, two catamarans, and one on shore, three women combat mortally: Amelie Lux (GER), Alessandra Sensini (ITA), and Barbara Kendall (NZL). While they starboard tack from the start line directly to Bradleys Head the charged crowds shout like cheerleaders, waving national flags enthusiastically. Maintaining their own private race, Alessandra pulls first, Amelie second, and Barbara third. Jessica Crisp (AUS) finishes fourth amongst the high energy.
Filled with fire, the men charge through a weak five or six knots to a steadier seven and eight with the pressure stronger on the starboard side but softening to six as they enter the inner loop. Aaron McIntosh (NZL) blazed through the finish almost one full minute ahead of Carlos Espinola (ARG) who is sailing once again with consistency, waiting for Chris Sieber (AUT) to slip up to claim the top spot. Unfortunate Zhou Yuanguo (CHN) arrives third proceeded by Nicos Kaklamanakis.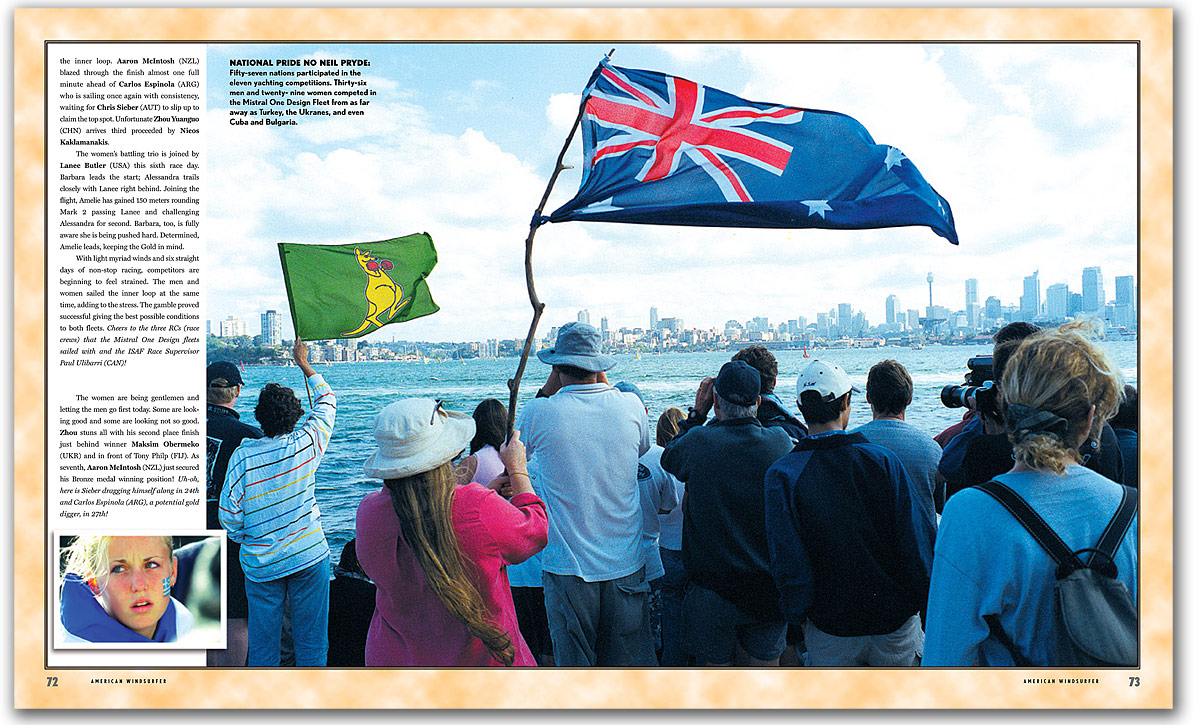 NATIONAL PRIDE NO NEIL PRYDE:  Fifty-seven nations participated in the eleven yachting competitions. Thirty-six men and twenty- nine women competed in the Mistral One Design Fleet from as far away as Turkey, the Ukranes, and even Cuba and Bulgaria.
The women's battling trio is joined by Lanee Butler (USA) this sixth race day. Barbara leads the start; Alessandra trails closely with Lanee right behind. Joining the flight, Amelie has gained 150 meters rounding Mark 2 passing Lanee and challenging Alessandra for second. Barbara, too, is fully aware she is being pushed hard. Determined, Amelie leads, keeping the Gold in mind.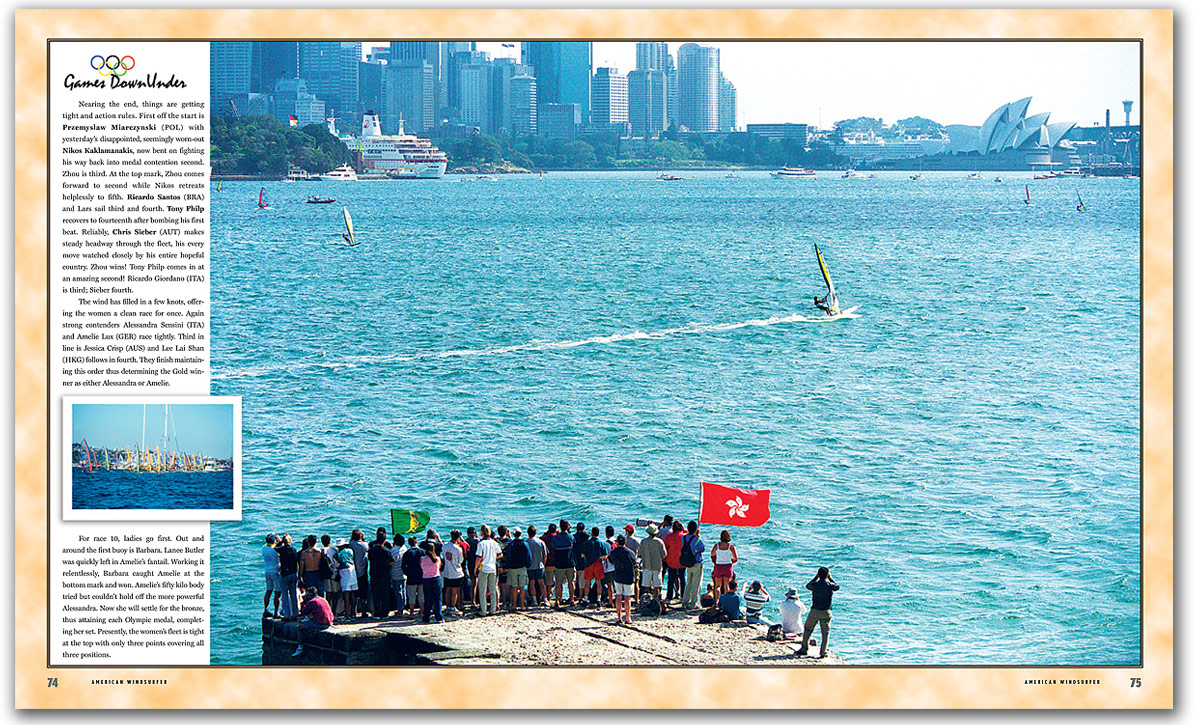 With light myriad winds and six straight days of non-stop racing, competitors are beginning to feel strained. The men and women sailed the inner loop at the same time, adding to the stress. The gamble proved successful giving the best possible conditions to both fleets. Cheers to the three RCs (race crews) that the Mistral One Design fleets sailed with and the ISAF Race Supervisor Paul Ulibarri (CAN)!
The women are being gentlemen and letting the men go first today. Some are looking good and some are looking not so good. Zhou stuns all with his second place finish just behind winner Maksim Obermeko (UKR) and in front of Tony Philp (FIJ). As seventh, Aaron McIntosh (NZL) just secured his Bronze medal winning position! Uh-oh, here is Sieber dragging himself along in 24th and Carlos Espinola (ARG), a potential gold digger, in 27th!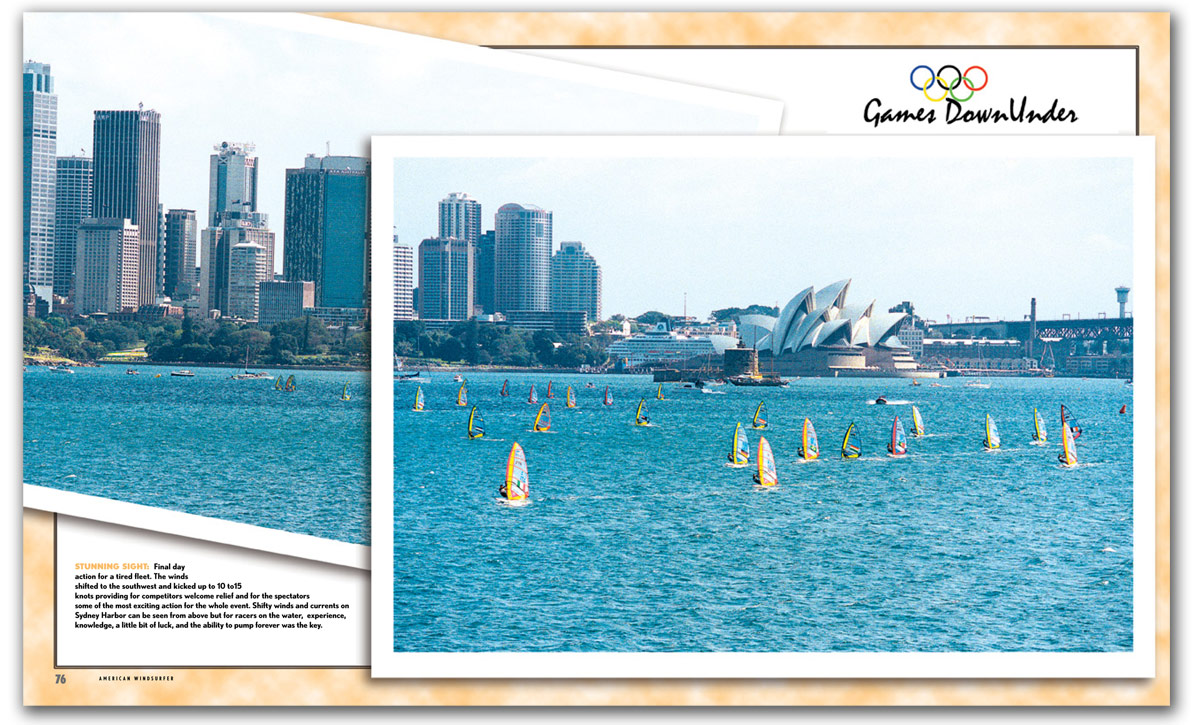 STUNNING SIGHT:  Final day action for a tired fleet. The winds shifted to the southwest and kicked up to 10 to15 knots providing for competitors welcome relief and for the spectators some of the most exciting action for the whole event. Shifty winds and currents on Sydney Harbor can be seen from above but for racers on the water,  experience, knowledge, a little bit of luck, and the ability to pump forever was the key.
Nearing the end, things are getting tight and action rules. First off the start is Przemyslaw Miarczynski (POL) with yesterday's disappointed, seemingly worn-out Nikos Kaklamanakis, now bent on fighting his way back into medal contention second. Zhou is third. At the top mark, Zhou comes forward to second while Nikos retreats helplessly to fifth. Ricardo Santos (BRA) and Lars sail third and fourth. Tony Philp recovers to fourteenth after bombing his first beat. Reliably, Chris Sieber (AUT) makes steady headway through the fleet, his every move watched closely by his entire hopeful country. Zhou wins! Tony Philp comes in at an amazing second! Ricardo Giordano (ITA) is third; Sieber fourth.
The wind has filled in a few knots, offering the women a clean race for once. Again strong contenders Alessandra Sensini (ITA) and Amelie Lux (GER) race tightly. Third in line is Jessica Crisp (AUS) and Lee Lai Shan (HKG) follows in fourth. They finish maintaining this order thus determining the Gold winner as either Alessandra or Amelie.
For race 10, ladies go first. Out and around the first buoy is Barbara. Lanee Butler was quickly left in Amelie's fantail. Working it relentlessly, Barbara caught Amelie at the bottom mark and won. Amelie's fifty kilo body tried but couldn't hold off the more powerful Alessandra. Now she will settle for the bronze, thus attaining each Olympic medal, completing her set. Presently, the women's fleet is tight at the top with only three points covering all three positions.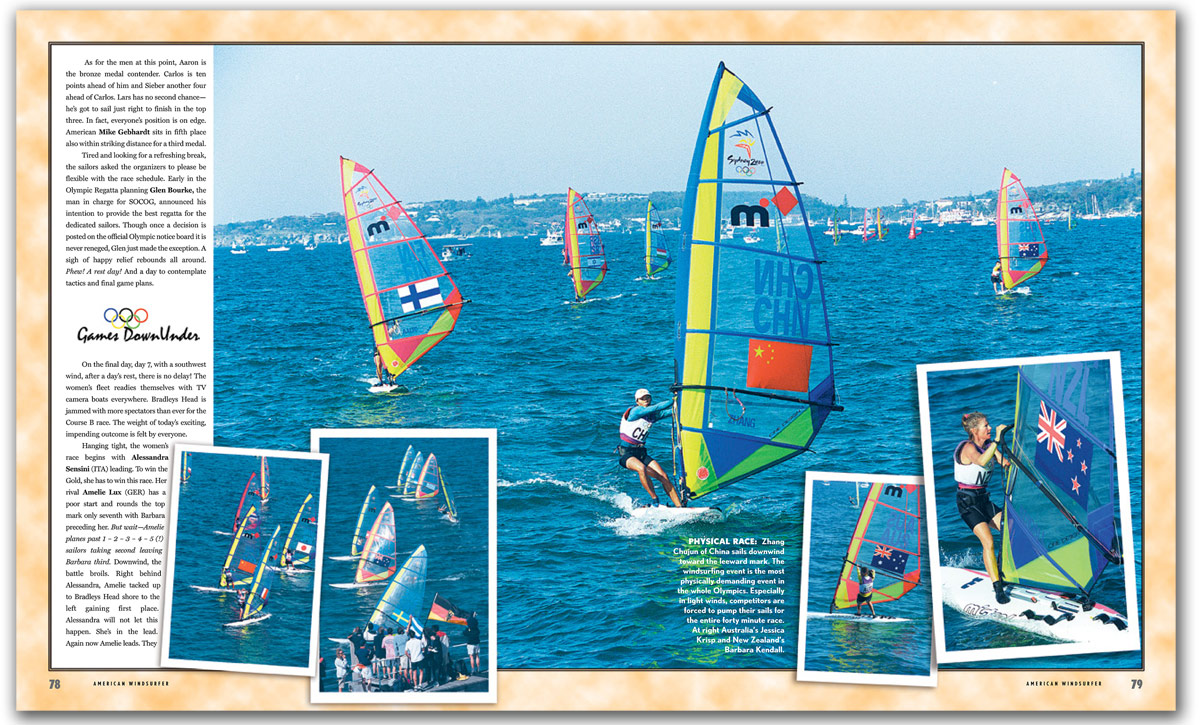 PHYSICAL RACE:  Zhang Chujun of China sails downwind toward the leeward mark. The windsurfing event is the most physically demanding event in the whole Olympics. Especially in light winds, competitors are forced to pump their sails for the entire forty minute race. 
As for the men at this point, Aaron is the bronze medal contender. Carlos is ten points ahead of him and Sieber another four ahead of Carlos. Lars has no second chance—he's got to sail just right to finish in the top three. In fact, everyone's position is on edge. American Mike Gebhardt sits in fifth place also within striking distance for a third medal.
Tired and looking for a refreshing break, the sailors asked the organizers to please be flexible with the race schedule. Early in the Olympic Regatta planning Glen Bourke, the man in charge for SOCOG, announced his intention to provide the best regatta for the dedicated sailors. Though once a decision is posted on the official Olympic notice board it is never reneged, Glen just made the exception. A sigh of happy relief rebounds all around. Phew! A rest day! And a day to contemplate tactics and final game plans.
On the final day, day 7, with a southwest wind, after a day's rest, there is no delay! The women's fleet readies themselves with TV camera boats everywhere. Bradleys Head is jammed with more spectators than ever for the Course B race. The weight of today's exciting, impending outcome is felt by everyone.
Advertisement
Hanging tight, the women's race begins with Alessandra Sensini (ITA) leading. To win the Gold, she has to win this race. Her rival Amelie Lux (GER) has a poor start and rounds the top mark only seventh with Barbara preceding her. But wait—Amelie planes past 1 – 2 – 3 – 4 – 5 (!) sailors taking second leaving Barbara third. Downwind, the battle broils. Right behind Alessandra, Amelie tacked up to Bradleys Head shore to the left gaining first place. Alessandra will not let this happen. She's in the lead. Again now Amelie leads. They fight it out. For the fifth time Alessandra takes the lead—and she . . . could . . . go . . . all . . . the . . . way . . . and wins only five yards in front of Amelie!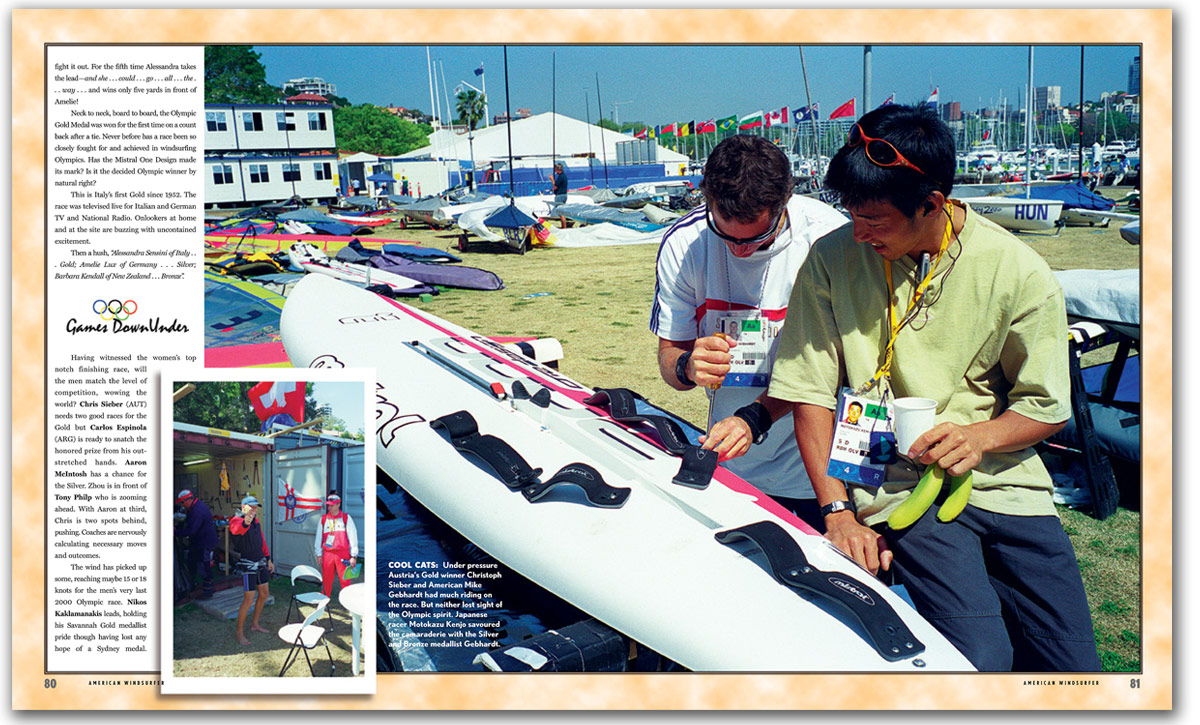 COOL CATS:  Under pressure Austria's Gold winner Christoph Sieber and American Mike Gebhardt had much riding on the race. But neither lost sight of the Olympic spirit. Japanese racer Motokazu Kenjo savoured the camaraderie with the Silver and Bronze medallist Gebhardt.
Neck to neck, board to board, the Olympic Gold Medal was won for the first time on a count back after a tie. Never before has a race been so closely fought for and achieved in windsurfing Olympics. Has the Mistral One Design made its mark? Is it the decided Olympic winner by natural right?
This is Italy's first Gold since 1952. The race was televised live for Italian and German TV and National Radio. Onlookers at home and at the site are buzzing with uncontained excitement.
Then a hush, "Alessandra Sensini of Italy . . . Gold; Amelie Lux of Germany . . . Silver; Barbara Kendall of New Zealand . . . Bronze".
Having witnessed the women's top notch finishing race, will the men match the level of competition, wowing the world? Chris Sieber (AUT) needs two good races for the Gold but Carlos Espinola (ARG) is ready to snatch the honored prize from his outstretched hands. Aaron McIntosh has a chance for the Silver. Zhou is in front of Tony Philp who is zooming ahead. With Aaron at third, Chris is two spots behind, pushing. Coaches are nervously calculating necessary moves and outcomes.
The wind has picked up some, reaching maybe 15 or 18 knots for the men's very last 2000 Olympic race. Nikos Kaklamanakis leads, holding his Savannah Gold medallist pride though having lost any hope of a Sydney medal. Flying along in second is Maksim Oberemko (UKR), racing well. Behind them Carlos holds third; Aaron fourth; and Chris seventh. The finish line held this order with this men's race remaining constant, unlike the women's. And that was that. Poof! Done.
DRAMA TO THE WIRE:  Competition among women came down between petite baby faced Amelie Lux of Germany and the seasoned, former professional racer Alessandra Sensini of Italy. The last race between the two was breathtaking and like the American presidential race, the winner was announced only after a count back of wins to break the tie. (right) Nervous pre-race moments for Sensini and (far right) a relaxed Amelie sitting on the side walk in Rushcutters Bay.
This strong and steady race was covered fully by TYC, Argentina's national sports channel. More than ever before, windsurfing has been seen by the world as an exciting, beautiful sport despite U.S. media coverage neglect. Windsurfing proved itself. It is a viable, worthy Olympic Game, healthy and vibrantly alive.
A Discussion Follows the Windsurfing Olympics Ceremony:
So what would happen if the 2004 Olympic Windsurfing Regatta had not demonstrated the high level of competition, ability, dedication, professionalism, and general world interest? Most of all, if the competitors were not able to make the most of every unpredictable shift in wind and current, held back by their equipment, the Olympic Windsurfing Regatta would look to be a foolish waste of time, money, energy, and the competitors' highly acquired skills.
For 2000's Olympic Games, the windsurfing world heard, underneath it all, "And the winner is . . . One Design!" Why? Olympic windsurfing is classified as a yacht racing sport. In effect, yacht racing "speaks for" or represents its adopted sport of windsurfing. The International Olympic Committee is looking to somewhat reduce the number of sports involved in the Olympics. If windsurfing is not classified as yacht racing, likely it will be nixed from the Games, lacking its own class, therefore credibility and stability, to stand upon and face the world with necessary immediacy. If Olympic windsurfing were to be changed from One Design equipment to the Formula Class as was proposed for the year 2004 then surely it would be one step closer to Olympic death. Certainly, the shorter Formula Class boards would not perform in Athens' expected and usual two to ten knot blow. What if Formula Class's required wind limit failed to show for the Games and the windsurfing athletes spent their Olympic time sitting on the beach? Additionally, with Formula Class the Olympics would be more a matter of who uses what equipment rather than everyone using the same, thus making the universal effort a fair one for all the competitors. Prices too, come into great effect with the One Design definitely more economically manageable for most athletes than Formula Class requirements.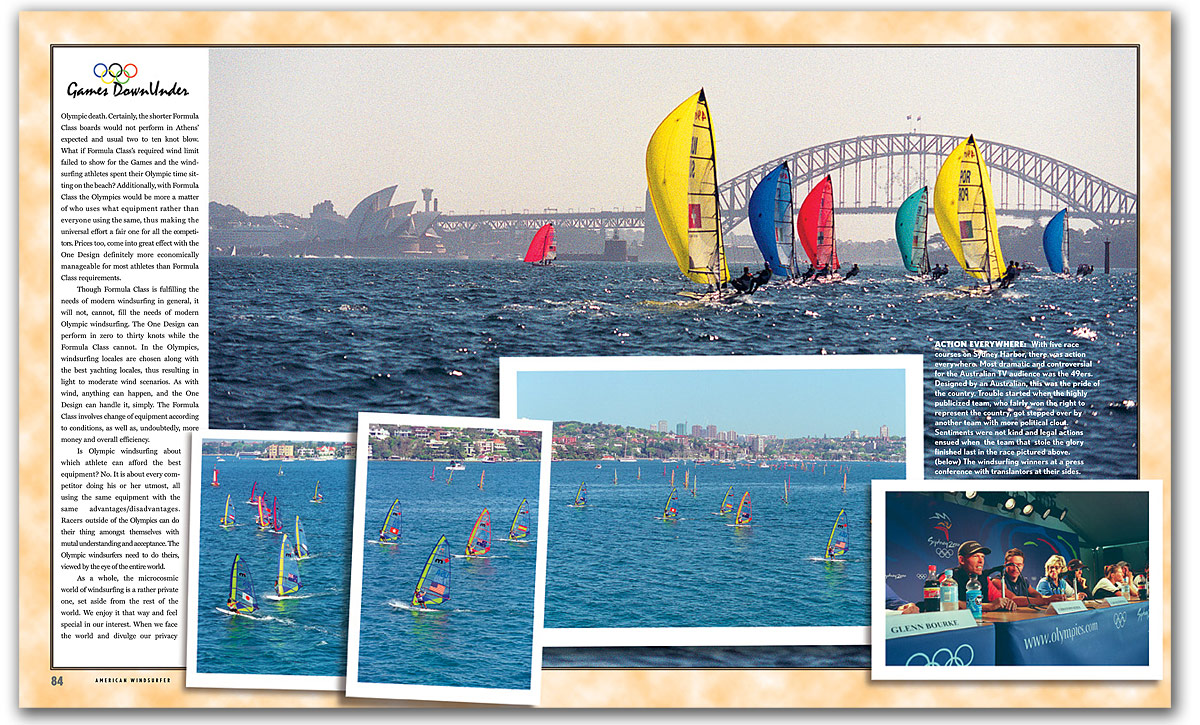 ACTION EVERYWHERE:  With five race courses on Sydney Harbor, there was action everywhere. Most dramatic and controversial for the Australian TV audience was the 49ers. Designed by an Australian, this was the pride of the country. Trouble started when the highly publicized team, who fairly won the right to represent the country, got stepped over by another team with more political clout. Sentiments were not kind and legal actions ensued when  the team that  stole the glory finished last in the race pictured above. (below) The windsurfing winners at a press conference with translators at their sides.
Though Formula Class is fulfilling the needs of modern windsurfing in general, it will not, cannot, fill the needs of modern Olympic windsurfing. The One Design can perform in zero to thirty knots while the Formula Class cannot. In the Olympics, windsurfing locales are chosen along with the best yachting locales, thus resulting in light to moderate wind scenarios. As with wind, anything can happen, and the One Design can handle it, simply. The Formula Class involves change of equipment according to conditions, as well as, undoubtedly, more money and overall efficiency.
Is Olympic windsurfing about which athlete can afford the best equipment? No. It is about every competitor doing his or her utmost, all using the same equipment with the same advantages/disadvantages. Racers outside of the Olympics can do their thing amongst themselves with mutal understanding and acceptance. The Olympic windsurfers need to do theirs, viewed by the eye of the entire world.
As a whole, the microcosmic world of windsurfing is a rather private one, set aside from the rest of the world. We enjoy it that way and feel special in our interest. When we face the world and divulge our privacy openly, we want the world to be breathless, respectful, enthused, and delighted to share our pleasure.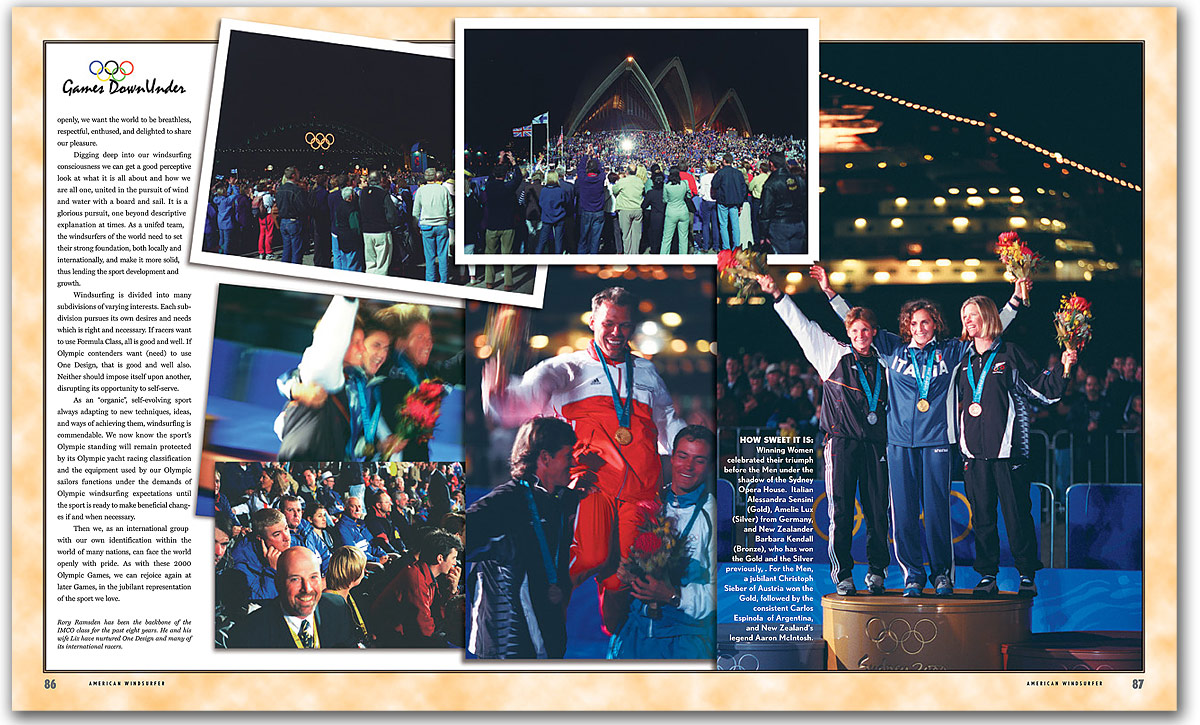 HOW SWEET IT IS:  Winning Women celebrated their triumph before the Men under the shadow of the Sydney Opera House.  Italian Alessandra Sensini (Gold), Amelie Lux (Silver) from Germany, and New Zealander Barbara Kendall (Bronze), who has won the Gold and the Silver previously, . For the Men, a jubilant Christoph Sieber of Austria won the Gold, followed by the consistent Carlos Espinola  of Argentina, and New Zealand's legend Aaron McIntosh.
Digging deep into -our windsurfing consciousness we can get a good perceptive look at what it is all about and how we are all one, united in the pursuit of wind and water with a board and sail. It is a glorious pursuit, one beyond descriptive explanation at times. As a unifed team, the windsurfers of the world need to set their strong foundation, both locally and internationally, and make it more solid, thus lending the sport development and growth.
Windsurfing is divided into many subdivisions of varying interests. Each subdivision pursues its own desires and needs which is right and necessary. If racers want to use Formula Class, all is good and well. If Olympic contenders want (need) to use One Design, that is good and well also. Neither should impose itself upon another, disrupting its opportunity to self-serve.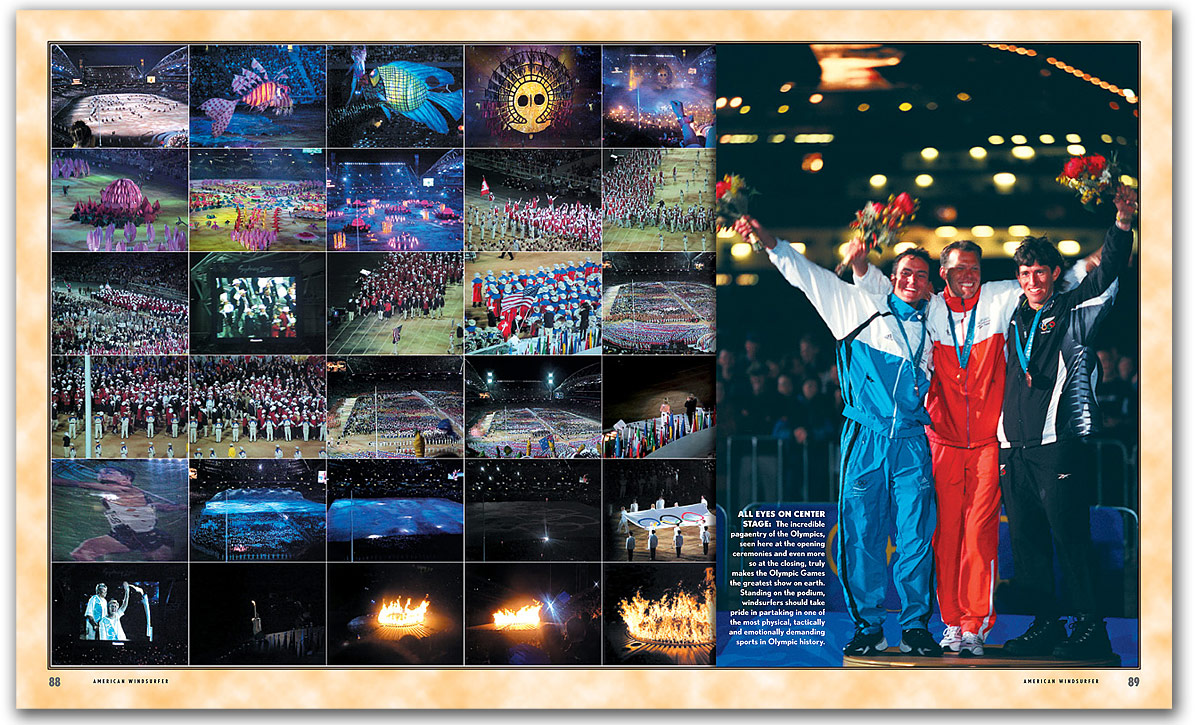 ALL EYES ON CENTER STAGE:  The incredible pagaentry of the Olympics, seen here at the opening ceremonies and even more so at the closing, truly makes the Olympic Games the greatest show on earth. Standing on the podium, windsurfers should take pride in partaking in one of the most physical, tactically and emotionally demanding sports in Olympic history.
As an "organic", self-evolving sport always adapting to new techniques, ideas, and ways of achieving them, windsurfing is commendable. We now know the sport's Olympic standing will remain protected by its Olympic yacht racing classification and the equipment used by our Olympic sailors functions under the demands of Olympic windsurfing expectations until the sport is ready to make beneficial changes if and when necessary.
Then we, as an international group with our own identification within the world of many nations, can face the world openly with pride. As with these 2000 Olympic Games, we can rejoice again at later Games, in the jubilant representation of the sport we love.
---
Rory Ramsden has been the backbone of the IMCO class for the past eight years. He and his wife Liz have nurtured One Design and many of its international racers.
---