Click to Magazine View

TENSE DELAYS IN PORTUGAL: The uncertainty and complexity of the TAWR became quickly clear. Delays in the delivery of the RIBs becalmed the event onland. Sailors, organizers and media all had to react quickly to changing forces. The author, (below) sitting, dry and in limbo, struggled with a shattered schedule. Responsibilities of work and family became issues that everyone had to manage. Mounts of gear (right) piled on hotel floor became dead weight and had to be transported to Cadiz, Spain beforestored on-board the wayward RIBs.
When John Chao called me in January, saying, "We need to start thinking about gear for the Trans-Atlantic," my mind started racing. Although I was sitting at my desk at Trilogy Software, in Austin, Texas, trying to focus on the day's tasks, my mind would sometimes wander into the ocean. Never having windsurfed in the middle of the Atlantic, I had hundreds of questions: Wind velocity, direction, currents, water temperature, etc. This route also was very different from that taken during TAWR 98. How then would I be able to get the information for choosing the right gear?
Fortunately, my career as an engineer has given me years of training and experience in solving problems like this. First step was to assess the known facts. The route planned for TAWR2000 was the same one followed by the original Portuguese explorers 500 years earlier, and by a myriad of sailboats ever since. This meant that there were 500 years' worth of nautical logs and sailors' accounts of maritime conditions. In pondering the first crossings, I realized how courageous those sailors really were. We now have satellite technology and radar. They couldn't even track a hurricane!
With the Web, research has become very easy these days. My favorite site was www.StormSurf.Com From Cabo Verde to Fortaleza, Brazil, the 1600-nautical mile ocean crossing, we could expect to be sailing downwind in winds averaging force 4 (but as high as force 6), and as low as 0 as we encountered the doldrums near the Equator. In theory, we could expect predominantly trade winds after the midpoint but anything could happen between Portugal and the Canaries! (And, as we were to learn, first hand…this meant ANYTHING!) The essence of great problem solving is to understand what you don't know. In this case, the biggest unknown would be the Rigid Inflatable Boat (R.I.B.) that would be taking four team members and two drivers across one of the most challenging bodies of water on the planet. Apart from sketches provided by the event organizers in London, all we knew about our R.I.B. was that it would be 35 feet long.
We had no real idea about the amount of storage space on board, although we knew it would be tight. If there was no opportunity to replace lost or broken gear in the middle of the ocean, we would need to bring replacement parts. Such questions became even more perplexing than the lack of information about the competing teams. We decided to err on the side of taking too much, with the idea of leaving stuff behind if there turned out to be not enough room. Working on what we could control, I emailed a questionnaire asking for everyone's height, weight, shoe size, etc., so that at least I could make sure we had the right size of equipment. We had to try to assess water and air temperatures because we also had to have the right clothing as well as the right sailing equipment. (As anyone who has gotten caught in the water too long knows, a case of hypothermia can seriously ruin your day. In the final struggle with the sea conditions, despite all our precautions and planning, several sailors did suffer from hypothermia.)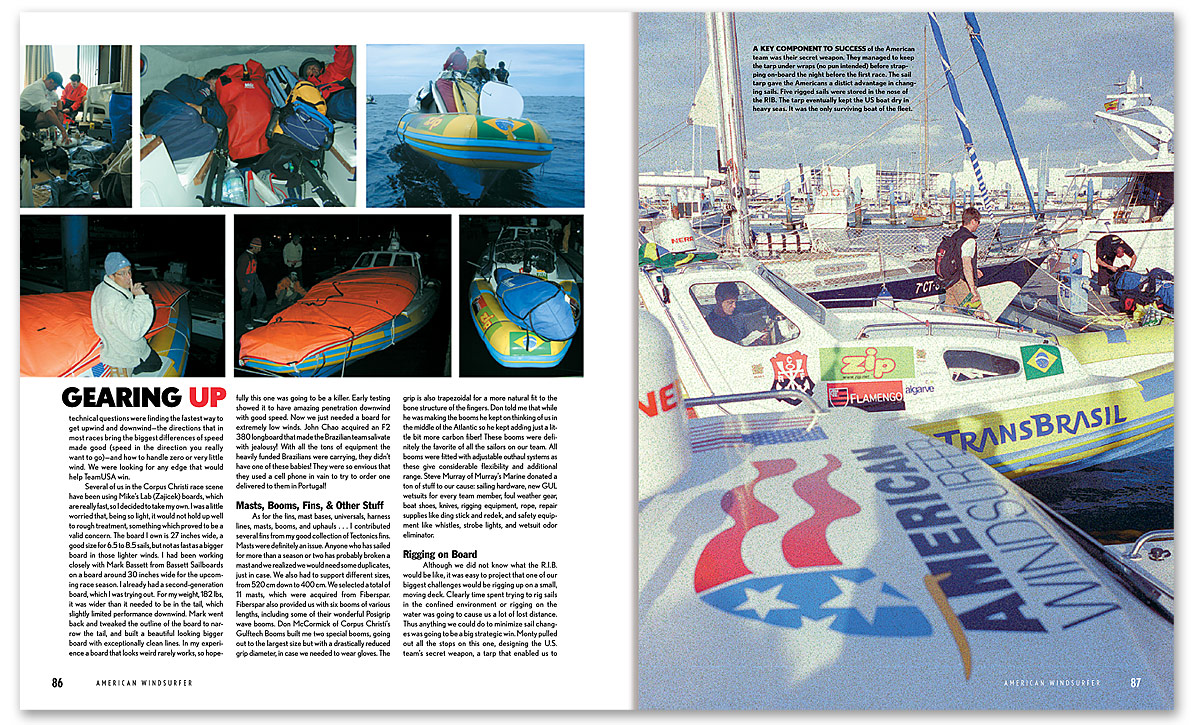 A KEY COMPONENT TO SUCCESS of the American team was their secret weapon. They managed to keep the tarp under wraps (no pun intended) before strapping on-board the night before the first race. The sail tarp gave the Americans a distict advantage in changing sails. Five rigged sails were stored in the nose of the RIB. The tarp eventually kept the US boat dry in heavy seas. It was the only surviving boat of the fleet.
LAM/The Loft Solves Sail Dilemma
With less than two months before our departure date, time was short. Fortunately, the US team had Monty Spindler, one of the world's premiere sail designers. Monty and I shared dozens of email communications about the sails, finally deciding that he would build custom sails with cambers in 7.8 8.7 and 9.7 sizes in addition to the smaller size production Loft sails being provided by LAM Sails who manufacture his Loft brand sails. One problem was what to use in almost no wind conditions. With so little time, Monty did not feel comfortable starting a new design for a huge sail. LAM sails came through with the addition of a Tushingham 10.6!
Boards
With only limited sponsorship, all our financial backing was allocated for the team's stiff entry fee of fifty thousand dollars. This really cramped our budget for the big-ticket item, the sailboards themselves. Because of the range of conditions we expected, we could not take just one or two boards…especially if we wanted to win! On reaching legs we were going to need fast slalom boards, a big one for lighter winds and a small one for when it was really blowing. (What we didn't realize at the time was that when it was really blowing, ocean conditions would become too risky for windsurfing altogether!) Roberto Ricci of RRD came through with fast, easy to handle RRD boards. For me, the most pressing technical questions were finding the fastest way to get upwind and downwind—the directions that in most races bring the biggest differences of speed made good (speed in the direction you really want to go)—and how to handle zero or very little wind. We were looking for any edge that would help TeamUSA win.
Several of us in the Corpus Christi race scene have been using Mike's Lab (Zajicek) boards, which are really fast, so I decided to take my own. I was a little worried that, being so light, it would not hold up well to rough treatment, something which proved to be a valid concern. The board I own is 27 inches wide, a good size for 6.5 to 8.5 sails, but not as fast as a bigger board in those lighter winds. I had been working closely with Mark Bassett from Bassett Sailboards on a board around 30 inches wide for the upcoming race season. I already had a second-generation board, which I was trying out. For my weight, 182 lbs, it was wider than it needed to be in the tail, which slightly limited performance downwind. Mark went back and tweaked the outline of the board to narrow the tail, and built a beautiful looking bigger board with exceptionally clean lines. In my experience a board that looks weird rarely works, so hopefully this one was going to be a killer. Early testing showed it to have amazing penetration downwind with good speed. Now we just needed a board for extremely low winds. John Chao acquired an F2 380 longboard that made the Brazilian team salivate with jealousy! With all the tons of equipment the heavily funded Brazilians were carrying, they didn't have one of these babies! They were so envious that they used a cell phone in vain to try to order one delivered to them in Portugal!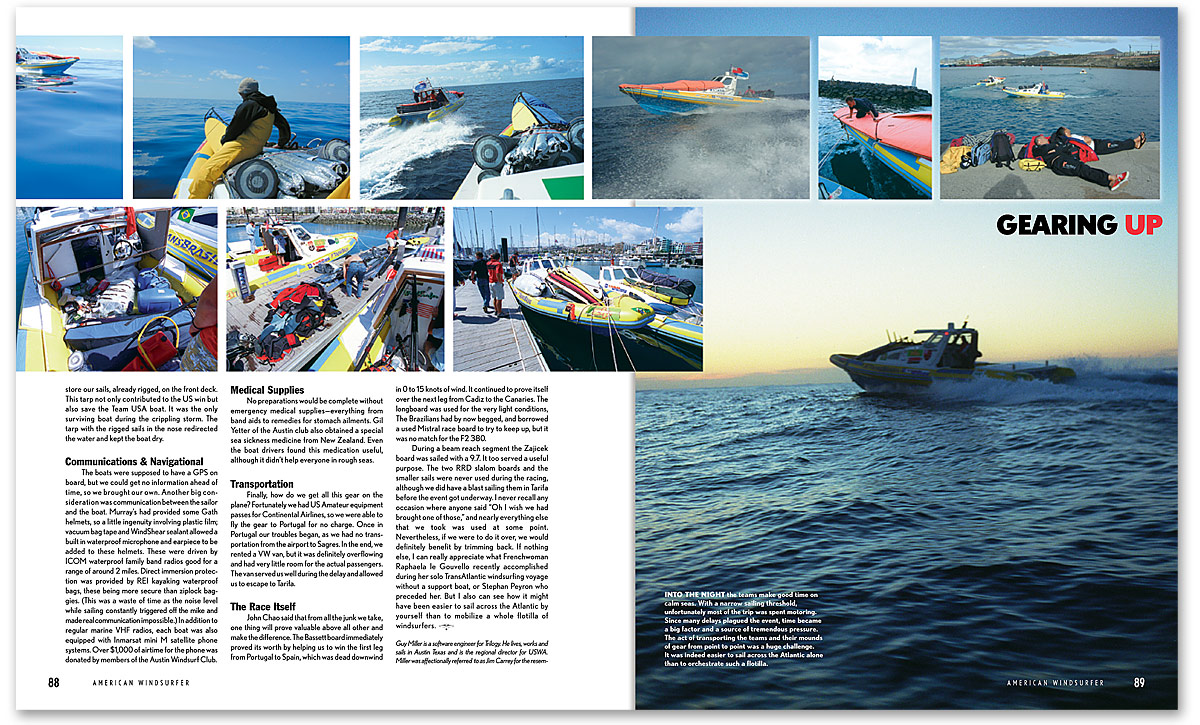 INTO THE NIGHT the teams make good time on calm seas. With a narrow sailing threshold, unfortunately most of the trip was spent motoring. Since many delays plagued the event, time became a big factor and a source of tremendous pressure. The act of transporting the teams and their mounds of gear from point to point was a huge challenge. It was indeed easier to sail across the Atlantic alone than to orchestrate such a flotilla.Masts, Booms, Fins, & Other Stuff
As for the fins, mast bases, universals, harness lines, masts, booms, and uphauls . . . I contributed several fins from my good collection of Tectonics fins. Masts were definitely an issue. Anyone who has sailed for more than a season or two has probably broken a mast and we realized we would need some duplicates, just in case. We also had to support different sizes, from 520 cm down to 400 cm. We selected a total of 11 masts, which were acquired from Fiberspar. Fiberspar also provided us with six booms of various lengths, including some of their wonderful Posigrip wave booms. Don McCormick of Corpus Christi's Gulftech Booms built me two special booms, going out to the largest size but with a drastically reduced grip diameter, in case we needed to wear gloves. The grip is also trapezoidal for a more natural fit to the bone structure of the fingers. Don told me that while he was making the booms he kept on thinking of us in the middle of the Atlantic so he kept adding just a little bit more carbon fiber! These booms were definitely the favorite of all the sailors on our team. All booms were fitted with adjustable outhaul systems as these give considerable flexibility and additional range. Steve Murray of Murray's Marine donated a ton of stuff to our cause: sailing hardware, new GUL wetsuits for every team member, foul weather gear, boat shoes, knives, rigging equipment, rope, repair supplies like ding stick and redek, and safety equipment like whistles, strobe lights, and wetsuit odor eliminator.
---
Rigging on Board
Although we did not know what the R.I.B. would be like, it was easy to project that one of our biggest challenges would be rigging up on a small, moving deck. Clearly time spent trying to rig sails in the confined environment or rigging on the water was going to cause us a lot of lost distance. Thus anything we could do to minimize sail changes was going to be a big strategic win. Monty pulled out all the stops on this one, designing the U.S. team's secret weapon, a tarp that enabled us to store our sails, already rigged, on the front deck. This tarp not only contributed to the US win but also save the Team USA boat. It was the only surviving boat during the crippling storm. The tarp with the rigged sails in the nose redirected the water and kept the boat dry.
---
Communications & Navigational
The boats were supposed to have a GPS on board, but we could get no information ahead of time, so we brought our own. Another big consideration was communication between the sailor and the boat. Murray's had provided some Gath helmets, so a little ingenuity involving plastic film; vacuum bag tape and WindShear sealant allowed a built in waterproof microphone and earpiece to be added to these helmets. These were driven by ICOM waterproof family band radios good for a range of around 2 miles. Direct immersion protection was provided by REI kayaking waterproof bags, these being more secure than ziplock baggies. (This was a waste of time as the noise level while sailing constantly triggered off the mike and made real communication impossible.) In addition to regular marine VHF radios, each boat was also equipped with Inmarsat mini M satellite phone systems. Over $1,000 of airtime for the phone was donated by members of the Austin Windsurf Club.
---
Medical Supplies
No preparations would be complete without emergency medical supplies—everything from band aids to remedies for stomach ailments. Gil Yetter of the Austin club also obtained a special sea sickness medicine from New Zealand. Even the boat drivers found this medication useful, although it didn't help everyone in rough seas.
---
Transportation
Finally, how do we get all this gear on the plane? Fortunately we had US Amateur equipment passes for Continental Airlines, so we were able to fly the gear to Portugal for no charge. Once in Portugal our troubles began, as we had no transportation from the airport to Sagres. In the end, we rented a VW van, but it was definitely overflowing and had very little room for the actual passengers. The van served us well during the delay and allowed us to escape to Tarifa.
---
The Race Itself
John Chao said that from all the junk we take, one thing will prove valuable above all other and make the difference. The Bassett board immediately proved its worth by helping us to win the first leg from Portugal to Spain, which was dead downwind in 0 to 15 knots of wind. It continued to prove itself over the next leg from Cadiz to the Canaries. The longboard was used for the very light conditions, The Brazilians had by now begged, and borrowed a used Mistral race board to try to keep up, but it was no match for the F2 380.
During a beam reach segment the Zajicek board was sailed with a 9.7. It too served a useful purpose. The two RRD slalom boards and the smaller sails were never used during the racing, although we did have a blast sailing them in Tarifa before the event got underway. I never recall any occasion where anyone said "Oh I wish we had brought one of those," and nearly everything else that we took was used at some point. Nevertheless, if we were to do it over, we would definitely benefit by trimming back. If nothing else, I can really appreciate what Frenchwoman Raphaela le Gouvello recently accomplished during her solo TransAtlantic windsurfing voyage without a support boat, or Stephan Peyron who preceded her. But I also can see how it might have been easier to sail across the Atlantic by yourself than to mobilize a whole flotilla of windsurfers.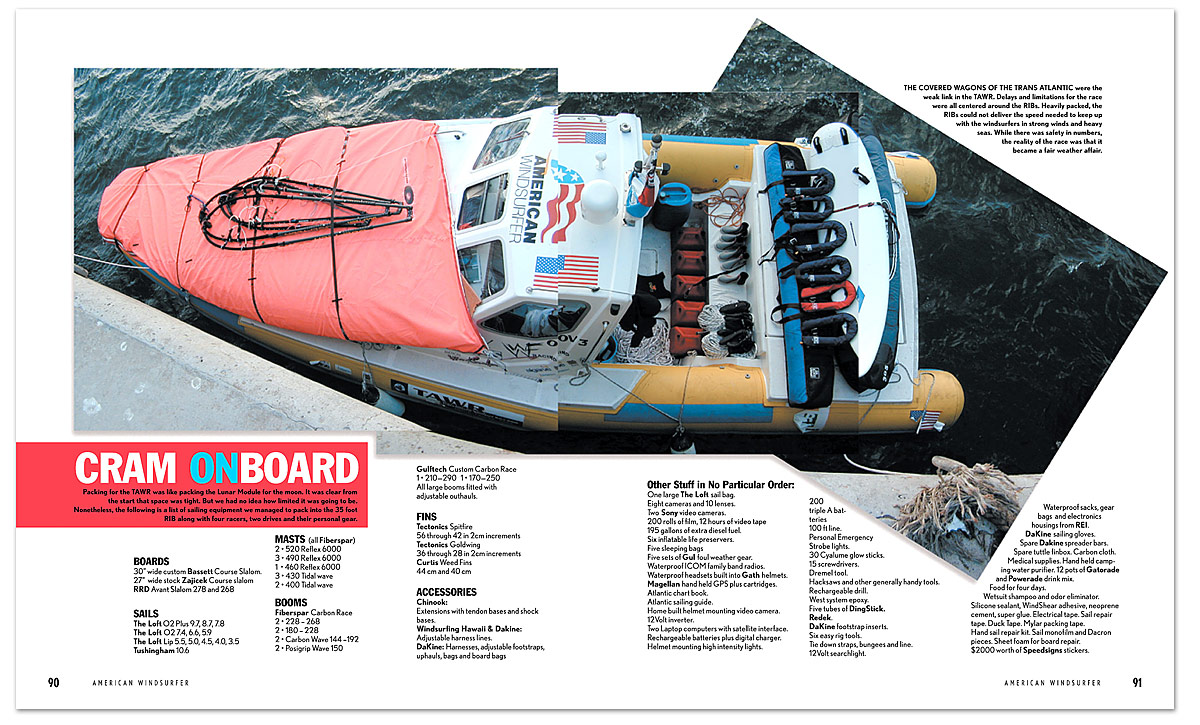 ---
Guy Miller is a software engineer for Trilogy. He lives, works and sails in Austin Texas and is the regional director for USWA. Miller was affectionally referred to as Jim Carrey for the resemblance.