Paia, Maui
Prados is one of dozens of Maui windsurfers who have refueled their passion for the sport by adding a new lure—a fishing lure. Instead of sailing for the simple thrill of speed and wave riding, this new breed of sailors are out trolling the big blue for ahi, aku, mahi-mahi, ono or other of Hawaii's deep water delicacies.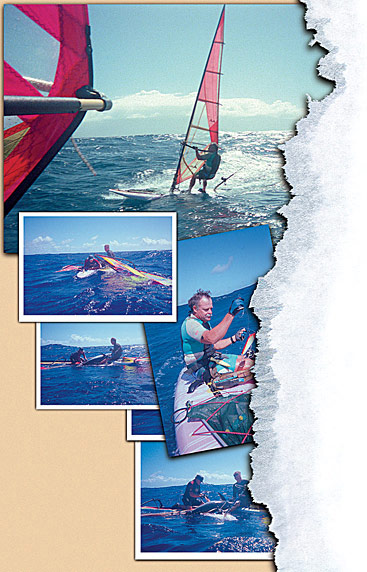 Prados is a member of an unofficial club of some 15-20 wind fishing enthusiasts who gather religiously every
Saturday at Tavares Bay shoreline access park to fish, compare notes and socialize. Prados' 182-pounder is reportedly the biggest fish ever brought in by a windsurfer. The ahi was so big, in fact, that Prados had to tow it in behind his board instead of carry it strapped to the deck, which is the standard mode of transporting the day's catch back to shore.
Landing the giant ahi wasn't easy. Prados got the strike about fifteen minutes after launching his board and sail off Tavares Bay, just northeast of Paia. Once he felt the fish hit, he dropped his sail in the water and sat down on his board to begin the job of reeling in the big ahi, or yellow-fin tuna. "I knew it was an ahi because it dove down deep right away," Prados said.
For an hour and 45 minutes he fought the powerful fish, knowing by the pull on his line that it had to be 100 pounds plus. "I'm feeling it right now," Prados said the following evening from his home in Haiku. Finally, after the fish had broken off the top portion of his rod, Prados called wind fishing buddy Beagle over to help land the fish.
Positioning his board parallel to Prados' in the water, Beagle hooked the ahi in the mouth with a metal gaff and heaved it onto the deck of both boards. With a kill spike, Beagle stabbed the ahi in the back of the head to prevent it from thrashing around and attracting predators. Regardless, the tuna's blood streaming into the sea attracted at least one four-foot shark to the scene, which had also attracted the curiosity of three other wind fishermen.=
Advertisement
"When it was about 15 feet down still, I could see another figure down there swimming around," Prados recalls. After they had the ahi securely on the deck, the men noticed three large chunks taken out of the fish. The two men worked quickly to get the ahi back to shore. With a rope laced around the ahi's gills and a gaff in its mouth, Prados towed the fish behind his board, making a beeline to the nearest beach, which was Baldwin Park three miles downwind from Tavares Bay.
Later that evening, after weighing the ahi on the big scales at Mama's Fish House, and icing it down, Prados and Beagle brought their catch back to Tavares Bay, where wind fishermen snapped photos and congratulated them on their record-breaking catch.
Before the 182-pounder, Prados' biggest catch had been a 40-pound ono. A typical catch for Maui windfishing is a 20-30 pound fish. "It was really unexpected to get a fish that big. It's just a fluky thing," Prados said.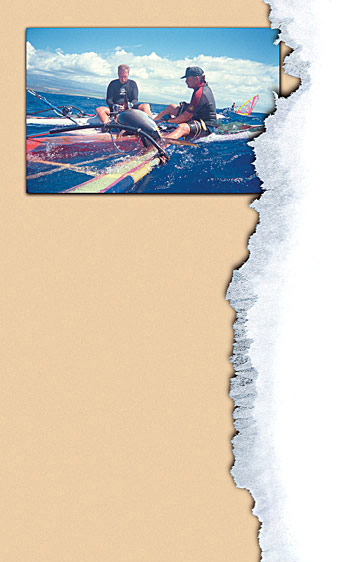 Gone Wind Fishing
Like in any young sport, technique and technology are constantly changing and improving. After a day of fishing, the Tavares Bay guys gather 'round their tailgates in the dirt parking lot, crack open icy cold beers and compare notes on what works and what doesn't. They also help new-comers get involved in the sport by advising them on gear purchases and taking them along on the water.
To get into windfishing, you need a longer board with enough flotation to carry a thirty-pound fish on the deck, a standard 4.5 or 5.0 RAF sail, hundreds of dollars worth of fishing paraphernalia and knowledge of the sports' two parts–windsurfing and fishing.
Although being proficient at windsurfing is mandatory in order to wind fish, the two sports differ in many ways: board size, speed of travel and purpose. Because they're on long boards, wind fishermen travel at a slow plane (around 8 knots), slower than most windsurfers on short boards. They do slow, drawn–out jibes, careful not to let any slack form in the line, especially when fishing over shallow water where a sinking hook can catch on the bottom. They use RAF sails with little or no monofilm which could easily be torn by a sharp fin. When landing the fish, the sail becomes a floating platform to flop the fish on while trying to kill it and get it in the mesh bag which is strapped to the deck in front of the mast.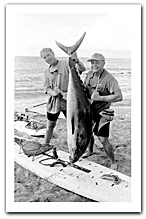 The boards are equipped with a heavy-duty ocean fishing reel and line. Some fishermen mount the reel directly to the board, while others mount it to a short rod which slips in and locks to a holder on the stern.
Wind fishermen troll with a variety of lures, valued at around $25 each, and stop to change lures if the fish aren't biting. Prados caught the 182 -pound ahi on a five-inch long Green Chrome Jet with a 9.0 size hook. The lure skips along the surface some 100 feet behind the sailboard, impersonating flying fish or other small fish whose presence will bring a big fish up to the surface to investigate and hopefully bite.
Many wind fishing enthusiasts come into the sport with a windsurfing background and little or no fishing experience. That's where Maui's Lou Pacheco, owner of Pappy's Fishing and Hobby, comes in. He's been fishing all his life and didn't know what to think about the windsurfers who were coming into his shop and asking for information about lures, rods and reels. "They came up and asked,'Could you make a rod for us so we can windsurf and troll at the same time?' and I said 'You want to do what?' Do you have some pretty good insurance on your bod?"
Together, the fishing expert and windsurfers came up with a prototype and then improved it. And they're still making changes. "Right now I'm wrapping five rods," Pacheco explains. They want red, orange, green–all sorts of colors. I guess they want them to match their sails. Everybody's getting into it because of what Alfred did with the big ahi."
Pacheco estimates there are 35-40 wind fishermen on Maui. Some of them have approached him about organizing a wind fishing tournament. "They want to make a contest, but I don't know if I want to do it because of insurance and all," he says, adding, "I make them and sell them everything, but my deal is—watch out for the sharks."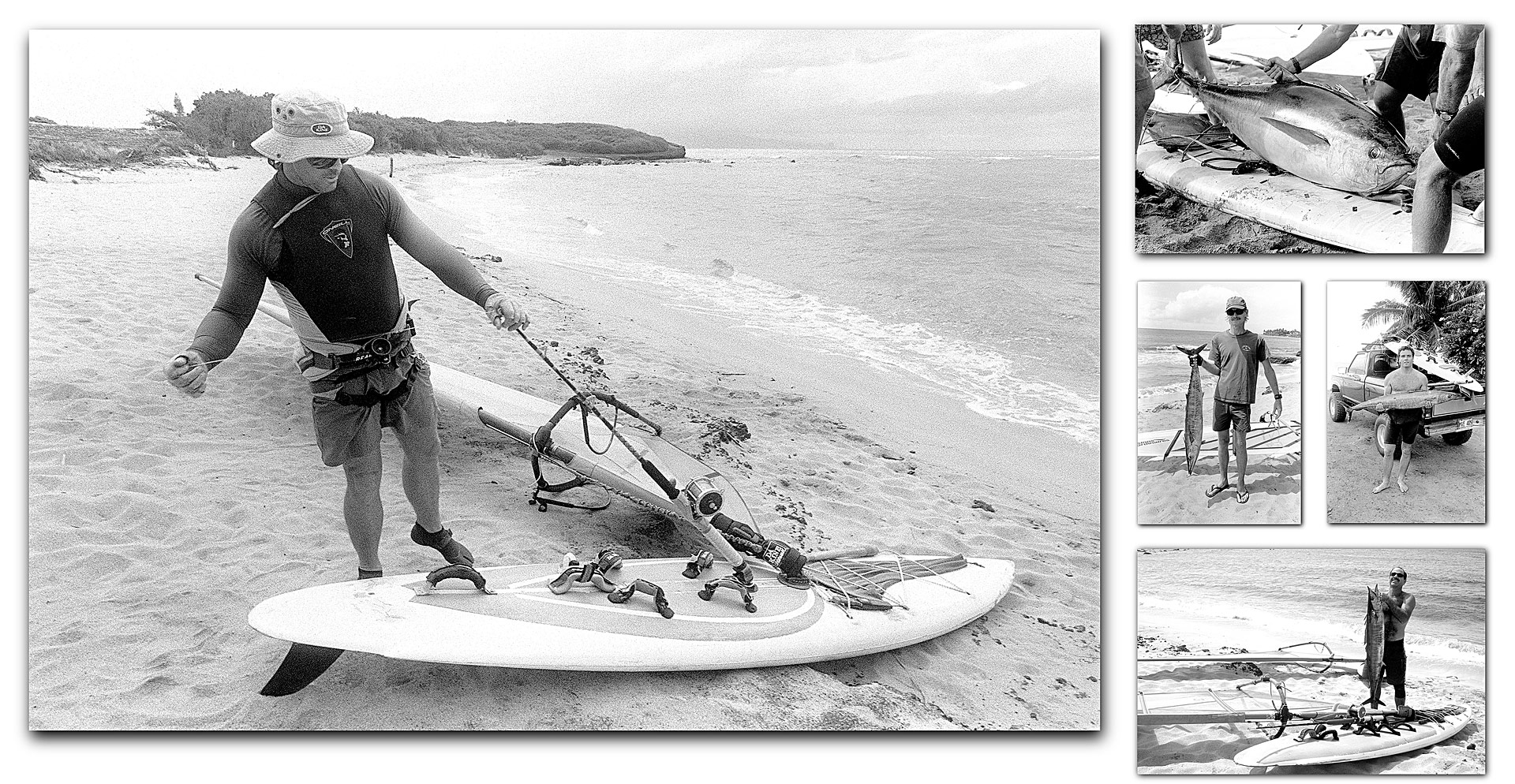 ONE PART TECHNOLOGY, ONE PART STEALTH: Chris Caillarec, (left) the unofficial guru of windfishing prepares for a day of trolling. Proof positive that windfishing works, Alfred Prados' 182 pound Ahi, Paul Andersen, Brendon and Dale, all with Ono on the beach at Tavares Bay.
Pioneers in the Sport
Long-time Maui resident, Chris Caillarec is the club's unofficial guru. He lives about a mile up Hana Highway and is seldom seen without a fishing board, a rigged sail and a cooler in the back of his small pickup. In the eight years he's been windfishing, Caillarec has caught literally hundreds of fish.
"Wind fishing is one part technology and one part stealth," Caillarec explains.  "The whole idea is to be sneaky enough to quietly get your one fish without creating a lot of commotion and blood," he says, referring, of course, to the ocean's landlord, the shark.
When you're carrying a bloody, thirty pound fish on your deck 10 miles from shore, it's usually a good idea to head home. One time Caillarec had three fish in his net bag on the deck and got harassed by a shark. Afterwards, he became more conservative, limiting his catch to one, and getting it to shore ASAP.
One of the sport's early pioneers is Maui real estate salesman Fred Haywood, who broke the world speed record in 1983 by windsurfing at the speed of 30.82 knots. He started fishing Maui's reefs around 1980 on a large wave board with co-worker Lenny Cappe (who now owns Hawaiian Island Windsurfing in Kahului). Fishing the reefs close to shore, they brought in three to six pound uluas. The waves breaking on the reefs churn up the water and draw fish on the feed, Haywood says.
Reef fishing is especially technical because of the shallow water. The key is to understand how not to get the line tangled or the hook caught on the reef. "Don't turn in shallow areas, make big wide jibes and always keep your board planing," Haywood advises.
Today's wind fishing enthusiasts are sailing past the reefs in deeper waters sometimes 10 miles from shore, trolling for bigger, migratory fish. From that far out, the beach disappears behind the swells and you're left with a view of Haleakala volcano and the green sugar cane fields at its base. "The lure of the blue water was calling us," says Caillarec. In 1988, he started fishing less than one mile from shore on the Spreckelsville Reef for papio and ulua. "Paul Beagle is the one who started fishing on the outside four years ago. I found out then that it was really working," Caillarec recalls.
Advertisement
Maui's consistent wind, warm water and abundance of fish make it a natural place for windfishing to develop. But people are reportedly wind fishing in places like Florida and Baja, Mexico, as well. "I think wind fishing is going to revive a lot of old timers back into the sport," says Haywood, referring to people who used to windsurf and gave it up for one reason or another.
Martin Vollert is a new wind fisherman on Maui. After sailing for 10 years on Maui, he grew tired of battling the "get-off-my-wave" attitude of Ho'okipa's world-class wave sailing scene. "You can have your wave, just give me my ocean," Vollert says. "When you're out there, you're not competing for space with anyone. You can claim your own 500 square acres if you want. Windsurfing should be something beautiful done with nature," he says, adding, "The scene in the waves isn't that."
---
I knew I needed a photo of someone catching a fish. I had photos of before and after, but nothing really showing the main event.
So I bought a Kodak single useFunSaver water proof camera and spent three hours one Friday following Alfred Prados around on the water. On his 12-foot wind fishing board, he sailed what seemed like five miles from shore-farther than I've ever gone on my 8' 6" glass board. We tacked more than two miles upwind and then sailed back down and never in the entire three hours got a bite
The next day I tried again. It was Saturday, and there were at least 10 windfishermen out trolling in the deep blue waters of Maui. My odds were better, I figured, with 10 guys. Less than fifteen minutesafter launching, I saw Prados sitting on his board about two miles out with tension on his line. He looked very small and isolated out there as heheaved the line back, bending his rod 'til it looked a candy cane.Eventually, after an hour and a half, Prados' 182 pound ahi broke the tip of the rod. Still, he was able to bring it in.
I must have done at least 50 jibes in the giant, rolling swells as I circled Prados giving him plenty of space to avoid getting tangled in his line.
That's when I moved in to get the shot.Just as I lay my 4.2 sail down and sat precariously on my sinky 8' 6" Schuler, Prados yelled, "There are sharks in thewater! Get your feet out!"
I got as close to the fish as possible, trying to fill the frame with action as the men struggled to kill the big tuna and string a rope through its gills for towing. I snapped maybe five frames then realized I needed to get out of there. Besides the three of us, there were at least three other wind fishermen down in the water, watching the show.
Later Prados was describing the scene to a friend and said, "That crazy broadwith thecamera got in the water to waterstart, with sharks just below the surface!" What else could I do? I uphaul the Schuler sometimes as a challenge in light winds and fairly flat water, but in powered up 4.2 conditions with 10-foot swells, six other sails in the water, overlapping each other? I don't think so.
Before I even stopped to ponder the consequences, I was in the water doing a very quick water start. During the reach back upwind to Tavares Bay I started to realize the danger I had been in. I saw the three large chunks torn out of the fish's body and realized that could have been me.
At the time, Prados and his friend thought I was a little crazy. But now? They want copies of the photos…Prados caught the 182 pound ahi on a five-inch long Green Chrome Jet with a 9.0 size hook. The lure skips along the surface some 100 feet behind the sailboard, impersonating flying fish or other small fish whose presence will bring a big fish up to the surface to