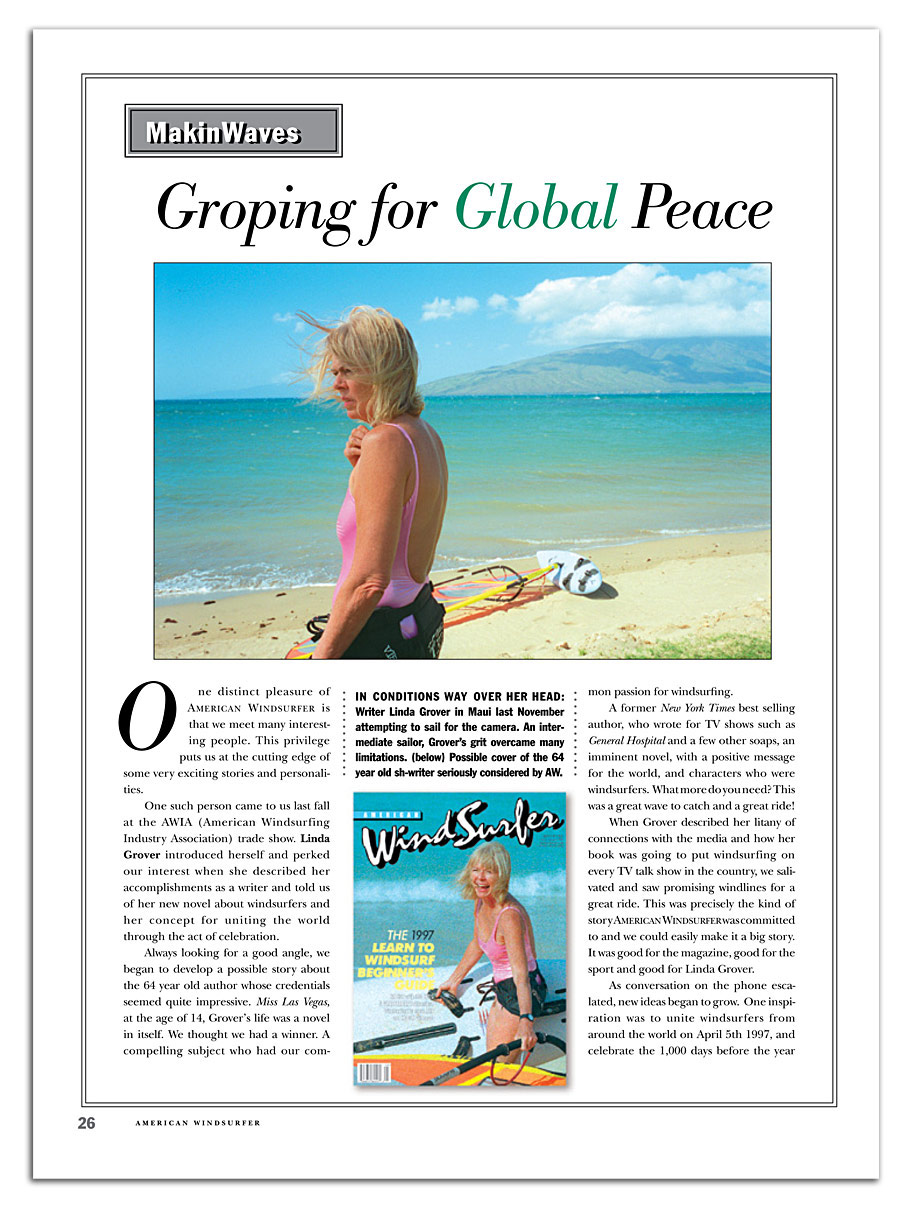 IN CONDITIONS WAY OVER HER HEAD: Writer Linda Grover in Maui last November attempting to sail for the camera. An intermediate sailor, Grover's grit overcame many limitations. (below) Possible cover of the 64 year old sh-writer seriously considered by AW.
ON THE SHORES OF KLAMATH LAKE, the setting of Linda Grover's new book. Quiet moments with Shalise before the storm of grand aspirations.
One distinct pleasure of American Windsurfer is that we meet many interesting people. This privilege puts us at the cutting edge of some very exciting stories and personalities.
One such person came to us last fall at the AWIA (American Windsurfing Industry Association) trade show. Linda Grover introduced herself and perked our interest when she described her accomplishments as a writer and told us of her new novel about windsurfers and her concept for uniting the world through the act of celebration.
Always looking for a good angle, we began to develop a possible story about the 64 year old author whose credentials seemed quite impressive. Miss Las Vegas,  at the age of 14, Grover's life was a novel in itself. We thought we had a winner. A compelling subject who had our common passion for windsurfing.
A former New York Times best selling author, who wrote for TV shows such as General Hospital and a few other soaps, an imminent novel, with a positive message for the world, and characters who were windsurfers.  What more do you need? This was a great wave to catch and a great ride!
When Grover described her litany of connections with the media and how her book was going to put windsurfing on every TV talk show in the country, we salivated and saw promising windlines for a great ride. This was precisely the kind of story American Windsurfer was committed to and we could easily make it a big story. It was good for the magazine, good for the sport and good for Linda Grover.
As conversation on the phone escalated, new ideas began to grow.  One inspiration was to unite windsurfers from around the world on April 5th 1997, and celebrate the 1,000 days before the year 2,000. As these long distance conversations began to take hold, Grover decided to fly to our offices in New Hampshire from Oregon. She felt it would be more efficient to develop further ideas and collaboration. At the same time, her working manuscript arrived at the office and our editors began to digest the work. Within a few pages into Tree Island, our euphoric expectations dimmed as the manuscript was hard to follow and clearly needed a re-write.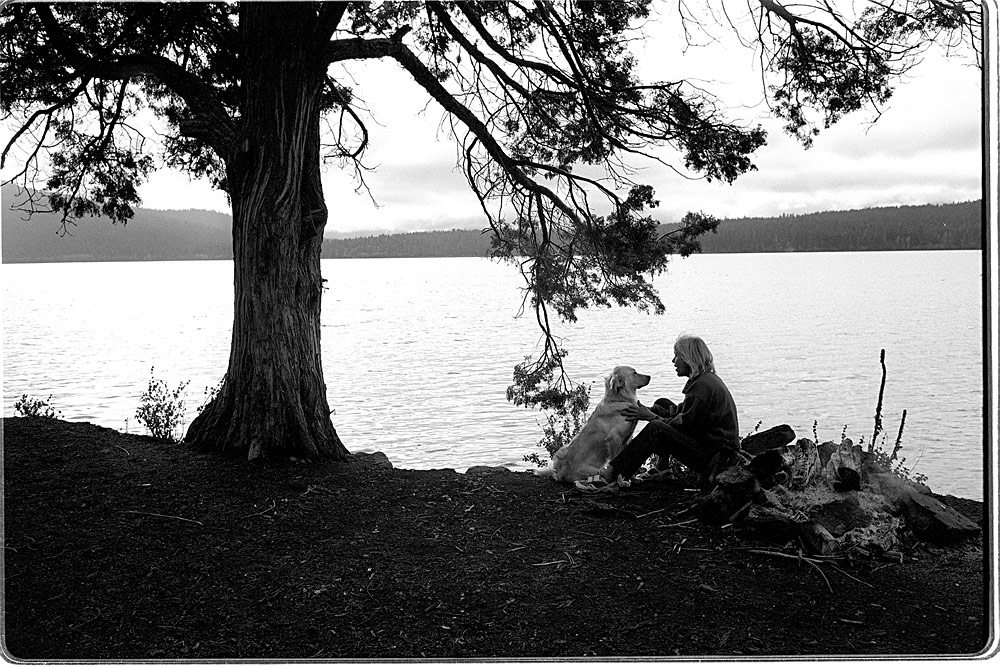 Beauty Queen with a propensity to chase wind and windmills: Writer Linda Grover's passion for windsurfing has put everything on the line with her upcoming book, Tree Island.
By this time the wave had gathered momentum and we were committed to the seemingly unstoppable ride. A ride that clearly served our interest and lust for what we saw was possible. Subtly, an alliance began to take form between the magazine and the writer. We became her critic and her seeming dependency compelled us to bolster her manuscript.
At first, our idea was to do an interview article with Linda Grover for an upcoming special women's issue. This was to be conducted simply by meeting up with Grover in her home in Klamath Falls, Oregon for photographs and an interview. But as the ideas took off like wild fire. Grover's grand notion of uniting the world through windsurfing tempted us to rethink our strategies. Suddenly, this story had to be told "in the next issue."
This was November and the attempt to package Linda Grover began to take earnest shape. She wanted to be photographed as a windsurfer and suggested that the magazine follow her out to Maui as well as to Klamath Falls.
Advertisement
Ideas on how to change the world through windsurfing continued to flow between the author and the magazine throughout the 10 day trip. In between these moments of inspiration, criticism, solutions and concerns for the unfinished manuscript were also exchanged. Slowly, it became apparent that the book was getting tougher for the author to finish. It was far easier and far more exciting for Grover to focus on the grand schemes of things and to keep creating new ideas and notions to change the world.
We began to call her Mrs. Don Quixote and began to have serious doubts. The ideas of a Global Celebration that Linda Grover applied to windsurfing was truly inspiring. But the foundation upon which these ideas were built was suspect. Completion of the book, which would serve as the foundation for any positive movement, seemed to play second fiddle to the excitement of seeing the frames of her grand house being erected.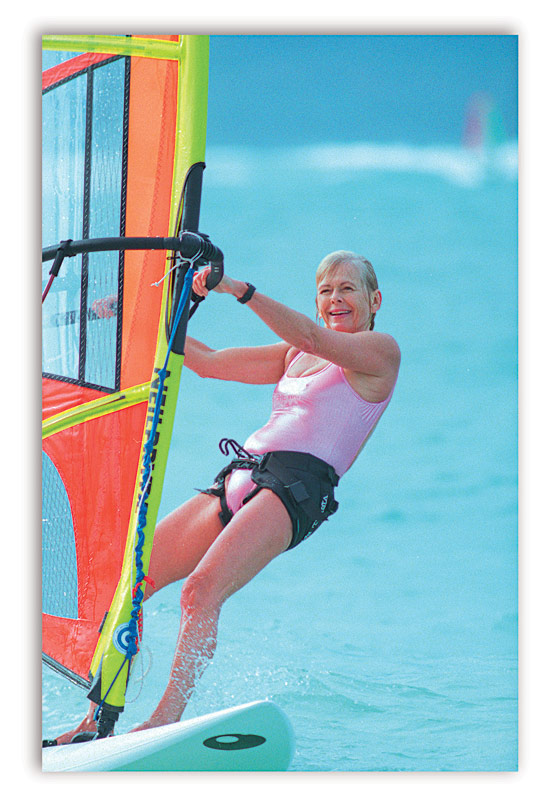 "Windsurfing utilizes both of these qualities and is the perfect visual icon for the new age. On May 2, 1999, windsurfers from around the world can celebrate the coming millennium by windsurfing. This simple act unites the world through a specific nature-driven activity and provides a visual message for the changing world.  Global Jibe suggests a worldwide change in attitude, turning away from conquering nature, towards partnership with nature, by following the lead of the windsurfer whose goal is to find balance between—wind and water." Excerpt from the Global Jibe proposal modified for 1999.
Suddenly, we were the crew that was erecting the house and the foundation was no where to be found. Time was running out. December came and left and the book was no where near completion. The publishing and distribution network for the book seemed to have crumbled and we were faced with a wave that petered out.
Still, we believed in the idea of a global windsurfing celebration and started to take matters into our own hands. We named the project, "Global Jibe: A Day in the Life of Windsurfing," wrote a complete proposal, made sure that Linda Grover received the credit for the inspiration of the idea, and began to pitch it to  the industry and outside sponsors.
The idea was simple, get windsurfers from around the world to go windsurfing on April 5th, and with their photographs, create a book documenting the day. In addition, ten corporate sponsors were to sponsor ten teams of world renowned photographers and writers and dispatch them to ten locations around the world on pre-determined articles. The idea was an easy sell and some major sponsors were quickly rounded up. But again, time was against us, and it became clear that the momentum generated would be wasted as the event would only be a third or a half of what it could be if it was postponed to another time.
In the meantime, Grover's book is no where near completion. Two months before April 5th, talks of self-publishing and limited readers' copies are being considered by the writer who still professes to be able to get on national TV and tell the world about the powers of windsurfing. Though the magazine was still supportive and could justify a story on Grover, it began to receive clear directives by the writer on how to do her story and what wrinkles we could or could not show.
To us this was the beginning of the end. Our interest in creating an article about a truly remarkable woman was compromised by her need for an advertorial piece. In the end, this was not about windsurfing, it was not about global celebration or global peace. This was not about giving…this was about the makings of a dysfunctional world.
Though we spent much money and energy on Grover's story, the article could not be packaged. But the making of the story is, in itself, tremendously entertaining, and this piece might provide a glimpse of what goes on behind an American Windsurfer article.
Meanwhile, following the advice of many windsurfers,  the "Global Jibe" project has been postponed until May 2, 1999. If you have read the editor's message in the Forecast section, you will note that the year 2000 marks the dawning of the new age of Aquarius­. Conveniently for windsurfers, this new age is governed by two signs—air and water.
Postponements seem to be everywhere. The Global Jibe project is not the only event postponed. The infamous JAWS contest has been postponed to 1998, as well as the Windsurfing World Tour headed by Britt Dunkerbeck and Jessica Crisp. One event that certainly  is not being postponed is the Aruba Hi-Winds. Already over 200 amateur competitors have pre-registered for the race and the Windsurfing Festival. Since our last issue, many countless calls have been made to American Windsurfer inquiring about the special airfares offered by American Airlines. As of March 14, 1997, the airline has yet to release the star file access code. The explanation for the delay of this special $250 round trip fare is the airlines marketing position of selling as many full fare tickets before flooding the planes with discounted fares.
Advertisement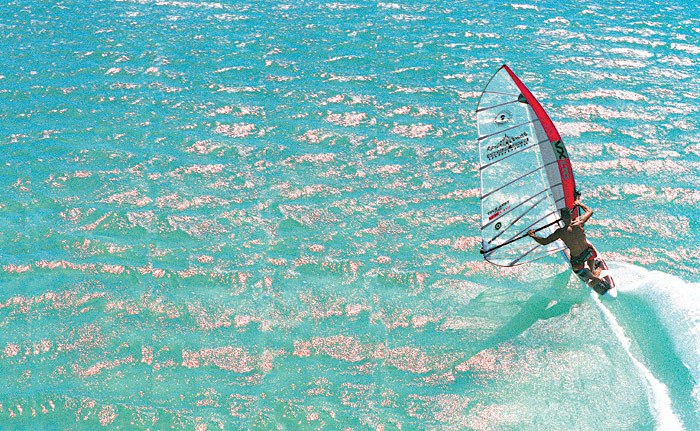 Regardless of airfare, this year's Hi-Winds will be the biggest windsurfing  party and gathering in the world. Speaking of gatherings, the 1997 USWA Nationals will also be a must-see event in St. Thomas this coming July. Originally, the event was to happen in 1996, then it was relocated to Corpus Christi after the hurricane that devastated the islands. Bill Collins, president of the United States Windsurfing Association, is ready to rock. This year, with  American Airlines as the title sponsor, the event is being billed as a family affair. Here, too, American Airlines is offering special fares that can be obtained for the participant and family members. This access code number will be provided after you submit an official registration form. The DoubleTree Sapphire and Point Pleasant Hotels are   both offering highly-discounted rates for event participants. For more information call, 888-776-9797. If this event is like anything Bill Collins has put together in the past, it will be the best.