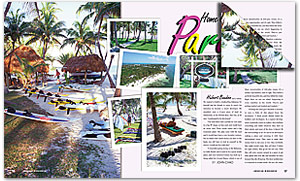 HUBERT BAUDOIN had a vision. He wanted to build a windsurfing hideaway for himself and his friends to enjoy. It wasn't his intention to become a resort developer. He stumbled onto a 17-acre piece of land on Islamorada, in the Florida Keys, that was, as he says, "condemned to be developed."
"The land there had a permit for 250 units in a big 'W' shape, so that each unit would have an ocean view. Three tennis courts and a big treatment plant. The plan came with the land and it would have been a very lucrative venture, but no matter how much money you have in the bank, you still have to look at yourself in the mirror. I could not live with that."
"I remember going racing, to the Bahamas, to Cable Beach, and it used to be a great windy place, and now Carnival Cruises has built up a thing called the Crystal Palace, which is one of those monstrosities of 300-plus rooms; it's a money supermarket, and it's ugly. They killed a perfectly beautiful site, and they killed the wind. Right there we can see what's happening to every coastline in the world. They're just
getting trashed and trashed and trashed…"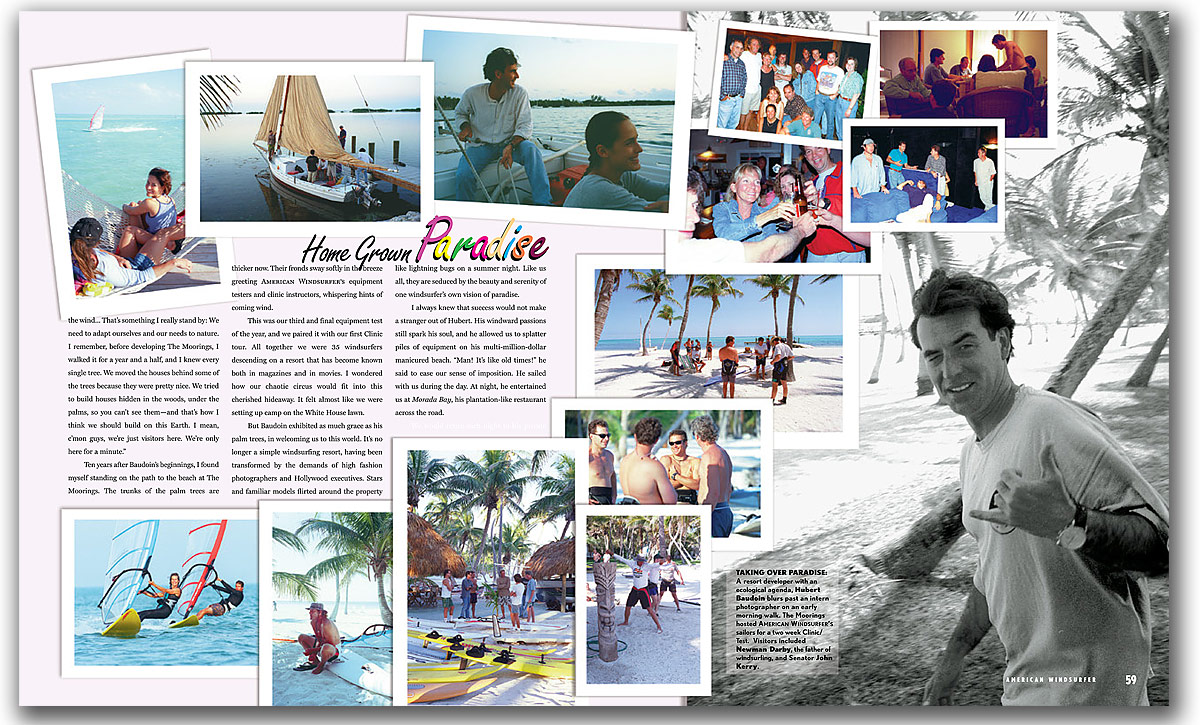 TAKING OVER PARADISE: A resort developer with an ecological agenda, Hubert Baudoin blurs past an intern photographer on an early morning walk. The Moorings hosted American Windsurfer's sailors for a two week Clinic/Test. Visitors included Newman Darby, the father of windsurfing, and Senator John Kerry.
Finding this land gave Baudoin a mission: to save a little of this planet from the developers. "I think people should watch the builders and developers. In a typical development, somebody comes to a place, they bulldoze everything and build whatever they have in their minds, and most of the time, it doesn't fit the surroundings at all. It's sad to see developers nuking a place and covering it with their shortsighted vision. They want to make their money back in one year, or two: they overbuild, they make tourist traps, they sell three T-shirts for eight dollars, they go for the low end. Then they call every nursery around in a panic to get little plants that look silly and shouldn't be there because they die off anyway. The Keys' architecture is a response to certain needs: the sun, the water, the wind… That's something I really stand by: We need to adapt ourselves and our needs to nature. I remember, before developing The Moorings, I walked it for a year and a half, and I knew every single tree. We moved the houses behind some of the trees because they were pretty nice. We tried to build houses hidden in the woods, under the palms, so you can't see them—and that's how I think we should build on this Earth. I mean, c'mon guys, we're just visitors here. We're only here for a minute."
Ten years after Baudoin's beginnings, I found myself standing on the path to the beach at The Moorings. The trunks of the palm trees are thicker now. Their fronds sway softly in the breeze greeting American Windsurfer's equipment testers and clinic instructors, whispering hints of coming wind.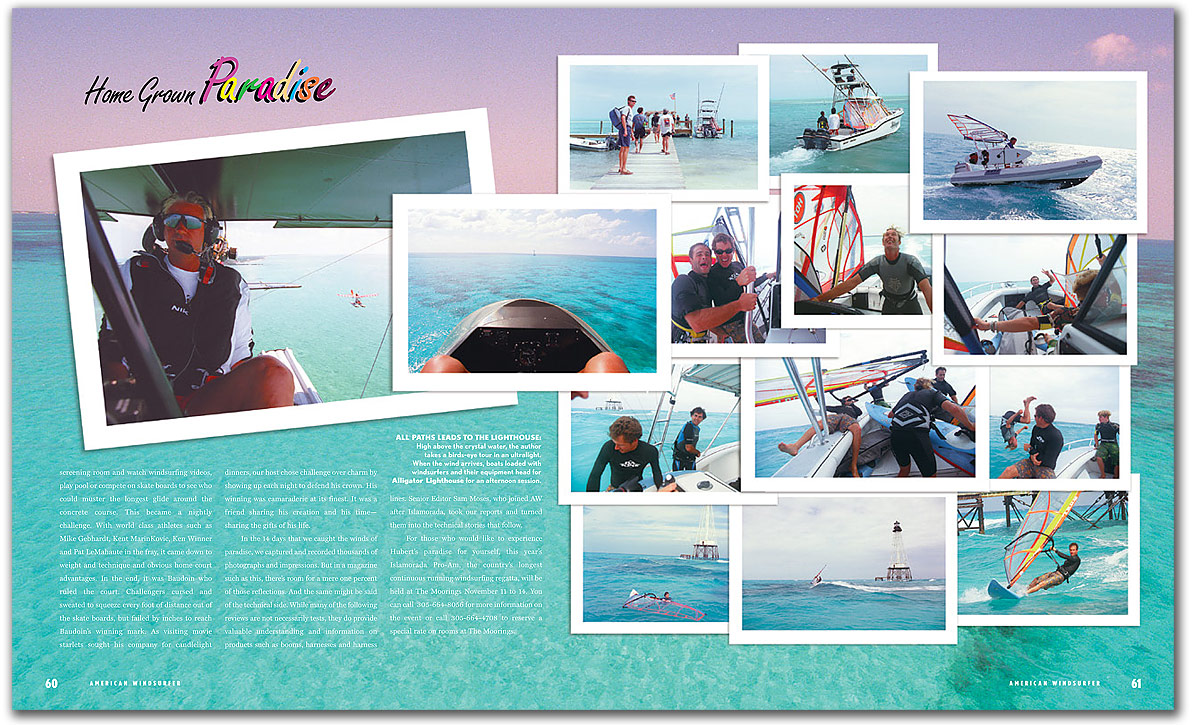 ALL PATHS LEADS TO THE LIGHTHOUSE:High above the crystal water, the author takes a birds-eye tour in an ultralight. When the wind arrives, boats loaded with windsurfers and their equipment head for Alligator Lighthouse for an afternoon session. 
This was our third and final equipment test of the year, and we paired it with our first Clinic tour. All together we were 35 windsurfers descending on a resort that has become known both in magazines and in movies. I wondered how our chaotic circus would fit into this cherished hideaway. It felt almost like we were setting up camp on the White House lawn.
But Baudoin exhibited as much grace as his palm trees, in welcoming us to this world. It's no longer a simple windsurfing resort, having been transformed by the demands of high fashion photographers and Hollywood executives. Stars and familiar models flirted around the property like lightning bugs on a summer night. Like us all, they are seduced by the beauty and serenity of one windsurfer's own vision of paradise.
I always knew that success would not make a stranger out of Hubert. His windward passions still spark his soul, and he allowed us to splatter piles of equipment on his multi-million-dollar manicured beach. "Man! It's like old times!" he said to ease our sense of imposition. He sailed with us during the day. At night, he entertained us at Morada Bay, his plantation-like restaurant across the road.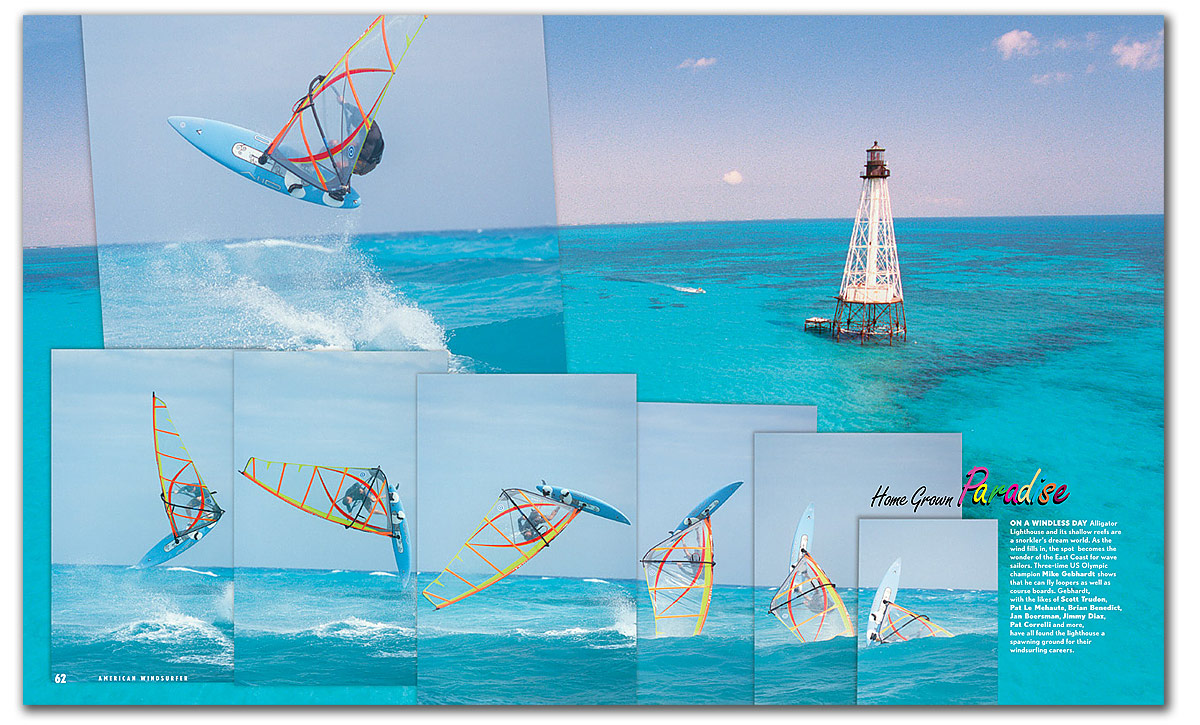 ON A WINDLESS DAY Alligator Lighthouse and its shallow reefs are a snorkler's dream world. As the wind fills in, the spot  becomes the wonder of the East Coast for wave sailors. Three-time US Olympic champion Mike Gebhardt shows that he can fly loopers as well as course boards. Gebhardt, with the likes of Scott Trudon, Pat Le Mehaute, Brian Benedict, Jan Boersman, Jimmy Diaz, Pat Correlli and more, have all found the lighthouse a spawning ground for their windsurfing careers.
We would retire each night to his private screening room and watch windsurfing videos, play pool or compete on skate boards to see who could muster the longest glide around the  concrete course. This became a nightly challenge. With world class athletes such as Mike Gebhardt, Kent MarinKovic, Ken Winner and Pat LeMahaute in the fray, it came down to weight and technique and obvious home court advantages. In the end, it was Baudoin who ruled the court. Challengers cursed and sweated to squeeze every foot of distance out of the skate boards, but failed by inches to reach Baudoin's winning mark. As visiting movie starlets sought his company for candlelight dinners, our host chose challenge over charm by showing up each night to defend his crown. His winning was camaraderie at its finest. It was a friend sharing his creation and his time—sharing the gifts of his life.
In the 14 days that we caught the winds of paradise, we captured and recorded thousands of photographs and impressions. But in a magazine such as this, there's room for a mere one percent of those reflections. And the same might be said of the technical side. While many of the following reviews are not necessarily tests, they do provide valuable understanding and information on products such as booms, harnesses and harness lines. Senior Editor Sam Moses, who joined AW after Islamorada, took our reports and turned them into the technical stories that follow.
For those who would like to experience Hubert's paradise for yourself, this year's Islamorada Pro-Am, the country's longest continuous running windsurfing regatta, will be held at The Moorings November 11 to 14. You can call  305-664-8056 for more information on the event or call 305-664-4708 to reserve a special rate on rooms at The Moorings.
---
Have something to add to this story? Share it in the comments.