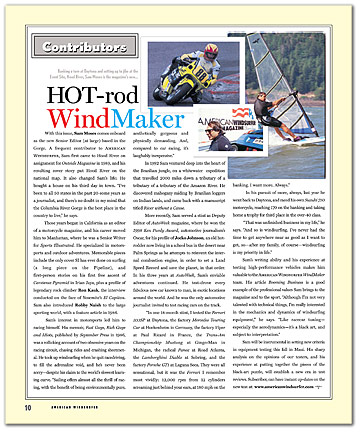 WITH THIS ISSUE, Sam Moses comes onboard as the new Senior Editor (at large) based in the Gorge. A frequent contributor to American Windsurfer, Sam first came to Hood River on assignment for Outside Magazine in 1989, and his resulting cover story put Hood River on the national map. It also changed Sam's life: He bought a house on his third day in town. "I've been to all 50 states in the past 20-some years as a journalist, and there's no doubt in my mind that the Columbia River Gorge is the best place in the country to live," he says.
Those years began in California as an editor of a motorcycle magazine, and his career moved him to Manhattan, where he was a Senior Writer for Sports Illustrated. He specialized in motorsports and outdoor adventures. Memorable pieces include the only cover SI has ever done on surfing (a long piece on the Pipeline), and first-person stories on his first free ascent of Carstensz Pyramid in Irian Jaya, plus a profile of legendary rock climber Ron Kauk, the interview conducted on the face of Yosemite's El Capitan. Sam also introduced Robby Naish to the large sporting world, with a feature article in 1986.
Sam's interest in motorsports led him to racing himself. His memoir, Fast Guys, Rich Guys and Idiots, published by September Press in 1986, was a rollicking account of two obsessive years on the racing circuit, chasing rides and crashing sheetmetal. He took up windsurfing when he quit racedriving, to fill the adrenaline void, and he's never been sorry—despite his claim to the world's slowest learning curve. "Sailing offers almost all the thrill of racing, with the benefit of being environmentally pure, aesthetically gorgeous and physically demanding. And, compared to car racing, it's laughably inexpensive."
Advertisement
In 1992 Sam ventured deep into the heart of the Brazilian jungle, on a whitewater  expedition that travelled 2000 miles down a tributary of a tributary of a tributary of the Amazon River. He discovered mahogany raiding by Brazilian loggers on Indian lands, and came back with a manuscript titled River without a Cause.
More recently, Sam served a stint as Deputy Editor of AutoWeek magazine, where he won the 1998 Ken Purdy Award, automotive journalism's Oscar, for his profile of Jocko Johnson, an old hot-rodder now living in a school bus in the desert near Palm Springs as he attempts to reinvent the internal combustion engine, in order to set a Land Speed Record and save the planet, in that order.
In his three years at AutoWeek, Sam's enviable adventures continued. He test-drove every fabulous new car known to man, in exotic locations around the world. And he was the only automotive journalist invited to test racing cars on the track.
"In one 18-month stint, I tested the Ferrari 333SP at Daytona, the factory Mercedes Touring Car at Hockenheim in Germany, the factory Viper at Paul Ricard in France, the Trans-Am Championship Mustang at GingerMan in Michigan, the radical Panoz at Road Atlanta, the Lamborghini Diablo at Sebring, and the factory Porsche GT1 at Laguna Seca. They were all
sensational, but it was the Ferrari I remember most vividly: 12,000 rpm from 12 cylinders screaming just behind your ears, at 180 mph on the banking. I want more. Always."
In his pursuit of more, always, last year he went back to Daytona, and raced his own Suzuki 750 motorcycle, reaching 170 on the banking and taking home a trophy for third place in the over-40 class.
"That was unfinished business in my life," he says. "And so is windsurfing. I've never had the time to get anywhere near as good as I want to get, so—after my family, of course—windsurfing is my priority in life."
Advertisement
Sam's writing ability and his experience at testing high-performance vehicles makes him valuable to the American Windsurfer WindMaker team. His article Booming Business is a good example of the professional values Sam brings to the magazine and to the sport. "Although I'm not very talented with technical things, I'm really interested in the mechanics and dynamics of windsurfing equipment," he says. "Like racecar tuning—especially the aerodynamics—it's a black art, and subject to interpretation."
Sam will be instrumental in setting new criteria in equipment testing this fall in Maui. His sharp analysis on the opinions of our testers, and his experience at putting together the pieces of the black-art puzzle, will establish a new era in test reviews.