THE STARS CAME OUT TO PLAY Old school freestylers and new school shredders formed a mutual admiration club, as seen with Josh Stone and Chip Winans. Both pulled something out of their pockets to try to win the event, while Alan McLaughlin, literally did so to the delight of the crowd.
The First Annual King of the Cape Freestyle Pro-Am, sponsored by North Sails/F2 and held over two days at beautiful West Dennis Beach on Cape Cod, quite possibly marked the beginning of a new movement in windsurfing. By the end of this remarkable event, freestyle windsurfing suddenly looked like a cross between skateboarding, snowboarding and BMX. And like those sports, the spectators were standing just feet away from the participants and were part of the event with their screams and whoops of appreciation and downright disbelief.
The key to the success was that King of the Cape had no wind minimum. The entry list included both veteran freestylers on vintage longboards and hot young guys and gals on shortboards that resembled wakeboards, all hoping for conditions that suited their equipment and styles. Almost magically, they all got their wishes.
The new freestyle equipment makes trying and executing new maneuvers much easier, opening the door for these shortboard warriors to make incredible moves: The Willy Skipper, Vulcan, Spock, Wymaroo, Spin Loop, Haas Tack, Lollipop, Orca, Stick in the Mud, Dropping a Bomb, Drive By and Body Drag. No, don't ask for them to be described. You gotta see them for yourself.
But it was also extremely interesting to watch the battle between the old school and the new school. With no wind minimum, it was sail-what-you-can, with heats being run all day long. The winds during Saturday's first three rounds were in 8-12 knots, favoring the old school. New schoolers Josh Stone, Web Pedrick and Jace Panebianco had their eyes opened wide by a mind-blowing performance of longboard freestyle on Saturday, leaving them deep in the rankings and stunned. What they had regarded as old and outdated had just become their worst competitive nightmare—and they were full of awe. Said Josh Stone, of Chip Winans' performance on his original Windsurfer, "I know a thousand sailors who can do a Willy Skipper, but I don't know anyone who can sail a longboard like that. That is some of the most radical windsurfing I have ever witnessed!"
Another longboarder rail-riding his way into third on Saturday was Alan McLaughlin, whose most memorable maneuver during the contest was a "back-to-back" rail ride that saw him ease his hands down into his pockets like some cool dude, then pull out three balls and begin juggling while still riding the rail!
Advertisement
Second on Saturday was the "Chubster", Ken Tiu, who showed the best combination of longboard and shortboard skills during the contest.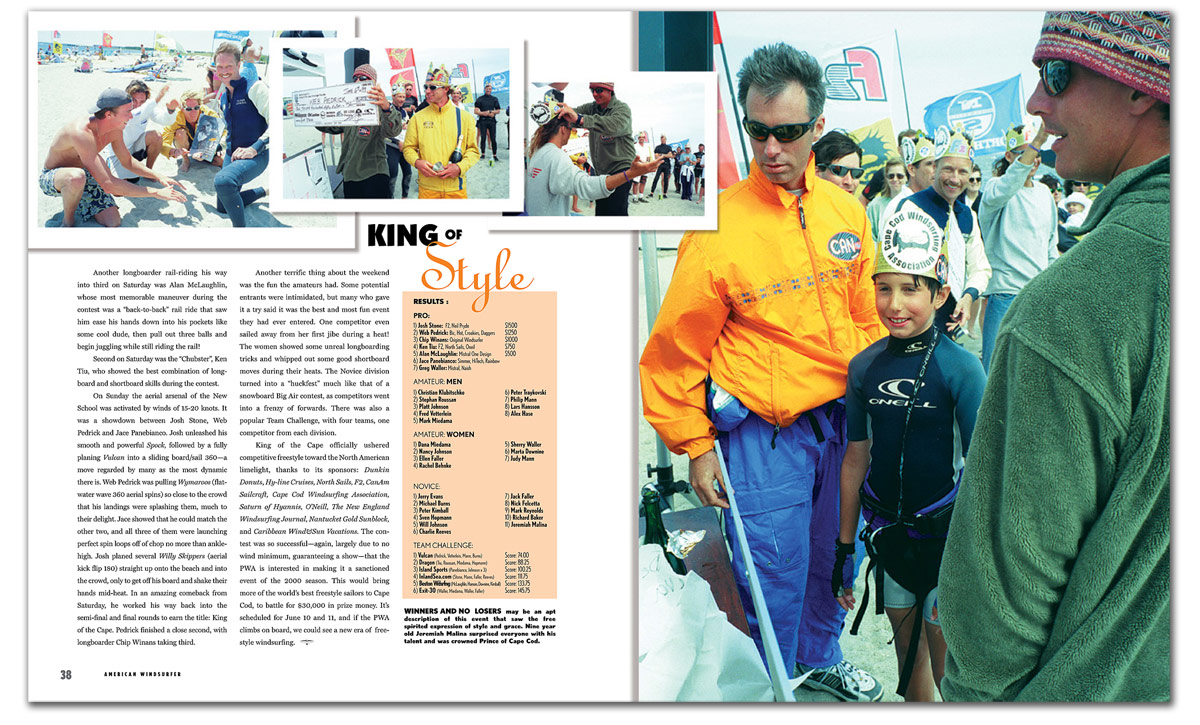 WINNERS AND NO LOSERS may be an apt description of this event that saw the free spirited expression of style and grace. Nine year old Jeremiah Malina surprised everyone with his talent and was crowned Prince of Cape Cod.
On Sunday the aerial arsenal of the New School was activated by winds of 15-20 knots. It was a showdown between Josh Stone, Web Pedrick and Jace Panebianco. Josh unleashed his smooth and powerful Spock, followed by a fully planing Vulcan into a sliding board/sail 360—a move regarded by many as the most dynamic there is. Web Pedrick was pulling Wymaroos (flatwater wave 360 aerial spins) so close to the crowd that his landings were splashing them, much to their delight. Jace showed that he could match the other two, and all three of them were launching perfect spin loops off of chop no more than ankle-high. Josh planed several Willy Skippers (aerial kick flip 180) straight up onto the beach and into the crowd, only to get off his board and shake their hands mid-heat. In an amazing comeback from Saturday, he worked his way back into the
semi-final and final rounds to earn the title: King of the Cape. Pedrick finished a close second, with longboarder Chip Winans taking third.
Another terrific thing about the weekend was the fun the amateurs had. Some potential entrants were intimidated, but many who gave it a try said it was the best and most fun event they had ever entered. One competitor even sailed away from her first jibe during a heat! The women showed some unreal longboarding tricks and whipped out some good shortboard moves during their heats. The Novice division turned into a "huckfest" much like that of a snowboard Big Air contest, as competitors went into a frenzy of forwards. There was also a popular Team Challenge, with four teams, one competitor from each division.
King of the Cape officially ushered competitive freestyle toward the North American limelight, thanks to its sponsors: Dunkin Donuts, Hy-line Cruises, North Sails, F2, CanAm Sailcraft, Cape Cod Windsurfing Association, Saturn of Hyannis, O'Neill, The New England Windsurfing Journal, Nantucket Gold Sunblock, and Caribbean Wind&Sun Vacations. The contest was so successful—again, largely due to no wind minimum, guaranteeing a show—that the PWA is interested in making it a sanctioned event of the 2000 season. This would bring more of the world's best freestyle sailors to Cape Cod, to battle for $30,000 in prize money. It's scheduled for June 10 and 11, and if the PWA climbs on board, we could see a new era of  freestyle windsurfing.
Advertisement
---
Results :
PRO:
1) Josh Stone: F2, Neil Pryde $1500
2) Web Pedrick: Bic, Hot, Croakies, Daggers $1250
3) Chip Winans: Original Windsurfer $1000
4) Ken Tiu: F2, North Sails, Oneil $750
5) Alan McLaughlin: Mistral One Design $500
6) Jace Panebianco: Simmer, HiTech, Rainbow
7) Greg Waller: Mistral, Naish
AMATEUR: Men
1) Christian Klubitschko 6) Peter Traykovski
2) Stephan Roussan 7) Philip Mann
3) Platt Johnson 8) Lars Hansson
4) Fred Vetterlein 8) Alex Hase
5) Mark Miedama
AMATEUR: Women
1) Dana Miedama 5) Sherry Waller
2) Nancy Johnson 6) Marta Downine
3) Ellen Faller 7) Judy Mann
4) Rachel Behnke
NOVICE:
1) Jerry Evans 7) Jack Faller
2) Michael Burns 8) Nick Felcetta
3) Peter Kimball 9) Mark Reynolds
4) Sven Hopmann 10) Richard Baker
5) Will Johnson 11) Jeremiah Malina
6) Charlie Reeves
TEAM CHALLENGE:
1) Vulcan (Pedrick, Vetterlein, Mann, Burns) Score: 74.00
2) Dragon (Tiu, Roussan, Miedama, Hopmann) Score: 88.25
3) Island Sports (Panebianco, Johnson x 3) Score: 100.25
4) InlandSea.com (Stone, Mann, Faller, Reeves) Score: 111.75
5) Boston Wdsrfng (McLaughlin, Hanson, Downine, Kimball)  Score: 133.75
6) Exit-30 (Waller, Miedama, Waller, Faller) Score: 145.75
---
Have something to add to this story? Share it in the comments.