---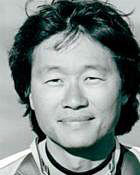 THE PHONE RANG shortly after 11pm on Monday night. It was Senator John F. Kerry calling from his Washington office. He asked, "Hey, what are you doing tomorrow night?" I said, "Huh—nothing." He said, "I'm thinking maybe you would like to come over. President Clinton is going to be here for dinner." I hesitated and replied, "I'm not sure he wants to meet me again."
Twenty years ago, I was a photographer assigned by GEO magazine to illustrate an article on the state of Arkansas. I spent two days following a young Governor by the name of Bill Clinton. Not only was he the youngest Governor in the country but his Attorney General and Secretary of State were both under the age of 33.
To illustrate a point and make a provocative picture, I positioned the trio under a State House Christmas wreath. Unaware of the sacrilegious angle which placed a big red bow right over Clinton's head, the three kingpins innocently smiled for the camera.
When the article appeared, the scathing writing by Donald R. Katz and my suggestive photographs infuriated the governor's camp. As if the photo of the three young faces grinning like tomcats caught with their hands in the bird cage wasn't enough, regrettably the cutting edge editors of the magazine juxtaposed this picture below a cartoon image of the hillbilly character Daisy Mae and Dogpatch USA.
I never felt welcome back in Arkansas and received a silent glare three years later at the 1981 Democratic Convention when I inadvertently insulted Clinton once again during the course of our conversation. That was the last time we spoke and needless to say, it was not on friendly terms. However, years later a friend reminded me of a comment I made at the time: "Just watch, he'll be President someday."
So I flew to Washington, even though I didn't care to remind the President of our past. I was interested in observing the Senator—our cover story—in his political arena. There was increased speculation about his candidacy for the presidential office and I was naturally interested in its possibilities.
Advertisement
After all, he is one of us. A shredder in a global fleet of six million and a rising star on Capitol Hill. He struck me as a Teddy Roosevelt–like character with the potential to lead this country into the challenging New Millennium. A man who thrives on nature and the complexities of our times. A formidable fighter. When adversities demand courage, principles, and intelligence, John Kerry has a reputation for rolling up his sleeves and putting calloused hands to work.
Packaged with this extraordinary issue is also a story of a young windsurfer becalmed by the winds of life. In his first–ever published article, Gavin Grow paints a unique picture on what it means to be "beached."
This tragic but inspiring story is far different from that of a man knocking on the Presidential door. But had fate changed places for these two players, the outcome of human triumph would not differ. They are windsurfers who have chosen to dance with the whims of the wind and have learned to find balance with life's formidable and often invisible forces. They navigate, as best they can, by the will of their passion.
So at the party, I make awkward small talk in a room full of important looking people. An attractive woman with a compassionate looking man greets me with small talk. She is an artist and he is LBJ's former lawyer from Texas. When I tell them that I am a windsurfer, they take an interest. We chat for most of the evening.
I never went near the president.
— John Chao
Publisher/Editor