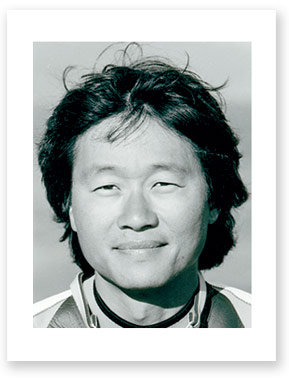 ---
WELCOME TO the incredible shrinking machine. If you haven't noticed, we shrunk in size again. It wasn't easy to give up our oversized format. But with our plans to reach more readers in the coming Millennium—this new size will serve that function well.
Those of you who have been supporters of American Windsurfer for the past six years might agree that each time—when we've downsized—we sailed faster, jumped higher than ever before. Re-rigging to suit the conditions is something windsurfers are all accustomed to. Striving to improve with every condition is also true and the backbone of American Windsurfer. We have come a long way since entering the publishing waters with an oversized sail. In past years, the effort to up-haul a heavy tabloid has refined our skills. Now, with this new size, we are well rigged to catch powerful forces.
As the influence of the new Millennium approaches, our intuitive beeper sounds off and covers our countenance with brilliant white caps. We are stoked! The ride of a lifetime is here. (Did you know that the next two thousand years are the Aquarian age and the symbols for this age are air and water? It is an age influenced by an emerging energy, as experienced when water becomes steam.) Such are the characteristics of this new age, a higher frequency that can  accentuate our lives with meaning.
These winds of change will fill our plates with possibilities. We are altered forever. Seduced by the wave. Inspired by the wind. Bright eyed seekers of harmony and a love child of their energy. For we have heard the wind, the wind of our soul and have set sail to walk on water.
To celebrate the end of the millennium, American Windsurfer will be printing a whopping 200,000 copies. This will be the largest circulation for a windsurfing magazine in the world and our reason for downsizing.
Such active development is not just directed to the magazine. Consider our efforts made on the Internet. Our gateway to the on-line world—www.americanwindsurfer.com—is a perpetual project. It is a place where viewers can scan past issues, read current issues and even get a glimpse of future ones.
You can find all the equipment tests of the past, get instructions from our editors, read how your favorite pro-windsurfer is doing in the World-Cup, with the latest news from the PWA (Professional Windsurfing Association). Check the weather anywhere in the world, post notes, chat and sell old equipment in a self-service classified section. You can even walk into a virtual windsurfing shopping center called windMall and purchase items with a secure shopping cart or just window shop a variety of products that you can't find anywhere else.
Advertisement
The American Windsurfer Video Magazine is another project we are in the preliminary stages of developing. This October, in conjunction with Chilli Videos (the video production arm of the PWA), our test of the 2000 equipment on Maui will be recorded for a video that will be distributed worldwide.
For the first time, windsurfers can see and hear a completely new dimension in equipment testing. You will not just read the reviews in print and on the web,  you can now experience  them on a TV screen.
So why such active efforts? Well, we believe windsurfing should and will play a big role in defining the meaning of recreation in the new era. Getting all windsurfers to support this magazine is the first step to this reality.
Imagine if every windsurfer in the United States becomes a subscriber. That's like casting a "YES" vote in the sports ballot box. Such a constituency generates powerful winds that define the strength and appeal of our sport. To harness this Aquarian energy is our mantra for the new era.
John Chao
Publisher/Editor
---