Click to Magazine View

O'ahu is aptly nicknamed  "The Gathering Place" — home to nearly 80% of the population on the Hawaiian Islands— almost 1 million people. Local legend Craig Yester's description of the sailing conditions could just as well be used to describe life on O'ahu, which can be "good, bad, shitty, ugly all at once."

I personally would maintain that the lifestyle here leans more toward the good and is pretty high up there on the quality of life basics. Sure, it's crowded; and yes, the wind is inconsistent, but the positives far outweigh those annoyances. It has elements of a bustling city life, the Waikiki strip, the majestic Ko'olau mountains, the sacred Makua valley, pockets of Polynesian culture, miles of white sandy beaches, and it is the perfect all-around playground for windsurfing and much, much more.
IN THE GRAND old 80's, O'ahu was the bustling Mecca of windsurfing. Anyone who had the desire to make windsurfing the center of his or her universe would end up on O'ahu. European pioneers like Sigi Hoffman and Jurgen Honscheid would make their annual pilgrimage to Kailua to test out their latest race boards for the Pan Am World Cup. "It was a very special place and time", remarked Annabella Hoffman, who at the time was known as Sigi Hoffman, then a young World Champion and board designer from Germany.
A few years later many people got spoiled with their desire for more and stronger wind, however, and the discovery of Ho'okipa created a mass exodus to Maui. For some, such as Pete Cabrinha, and later Josh Stone and Keala Bryant, it turned out to be a lucrative move.
Others, though, remained forever loyal to O'ahu for a variety of reasons. O'ahu boasts more surf spots and variety of water sports opportunities than any of the Hawaiian Islands. It has ideal conditions for surfing, sailing, windsurfing, kitesurfing, paddling, fishing, diving, wakeboarding, snorkeling—often all in the same day. Generally you'll find wind on one side of the island, and calm conditions on the other side. Windsurfers can sail both tacks consistently, with a choice of waves or flat water spots.
CRUISING DIAMOND HEAD: Windseeking on the back of a Mustang, the ride along the rim of an extinct volcano provides a great vantage to the action bellow. Only 10 minutes from the heart of Waikiki, Diamond Head is the call for south swells to both windsurfers and surfers alike.
"What I really like about O'ahu is the sense of community", says Kat Tracy, professional kiteboarder during her visit to O'ahu. "You have a lot more coastal access than Maui, and as a result, there is cooperation between a lot of different sports coexisting together. There is so much welcoming aloha as opposed to Maui where you have really narrow beach access and limitations and restrictions. Here you've got kayaks, outriggers, windsurfers, kiters, swimmers—you've got families—and everybody's totally cool with each other."
Besides being the place to live for the person with all the toys, O'ahu has the jobs, the cultural events, and a bit of everything from the mainland (U.S.), Korean, Chinese, Filipino, Southeast Asian, Pacific Island, and Japanese cultures — to name a few.
"I love living on O`ahu because of the diversity—it's not necessarily a windsurf-only community. You have the University, theatres, movies, even the opera (which is in my Italian blood), and you don't feel confined in the middle of nowhere." says Raffaella Negretti, a fairly recent transplant from Italy who moved here "not for windsurfing, but for work and school," adding that "the windsurfing addiction came later." She has since become a regular at Diamond Head. "I believe here (on O'ahu) you can have balance in your life: work, play, contact with nature, friendly relationships without that elitist quality that social relations sometimes have in Europe. Here you meet people who come from different places, do different things, and have different interests."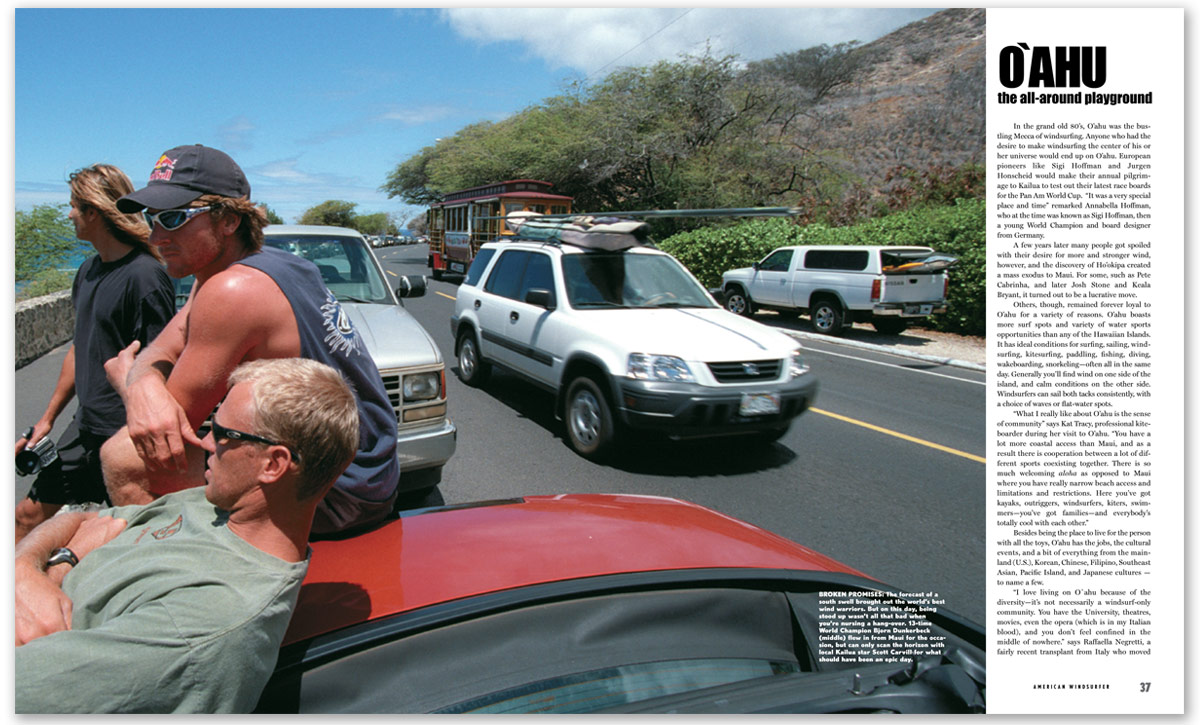 BROKEN PROMISES: The forecast of a south swell brought out the world's best wind warriors. But on this day, being stood up wasn't all that bad when you're nursing a hang-over. 13-time World Champion Bjorn Dunkerbeck (middle) flew in from Maui for the occasion, but can only scan the horizon with local Kailua star Scott Carvill for what should have been an epic day.
Culture abounds on this island. Go to the swap meet at Aloha Stadium and you will find the Koreans and Vietnamese doing what they do best—selling everything from corny Hawaiian souvenirs (made in China) to auto stereos and pirate CDs. Wander through Chinatown for those mysterious herbal remedies or vegetables that you wouldn't find at Safeway. Waipahu is the Filipino community, complete with low-rider purple cars, pink fuzzy dice, booming car stereos, greased back hair, gold chains, and fighting chickens.
Drive through and drool at the opulent abodes near Kahala, Diamond Head, or the little pocket inside Kailua called Lanikai. Out on the "wild west" side, Mahaka is the home of the "Buffalo Big Board Surfing Classic"—the only contest in the world that has a 250 lb. plus division for those big "braddahs" that had one too many "plate lunch" (consisting of two scoops of rice, gravy, some sort of greasy meat, and potato-macaroni salad—a bit of potato and some noodles drowning in mayonnaise)!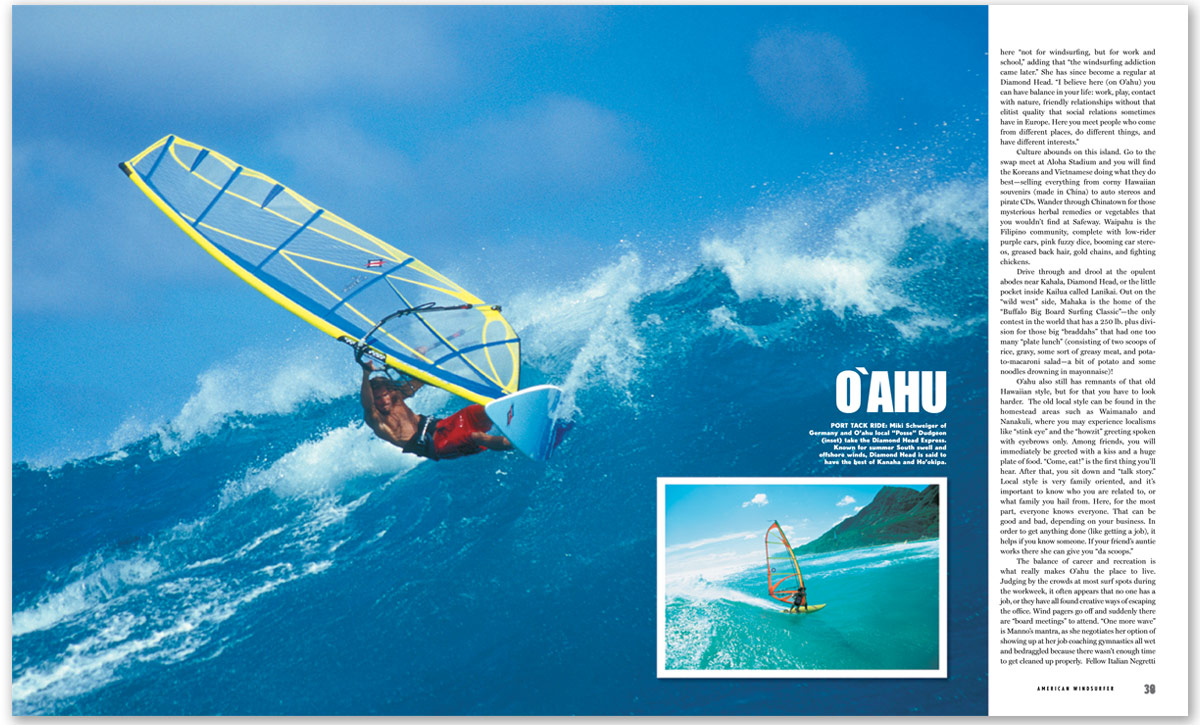 PORT TACK RIDE: Miki Schweiger of Germany and O'ahu local "Posse" Dudgeon (inset) take the Diamond Head Express. Known for summer South swell and offshore winds, Diamond Head is said to have the best of Kanaha and Ho'okipa.
O'ahu also still has remnants of that old Hawaiian style, but for that, you have to look harder. The old local style can be found in the homestead areas such as Waimanalo and Nanakuli, where you may experience localisms like "stink eye" and the "howzit" greeting spoken with eyebrows only. Among friends, you will immediately be greeted with a kiss and a huge plate of food. "Come, eat!" is the first thing you'll hear. After that, you sit down and "talk story." Local style is very family oriented, and it's important to know who you are related to, or what family you hail from. Here, for the most part, everyone knows everyone. That can be good and bad, depending on your business. In order to get anything done (like getting a job), it helps if you know someone. If your friend's auntie works there she can give you "da scoops."
The balance of career and recreation is what really makes O'ahu the place to live. Judging by the crowds at most surf spots during the workweek, it often appears that no one has a job, or they have all found creative ways of escaping the office. Wind pagers go off and suddenly there are "board meetings" to attend. "One more wave" is Manno's mantra, as she negotiates her option of showing up at her job coaching gymnastics all wet and bedraggled because there wasn't enough time to get cleaned up properly. Fellow Italian Negretti maintains that life on O'ahu "allows you to maintain the right perspective on your priorities, on the importance of your job, your career, or your interests (e.g., windsurfing). Plus windsurfing is relatively uncrowded, not so competitive as in Maui, and you have great waves all year around."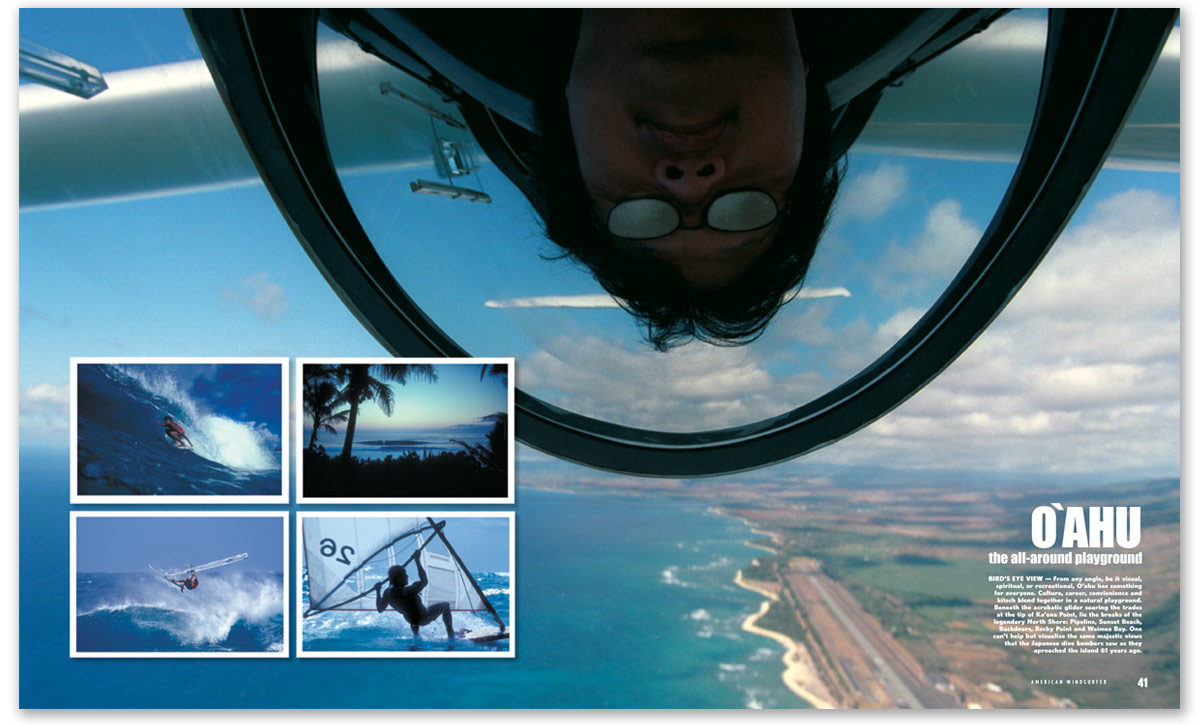 BIRD'S EYE VIEW — from any angle, be it visual, spiritual, or recreational, O'ahu has something for everyone. Culture, career, convienience and kitsch blend together in a natural playground. Beneath the acrobatic glider soaring the trades at the tip of Ka'ena Point, lie the breaks of the legendary North Shore: Pipeline, Sunset Beach, Backdoors, Rocky Point and Waimea Bay. One can't help but visualize the same majestic views that the Japanese dive bombers saw as they aproached the island 61 years ago.
Besides having some of the best sailing potentials you'll ever find, the windsurfing scene is far friendlier here than Maui. Motivated by the sheer love of the sport, sailors don't have to fight for the spotlight or the sponsorships, or space on the waves. OK, we still get our mob of (non-resident) Italians who arrive every summer and descend upon Diamond Head like hordes of locusts, and windsurf like they drive. A couple of fistfights have ensued, but we can still talk sense to most of them and eke out our share of waves.
Diamond Head in the summer is like a great class reunion. Starting with the traditional Mother's Day swell in May, people come out of the woodwork as soon as the first hint of south arrives. There is a great camaraderie among the regulars, and many a birthday has been celebrated among the "'ohana" (family). It's not so exclusive and friends are made easily. "I always look forward to the summer", affirms O'ahuan Scott Carvill. "Most pros are off trying to find somewhere in the world to practice or do travel stories. For the most part, Maui's wave riding scene is pretty crap in the summer. The opposite is true for me—I try to clear my schedule as much as possible to make time to be home on Oahu. Apart from being home with all my family and friends and a great place to live, the sailing is great. You have everything from small windy jumping days to big wave riding only days. Diamond Head, and the south shore of O'ahu is a big area directly exposed to the south swells and the consistent summer trades that make it, in my opinion, the place to be."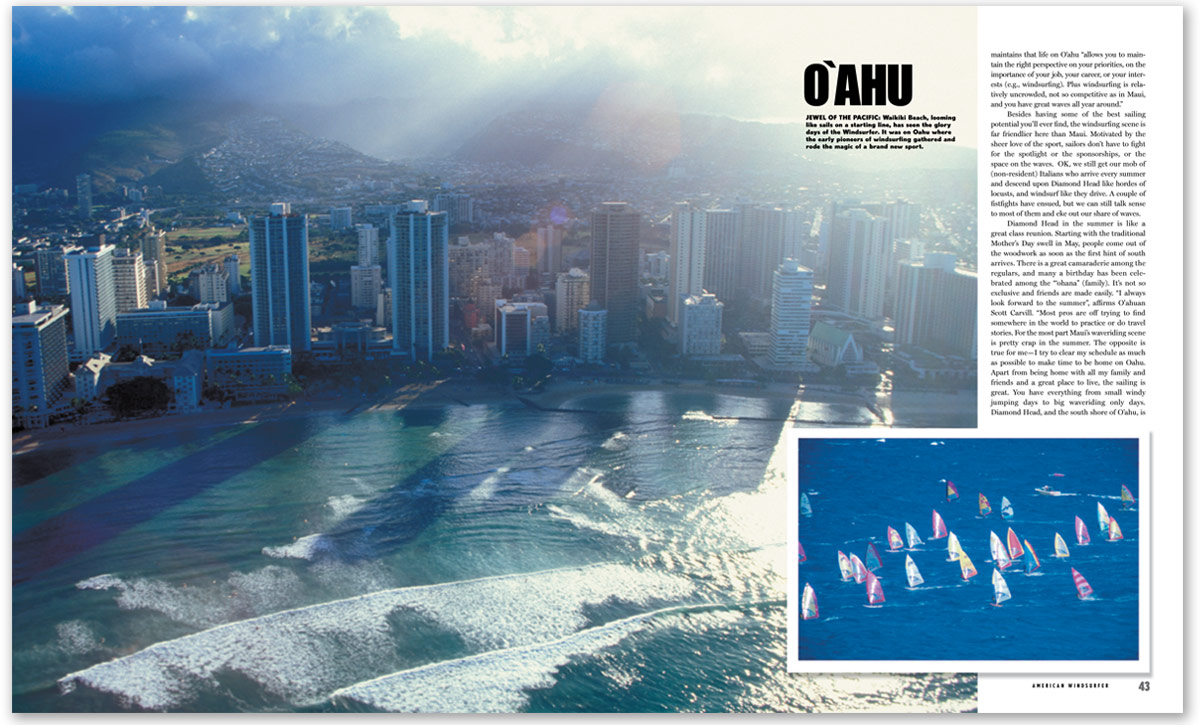 JEWEL OF THE PACIFIC: Waikiki Beach, looming like sails on a starting line, has seen the glory days of the Windsurfer. It was on Oahu where the early pioneers of windsurfing gathered and rode the magic of a brand new sport.
On a few occasions throughout the summer, those great S-SW swells come thundering in, to the delight of port-tack wave junkies. The Maui pros fly in for the day and struggle to negotiate the quirky winds and that funky feeling of sailing backward, except for Robby, Josh, and Scott, who make a killing of every wave as they instinctively switch back to port tack. No longer the slow, ambling wave that forgives your every hesitation, this new animal comes alive and starts chewing up sails and masts like there is no tomorrow. In just one of those days, there are more guys trudging back up the hill for reinforcements than the yearly average at other spots. These are the days that the Diamond Head regulars live for. The wave actually gets hollow and the sweet spot by the reef in front of the showers becomes the carnival ride of the day.
More often, though, Diamond Head waves are slow and mushy, so it's a great place to learn to sail in waves. Negretti maintains that "Diamond Head has many peaks, it's broad, there's room for everybody and you can progress from small waves to bigger ones. It is always forgiving, and even in big waves, it's not as dangerous as other spots because you actually have a channel. It's not like other spots where you have to find your way out through the reef, and then if you wipe out, you are in 2 feet of water. Diamond Head is the place where I feel comfortable in any conditions."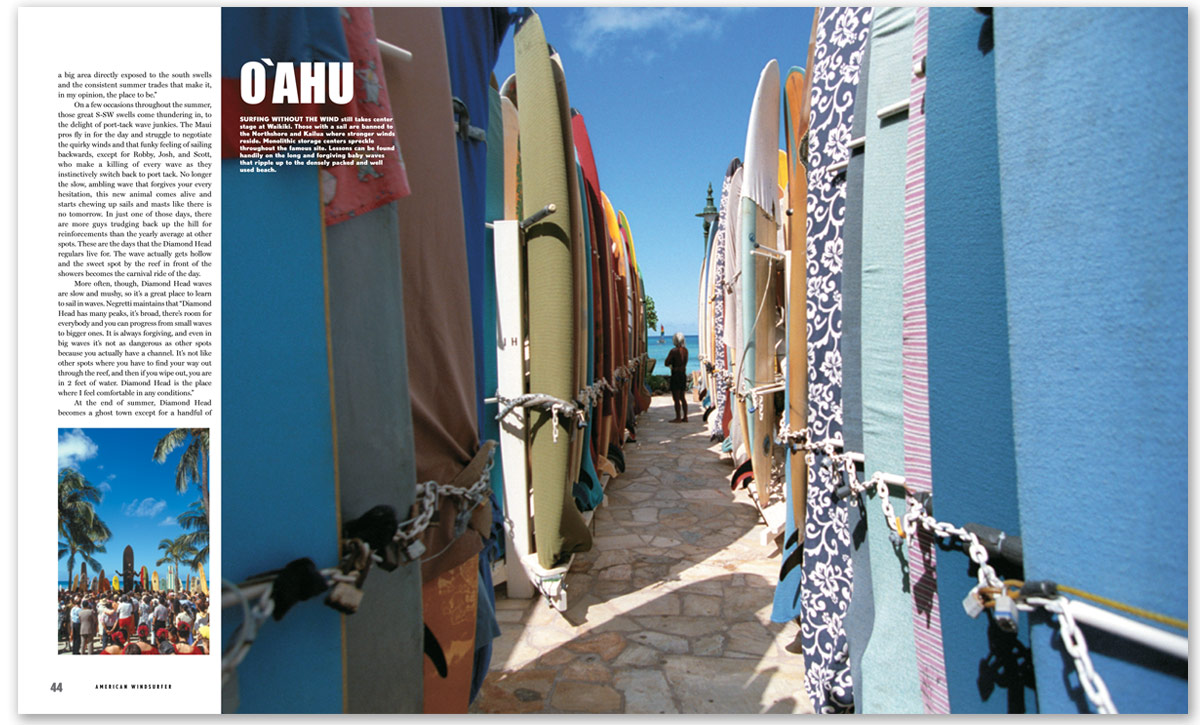 Surfing without the Wind still takes center stage at Waikiki. Those with a sail are banned to the Northshore and Kailua where stronger winds  reside. Monolithic storage centers spreckle throughout the famous site. Lessons can be found handily on the long and forgiving baby waves that ripple up to the densely packed and well used beach.
At the end of summer, Diamond Head becomes a ghost town except for a handful of die-hards (like the visitors from Hawaii Pacific University who come to Hawaii to "study"). In fact, the windsurfing crowd on O'ahu is probably about 80% imported—comprised of people who came here temporarily but then realized that living anywhere else would be unacceptable. Yukiko Sato, a Japanese national that has made O'ahu her long time home, says, "Mmmmmm Diamond Head! It's like my 2nd home. I love the awesome wind and waves in the summer time and being able to see the beautiful Diamond Head and the lighthouse in the background."
The wind on O'ahu is not as dependable as Maui, so a visiting tourist with limited time would be better off booking it straight to Maui. "More waves for us," we say. These days there is only a trickle of hardcore windsurfers left on O'ahu, with few new recruits. Windsurfing sales are in the doldrums while kite sails are sprouting up all over. Newcomers are attracted to the latest craze, which also lures many of the old-time windsurfers who are bored unless the waves are substantial. Kailua slalom master Julian Browne calls it "going over to the dark side" and pretends to be on non-speaking terms with those who have 'defected'.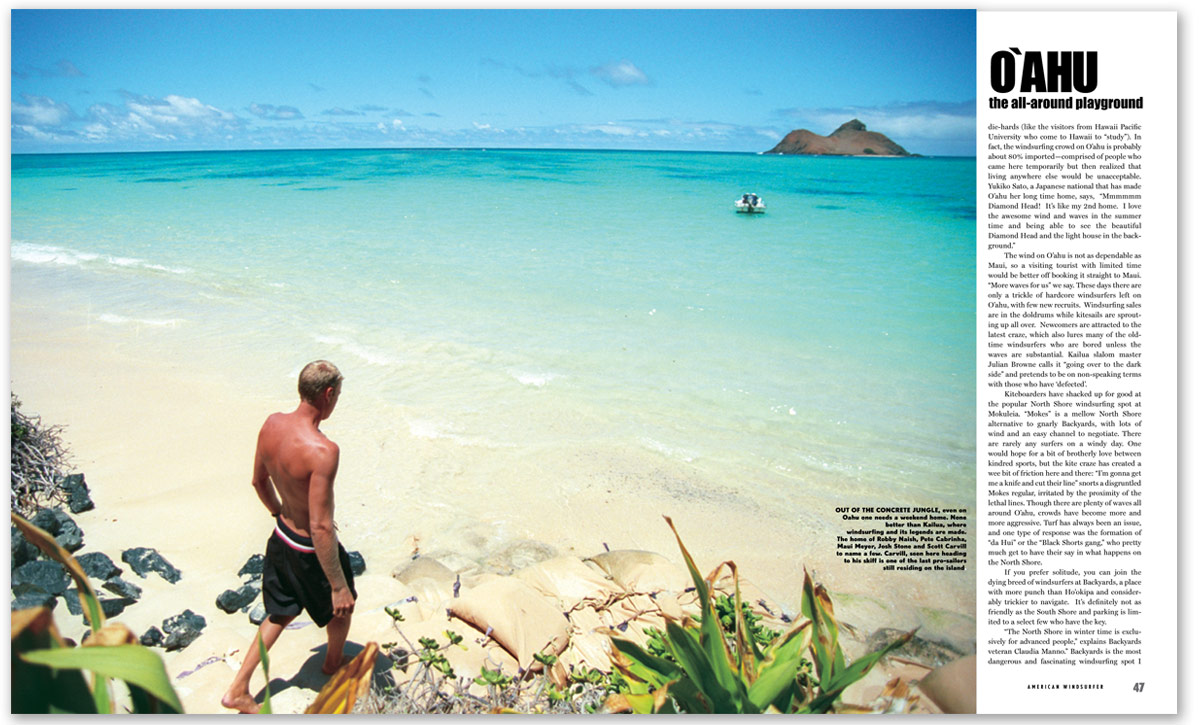 OUT OF THE CONCRETE JUNGLE, even on Oahu one needs a weekend home. None better than Kailua, where windsurfing and its legends are made. The home of Robby Naish, Pete Cabrinha, Maui Meyer, Josh Stone and Scott Carvill to name a few. Carvill, seen here heading to his skiff is one of the last pro-sailors still residing on the island.
Kiteboarders have shacked up for good at the popular North Shore windsurfing spot at Mokuleia. "Mokes" is a mellow North Shore alternative to gnarly Backyards, with lots of wind and an easy channel to negotiate. There are rarely any surfers on a windy day. One would hope for a bit of brotherly love between kindred sports, but the kite craze has created a wee bit of friction here and there: "I'm gonna get me a knife and cut their line" snorts a disgruntled Mokes regular, irritated by the proximity of the lethal lines. Though there are plenty of waves all around O'ahu, crowds have become more and more aggressive. Turf has always been an issue, and one type of response was the formation of "da Hui" or the "Black Shorts gang," who pretty much get to have their say in what happens on the North Shore.
If you prefer solitude, you can join the dying breed of windsurfers at Backyards, a place with more punch than Ho'okipa and considerably trickier to navigate. It's definitely not as friendly as the South Shore and parking is limited to a select few who have the key.
"The North Shore in winter time is exclusively for advanced people," explains Backyards veteran Claudia Manno." Backyards is the most dangerous and fascinating windsurfing spot I ever sailed in my life. The adrenaline in your body is beyond control. Your mouth becomes very dry while walking toward water, as you see 8 footers rolling through the dry and sharp reef."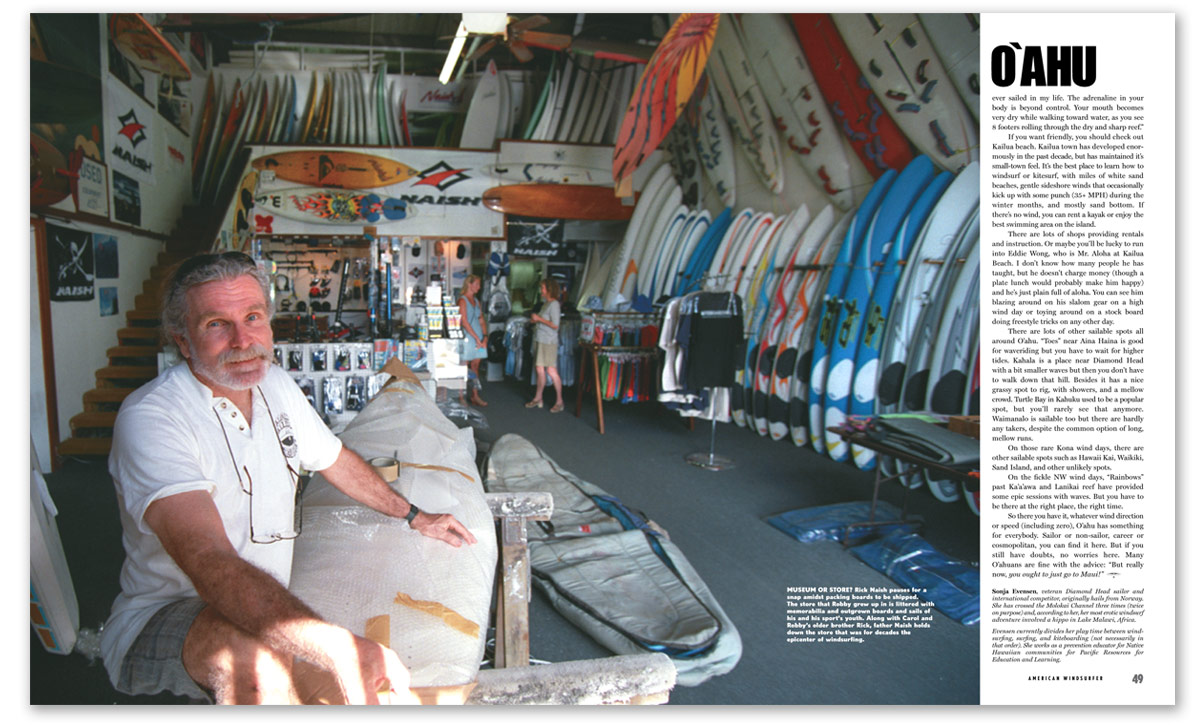 MUSEUM OR STORE? Rick Naish pauses for a snap amidst packing boards to be shipped. The store that Robby grew up in is littered with memorabilia and outgrown boards and sails of his and his sport's youth. Along with Carol and Robby's older brother Rick, father Naish holds down the store that was for decades the epicenter of windsurfing.
If you want friendly, you should check out Kailua beach. Kailua town has developed enormously in the past decade but has maintained it's small-town feel. It's the best place to learn how to windsurf or kitesurf, with miles of white sand beaches, gentle side shore winds that occasionally kick up with some punch (35+ MPH) during the winter months, and mostly sand bottom. If there's no wind, you can rent a kayak or enjoy the best swimming area on the island.
There are lots of shops providing rentals and instruction. Or maybe you'll be lucky to run into Eddie Wong, who is Mr. Aloha at Kailua Beach. I don't know how many people he has taught, but he doesn't charge money (though a plate lunch would probably make him happy) and he's just plain full of aloha. You can see him blazing around on his slalom gear on a high wind day or toying around on a stock board doing freestyle tricks on any other day.
There are lots of other sailable spots all around O'ahu. "Toes" near Aina Haina is good for wave riding but you have to wait for higher tides. Kahala is a place near Diamond Head with a bit smaller waves but then you don't have to walk down that hill. Besides it has a nice grassy spot to rig, with showers, and a mellow crowd. Turtle Bay in Kahuku used to be a popular spot, but you'll rarely see that anymore. Waimanalo is sailable too but there are hardly any takers, despite the common option of long, mellow runs.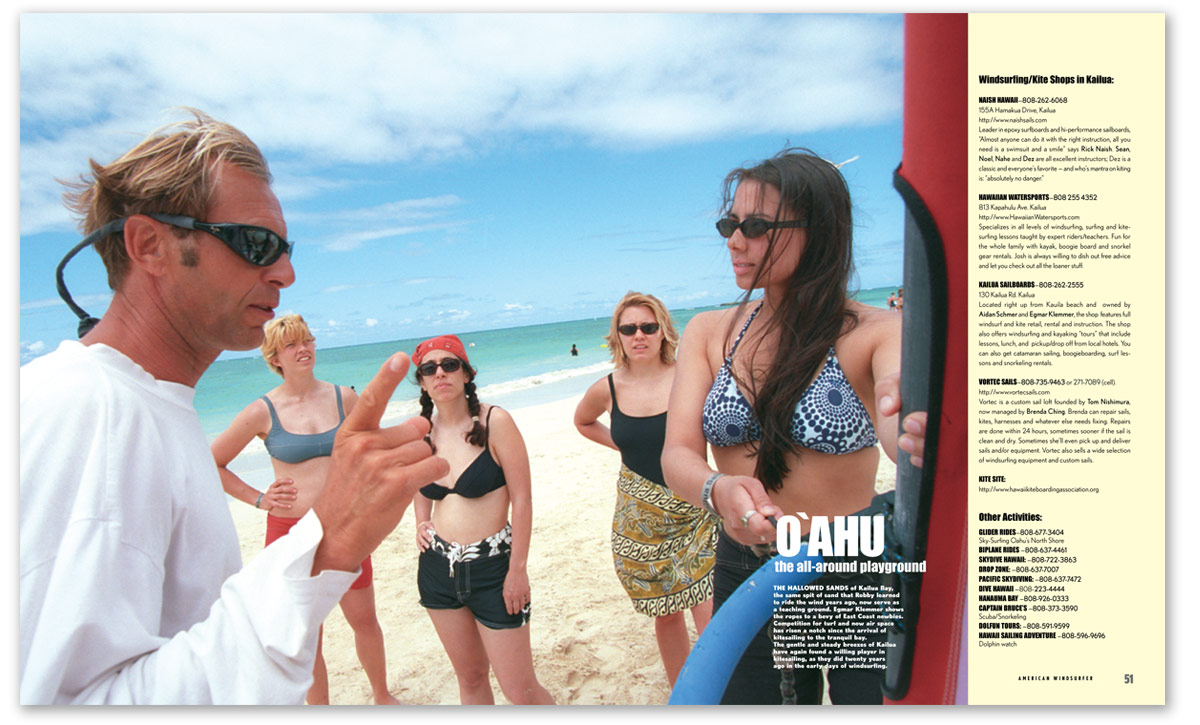 THE HALLOWED SANDS of Kailua Bay, the same spit of sand that Robby learned to ride the wind years ago, now serve as a teaching ground. Egmar Klemmer shows the ropes to a bevy of East Coast newbies. Competition for turf and now air space has risen a notch since the arrival of kitesailing to the tranquil bay. The gentle and steady breezes of Kailua have again found a willing player in kitesailing, as they did twenty years ago in the early days of windsurfing.
On those rare Kona wind days, there are other sailable spots such as Hawaii Kai, Waikiki, Sand Island, and other unlikely spots.
On the fickle NW wind days, "Rainbows" past Ka'a'awa and Lanikai reef have provided some epic sessions with waves. But you have to be there at the right place, the right time.
So there you have it, whatever wind direction or speed (including zero), O'ahu has something for everybody. Sailor or non-sailor, career or cosmopolitan, you can find it here. But if you still have doubts, no worries here. Many O'ahuans are fine with the advice: "But really now, you ought to just go to Maui!"
Sonja Evensen, veteran Diamond Head sailor and international competitor, originally hails from Norway. She has crossed the Molokai Channel three times (twice on purpose) and, according to her, her most erotic windsurf adventure involved a hippo in Lake Malawi, Africa. Evensen currently divides her play time between windsurfing, surfing, and kiteboarding (not necessarily in that order). She works as a prevention educator for Native Hawaiian communities for Pacific Resources for Education and Learning.