(Click to view in magazine mode)

SOARING AVOVE the Arctic Circle: Hannu Nurmiviita of Kerava, Finland finds hang time in a Skimbat WingSurfer.  While the small wings are not made for flying, it does gives you incredible hang time and upward mobility.
IT SEEMED A NATURAL winter windsurfing alternative. So I went out to give it a try. The instant that the wind lifted the sail and began pulling me across the packed snow, I knew I was hooked…this is windsurfing all over again!
The half hour session turned into a three–hour outing and the three–hour outing turned into a full–blown trip to Finland to find the origins of WingSurfing and naturally, Santa Claus.
No one told me how long it was going to be—a six–hour flight, eight–hour train trip and then another three–hour bus ride. On top of it all, no one told me that Santa had left for Aruba on vacation.  Course I should have known. This was April and Lapland was just starting to thaw out and the long days were beginning to bud out into the long nights.
But let me cut short the prerequisite travel chatter and spare you the details of any glorious conquests this wind seeker might have had in the Arctic Circle. Let me get right to the point: WingSurfing!
---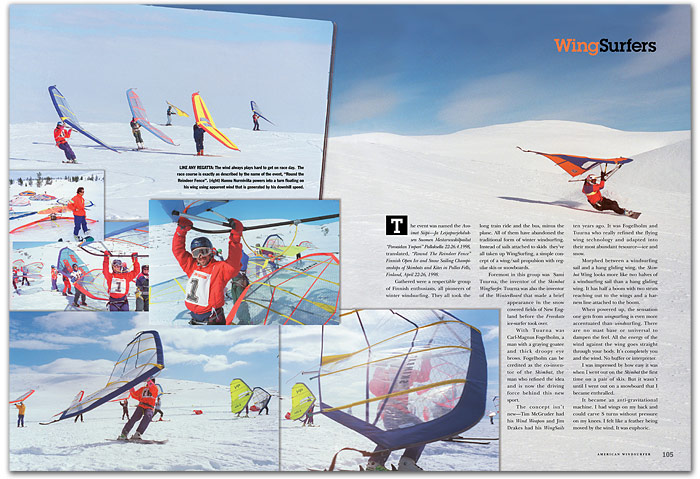 LIKE ANY REGATTA: The wind always plays hard to get on race day. The race course is exactly as described by the name of the event, "Round the Reindeer Fence". (right) Hannu Nurmiviita powers into a turn floating on his wing using apparent wind that is generated by his downhill speed.
THE EVENT WAS NAMED the Avoimet Siipi—Ja Leijapurjehduksen Suomen Mestaruuskilpailut "Poroaidan Ympari" Pallaksella 22-26.4.1998, translated, "Round The Reindeer Fence" Finnish Open Ice and Snow Sailing Championships of Skimbats and Kites in Pallas Fells, Finland, April 22-26, 1998.
Gathered were a respectable group of Finnish enthusiasts, all pioneers of winter windsurfing. They all took the long train ride and the bus, minus the plane. All of them have abandoned the traditional form of winter windsurfing. Instead of sails attached to skids  they've all taken up WingSurfing, a simple concept of a wing/sail propulsion with regular skis or snowboards.
Foremost in this group was  Sami Tuurna, the inventor of the Skimbat WingSurfer. Tuurna was also the inventor of the WinterBoard that made a brief appearance in the snow-covered fields of New England before the Freeskate ice-surfer took over.
With Tuurna was Carl-Magnus Fogelholm, a man with a graying goatee and thick droopy eye brows. Fogelholm can be credited as the co-inventor of the Skimbat, the man who refined the idea and is now the driving force behind this new sport.
The concept isn't new—Tim McGruder had his Wind Weapon and Jim Drakes had his WingSails ten years ago. It was Fogelholm and Tuurna who really refined the flying wing technology and adapted into their most abundant resource—ice and snow.
Morphed between a windsurfing sail and a hang gliding wing, the Skimbat Wing looks more like two halves of a windsurfing sail than a hang gliding wing. It has half a boom with two struts reaching out to the wings and a harness line attached to the boom.
When powered up, the sensation one gets from wingsurfing is even more accentuated than windsurfing. There are no mast base or universal to dampen the feel. All the energy of the wind against the wing goes straight through your body. It's completely you and the wind. No buffer or interpreter.
I was impressed by how easy it was when I went out on the Skimbat the first time on a pair of skis. But i-t wasn't until I went out on a snowboard that I became enthralled.
It became an anti-gravitational machine. I had wings on my back and could carve S-turns without pressure on my knees. I felt like a feather being moved by the wind. It was euphoric.
Advertisement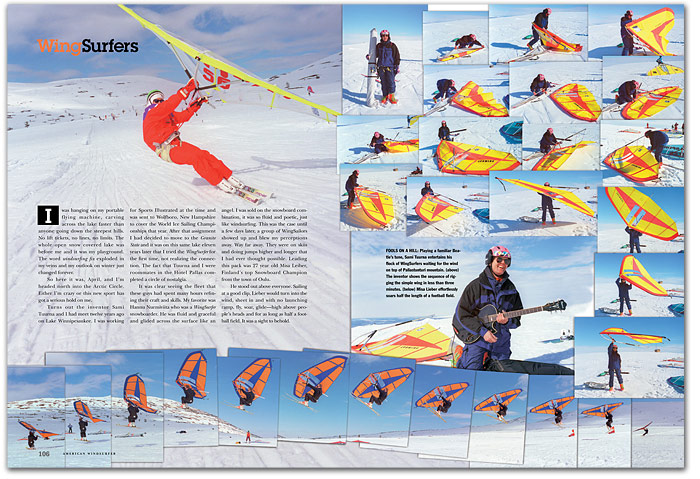 FOOLS ON A HILL: Playing a familiar Beatle's tune, Sami Tuurna entertains his flock of WingSurfers waiting for the wind on top of Pallastunturi mountain. (above) The inventor shows the sequence of rigging the simple wing in less than three minutes. (below) Misa Lieber effortlessly soars half the length of a football field.
I WAS HANGING ON my portable flying machine, carving across the lake faster than anyone going down the steepest hills. No lift tickets, no lines, no limits. The whole open snow covered lake was before me and it was my playground. The word windsurfing fix exploded in my veins and my outlook on winter just changed forever.
So here it was, April, and I'm headed north into the Arctic Circle. Either I'm crazy or this new sport has got a serious hold on me.
Turns out the inventor Sami Tuurna and I had meet twelve years ago on Lake Winnipesaukee. I was working for Sports Illustrated at the time and was sent to Wolfeboro, New Hampshire to cover the World Ice Sailing Championships that year. After that assignment, I had decided to move to the Granite State and it was on this same lake eleven years later that I tried the WingSurfer for the first time, not realizing the connection. The fact that Tuurna and I were roommates in the Hotel Pallas completed a circle of nostalgia.
It was clear seeing the fleet that these guys had spent many hours refining their craft and skills. My favorite was Hannu Nurmiviita who was a WingSurfer snowboarder. He was fluid and graceful and glided across the surface like an angel. I was sold on the snowboard combination, it was so fluid and poetic, just like windsurfing. This was the case until a few days later, a group of WingSailors showed up and blew my perceptions away. Way far away. They were on skiis and doing jumps higher and longer that I had ever thought possible. Leading this pack was 27-year-old Misa Leiber, Finland's top Snowboard Champion from the town of Oulu.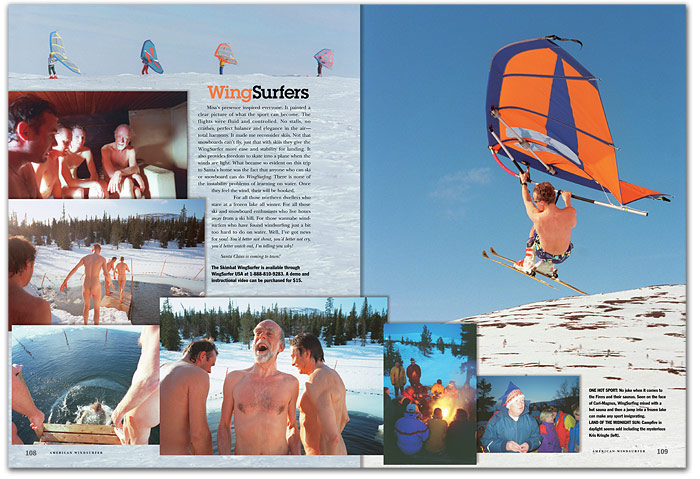 ONE HOT SPORT: No joke when it comes to the Finns and their saunas. Seen on the face of Carl-Magnus, WingSurfing mixed with a hot sauna and then a jump into a frozen lake can make any sport invigorating. LAND OF THE MIDNIGHT SUN: Campfire in daylight seems odd including the mysterious Kris Kringle (left).
He stood out above everyone. Sailing at a good clip, Lieber would turn into the wind, sheet in and with no launching ramp, fly, soar, glide—high above people's heads and for as long as half a football field. It was a sight to behold.
Misa's presence inspired everyone. It painted a clear picture of what the sport can become. The flights were fluid and controlled. No stalls, no crashes, perfect balance and elegance in the air—total harmony. It made me reconsider skiis. Not that snowboards can't fly, just that with skiis they give the WingSurfer more ease and stability for landing. It also provides freedom to skate into a plane when the winds are light. What became so evident on this trip to Santa's home was the fact that anyone who can ski or snowboard can do WingSurfing. There are none of the instability problems of learning on water. Once they feel the wind, they will be hooked.
For all those northern dwellers who stare at a frozen lake all winter. For all those ski and snowboard enthusiasts who live hours away from a ski hill. For those wannabe windsurfers who have found windsurfing just a bit too hard to do on water. Well, I've got news for you! You'd better not shout, you'd better not cry, you'd better watch out, I'm telling you why!
Santa Claus is coming to town!
---
The Skimbat WingSurfer is available through WingSurfer USA. A demo and instructional video can be purchased for $15.
Advertisement