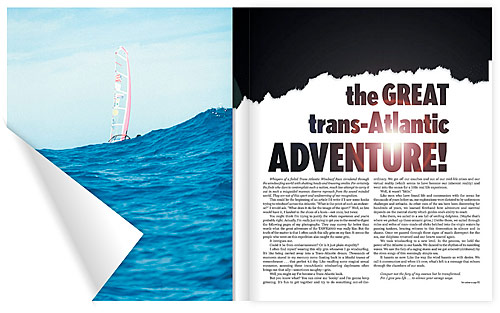 WHISPERS of a failed TransAtlantic Windsurf Race circulated through the windsurfing world with shaking heads and knowing smiles. For certainly the fools who dare to contemplate such a notion, much less attempt to carry it out in such a misguided manner, deserve reproach from the sound minded world. They are not of this sport and undeserving of our recognition.
This could be the beginning of an article I'd write if I saw some kooks trying to windsurf across the Atlantic. "What is the point of such an endeavor?" I would ask. "What does it do for the image of the sport?" Well, as fate would have it, I landed in the shoes of a kook—not once, but twice.
You might think I'm trying to justify the whole experience and you're probably right. Actually, I'm really just trying to get you in the mood to digest the following pages of my photographs. They may convey far better than words what the great adventure of the TAWR2000 was really like. But the truth of the matter is that I often catch this silly grin on my face. It seems the people who went on this expedition also caught the same grin.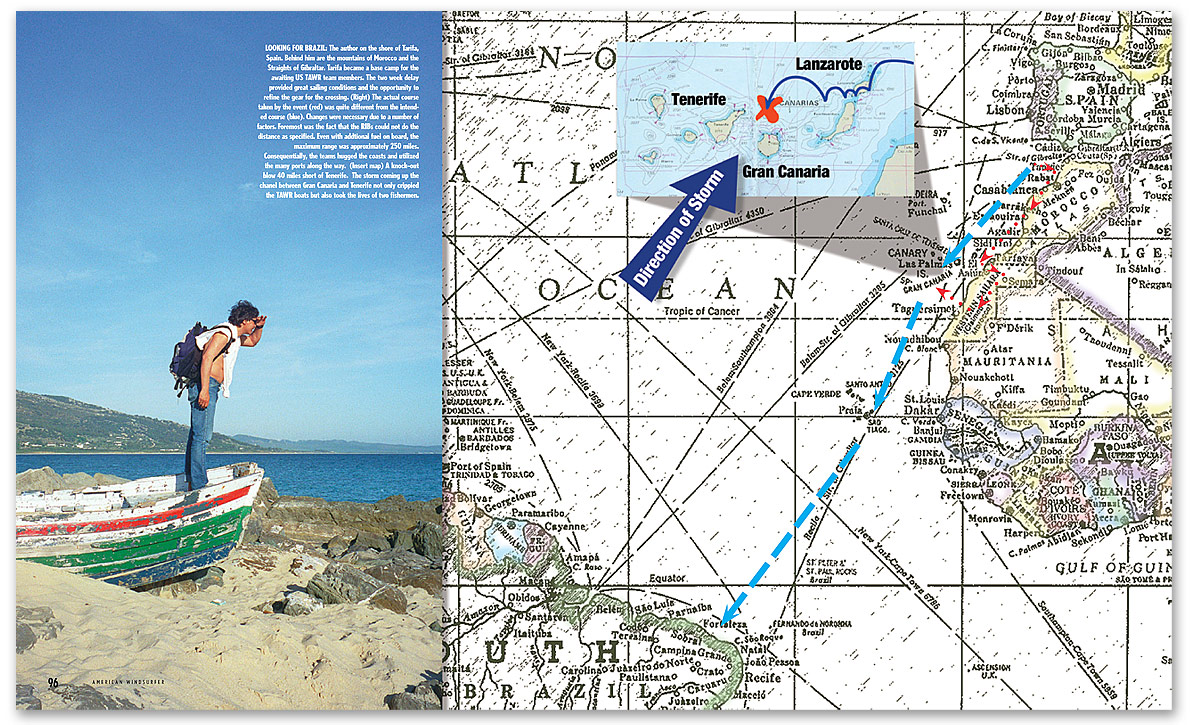 It intrigues me.
Could it be from embarrassment? Or is it just plain stupidity?
I often find myself wearing this silly grin whenever I go windsurfing. It's like being carried away into a Trans-Atlantic dream. Thousands of moments stored in my memory come floating back in a blissful trance of remembrance . . . that perfect 4.5 day. Like recalling some magical sexual encounter, accessing these transAtlantic windsurfing daydreams often brings out that silly—sometimes naughty—grin.
Well, you might say I've become a TransAtlantic kook.
But you know what? You can color me 'kooky' and I'm gonna keep grinning. It's fun to get together and try to do something out-of-the-ordinary. We got off our couches and out of our mid-life crises and our virtual reality (which seems to have become our inherent reality) and went into the ocean for a little real life experience.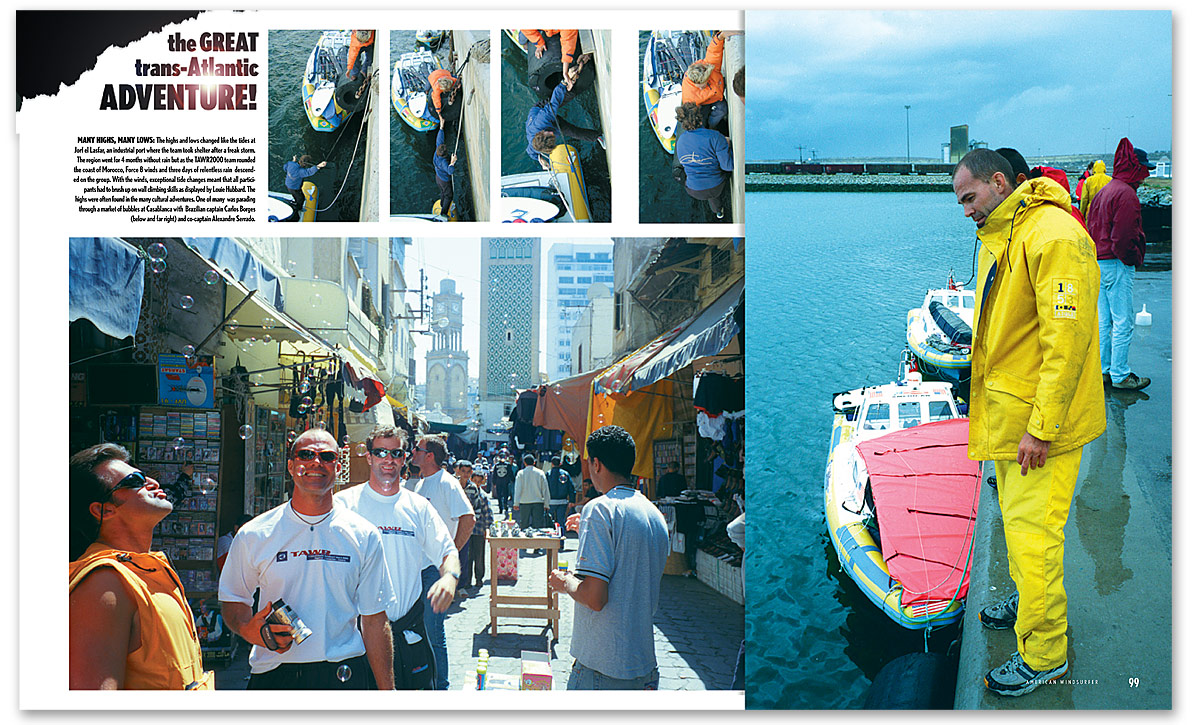 Well, it wasn't "little."
Like men who have found life and communion with the ocean for thousands of years before us, our explorations were dictated to by unforeseen challenges and setbacks. As other men of the sea have been discovering for hundreds of years, we learned firsthand how adventure and survival depend on the mental clarity which guides one's ability to react.
Like them, we sailed in a sea full of smiling dolphins. (Maybe that's where we picked up these oceanic grins.) Unlike them, we sailed through miles and miles of man–made oil slicks belched into the virgin waters by passing tankers, bearing witness to this desecration in silence and in shame. Once we passed through these signs of man's disrespect for the sea, our dolphins returned and our hearts soared again.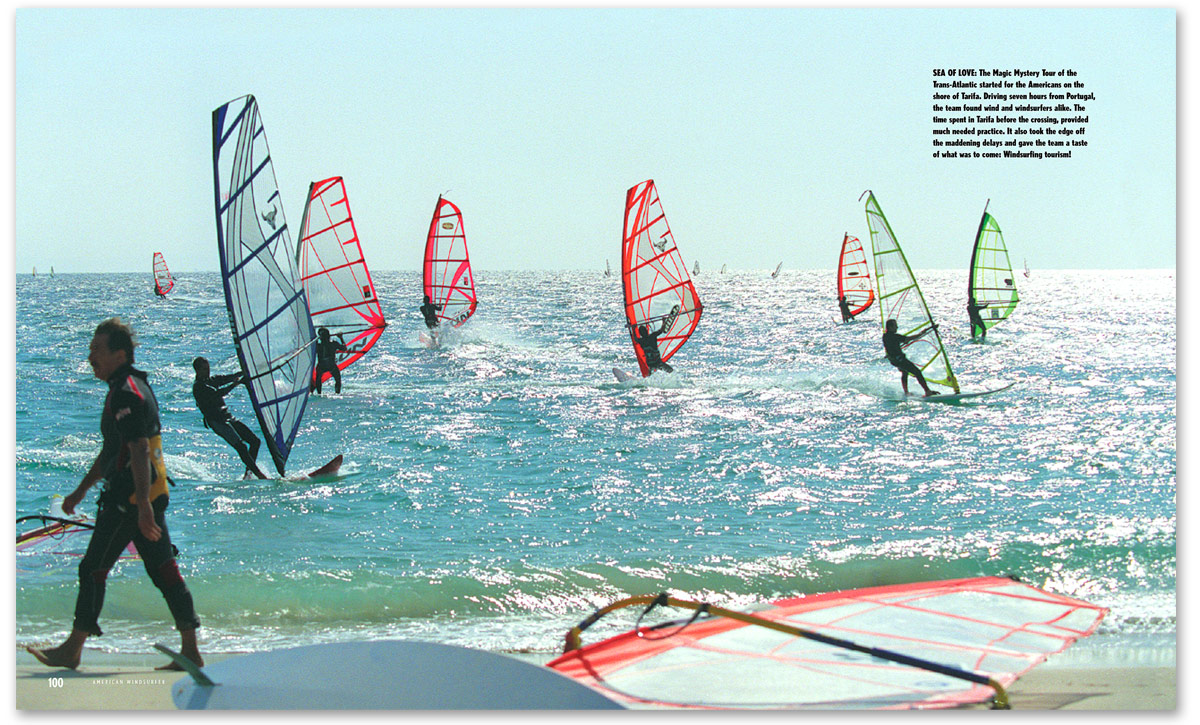 We took windsurfing to a new level. In the process, we held the power of the Atlantic in our hands. We danced to the rhythm of its rambling waves. We saw the fury of a raging storm and we got sobered (clobbered) by the siren songs of this seemingly simple sea.
It haunts us now. Like the way the wind haunts us with desire. We call it communion and when it's over, what's left is a message that echoes through the chambers of our souls.
Conquer not the fury of my essence but be transformed.
For I give you LIFE. . . to silence your savage ways.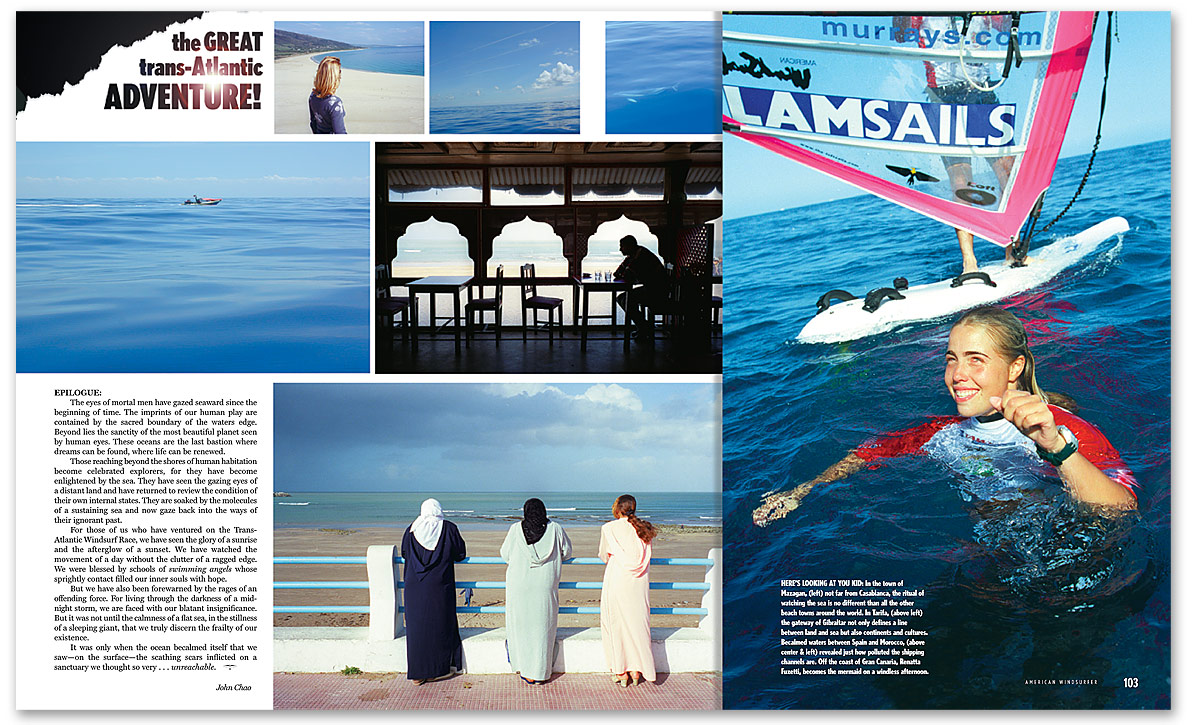 HERE'S LOOKING AT YOU KID: In the town of Mazagan, (left) not far from Casablanca, the ritual of watching the sea is no different than all the other beach towns around the world. In Tarifa, (above left) the gateway of Gibraltar not only defines a line between land and sea but also continents and cultures. Becalmed waters between Spain and Morocco, (above center & left) revealed just how polluted the shipping channels are. Off the coast of Gran Canaria, Renatta Fuzetti, becomes the mermaid on a windless afternoon.
Epilogue:
The eyes of mortal men have gazed seaward since the beginning of time. The imprints of our human play are contained by the sacred boundary of the waters edge. Beyond lies the sanctity of the most beautiful planet seen by human eyes. These oceans are the last bastion where dreams can be found, where life can be renewed.
Those reaching beyond the shores of human habitation become celebrated explorers, for they have become enlightened by the sea. They have seen the gazing eyes of a distant land and have returned to review the condition of their own internal states. They are soaked by the molecules of a sustaining sea and now gaze back into the ways of their ignorant past.
For those of us who have ventured on the Trans-Atlantic Windsurf Race, we have seen the glory of a sunrise and the afterglow of a sunset. We have watched the movement of a day without the clutter of a ragged edge. We were blessed by schools of swimming angels whose sprightly contact filled our inner souls with hope.
But we have also been forewarned by the rages of an offending force. For living through the darkness of a midnight storm, we are faced with our blatant insignificance. But it was not until the calmness of a flat sea, in the stillness of a sleeping giant, that we truly discern the frailty of our existence.
It was only when the ocean becalmed itself that we saw—on the surface—the scathing scars inflicted on a sanctuary we thought so very . . . unreachable.