Click to Magazine View

ON THE TOP OF THE PWA WORLD: Daida and Iballa have traded places, being on top of the Professional Windsurfing Association. Their rocket rise to the top can be attributed to the fact that they live in the same town where the biggest World Cup event of the year comes.
EVEN THOUGH THEY GREW UP near a beach in the Canary Islands where Professional Windsurfing Association PWA competitions have been held for over a decade, Iballa and Daida Ruano Moreno didn't take to windsurfing automatically. As teens they simply wanted to have fun at the beach. In 1995 they tried windsurfing for the first time. Within 18 months these inspiring women were competing with the pros and proving that women could hold their own with the men.
"We live in Pozo, a village where for 13 years the PWA has held one of the biggest events of the tour," said Daida. "Since I was a kid I saw people windsurfing in front of me but I just wanted to go and catch waves on my boogie board. One day my friends and I decided to try windsurfing…on really old gear. We were just 17 years old starting to do a whole new thing and we were every single day trying and trying. We realized that we needed our own gear and my dad bought us our first set of sails. We were so happy that we started to try forward loops even without knowing how to jibe 100%. We were sailing all the time around professional people like Bjorn or Vidar [Dunkerbeck and Jensen] and local people who were really good. After one year and a half we did our first World Cup event."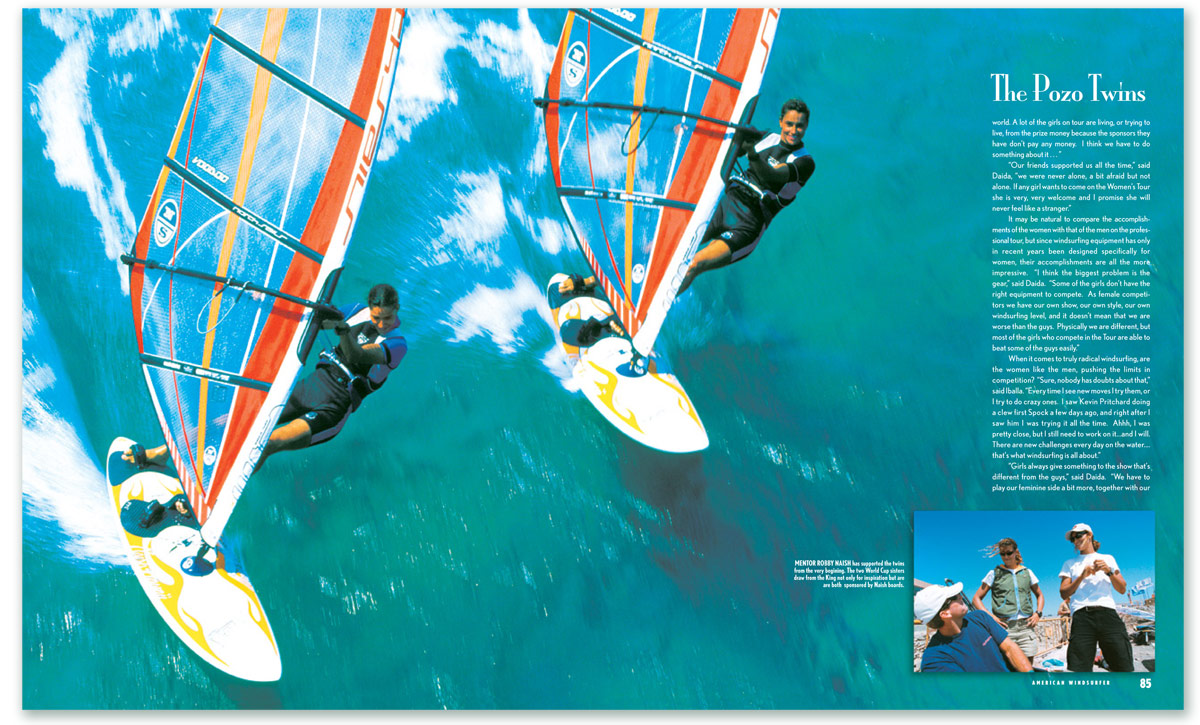 MENTOR Robby Naish has supported the twins from the very begining. The two World Cup sisters draw from the King not only for inspiration but are are both  sponsored by Naish boards.
Daida is the 2000 Women's World Cup Champion. To get there she took second place overall in racing and first place overall in the wave competition—a category her twin sister Iballa dominated the year before. Despite both women having triumphed at these world class events, competing at the highest level is not easy. "There are not that many girls on tour," said Iballa. "But that's because it's hard to find good sponsors so we can keep traveling around the world. A lot of the girls on tour are living or trying to live, from the prize money because the sponsors they have doesn't pay any money. I think we have to do something about it . . . "
"Our friends supported us all the time," said Daida, "we were never alone, a bit afraid, but not alone. If any girl wants to come on the Women's Tour she is very, very welcome and I promise she will never feel like a stranger."
It may be natural to compare the accomplishments of the women with that of the men on the professional tour, but since windsurfing equipment has only in recent years been designed specifically for women, their accomplishments are all the more impressive. "I think the biggest problem is the gear," said Daida. "Some of the girls don't have the right equipment to compete. As female competitors, we have our own show, our own style, our own windsurfing level, and it doesn't mean that we are worse than the guys. Physically we are different, but most of the girls who compete in the Tour are able to beat some of the guys easily."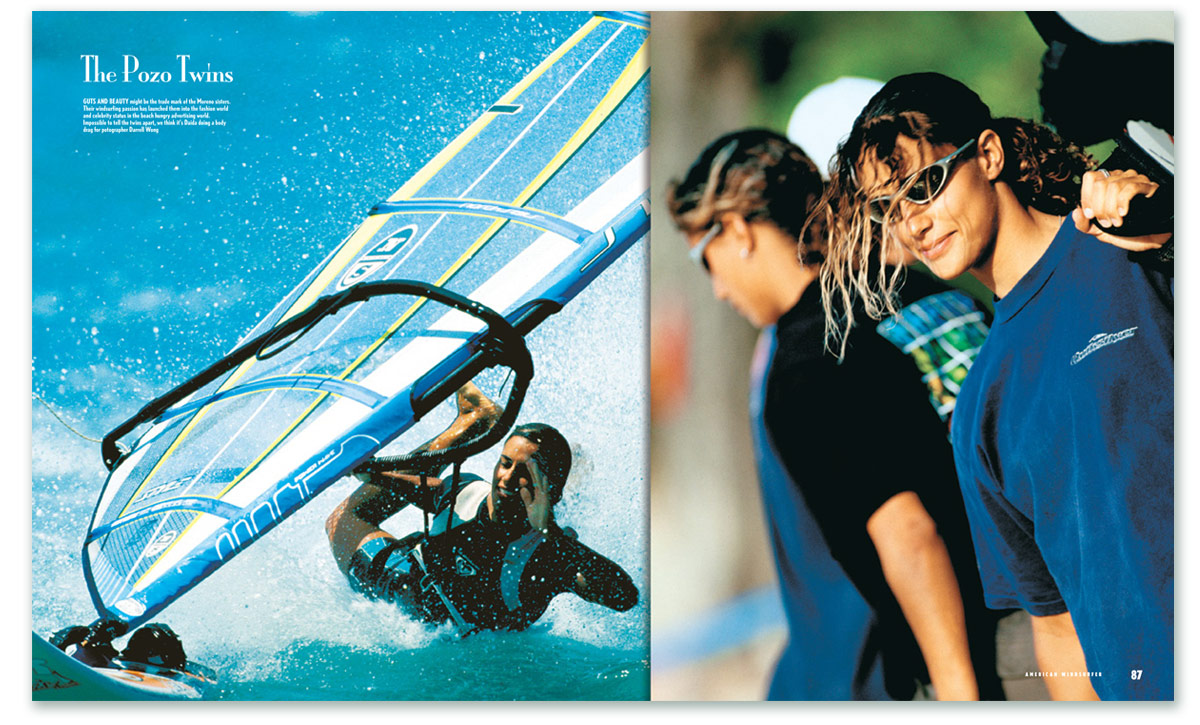 GUTS AND BEAUTY might be the trade mark of the Moreno sisters. Their windsurfing passion has launched them into the fashion world and celebrity status in the beach hungry advertising world. Impossible to tell the twins apart, we think it's Daida doing a body drag for potographer Darrell Wong
When it comes to truly radical windsurfing, are the women like the men, pushing the limits in competition? "Sure, nobody has doubts about that," said Iballa. "Every time I see new moves I try them, or I try to do crazy ones. I saw Kevin Pritchard doing a clew first Spock a few days ago, and right after I saw him I was trying it all the time. Ahhh, I was pretty close, but I still need to work on it…and I will. There are new challenges every day on the water….that's what windsurfing is all about."
"Girls always give something to the show that's different from the guys," said Daida. "We have to play our feminine side a bit more, together with our radical sailing. All the reporters who come to see us go away really happy and surprised about girls. We are a small family of friends together with a really good spirit and a lot of enthusiasm to compete and get better."
Advertisement
"We are even more serious than the men," said Iballa. "We train as much and exercise as much as they do. We have shown that we can do it as good as they can. But I don't think we have to compare the level of men and women in any sport. The men are stronger and faster, but that doesn't mean that the girls are worse . . . it's just different."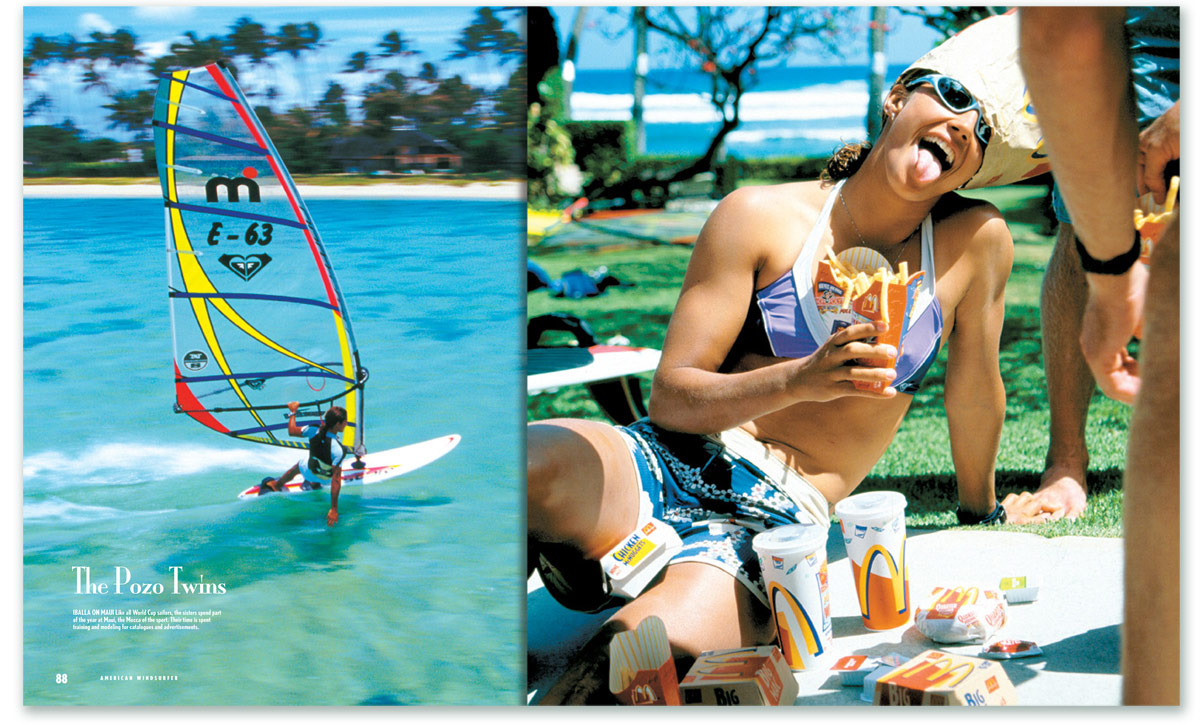 IBALLA ON MAUI Like all World Cup sailors, the sisters spend part of the year at Maui, the Mecca of the sport. Their time is spent training and modeling for catalogues and advertisements.
Asked about the low numbers of women who are involved in windsurfing when compared to men, the pair highlights the achievements of the professional women on tour and extend a challenge for women to try the sport:
"I think women are a bit less ambitious in sports than men, generally," said Daida. "So the thing we have to do is just show them (by magazines like this) that everything is possible. The level of the world cup women sailors has gotten s-o-o-o-o much better in the last year. It is incredible."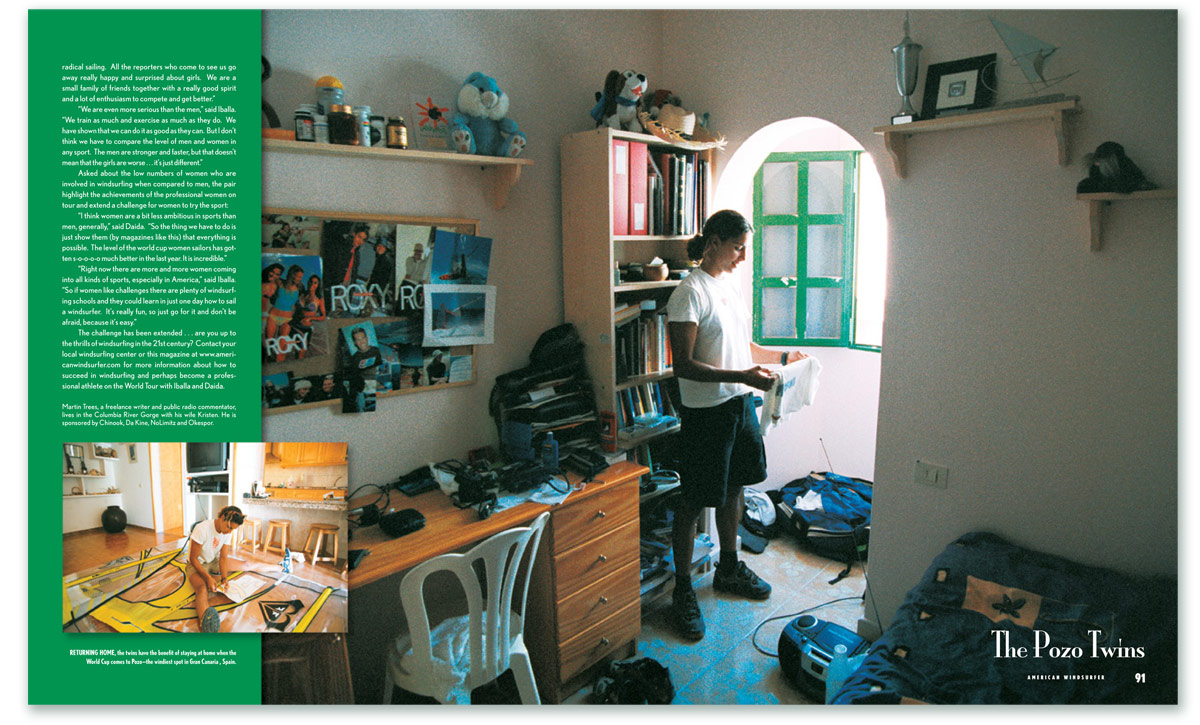 RETURNING HOME, the twins have the benefit of staying at home when the World Cup comes to Pozo—the windiest spot in Gran Canaria , Spain.
"Right now there are more and more women coming into all kinds of sports, especially in America," said Iballa. "So if women like challenges there are plenty of windsurfing schools and they could learn in just one day how to sail a windsurfer. It's really fun, so just go for it and don't be afraid, because it's easy."
The challenge has been extended . . . are you up to the thrills of windsurfing in the 21st century? Contact your local windsurfing center or this magazine at www.americanwindsurfer.com for more information about how to succeed in windsurfing and perhaps become a professional athlete on the World Tour with Iballa and Daida.