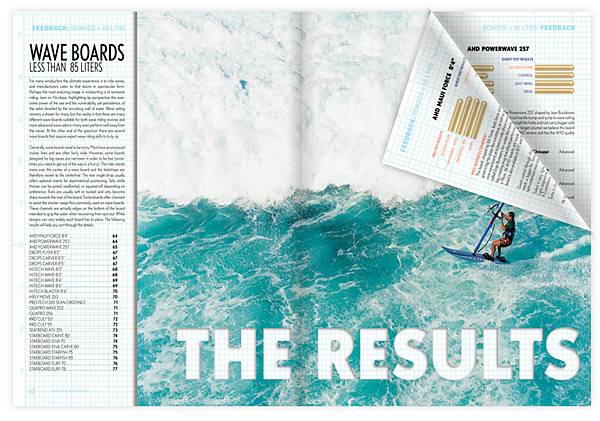 WAVE BOARDS
LESS THAN 85 LITERS
For many windsurfers the ultimate experience is to ride waves, and manufacturers cater to that desire in spectacular form. Perhaps the most enduring image in windsurfing is of someone riding Jaws or Ho'okipa, highlighting by perspective the awesome power of the sea and the vulnerability, yet persistence, of the sailor dwarfed by the onrushing wall of water. Wave sailing remains a dream for many, but the reality is that there are many different wave boards suitable for both wave riding novices and more advanced wave sailors—many even perform well away from the waves. At the other end of the spectrum there are several wave boards that require expert wave riding skills to truly rip.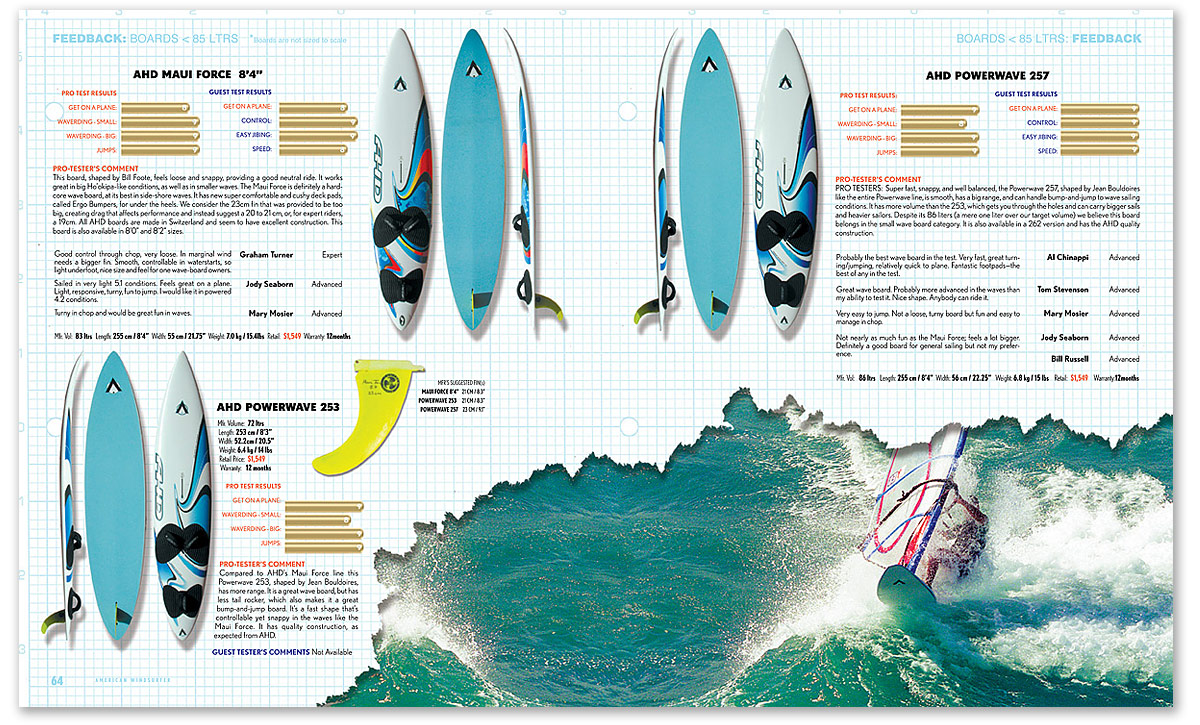 Generally, wave boards need to be turny. Most have pronounced rocker lines and are often fairly wide. However, some boards designed for big waves are narrower in order to be fast (sometimes you need to get out of the way in a hurry). The rider stands more over the center of a wave board and the footstraps are therefore nearer to the centerline. The rear single strap usually offers optional inserts for asymmetrical positioning. Tails, while thinner, can be pintail, swallowtail, or squared-off depending on preference. Rails are usually soft or tucked and only become sharp towards the rear of the board. Some boards offer channels to assist the shorter swept fins commonly used on wave boards. These channels are actually edges on the bottom of the board intended to grip the water when recovering from spin out. While designs can vary widely, each board has its place. The following results will help you sort through the details.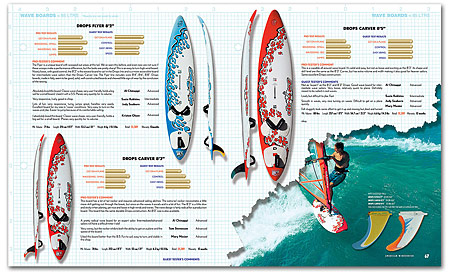 ---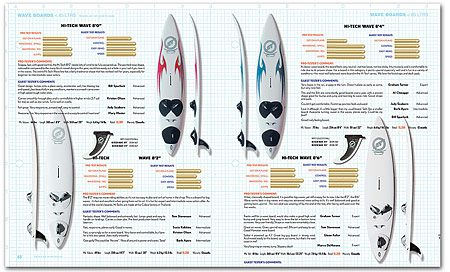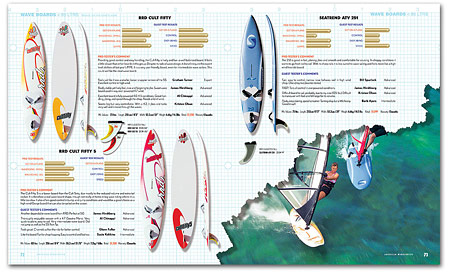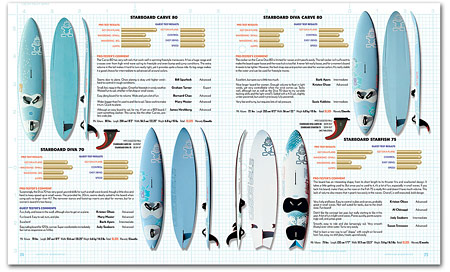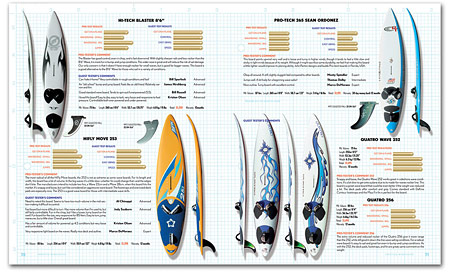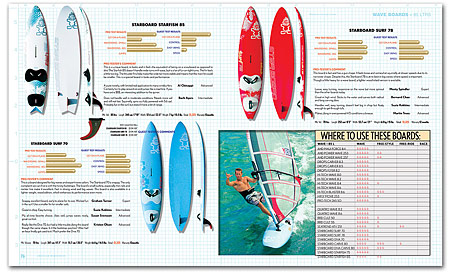 AHD Maui Force 8'4" 64
AHD Powerwave 253 64
AHD Powerwave 257 65
Drops Flyer 8'2" 67
Drops Carver 8'3" 67
Drops Carver 8'5" 67
Hi-Tech Wave 8'0" 68
Hi-Tech Wave 8'2" 68
Hi-Tech Wave 8'4" 69
Hi-Tech Wave 8'6" 69
Hi-Tech Blaster 8'6" 70
HiFly Move 253 70
Pro-tech 265 Sean Ordonez 71
Quatro Wave 252 71
Quatro 256 71
RRD Cult 50 72
RRD Cult 55 72
Seatrend ATV 251 73
Starboard Carve 80 74
Starboard Diva 70 74
Starboard Diva Carve 80 75
Starboard Starfish 75 75
Starboard Starfish 85 76
Starboard Surf 70 76
Starboard Surf 78 77
Advertisement
---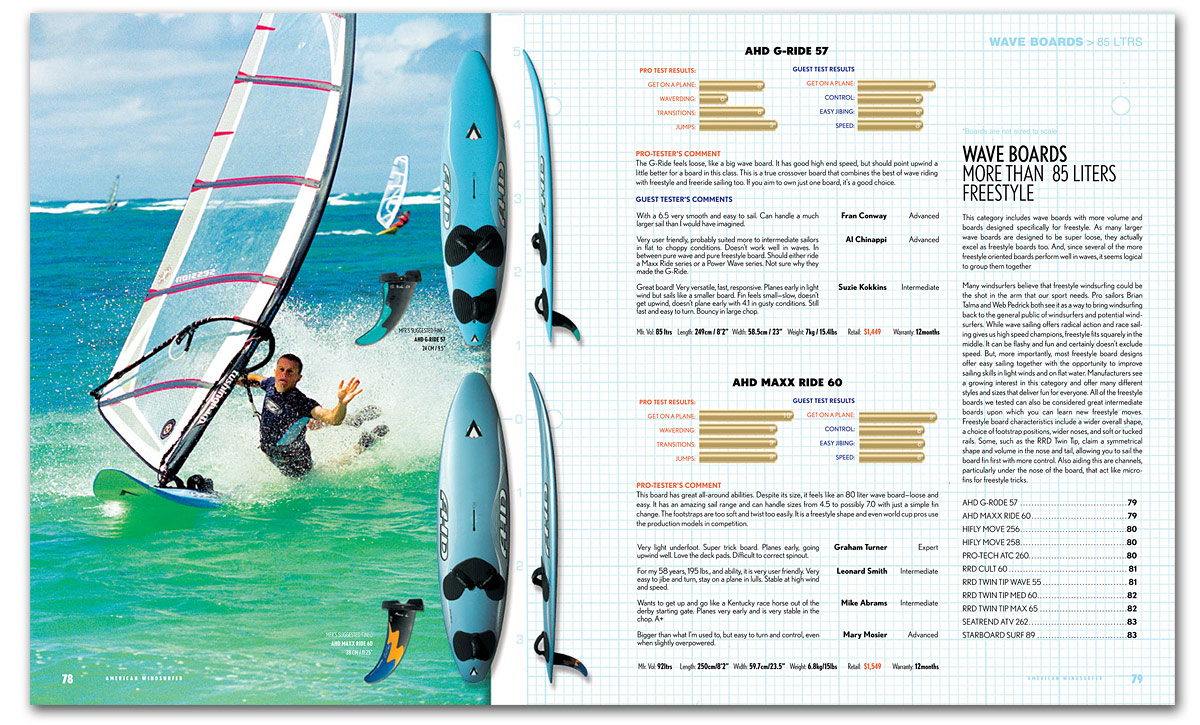 FREERIDE/ RACE
This category contains the largest boards. The freeride shapes are all-around designs intended to offer fun and flexible performance—good turning, high speeds, and ease of use. Worldwide, freeride boards at around 100 liters are the most popular of all sailboards, and this is where you'll find them.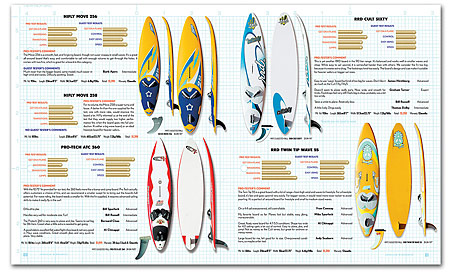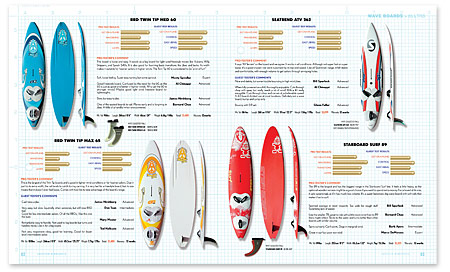 Race board designs are specifically targeted at speed and upwind sailing. While they may compromise in other areas, such as ease of turning, speed is the goal. In general, all the boards in this category have sharper, thicker rails, a flatter rocker line with less nose kick, and a straighter outline (less teardrop shaped). Foostraps are positioned farther from the centerline and double straps are provided at the back. The fin box must accommodate long fins and these boards tend to come with either a Powerbox or a Tuttle box.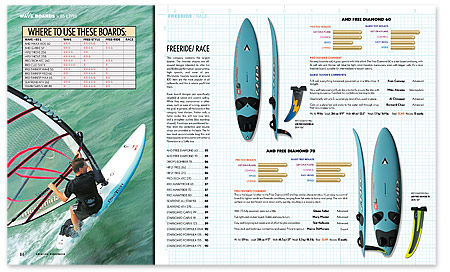 AHD FREE DIAMOND 60 85
AHD FREE DIAMOND 70 85
DROPS BOMBER 78 86
HIFLY FREE 262 86
HIFLY FREE 272 86
Pro-tech ATC 270 87
RRD avantmove 65 87
RRD avantride 70 87
RRD avantride 80 88
Seatrend Allstar 58 88
Seatrend ATV 278 88
Starboard carve 99 89
Starboard carve 111 89
Starboard carve 123 89
Starboard FORMULA DIVa 90
Starboard FORMULA 135 90
Starboard FORMULA 155 90
Starboard FORMULA 175 90
---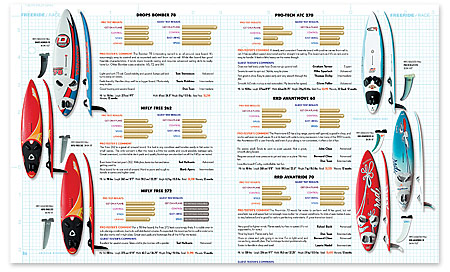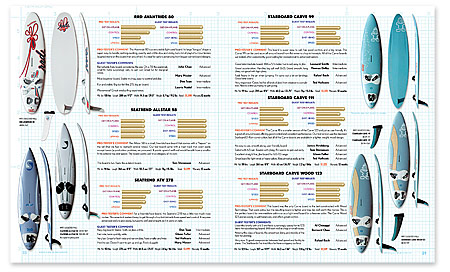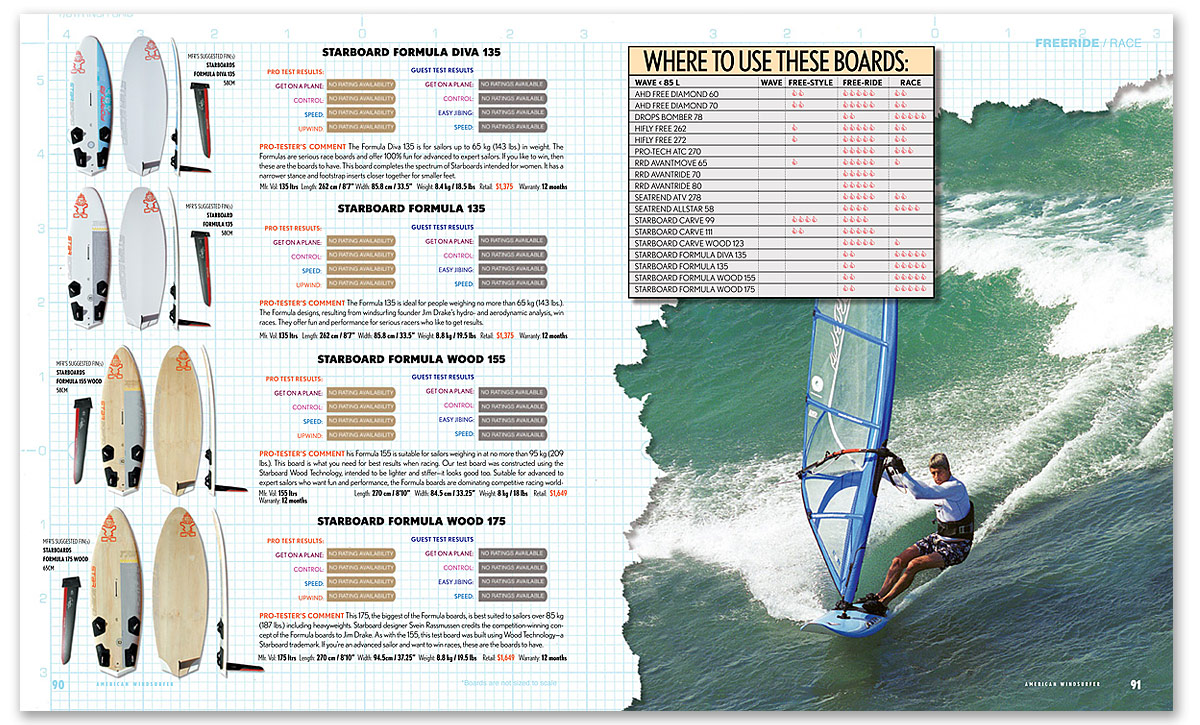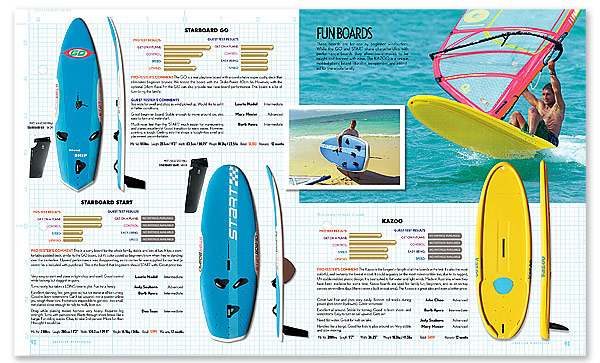 FUN BOARDS
These boards are for use by beginner windsurfers. While the GO and START share characteristics with performance boards they allow basic moves to be taught and learned with ease. The KAZOO is a unique molded plastic board—durable, inexpensive, and intended for the whole family.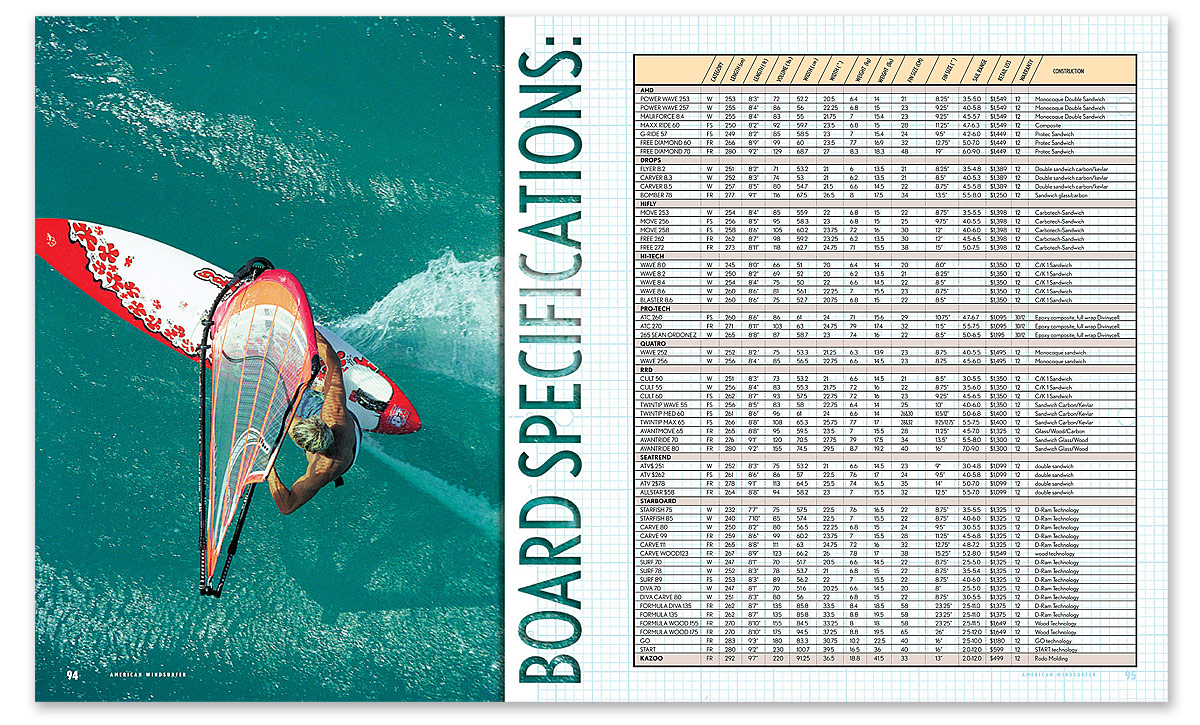 Advertisement