The windsurfing photographs of former Canadian windsurfing champion Brian Watson form a collage of some twenty years. Having built a lifestyle around his passion for adventure, travel, and wind, Brian abandoned his lucrative corporate job to open a lucrative windsurfing store in Kingston, Ontario, north of the U.S. border. His windsurfing career is now entering a new phase as Brian enters the competitive arena of professional photography.
At forty-three, this engaging windsurfer has the heart of a gypsy and a perspective on the world which Native Americans call "eagle vision"—an instinctive ability to see the big picture that comes from years of life experience. The first thing we noticed about Brian is his laugh. It's contagious. Whether he's comparing Canada to the U.S.—"you Americans work too hard"—or talking about his introduction to windsurfing, "I remember the first time my brother Gary showed me a windsurfer, my first reaction was apprehension. Well, doesn't everyone have some of that the first time you look at that thing? Like, man, you don't want to get on it!" But in the summer of 1980, that's just what he did.
Although the wind was barely five knots, he stayed afloat for hours on one of the original stock Windsurfers. Sailing was already in Brian's blood. His father, along with a group of men, was instrumental in forming a yacht club in Cornwall. Brian's father was also an excellent dinghy racer winning the Canadian Championships in the GP14 class. Brian's brother and himself took turns crewing for their father who taught them racing tactics. By the time Brian was ten, he was crewing in dinghy races and getting his sea legs in challenging conditions and on the race course.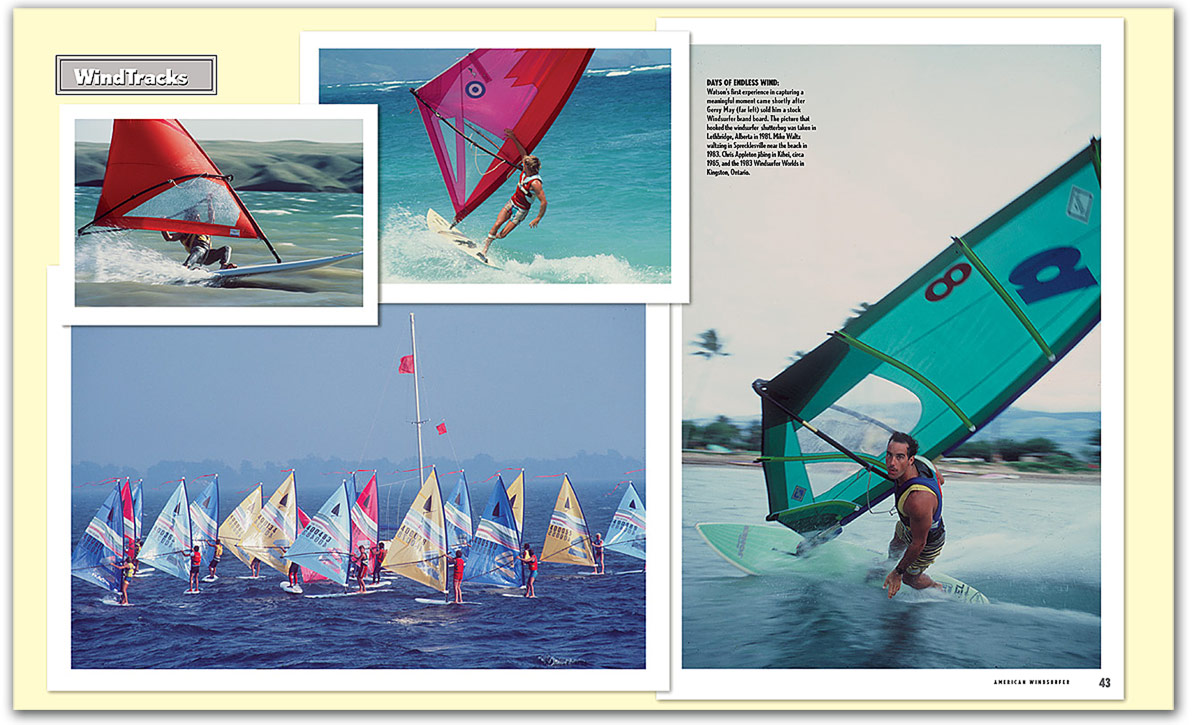 DAYS OF ENDLESS WIND: Watson's first experience in capturing a meaningful moment came shortly after Gerry May (far left) sold him a stock Windsurfer brand board. The picture that hooked the windsurfer  shutterbug was taken in Lethbridge, Alberta in 1981. Mike Waltz waltzing in Sprecklesville near the beach in 1983. Chris Appleton jibing in Kihei, circa 1985, and the 1983 Windsurfer Worlds in Kingston, Ontario.
 Whatever aspirations there may have been as a yachtsman, windsurfing and Duncan Lancaster changed everything. It was one of the early photographs of Duncan in Alberta that got Brian hooked on photography and on windsurfing. "I think he paid around $1,200 for a package. Back then, that was a whole month's salary for a starting engineer like myself," Brian said. Like many of us, Brian held off buying one of those contraptions until his brother took him to a regatta in 1981 where 130 people gathered out on the water. His brother won his weight class and was already one of the top racers in Canada after only one year. Brian came close to last but, "I got hooked and before I knew it, I had my own board and entered the Canadian windsurfing championships. I didn't have a wetsuit or a harness but it never occurred to me to blame my equipment if I lost. If something went wrong, I always thought it was my fault. Back then if you got beat you knew it was you and not the equipment because everyone sailed the same stuff. So you didn't rush out to buy something better or more expensive, you just practiced more intensively," he explained with a laugh.
Around the same time, he bought his first real camera, a manual Yashica FX3, for $120. "If I hadn't taken up windsurfing, I doubt I would have done as much photography," he alleged, pointing out that since cameras tend to get rusty in waves, he buys less expensive equipment than if he weren't standing in the water staking out the best angles to shoot those loops, forwards, and jibes.
Although it took Brian eight years to win the title for Canada, a country he calls "the 53rd state except that we have more holidays and fewer guns than you guys," he quickly launched into a windsurfing lifestyle, traveling to Maui for the first time in November of 1982. "You can imagine what it was like flying from the then gray, dry city of Calgary into Maui for the first time. You see brilliant blue water and green foliage everywhere and you fall in love. That was also where I saw shortboards taking off. Windsurfing was entering a whole new dimension," he recalled. Returning to his job in Calgary, Brian remembers his company presenting him with a sheet listing his benefits and pension plan. "I was twenty-five years old. I looked at the pension sheet and realized I would be an old man before I got to enjoy myself. I told myself, "I've gotta go NOW!"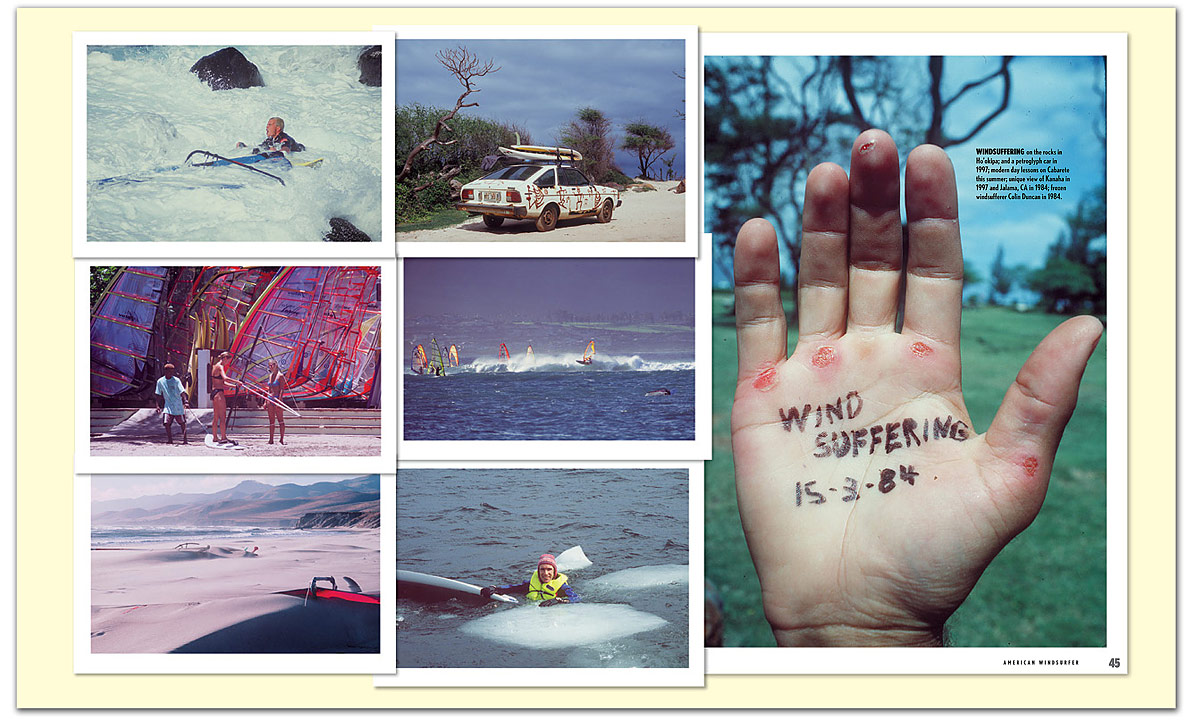 WINDSUFFERING on the rocks in Ho'okipa; and a petroglyph car in 1997; modern day lessons on Cabarete this summer; unique view of Kanaha in 1997 and Jalama, CA in 1984; frozen windsufferer Colin Duncan in 1984.
Slipping out of those golden handcuffs, Brian tapped Gary on the shoulder and the two brothers set off halfway around the world to Australia, New Zealand, and Maui in search of endless thermals and perfect beach conditions of which dreams are made. For Brian, it was also a visual quest for the perfect Kodak moment. He accepted engineering projects under contract so that he would have blocks of time free to travel, mostly to Maui.
In 1988, having moved back to Kingston, Ontario to get an MBA at Queens University, Brian learned that the windsurfing store in Kingston had gone bankrupt. Hence, he opened a new store, going into debt for $20,000. "Possibly, I could have been working for McDonnell Douglas but instead, I decided to live in an old warehouse, spend the winter turning it into a windsurfing shop. I had to figure out how to make a windsurfing store work without any money," he explained, chuckling at the memory.
Advertisement
Brian's energy, determination, creativity, and enthusiasm for both windsurfing and business made up for a lack of capital. He took part in organizing a windsurfing club, a school, regattas, and other events to promote the sport. "If someone wanted to come buy a board at midnight on Friday because he or she was going on vacation, I opened the store," he admitted. "I lived, ate, and breathed the business for ten years." Although in many ways it was the ideal life—windsurfing at home in the summer, traveling to the Dominican Republic, and points south in the winter—but ten years of running a retail store began taking a toll and got in the way of his passion and capturing his passion on film.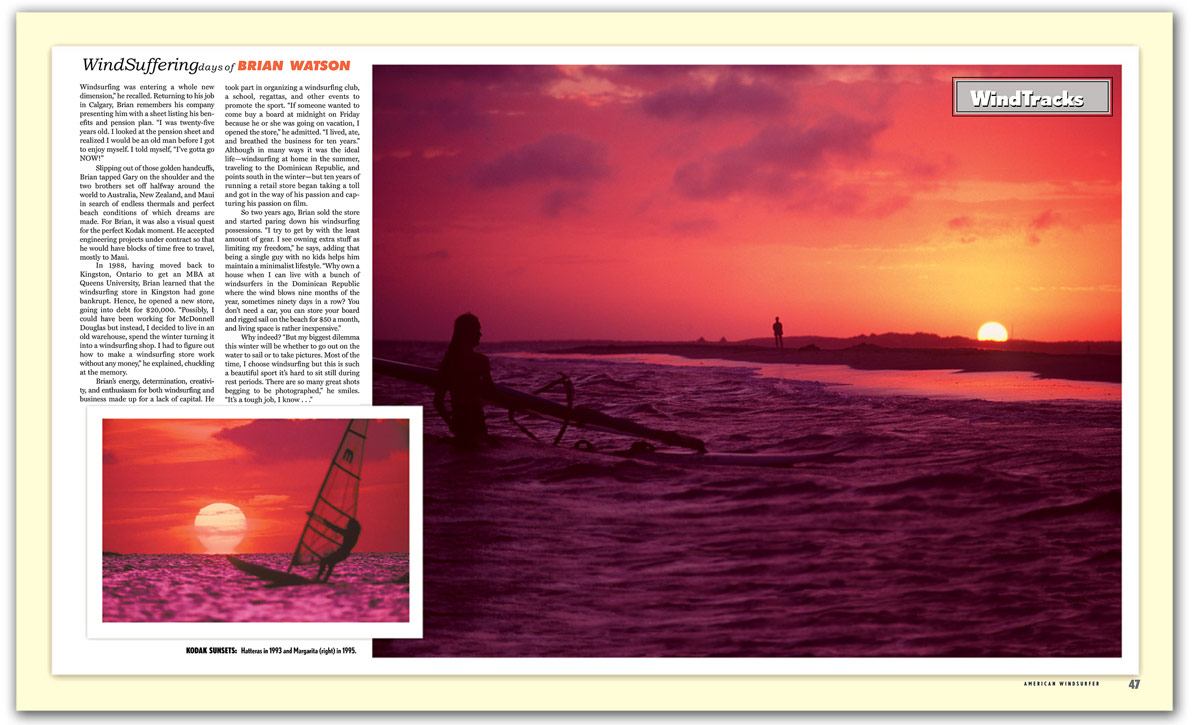 So two years ago, Brian sold the store and started paring down his windsurfing possessions. "I try to get by with the least amount of gear. I see owning extra stuff as limiting my freedom," he says, adding that being a single guy with no kids helps him maintain a minimalist lifestyle. "Why own a house when I can live with a bunch of windsurfers in the Dominican Republic where the wind blows nine months of the year, sometimes ninety days in a row? You don't need a car, you can store your board and rigged sail on the beach for $50 a month, and living space is rather inexpensive."
Why indeed? "But my biggest dilemma this winter will be whether to go out on the water to sail or to take pictures. Most of the time, I choose windsurfing but this is such a beautiful sport it's hard to sit still during rest periods. There are so many great shots begging to be photographed," he smiles. "It's a tough job, I know . . ."
---