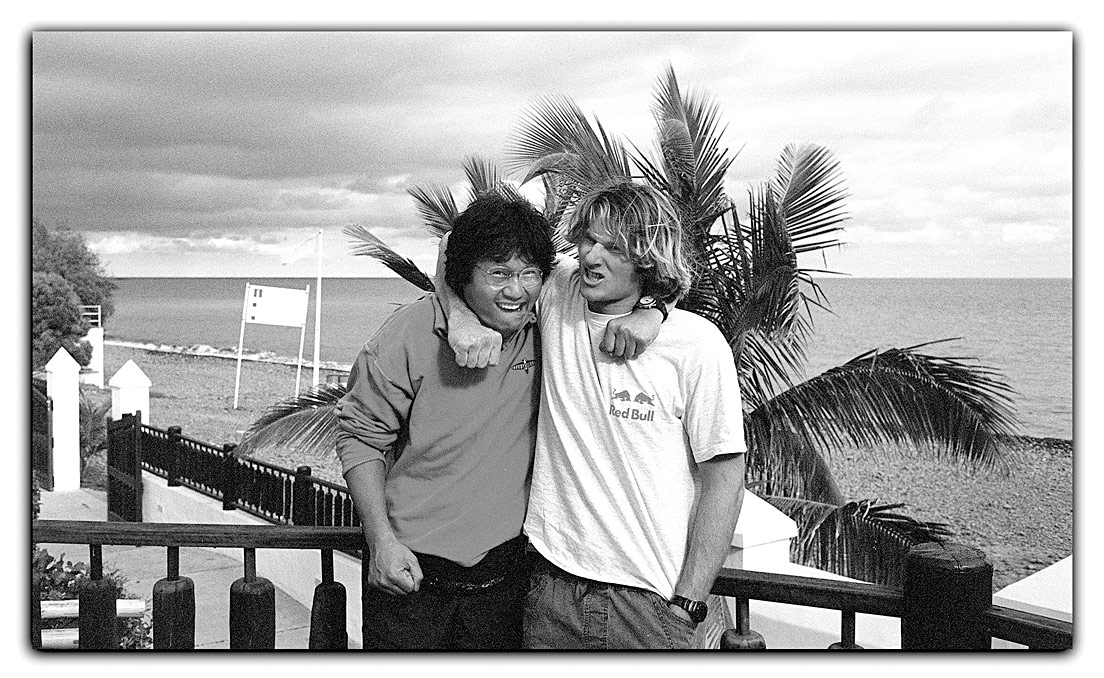 YOU WILL DO INTERVIEW WITH ME! What can you say when the 8-time-world champion windsurfer has you by the neck? Well, you follow him halfway around the world, put him on the cover and give him an unprecedented 24 pages of words and pictures. So now, you be the judge. Has the Dunkerbeck stranglehold worked on our poor helpless editor? "Ciao Baby" No, no, that's Hasta La Vista Baby on the Canary Islands.
Sometimes when things don't happen your way or right away, it's easy to get philosophical. After all, it's a lot better than getting angry. As you may have noticed by now, being philosophical is sometimes the string that holds American Windsurfer together. When reason gets overridden by intuition, plans for an issue can change quickly.
One case in point is our interview with Bjorn Dunkerbeck. For more than two years, we considered an article on this 8 time World Champion, hoping for an interview that might reveal a different side of Bjorn. Something that the mainstream media just couldn't capture. But for a thousand reasons, we just couldn't get it together. They say that timing is everything, and we knew our challenge was ambitious. If our goal was to do an article that was different, circumstances had to be different. So we waited.
Advertisement
Then one day on a plane from Chicago to San Francisco, Editor John Chao spotted Bjorn and made his move. He kicked Bjorn's travel companion out of his seat for a couple of hours and sat down with a tape recorder. After flying first across the Atlantic and then in the process of flying across the U.S., Bjorn was in the mood to talk. "It's better than watching this stupid movie" he'd said. This made a strong impression on Chao and after a revealing conversation, the editor promised that he would trade the tape recorder for a camera and see Bjorn again (which by the way turns out to be the title of the interview).
Chao visited Bjorn on Maui and they made plans to meet at the first PWA event in Almanarre, France and to visit Bjorn's home in the Canaries after the event. But as we transcribed the interview tape from the first two trips, we decided that maybe a trip to the Canaries wouldn't be necessary, so we cancelled it.
Then the "timing thing" happened again. Bjorn broke his collarbone and was going to be home for a couple of months. The trip was back on. A quick call to Greg Thorne at Inter Island Tours in New York got the editor on his way again. The result of this trip ultimately turned out to be what we had been waiting for. We threw away the tapes from the first interview and started over. Meanwhile we called 30–year–old German photographer Thorsten Indra who has spent many years photographing Dunkerbeck for some special shots. Several other photographers around the world were also contacted for pictures and suddenly, what seemed to be an insurmountable goal two years ago or even two months ago, had developed and ripened before our eyes.
This one interview then set the stage for the whole issue. The historical profile of Josh Stone appeared, written by one of our former editors, Rose Scarola, who visited him at his home on Maui last year. A story about Brian Talma and some of the challenges he's faced spilled from the pen of Roxan Kinas in Barbados. British photographer Alex Williams sent photo accompaniment and "riddim master" Adisa provided the lyrics for Brian's song "Irie Man".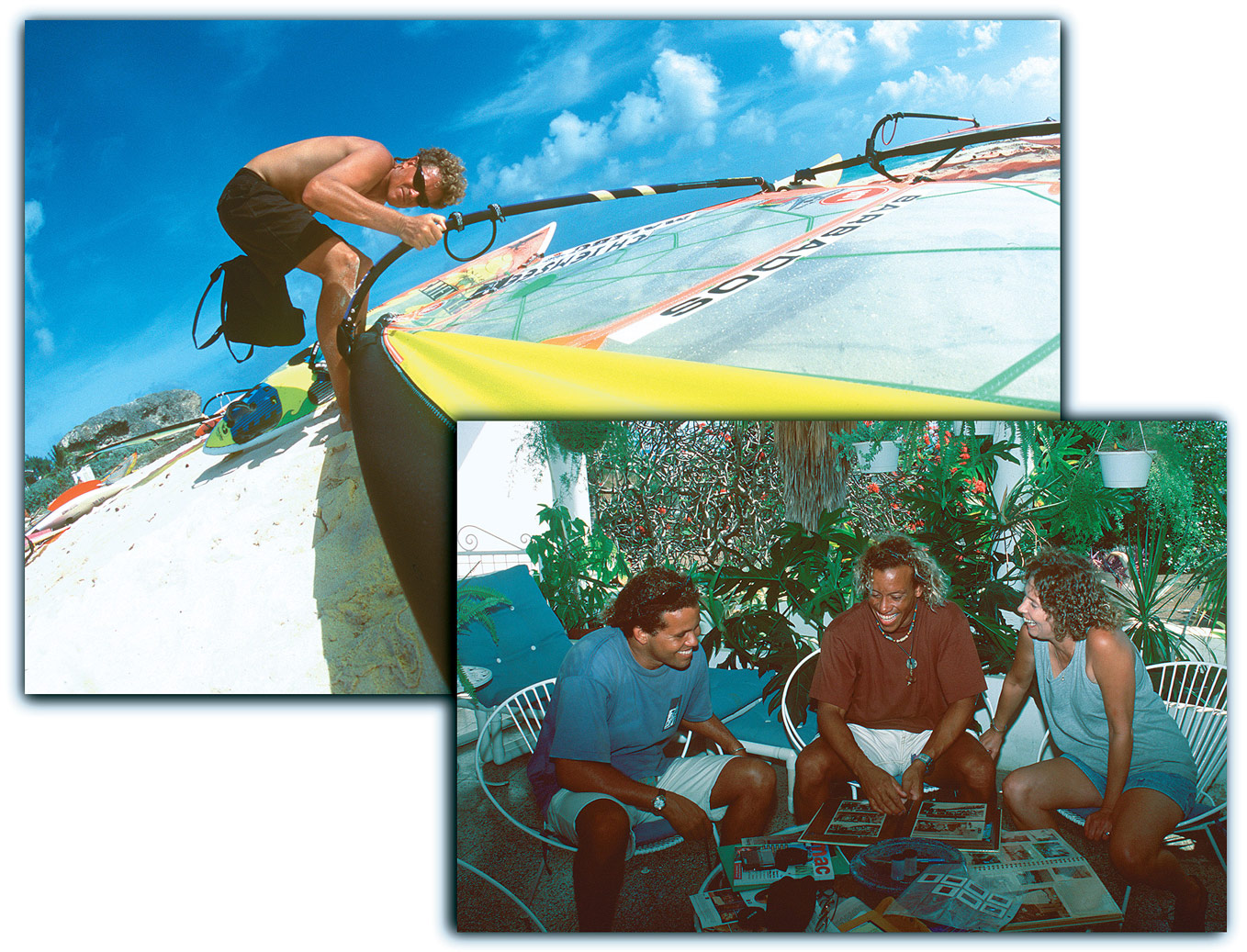 BRAINSTORMING IN BARBADOS: Roxan Kinas interviewing Brian and Kevin Talma while Alex Williams preps his mast mounted camera.
Then from the lens of Pat McFeeley, came larger than life images of Pete Cabrinha, Laird Hamilton, Dave Kalama, Rush Randle, Robby Seeger, and Luke Hargreaves, screaming down monster waves on Maui, and we decided to use them to inaugurate our new action photo section called Screamers.
Suddenly, the issue had become a star–studded spectacular. A lot of big names and a lot of great images. But what about the stuff that we had already planned? What about us little people? Simple problems call for simple solutions. We put those articles in too.
Editor Jud Bartlett traveled to Martha's Vineyard to catch one of our long time friends in one long race, the Martha's Vineyard Windsurfing Challenge. In the race and in the story, Blindly Dating Martha's Vineyard, school teacher Peter Fagan proved that not only is he a good subject, but a good sport as well.
Advertisement
And finally, for the ever popular Romancing the Wind column, we received a faxed submission one evening that just about knocked us out of our chairs with laughter. It's a humorous social commentary crafted by New Jersey sailor and newspaperman Pat Pawling that gets right into the heart of the relationship that we windsurfers have with each other. In fact, Pat's insights into the phenomenon of nicknames have even prompted us to steal a new motto for the magazine: American Windsurfer: Where a windsurfer's private affairs are publicly hung."
Look for it on our next cover??