Photographer Annie Liebovitz is always on the run in high places. (below) Photographer Darrell Jones catching action from a helicopter at the 1997 US Nationals
FRIENDSHIP IS THE GLUE that defines our existence and is a force that help keep our dreams alive. It is friendship that holds together the pages of this issue and delivers a dynamic testimony to the role it plays in the creative struggles of this publication. Without it, we would crumble into a sea of mediocracy.
Beginning with cover boy Michael Gebhardt, to Annie Liebovitz, to Darrell Jones to Bill Collins, this issue is a magnificent display of how friends cannot only blow hot air, but they can be the wind that drives our windmakers passion.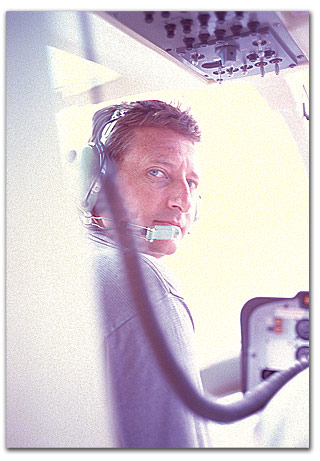 Michael Gebhardt contributed more than just being on the cover and sitting for the interview. He worked in our offices for several weeks, writing articles, making calls and bridging gaps with his circle of friends. His article The Return of the Jedi Jiber, is illustrated by another nurturing friend of many years. Darrell Jones can be credited as the photographer who put windsurfing in the Caribbean on the map. Jones' photographs can be seen frequently on the covers of Outside, Travel and Leisure, Islands and many, many more magazines, ads and articles. He is a perpetual roving cameraman, this week in Florida, next week in Antarctica photographing for a cruise line. It is his friendship which has always kept him within close reach of the magazine and the sport.
For the Return of the Jedi Jiber article that captures the spirit of the 1997 USWA Nationals in St. Thomas, another long time friend was instrumental in bringing the story to light. Bill Collins, the intrepid president of the United States Windsurfing Association, pushed hard to bring this circle of friends together to witness the event.
Perhaps the biggest name in the photographic world today is a woman by the name of Annie Liebovitz. She is acknowledged by many to be the greatest portrait photographer alive today.
The daughter of an Air Force Colonel and one of six children, Leibovitz spent her early years in many different areas of the country. Her career began in 1970 when she was studying painting and photography at the San Francisco Art Institute. Only 19-years-old, she submitted a portfolio of her photographs to Rolling Stone magazine. Its editor, Jann Wenner, about to leave for New York to interview John Lennon, was so impressed with Leibovitz's portfolio that he took her with him; the result was Leibovitz's first cover for Rolling Stone. By 1973, she was the magazine's chief photographer.
Advertisement
Her association with Rolling Stone lasted until the early 1980's. Leibovitz's work has since appeared in every major American magazine, including Life, Time, Newsweek, New York Times Magazine, Esquire, Vogue, Vanity Fair, the Conde Nast Traveler, and the New Yorker. Her international reputation has been affirmed by frequent overseas publication in the Sunday Times Magazine, and the London Independent Magazine, Paris Match, Max, Stern, Vogue, and Switch in Japan, among others.
Her best known photographs are those of actors and entertainers such as Whoopi Golberg, Bette Midler, David Byrne, Demi Moore, Roseanne, and Michael Jackson. She also had a long time photographic relationship with John Lennon which culminated in one of her most poignant images—John and Yoko in an embrace taken only a few hours before Lennon's murder in December 1980.
For her editorial work as well as her advertising, Annie has won numerous awards and in 1991, Leibovitz became the second living photographer—and the first woman ever—to be exhibited at the Smithsonian Institution's prestigious National Portrait Gallery, in Washington, D.C.
It was while working on her book "Olympic Portraits", that was published in June 1996 in conjunction with the Atlanta Olympics, that Liebovitz met Gebhardt. The photographer was charmed by the windsurfer's irreverence when he told her she couldn't photograph him until she and her crew took time to relax by taking a boat ride through the marshes of Savannah. Liebovitz reluctantly agreed but managed to sneak on board a small camera. Their second boat ride turned out to be an adventure akin to those out of the jungles of Africa. Not only did the ocean ruin many of the photographer's cameras, the crew barely made it back before darkness. Miraculously, just as they ran out of gas, the boat was close enough to home to coast into the dock.
The journey gave Liebovitz an insight into the Olympian and established a friendship that inspired an image of Gebhardt frolicking in nature as the last photograph in the artist's Olympic Portrait book. For American Windsurfer, Leibovitz's involvement in this issue, truly serves as a testimony to the majestic force of friendship.