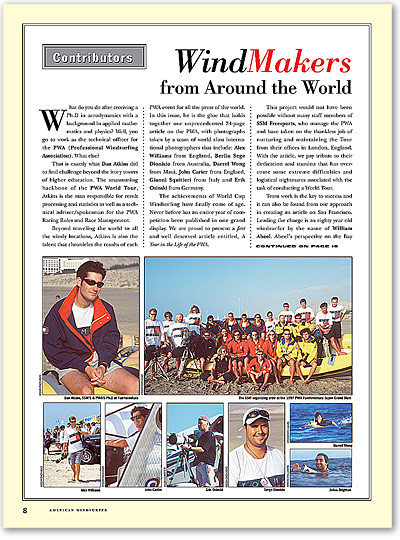 WHAT DO YOU DO after receiving a Ph.D in aerodynamics with a background in applied mathematics and physics? Well, you go to work as the technical officer for the PWA (Professional Windsurfing Association). What else?
That is exactly what Dan Atkins did to find challenge beyond the ivory towers of higher education. The unassuming backbone of the PWA World Tour, Atkins is the man responsible for result processing and statistics as well as a technical adviser/spokesman for the PWA Racing Rules and Race Management. 
Beyond traveling the world to all the windy locations, Atkins is also the talent that chronicles the results of each PWA event for all the press of the world. In this issue, he is the glue that holds together our unprecedented 34-page article on the PWA, with photographs taken by a team of world class international photographers that include: Alex Williams from England, Berlin Sege Dionisio from Australia, Darrel Wong from Maui, John Carter from England, Gianni Squitieri from Italy and Erik Osinski from Germany.
The achievements of World Cup Windsurfing have finally come of age.  Never before has an entire year of competition been published in one grand display. We are proud to present a first and well deserved article entitled, A Year in the Life of the PWA.
This project would not have been possible without many staff members of SSM Freesports, who manage the PWA and have taken on the thankless job of nurturing and maintaining the Tour from their offices in London, England. With the article, we pay tribute to their dedication and stamina that has overcome some extreme difficulties and logistical nightmares associated with the task of conducting a World Tour.
Team work is the key to success and it can also be found from our approach in creating an article on San Francisco. Leading the charge is an eighty year old windsurfer by the name of William Abeel. Abeel's perspective on the Bay comes from fifteen years of intimate windsurfing association with the giving bay. Bill Abeel's perspective also comes from a heritage that can be traced back to the early Dutch colonization of the island of Manhattan. His views on the windsurfing community in A Bay that Sir Francis Drake Missed, contain a microcosm of the Brave New World—a worldwise perspective that gives us a sense of history and the pioneering spirit.
Advertisement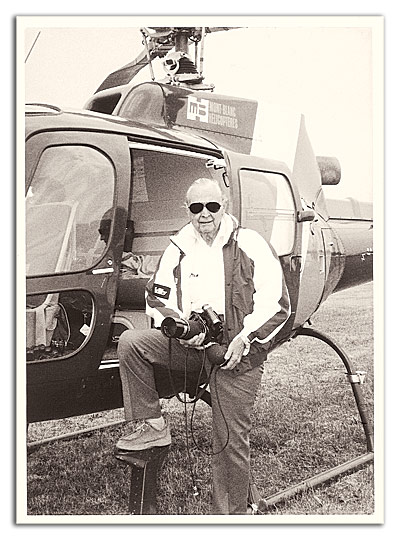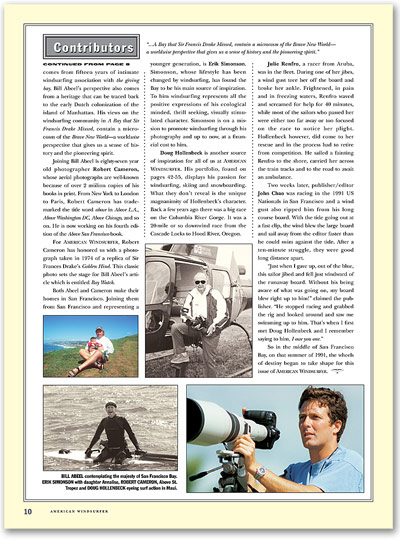 Bill Abeel contemplating the majesty of San Francisco Bay. Erik Simonson with daughter Annalise, ROBERT CAMERON, Above St.Tropez and DOUG HOLLENBECK eyeing surf action from his home on Maui.
Joining Bill Abeel is eighty-seven year old photographer Robert Cameron, whose aerial photographs are well-known because of over 2 miilion copies of his books in print. From New York to London to Paris, Robert Cameron has trademarked the title word above in Above L.A., Above Washington DC, Above Chicago, and so on. He is now working on his fourth edition of the Above San Francisco book.
For American Windsurfer, Robert Cameron has honored us with a photograph taken in 1974 of a replica of Sir Frances Drake's Golden Hind. This classic photo sets the stage for Bill Abeel's article which is entitled Bay Watch.
Both Abeel and Cameron make their homes in San Francisco. Joining them from San Francisco and representing a younger generation, is Erik Simonson.  Simonson, whose lifestyle has been changed by windsurfing, has found the Bay to be his main source of inspiration. To him windsurfing represents all the positive expressions of his ecological minded, thrill seeking, visually stimulated character. Simonson is on a mission to promote windsurfing through his photography and up to now, at a financial cost to him.
Doug Hollenbeck is another source of inspiration for all of us at American Windsurfer. His portfolio, found on pages 42-55, displays his passion for windsurfing, skiing and snowboarding. What they don't reveal is the unique magnanimity of Hollenbeck's character. Back a few years ago there was a big race on the Columbia River Gorge. It was a 20-mile or so downwind race from the Cascade Locks to Hood River, Oregon.
Julie Renfro, a racer from Aruba, was in the fleet. During one of her jibes, a wind gust tore her off the board and  broke her ankle. Frightened, in pain and in freezing waters, Renfro waved and screamed for help for 40 minutes, while most of the sailors who passed her were either too far away or too focused on the race to notice her plight. Hollenbeck however, did come to her rescue and in the process had to retire from competition. He sailed a fainting Renfro to the shore, carried her across the train tracks and to the road to await an ambulance.
Advertisement
Two weeks later, publisher/editor John Chao was racing in the 1991 US Nationals in San Francisco and a wind gust also ripped him from his long course board. With the tide going out at a fast clip, the wind blew the large board and sail away from the editor faster than he could swim against the tide. After a ten-minute struggle, they were good long distance apart.
"Just when I gave up, out of the blue, this sailor jibed and fell just windward of the runaway board. Without his being aware of what was going on, my board blew right up to him!" claimed the publisher. "He stopped racing and grabbed the rig and looked around and saw me swimming up to him. That's when I first met Doug Hollenbeck and I remember saying to him, I owe you one."
So in the middle of San Francisco Bay, on that summer of 1991, the wheels of destiny began to take shape for this issue of American Windsurfer.