Click for Magazine View

If you're an advanced or expert windsurfer who sails in windy places, or if you have the time to sail whenever the wind happens to blow hard, you focus on shortboards. Only a few sailors are lucky enough to have the wind or the job for that kind of existence. Everyone else needs boards that will work when the wind is light, but are still manageable in a big blow.
These boards might be called all-around boards. They range in price from the most to least expensive of all sailboards. Generally, they are about 13 feet long, and most have a centerboard, which enables the rider to float with stability and sail in virtually any direction.
Such boards have over 30 years of development behind them, and they continue to evolve. They incorporate features borrowed from both shortboards and sailboats. They've always been fairly wide; the original windsurfer was 26 inches wide and the Olympic One Design is 25 inches wide (only recently have shortboards gone to such widths). But, beginning a few years ago with the 31-inch-wide Hifly 335, greater width has been the direction. Board-makers are taking advantage of the benefits that width offers, in quick planing and sub-planing stability, while maintaining control at speed.
In the last issue we reported from Aruba on a number of new wide-style boards. We're catching up here with notable new entries into this category: the Hifly Maxx and Hifly Magnum, at 27.5 and 28.7 inches; the F2 Phoenix 320 at 27.6 inches; and the Mistral Malibu 335 at 28.
The only board in this report that isn't wider than its ancestors is the F2 Race 380. Whether more width would help a big race board like the 380 is an open question. For now, however, IYRU Funboard Class rules limit conforming boards to a maximum of just over 26 inches, which dictates the width of the Race 380.
Advertisement
Although all-around boards differ, there aren't that many models on the market. Picking the right one is easier than picking the right shortboard—a field where there are a daunting number of options, meaning more chances to make a mistake. After you decide how much you want to invest in an all-around board, and choose a size based on your weight and/or intended use, you might have just one or two contenders. But maybe best of all, since they work in all conditions, you can demo them without waiting for just the right day and just the right wind.
---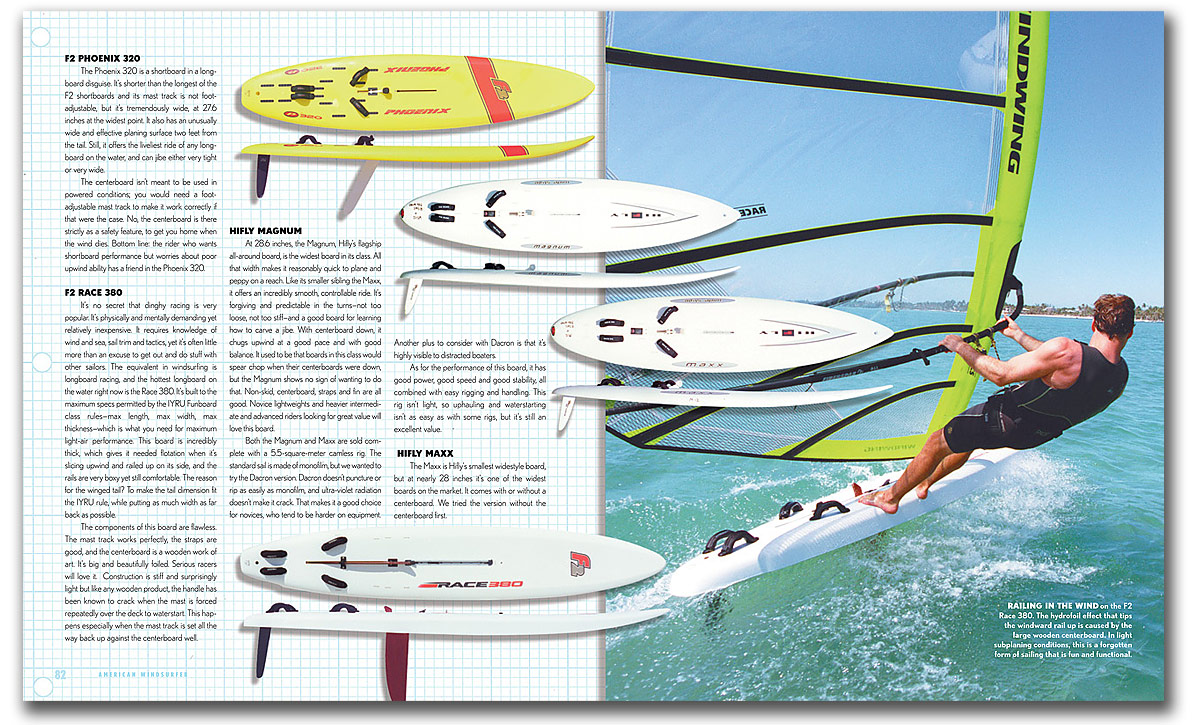 RAILING IN THE WIND on the F2 Race 380. The hydrofoil effect that tips the windward rail up is caused by the large wooden centerboard. In light subplaning conditions, this is a forgotten form of sailing that is fun and functional.
Bic Veloce 310
At first glance, the Bic Veloce 310, smaller brother to the Veloce 328, looks almost too small to require a centerboard. But the centerboard brings some interesting performance versatility to the Bic arsenal, and makes the 310 intriguing. Most manufacturers wouldn't put a centerboard on a board this size, because upwind mobility can be achieved with a larger fin. But Bic has listened to what consumers want: a centerboard for those who sail with a board this small on inland lakes and bays, or who might not be quite good enough to make it home without one.
When the centerboard is retracted, the relatively small fin is perfectly sized to guide the board through the water without cavitation. Any increased drag from the centerboard gasket is erased by the smaller fin; it won't carry you upwind, but the beauty of this board is that the centerboard can. For those seeking a high-performance transitional board with the added safety of a centerboard, this is it. It's fun to sail, fast, reliable and easy to jibe.
---
F2 Phoenix 320
The Phoenix 320 is a shortboard in a longboard disguise. It's shorter than the longest of the F2 shortboards and its mast track is not foot-adjustable, but it's tremendously wide, at 27.6 inches at the widest point. It also has an unusually wide and effective planing surface two feet from the tail. Still, it offers the liveliest ride of any longboard on the water, and can jibe either very tight or very wide.
The centerboard isn't meant to be used in powered conditions; you would need a foot-adjustable mast track to make it work correctly if that were the case. No, the centerboard is there strictly as a safety feature, to get you home when the wind dies. Bottom line: the rider who wants shortboard performance but worries about poor upwind ability has a friend in the Phoenix 320.
---
F2 Race 380
It's no secret that dinghy racing is very popular. It's physically and mentally demanding yet relatively inexpensive. It requires knowledge of wind and sea, sail trim and tactics, yet it's often little more than an excuse to get out and do stuff with other sailors. The equivalent in windsurfing is longboard racing, and the hottest longboard on the water right now is the Race 380. It's built to the maximum specs permitted by the IYRU Funboard class rules—max length, max width, max thickness—which is what you need for maximum light-air performance. This board is incredibly thick, which gives it needed flotation when it's slicing upwind and railed up on its side, and the rails are very boxy yet still comfortable. The reason for the winged tail? To make the tail dimension fit the IYRU rule, while putting as much width as far back as possible.
Advertisement
The components of this board are flawless. The mast track works perfectly, the straps are good, and the centerboard is a wooden work of art. It's big and beautifully foiled. Serious racers will love it.  Construction is stiff and surprisingly light but like any wooden product, the handle has been known to crack when the mast is forced repeatedly over the deck to waterstart. This happens especially when the mast track is set all the way back up against the centerboard well.
---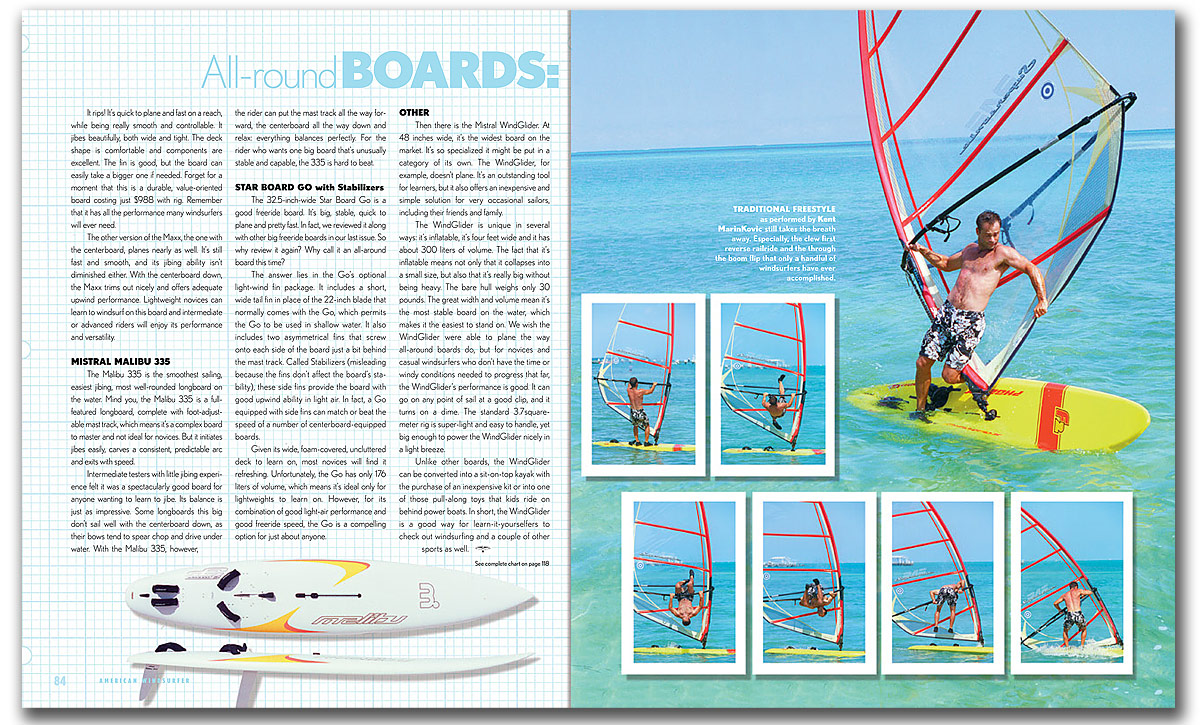 TRADITIONAL FREESTYLE as performed by Kent MarinKovic still takes the breath away. Especially, the clew first reverse railride and the through the boom flip that only a handful of windsurfers have ever accomplished.
Hifly Magnum
At 28.6 inches, the Magnum, Hifly's flagship all-around board, is the widest board in its class. All that width makes it reasonably quick to plane and peppy on a reach. Like its smaller sibling the Maxx, it offers an incredibly smooth, controllable ride. It's forgiving and predictable in the turns—not too loose, not too stiff—and a good board for learning how to carve a jibe. With centerboard down, it chugs upwind at a good pace and with good balance. It used to be that boards in this class would spear chop when their centerboards were down, but the Magnum shows no sign of wanting to do that. Non-skid, centerboard, straps and fin are all good. Novice lightweights and heavier intermediate and advanced riders looking for great value will love this board.
Both the Magnum and Maxx are sold complete with a 5.5-square-meter camless rig. The standard sail is made of monofilm, but we wanted to try the Dacron version. Dacron doesn't puncture or rip as easily as monofilm, and ultra-violet radiation doesn't make it crack. That makes it a good choice for novices, who tend to be harder on equipment. Another plus to consider with Dacron is that it's highly visible to distracted boaters.
As for the performance of this board, it has good power, good speed and good stability, all combined with easy rigging and handling. This rig isn't light, so uphauling and waterstarting isn't as easy as with some rigs, but it's still an excellent value.
---
Hifly Maxx
The Maxx is Hifly's smallest widestyle board, but at nearly 28 inches it's one of the widest boards on the market. It comes with or without a centerboard. We tried the version without the centerboard first.
It rips! It's quick to plane and fast on a reach, while being really smooth and controllable. It jibes beautifully, both wide and tight. The deck shape is comfortable and components are excellent. The fin is good, but the board can easily take a bigger one if needed. Forget for a moment that this is a durable, value-oriented board costing just $988 with rig. Remember that it has all the performance many windsurfers will ever need.
The other version of the Maxx, the one with the centerboard, planes nearly as well. It's still fast and smooth, and its jibing ability isn't
diminished either. With the centerboard down, the Maxx trims out nicely and offers adequate upwind performance. Lightweight novices can learn to windsurf on this board and intermediate or advanced riders will enjoy its performance and versatility.
---
Mistral Malibu 335
The Malibu 335 is the smoothest sailing, easiest jibing, most well-rounded longboard on the water. Mind you, the Malibu 335 is a full-
featured longboard, complete with foot-adjustable mast track, which means it's a complex board to master and not ideal for novices. But it initiates jibes easily, carves a consistent, predictable arc and exits with speed.
Intermediate testers with little jibing experience felt it was a spectacularly good board for anyone wanting to learn to jibe. Its balance is just as impressive. Some longboards this big don't sail well with the centerboard down, as their bows tend to spear chop and drive under water. With the Malibu 335, however, the rider can put the mast track all the way forward, the centerboard all the way down and relax: everything balances perfectly. For the rider who wants one big board that's unusually stable and capable, the 335 is hard to beat.
---
Star Board Go with Stabilizers
The 32.5-inch-wide Star Board Go is a good freeride board. It's big, stable, quick to plane and pretty fast. In fact, we reviewed it along with other big freeride boards in our last issue. So why review it again? Why call it an all-around board this time?
The answer lies in the Go's optional light-wind fin package. It includes a short, wide tail fin in place of the 22-inch blade that normally comes with the Go, which permits the Go to be used in shallow water. It also includes two asymmetrical fins that screw onto each side of the board just a bit behind the mast track. Called Stabilizers (misleading because the fins don't affect the board's stability), these side fins provide the board with good upwind ability in light air. In fact, a Go equipped with side fins can match or beat the speed of a number of centerboard-equipped boards.
Given its wide, foam-covered, uncluttered deck to learn on, most novices will find it refreshing. Unfortunately, the Go has only 176 liters of volume, which means it's ideal only for lightweights to learn on. However, for its
combination of good light-air performance and good freeride speed, the Go is a compelling option for just about anyone.
---
Other
Then there is the Mistral WindGlider. At 48 inches wide, it's the widest board on the market. It's so specialized it might be put in a category of its own. The WindGlider, for example, doesn't plane. It's an outstanding tool for learners, but it also offers an inexpensive and simple solution for very occasional sailors, including their friends and family.
The WindGlider is unique in several ways: it's inflatable, it's four feet wide and it has about 300 liters of volume. The fact that it's inflatable means not only that it collapses into a small size, but also that it's really big without being heavy. The bare hull weighs only 30 pounds. The great width and volume mean it's the most stable board on the water, which makes it the easiest to stand on. We wish the WindGlider were able to plane the way all-around boards do, but for novices and casual windsurfers who don't have the time or windy conditions needed to progress that far, the WindGlider's performance is good. It can go on any point of sail at a good clip, and it turns on a dime. The standard 3.7square-meter rig is super-light and easy to handle, yet big enough to power the WindGlider nicely in a light breeze.
Unlike other boards, the WindGlider can be converted into a sit-on-top kayak with the purchase of an inexpensive kit or into one of those pull-along toys that kids ride on behind power boats. In short, the WindGlider is a good way for learn-it-yourselfers to check out windsurfing and a couple of other sports as well.
---
Have something to add to this story? Share it in the comments.