Click to Magazine View

OVERACHIEVER Nancy Liu practice freestyle on the Charles River in the heart of Boston. The well travelled medical student is one of six windsurf instructors at the Community Boating Center. "It wasn't easy." Said the 30 year-old adventurer about her decision to leave her life of adventure and return to the US for med school. "If one believes, however, that things happen for reason, well, that reason for me has been windsurfing.  Who would have thought that it would be Boston where I discovered this sport!"
American Windsurfer: Did you grow up in Boston?
Nancy Liu: No, I grew up in New Orleans and came to Boston for studies.
AM: You found Community Boating when going to school here?
NL: Yeah survival [laughing] from studying. And destiny perhaps. My experience prior to arriving in Boston included working in a wildlife refuge in Alaska, in Yosemite National Park, with Outward Bound in Wales, with an outdoor corporate training company on the Great Wall of China, and leading horseriding adventure expeditions in Inner Mongolia and fossil hunting expeditions in Xinjiang. It took a lot of time and thought to overcome the resistance I had towards returning to the US for med school. Leaving my life of travel and adventure wasn't the attractive option. If one believes, however, that things happen for reasons, well, that reason for me has been windsurfing. Who would have thought that it would be Boston where I discovered this sport. I certainly wouldn't be windsurfing now if not for Community Boating. Yikes! Difficult to imagine, so I'll leave it at that.
AM: You didn't windsurf when you came to Boston?
NL: No, windsurfing was one of those extreme sports that only windsurfing "gods" could do, and it never occurred to me that I could do it.
AM: Tell me how you got introduced to windsurfing?
NL: Well I started in '98 here at Community Boating on the Charles River. It's the perfect place to learn. Aside from having great equipment and conditions for beginners, there's access. Where else could I have been able to afford unlimited lessons and use of gear on a student budget? Additionally, there's the convenience of location and of having rigged sails ready and waiting. I used to look out my window at home, see the leaves blowing, hop on my bike for a frenzied ride down and be on the water within 10 minutes. Most importantly though is the instruction that I received here. CBI has great staff and volunteer instructors, and they've all been inspired by this place.
AM: Obviously! What was it that you won last weekend? Second at the
King of the Cape?
NL: [laughing] Second in King of the Cape, yeah! I had some good coaching. The nice thing about learning at CBI is the community here—there's always someone whose brain you can pick. You've got some pretty expert sailors, both working and volunteer teaching here, and so whenever you have a problem you can get help. I've had many long sessions here where I'd sail for awhile, then come in and ask whoever was around, usually Jamey (her boyfriend now who used to head up the windsurfing program), "What am I doing wrong? Here's what's happening…", I'd get the answer or Jamey would come out in a launch and pinpoint what I needed to work on.  So I think the continuous instruction and coaching that you get here are really conducive to getting people psyched on the sport because they're constantly improving. Of course, there's also healthy competition [laughing]. Bradley's a good example. He's twelve years old, started windsurfing last summer through the Junior Program, and is now working on jumpjibes and giving me freestyle coaching tips. The pressure's on for me. We've also got races every Monday night, and if nothing else, racing on the Charles gives you the ability to pump hard and long and the skills to read the world's most gnarly wind shifts. Spawned from the post-race sessions that we have at a local pub is an e-groups list called the "windsurfing-socialites". We post to the group when we're going windsurfing on the Cape or on the South Shore. It seems that windsurfing is a solitary sport for many people. For me, it's always been social.
AM: Tell me about your role in this windsurfing program.
NL: Community Boating is known as the oldest and largest non-profit sailing organization in the US. I'm the windsurfing instructor for the Junior Program. CBI's motto is "Sailing for All", and with the juniors it really proves true. Kids between the ages of ten and eighteen pay $1 for the whole summer. They have the opportunity to take classes in all levels of sailing, windsurfing, and kayaking and can use the boats at will once they've passed a ratings test. CBI delivers top-notch instruction, but more importantly, it brings kids together from all walks of life, from all social and ethnic backgrounds and puts them together in a fun and comfortable community. I believe that the skills and confidence that the juniors learn on the water is something that they carry over into other parts of their lives.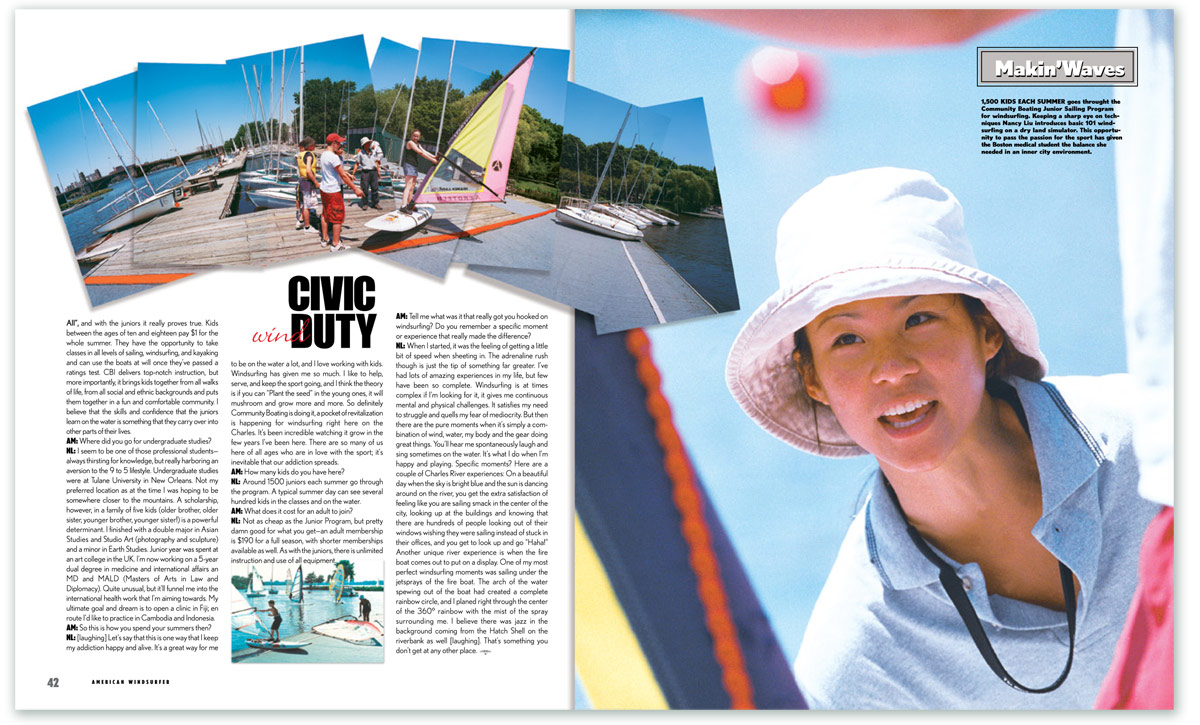 1,500 KIDS each summer goes throught the Community Boating Junior Sailing Program for windsurfing. Keeping a sharp eye on techniques Nancy Liu introduces basic 101 windsurfing on a dry land simulator. This opportunity to pass the passion for the sport has given the Boston medical student the balance she needed in an inner city environment.
AM: Where did you go for undergraduate studies?
NL: I seem to be one of those professional students—always thirsting for knowledge, but really harboring an aversion to the 9 to 5 lifestyle. Undergraduate studies were at Tulane University in New Orleans. Not my preferred location as at the time I was hoping to be somewhere closer to the mountains. A scholarship, however, in a family of five kids (older brother, older sister, younger brother, younger sister!) is a powerful determinant. I finished with a double major in Asian Studies and Studio Art (photography and sculpture) and a minor in Earth Studies. Junior year was spent at an art college in the UK. I'm now working on a 5-year dual degree in medicine and international affairs an MD and MALD (Masters of Arts in Law and Diplomacy). Quite unusual, but it'll funnel me into the international health work that I'm aiming towards. My ultimate goal and dream are to open a clinic in Fiji; en route I'd like to practice in Cambodia and Indonesia.
AM: So this is how you spend your summers then?
Advertisement
NL: [laughing] Let's say that this is one way that I keep my addiction happy and alive. It's a great way for me to be on the water a lot, and I love working with kids. Windsurfing has given me so much. I like to help, serve, and keep the sport going, and I think the theory is if you can "Plant the seed" in the young ones, it will mushroom and grow more and more. So definitely Community Boating is doing it, a pocket of revitalization is happening for windsurfing right here on the Charles. It's been incredible watching it grow in the few years I've been here. There are so many of us here of all ages who are in love with the sport; it's inevitable that our addiction spreads.
AM: How many kids do you have here?
NL: Around 1500 juniors each summer goes through the program. A typical summer day can see several hundred kids in the classes and on the water.
AM: What does it cost for an adult to join?
NL: Not as cheap as the Junior Program, but pretty damn good for what you get—an adult membership is $190 for a full season, with shorter memberships available as well. As with the juniors, there is unlimited instruction and use of all equipment.
AM: Tell me what was it that really got you hooked on windsurfing? Do you remember a specific moment or experience that really made the difference?
NL: When I started, it was the feeling of getting a little bit of speed when sheeting in. The adrenaline rush though is just the tip of something far greater. I've had lots of amazing experiences in my life, but few have been so complete. Windsurfing is at times complex if I'm looking for it, it gives me continuous mental and physical challenges. It satisfies my need to struggle and quells my fear of mediocrity. But then there are the pure moments when it's simply a combination of wind, water, my body and the gear doing great things. You'll hear me spontaneously laugh and sing sometimes on the water. It's what I do when I'm happy and playing. Specific moments? Here are a couple of Charles River experiences: On a beautiful day when the sky is bright blue and the sun is dancing around on the river, you get the extra satisfaction of feeling like you are sailing smack in the center of the city, looking up at the buildings and knowing that there are hundreds of people looking out of their windows wishing they were sailing instead of stuck in their offices, and you get to look up and go "Haha!" Another unique river experience is when the fire boat comes out to put on a display. One of my most perfect windsurfing moments was sailing under the jet sprays of the fire boat. The arch of the water spewing out of the boat had created a complete rainbow circle, and I planned right through the center of the 360° rainbow with the mist of the spray surrounding me. I believe there was jazz in the background coming from the Hatch Shell on the riverbank as well [laughing]. That's something you don't get at any other place.