Open up any snowboard or surf magazine and what do you see? Page after page of young kids ripping in the half-pipe or in the waves.  Unfortunately, the windsurfing industry, despite its close connection to surfing and snowboarding, rarely puts its new generation in the spotlight. Tim and Ferida Siver are attempting to change that by starting a boarding school with a windsurfing program on Maui. These two visionaries have brought into sharp focus the windsurfers of the future, the Generation 2000.
---
(enlarge)

FACING THE UNCERTAIN FUTURE: The next generation windsurfers attending the Maui Ocean Academy reflect the possibilities of sailing at JAWS on one of their school's field trips. The use of the natural environment is an effective tool used by the school to expand young minds.

(enlarge)

IVY LEAGUE WINDSURFING: Tim and Ferida Sivers' passion for the sport grew into a school on Maui designed to shore up the academic side of windsurfing. Self-driven studies are directed by teachers such as Joyce Romero Demirbag M.A. (left), encouraging each student to find their own sense of direction. "In control" for students starts in the classroom first and then continues to the windsurfing environment.

(enlarge)

S.A.T.'s OF SAILING: Sharing the passion provides lessons to be learned by both novice and expert windsurfers alike. Tim Siver and Kelsey Hault, age 16, helps out classmate Frank Dan, age 13, with the basics. (right) 16 year old Levi Siver excels at P.E

(enlarge)

KINDRED SPIRITS: a multi-cultural group, the students are brought together by their common interests in windsurfing, food and anticipating when the school will go co-ed! Says student Kevin Lee, age 16, "We'd LIKE to have girls here!"

(enlarge)

FLYING THE SCHOOL COLORS: Like laundry, young futures are often left flapping in the wind in a sport that lacks vision and spaces for the next generation.
THE SIVERS RUN THEIR SMALL private school, Maui Ocean Academy, out of their home in Haiku, a hamlet nestled in Maui's wooded "upcountry" region on the northern slopes of Haleakala. Their goal is to give windsurfing teenagers a chance to learn through a combination of classroom academics and life experience on the water. Tim comments, "The ocean is a marvelous tool for students to learn about themselves." 
"It's exciting," says Ferida about the school. "I see that providing young people a good education and the opportunity to train windsurfing is rewarding." she says, adding, "I've never worked so hard in all my life."
Advertisement
Nurturing young athletes is nothing new for the Sivers. In the past decade, they've encouraged their own sons, Luke and Levi, to progress in windsurfing.
For the past few years, Luke, 18 and Levi, 16, have been climbing the ladder to reach the level of professional windsurfers. Still teenagers, they're living the dream of many veteran sailors. They get paid to sail. Both brothers have several major sponsors, compete regularly and are often pictured in international publications.
Luke and Levi also help out in the school by being role models for their classmates. They help the less experienced sailors by doing dryland talks and by coaching them in the water.
The Sivers recently moved their home and school from a farm in rural Haiku to a roomy Hawaiian plantation style house in downtown Haiku. The dorm rooms, which can sleep up to 10 students, are located in a 2 story apartment attached to an open garage. They plan to expand the school by renovating a historic old store located on the edge of their property.
---
LOOKING  BACK
The renovation will seem like old times to the Sivers. Before starting Maui Ocean Academy (MOA), they worked for 25 years in the construction industry in three different states.
The Sivers learned to windsurf on Magic Reservoir near Sun Valley, Idaho in 1982. Three years later, they moved to Massachusetts and spent their weekends boating and windsurfing on Buzzard's Bay. When the economy bottomed out on the East Coast, they headed west again, settling in Hood River, Oregon.
The heavy winds and rolling swell of the Columbia River were the perfect training grounds for young Luke and Levi. By the time they reached middle school, the brothers sailed regularly at the Hatchery, the Wall and other advanced locations. Their aerial maneuvers and style on the water helped win them local recognition as some of the industry's most radical young rippers. They competed in the Juniors category in contests like the Rowena River Rodeo, the Celilo Cup and the Killer Loop Classic. "They were just little mosquitoes back then," recalls Ferida.
Besides encouraging their own sons to progress in the sport, the Sivers started running summer windsurfing camps for other kids in the Gorge. The camps started as one week events, progressed to two weeks and in the second summer, evolved to full one month summer camps.
---
STARTING  A  SCHOOL
One of the main reasons for MOA, Ferida says, is to insure that young windsurfers get a good education off the water as well as on. "A lot of professional windsurfers out there on the water feel inadequate because they've given up everything for windsurfing, academics included," she explains.
The Sivers still run summer camps but have moved them permanently from the Gorge to Maui. The summer camps, which run 2 weeks to a month long, focus primarily on sailing and other cross-training sports. During the school year the Sivers combine academics and windsurfing instruction through MOA.
Kelsey Hoult, 16, met the Sivers through their Gorge camps and now attends MOA. "The Sivers called me and said, 'Hey, we're starting a school on Maui,' so I decided to enroll," he explains.
Kelsey's family lives in Arizona. "I miss my parents, but I miss windsurfing if I'm there," he says. He plans to pursue a career in windsurfing and has been competing in the junior category in events in the Gorge, on the Oregon coast and on Maui.
This semester, ten students are enrolled, ages 13 to 16. Luke, at 18, is a recent graduate. All are boys, although the Sivers are hoping to enroll girls as well. "It could be co-ed if females chose to come here," says student Kevin Lee, 16. "We'd LIKE to have girls here!" he adds with enthusiasm.
---
MULTI-CULTURAL CLASSROOM
Of the 10 boys enrolled, three are from Germany. "Having a multi-cultural classroom is a great experience," says Ferida. Not only do the Germans learn English and experience American culture but the American kids are also exposed to a European influence.
Florian Badburg, 17, saw an article about MOA in a German windsurfing magazine. He learned to sail on a small lake near his home in Berlin and dreamed of coming to Maui to sail the waves. He'll be here for six months then plans to return to Germany to finish high school and then go to the university. While going to school, he plans to compete in a German windsurfing race series.
Nathan Mershon, 15, learned to windsurf while his family was living on Oahu. He lives with his father, Dan, who also sails. The two can be seen regularly as various Maui windsurfing sites in an old sticker-covered ambulance converted to a windsurfing van.
"I like this school," says Nathan. "Your classmates are also your windsurfing friends. We learn a lot about computers and we get more attention here than in public school. I think you learn things that are more useful here. It's stuff that you want to learn."
---

ACADEMICS IN THE MORNING
Monday through Friday, MOA students spend their mornings in the classroom. Each student opens his lap-top and logs on to the school's computer–based curriculum that is divided into various grade levels. These different levels make it possible for 13 year old Frank Dan to work side-by-side with 15 year old Nathan Mershon.
Supplementing the curriculum is teacher Dave Martin's job. "Since the computer work can get kind of dry, we try to add the enrichment part of the program," he explains. To help give the students a variety of viewpoints and influences, another teacher, Joyce Romero Demirbag M.A., takes over the class two days a week. She also gives this semester's all-boy class a female perspective.
---
STAYING FLEXIBLE
Unlike public schools, MOA has flexibility built into its curriculum. "The questions I ask myself daily," explains Dave, "are what are the students interested in, what do they need to know to be successful and how can I put that knowledge into a classroom structure and keep them all interested?"
One morning, as Dave began lecturing about the Internet, he kept getting interrupted by discussions about how big the surf was at Jaws. It is a famed surf/windsurf spot on Maui's North Shore, where only the very best dare test it's waters.
Instead of repressing the class' enthusiasm, he used it to his advantage. They took a spontaneous field trip to the site, hiking down a slippery dirt trail to the ocean's rocky edge. There, they watched some of their heroes, like Rush Randall, Pete Cabrina and Laird Hamilton, take on some massive waves as a helicopter hovered above, filming the event.
The school has three primary focuses, academics, windsurfing, and community service. To cover the latter category, on the way back up the hill from Jaws, the students gathered aluminum cans, beer bottles and assorted plastics, leaving the site trash free.
An hour later, back in the classroom, Dave gave the boys a 15 minute creative writing assignment entitled, "What Would Happen If I Sailed Jaws." The essays ranged from, "I Would Die", to "The Local Sailors Would Bow Down to Me in Reverence." Afterwards, he finished his lecture about the Internet.
"I started here in September, so we're still defining exactly what we're doing," Dave says. His teaching methods are based on educating the spirit behind the child rather than just trying to shove all the information in. Both he and Jayce also teach part-time at a Waldorf School a few miles up the mountain in Kula.
---
SAILING IN THE AFTERNOON
Class ends at noon, followed by lunch. The Siver's kitchen becomes a high-traffic area as a line forms at the microwave. Each student creates his own custom noon-time meal from the well stocked kitchen.
"Our Costco bill is astronomical," says Ferida with a shrug and a smile. It's her job to keep the school stocked with food and supplies. She also helps instruct windsurfing in the afternoons when the classroom moves to the beach.
For house cleaning and cooking, the Sivers have help from Kristen and Brian Francis, a brother and sister who help out in exchange for room and board. Both are in their 20's, have been family friends for years and, of course, love to windsurf.
Advertisement
After lunch, MOA students take a quick recess to go to their room or to jump on the backyard trampoline. They then get organized for an afternoon on the water, milling around the school's two vans.
One van pulls an enclosed trailer filled with boards, sails, masts, booms and accessories. The students are divided and the advanced sailors head to Ho'okipa while the larger intermediate group go to Kanaha, where calmer conditions make it possible to learn basic skills.
On no-wind days, students do other ocean-based activities, like surfing, body boarding, body surfing or skurfing behind the school's jet ski. Hiking and sight seeing are also possibilities.
---

---
THE BIGGEST CHALLENGE
Classroom academics and teaching water skills are the short-term goals for MOA. For the long term, the Sivers hope to produce graduates who are ready for college or possibly to enter the arena of professional windsurfing, if they choose. But that arena is difficult to penetrate.
Windsurfing is dominated by a few top athletes who have a control on the media with substantial related business interest and have, in turn, monopolized the center stage, unlike most sports in this century. The PWA problems are a direct result of the "have and have nots" with the resources steered toward a venue designed by the top athletes and the organizers. The industry itself must work together to develop a program from the bottom up instead of the reverse. The aspiring sailor should find an opportunity to participate in a complete system starting with youth programs and qualifying ladder programs. These need to be, in turn, nurtured by the entire group of manufacturers and associations working together with the PWA and potential sponsors.
On the edge of the clouds, though, Tim does see a few silver linings. A new program designed by the Columbia Gorge Windsurfing Association makes it possible for kids to learn to windsurf for free. There are also many fine efforts in Europe such as the Super 8.
The Sivers are also trying to help their advanced windsurfing students gain individual sponsorships from windsurfing manufacturers. But getting gear, even for the school itself, has been an uphill battle. "A windsurfing camp should be treated like a snowboard camp or a ski school–the ski industry throws gear at them. I have at times had to beg, borrow and steal to get gear for ny kids," says Tim.
One Maui based company, HiTech Surf Sports, provides the school with boards and some parts, and Neil Pryde has thus far provided sails and rigging. But the Sivers are always looking for other sponsors to provide accessories and the many leads of the program. "Everybody needs to put in and support the base of this sport," Ferida pleads, adding, "They look so much at the top end and there's nothing at the bottom. We're struggling here and we've got to have help!"
The young people who do compete get little attention. "At the Nationals in Hood River last year, nobody gathered the best kids in our nation together to even shoot a photo. The photos the magazines ran pictured the good old boys and Rhonda Smith," Siver continues.
"Some people think all I'm trying to do is get Luke and Levi in the magazines. That's not it. They do that by themselves with their sailing ability," Tim says.
Instead, he's trying to get exposure for young people in general. The Siver's school and camps have received more attention from the mainstream media than from the American windsurfing media. ESPN Extreme Magazine did a five minute segment on MOA and the World Team that was watched by 30 million viewers. National Geographic World did an article on the Siver's Gorge camp. Several European windsurfing publications ran articles which helped expose Japanese, German and French students to the school.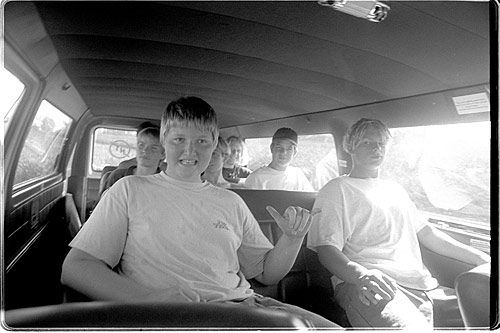 The lack of young faces on the pages of windsurfing publications gives the impression that there aren't many kids out there sailing. But that's just not true, Tim says. In Hood River, where many young windsurfing couples have settled permanently, the schools are filled with young sailors. And more are on the way as those families grow.
With the advent of small, light-weight equipment designed especially for children, kids can learn at very young ages. And many parents across the nation are passing down their love of the sport to their kids.
Despite the problems and frustrations with industry support, the Sivers' school and camps are growing. Next year, they expect they'll have to turn kids away simply from lack of space. One of the best parts of operating the school, says Ferida, is that she's learning so much from the teenagers around her. "I'm learning what they like and dislike about adults and how adults treat them," she says, adding, "Everyone's learning, not just the students!"
For more information on Maui Ocean Academy or the Sivers' summer camps on Maui, please call 808.575.9793.