TRIUMPHANT VICTORY EMBRACE at the end of the New Hampshire primary, John Kerry and publisher John Chao celebrate Kerry's second sweet win. It was a revealing moment between two people who have given each other the gift of friendship. Photograph: David Burnet of Contact.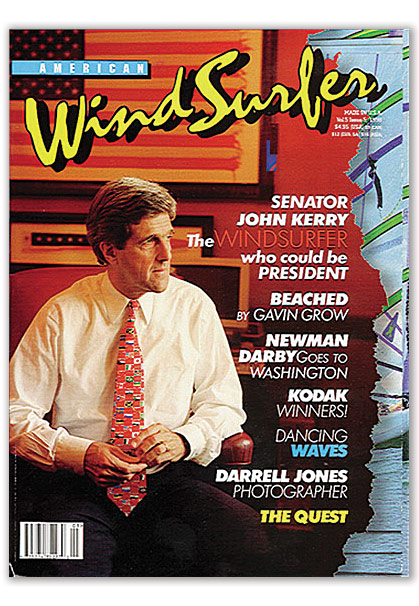 After giving his acceptance speech for winning the New Hampshire primary, John Kerry came up to me marveling at the number of American Windsurfer magazines he had been asked to autograph. "Did you reprint all those copies?" inquired the exuberant Kerry. "No," I replied, "We printed 20,000 extra six years ago." After a reflective pause, Kerry asked, "All for this moment?" I smiled, nodded, and said, "Yeah! All for this moment!" A friend called the next day to say that a live CNN camera was on us when I was telling him this and that the camera stayed on us "long enough to read War and Peace."
It was a great moment! And, it was a personal affirmation for having done the "right thing." Hindsight is 20/20, but for the six years leading up to that CNN moment, it was never clear or defined that printing those extra copies would ever prove to be the right thing. Even now, as the country looks forward to election day, knowing what to do and what a magazine like American Windsurfer should or should not do—for a candidate who happens to be a windsurfer, a friend and a fellow seeker of the wind—is not always clear.
While it may not be clear looking forward when I look back and recount the path which we've traveled since the publication of the 1998 John Kerry: The Windsurfer Who Could be President issue, it all seem to make perfect and almost poetic sense. In July of 1997, I stumbled onto an interview opportunity with a windsurfing Senator. For some mysterious reason, the half-hour interview we had scheduled turned into a year-long series of encounters that forged a lasting friendship that has continued to this day.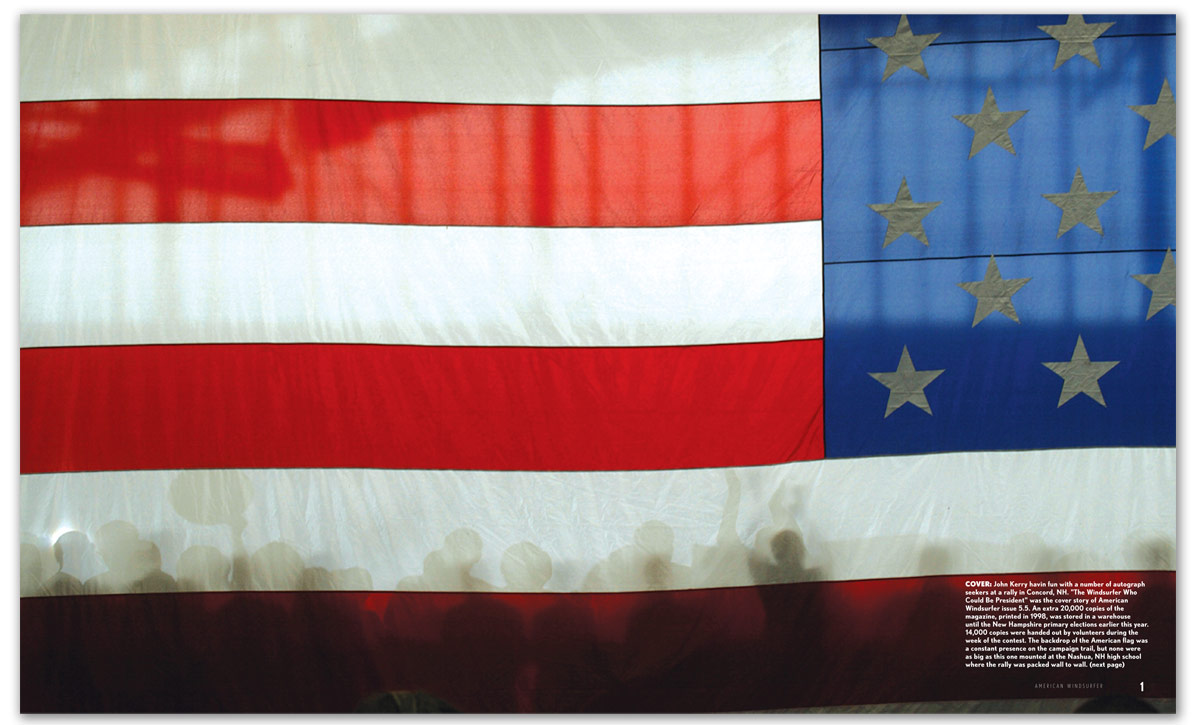 Click to Magazine View

COVER: John Kerry having fun with a number of autograph seekers at a rally in Concord, NH. "The Windsurfer Who Could Be President" was the cover story of American Windsurfer issue 5.5. An extra 20,000 copies of the magazine, printed in 1998, was stored in a warehouse until the New Hampshire primary elections earlier this year. 14,000 copies were handed out by volunteers during the week of the contest. The backdrop of the American flag was a constant presence on the campaign trail, but none was as big as this one mounted at the Nashua, NH high school where the rally was packed wall to wall. (next photo)
When we finally did the article, the conviction began to build up within me that Kerry was the man that should occupy the White House. Perhaps it was this conviction, or some other mysterious force, or just plain impulsiveness that caused me to print 20,000 extra copies of the magazine. If you asked me why at the time, I would have shrugged, as for the life of me I didn't know. Mind you, I've never voted before, nor had any political affiliation. 
That 50,000 unit total print run almost bankrupted me. I didn't have the money to print the extra copies, and the ad revenues hardly paid even half of the cost. The decision forced me to compromise my pursuit of just publishing a magazine and opened an opportunity to diversify. Thus, an impulse became a major turning point in my life.
That impulse to print extra copies remained in our New Hampshire warehouse, collecting dust for almost 6 years, right alongside the several pallets of extra magazines. Even after Kerry announced his intention to run for President in 2003, I still did not know what to do with them.
First of all, John was a friend, a buddy as he would describe it. I did not want to do anything that could jeopardize his chances of getting elected. In this difficult political climate, one never knows what is the right thing to do. I feared that the association of Kerry and windsurfing might hurt him more than help him, and thought best to just let the magazines stay in the warehouse.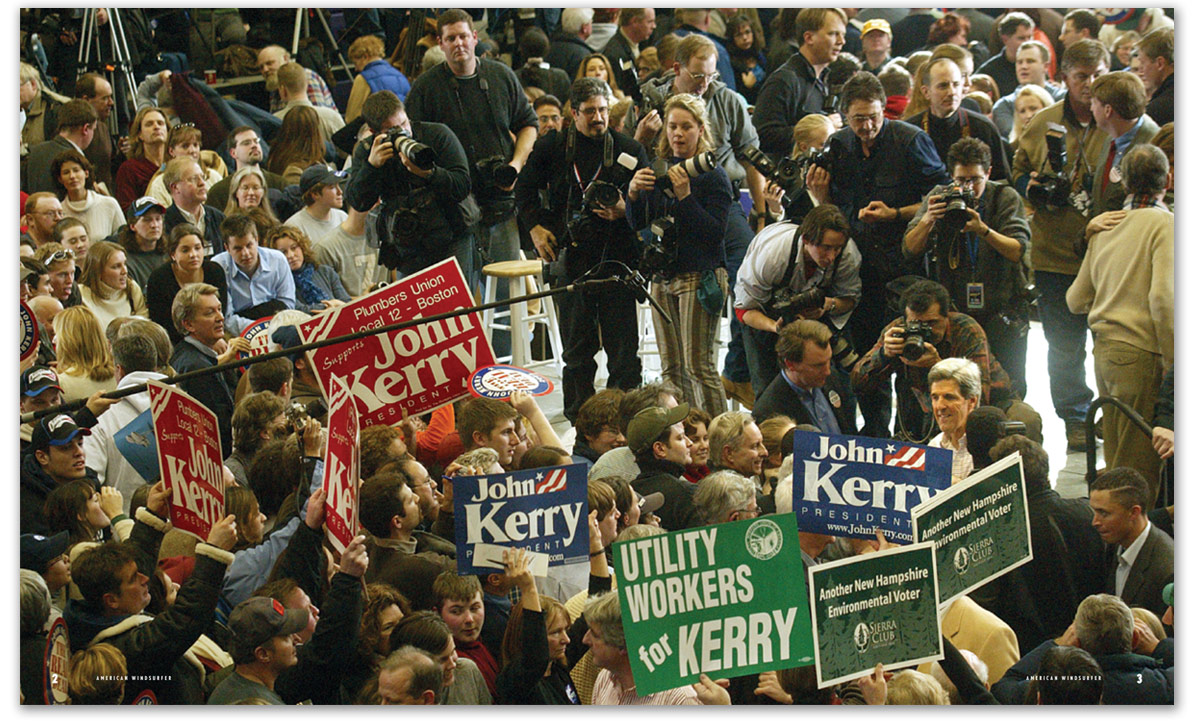 Then in late December, the news from Kerry's campaign became very discouraging. He was slipping in the polls and was considered by many to be out of the running. I felt I needed to do something, and the only tools I had were those extra magazines. Still, to be sure, I called our mutual friend and fellow windsurfer Sam Grossman. I told Sam that I'd been hesitant about doing anything with the magazines, but it seemed that the image that the press was giving John was way off base and that there needed to be a boost. Perhaps the magazine might help give a kick? We both agreed, where John was standing in the polls at the time, it couldn't hurt. He had nowhere to go but up.
So with Sam's encouragement, I made my decision to go to New Hampshire and hand out 20,000 6-year old magazines. I was alone in this endeavor, however, it wasn't long before a synchronistic dance began to play itself out. People started to fall across my path to help me get the job done. Nevin Sayre, a champion windsurfer from Cape Cod, who has also become friends with Kerry, signed up immediately, bringing along two additional friends. Sam Grossman's son Jimmy was already in New Hampshire, and it was natural that we would team up. By coincidence, I met Pamela Pierson, a beautifully bright and no B.S. doctor from L.A. at an unscheduled transit stop in Las Vegas. During our conversation, John Kerry's name came up and she instantly signed up to come out to NH and help out.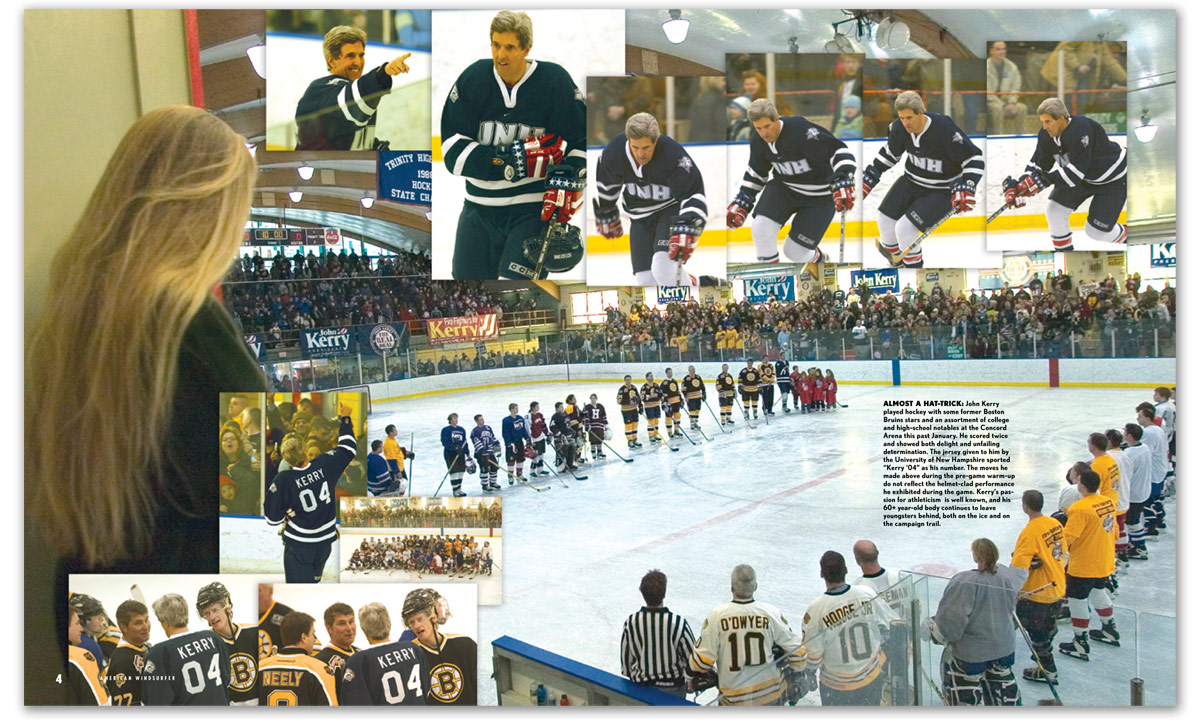 Almost a hat-trick: John Kerry played hockey with some former Boston Bruins stars and an assortment of college and high-school notables at the Concord Arena this past January. He scored twice and showed both delight and unfailing determination. The jersey given to him by the University of New Hampshire sported "Kerry '04" as his number. The moves he made above during the pre-game warm-up do not reflect the helmet-clad performance he exhibited during the game. Kerry's passion for athleticism  is well known, and his 60+ year-old body continues to leave youngsters behind, both on the ice and on the campaign trail.
During her flight out to NH via LaGuardia, her seat got changed and she was placed next to an exhausted looking man with paperwork strewn all about him. The man, who was aloof at first, turned out to be Harold Ickes, Bill Clinton's former Deputy Chief of Staff. For Pamela, the conversation that ensued was a reassurance of her decision to come to New Hampshire.
The team was gathered and we crashed at the East Coast offices of American Windsurfer in Gilford. We planned strategy and coordinated our efforts with each of the campaigns stops in the state. We would hit the locations before the campaign events, and pass out as many copies of the magazine as we could carry in our rented van.
The initial reactions were all shock. "John Kerry windsurfs!?" Then they saw the jubilant picture of him skipping across the water, and then saw the magazine as a desirable memento. Especially with a John Kerry autograph on the cover. The magazine became almost embarrassingly popular, something to be cherished. Many took more than one copy to give to friends, and others were disappointed when we ran out.
SWEET VICTORY: Winning the New Hampshire primary finally swung the momentum for the Kerry campaign. This moment, descriptively lit by a supporter's flash, accentuates the magic of the evening. At the end of the night Kerry conferred with AW publisher John Chao, and marveled at the numbers of magazines he had been asked to sign.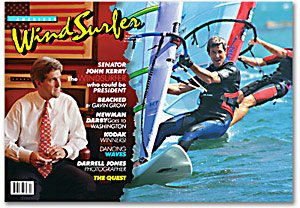 While the reception from the public was great, and the magazine and the energy surrounding John made him look like a rock star, I continued to be cautious about giving out the magazine. I was concerned about the media's perception and carefully monitored their reactions. But then, I also knew that they had already colored him as boring and stiff, and in a sense they needed to be challenged. Nevertheless, I was determined that people see this as a boost to John Kerry's image and fought back the fear that they would see it as self-promotion.
Perhaps the fact that the magazine was six years old helped dull the edge, but the sight of all the magazines being held up for Kerry's signature gave me a sense of pride—along with concern. The very fact that no one in the campaign knew we were coming, and that the act of handing out these magazines was not officially sanctioned contributed to my unease. I remember wishing I could take the American Windsurfer logo off the cover to make it more neutral and palatable to the media.
The news media picked up the story right away, and soon references were made in articles and comments sent flying across the airwaves. I remember one show where a moderator asked, "Which one of the candidates would you rather be stuck with on a deserted island?" One of the panelists said, "John Kerry because he could windsurf off the island and save us."
There were many reassurances that we were doing the right thing. On several occasions, people approached us and commented that they were undecided until they read the interview. People like Ann McLane Kuster, a lawyer and a key supporter of the Kerry Campaign, were thrilled to see us coming with magazines, and could not get enough of them. Jean-Michel Picher and his brother, both staff members of the campaign, applauded us for bringing the magazines and told us how important it was.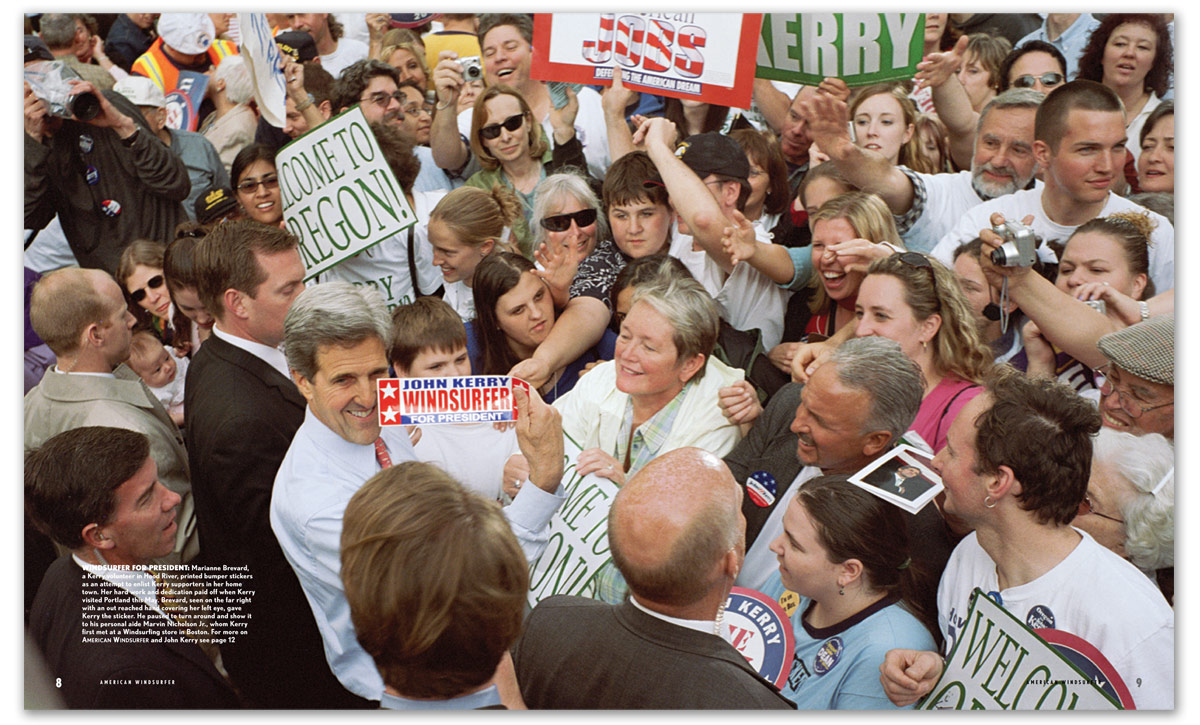 WINDSURFER For PRESIDENT: Marianne Brevard, a Kerry volunteer in Hood River, printed bumper stickers as an attempt to enlist Kerry supporters in her home town. Her hard work and dedication paid off when Kerry visited Portland this May. Brevard, seen on the far right with an out reached hand covering her left eye, gave Kerry the sticker. He paused to turn around and show it to his personal aide Marvin Nicholson Jr., whom Kerry first met at a Windsurfing store in Boston.
The visual impact of the photographs depicted unexpected dimensions of Kerry that the media had yet to portray. American Windsurfer had become the antidote. It provided something they did not know. A talking point with stunning visual impact. It made the candidate seem approachable, and it personalized him. The concept of John Kerry as a windsurfer was projected to the voters of New Hampshire by the magazine. Possibly this offbeat association gave just enough color, stir, energy, chatter and substance to spark a quality of celebration that voters could relate to, and see a candidate deserving of their vote and friendship.
There is an old saying that "no good deed goes unpunished," and my fears were that my good intentions could end up hurting Kerry. It didn't happen. I am proud of that and looking back, the extra copies we printed in 1998 seem now to have aged to perfection.
Recently, a Google search on "John Kerry, windsurfer." and came up with 641 results. I then tried "John Kerry, windsurfing" and got 3,150 results. A quick scan reveals that the impulse to print extra copies was indeed the right thing to do. Here's a sampling…
Boston Globe Kerry: A Candidate in the Making
…Perhaps nowhere is Senator John F. Kerry's edgy style more evident than in his… "There's a sense of freedom," Kerry says of windsurfing, which he did on an…
MSNBC—Gas-hog boat doesn't fit Kerry's image
…this paragraph in April: Records of John Kerry's Vietnam War… in 2003 of the Cape, "Kerry is either… in Kennebunkport, Maine, or on a windsurfer, which absolutely…"
Dartreview.com: John Kerry Live and in Person
…assistants passed out back issues of American Windsurfer with Kerry… Once Kerry lumbered in, however, it was clear those… John Kerry is tall, gaunt, and groggy...
ctnow.com – ELECTIONS
… John Edwards and retired Gen… But there was a star quality to Kerry, a glow to the… ended with him signing the free copies of American Windsurfer Magazine, which…
FOX News and the Democrats – AGGRESSIVE-VOICE.COM
…John Gibson hasn't been any easier with his commentary … I don't get the wisdom of Kerry's campaign staff handing out copies of Windsurfer magazine with ...
Philadelphia Inquirer|Candidate takes stroll…
…Mary Rober, 80, of Pittsburgh: "Good luck." John Kerry: "Good luck to you."… I want beach time," Kerry, an avid windsurfer, said wistfully to tourists as he…
Chicago Tribune | Take me to your leader
… audience. "Don't worry, it was just me." –Rick Pearson BLOWING IN THE WIND John Kerry is angling for the windsurfer vote. At the …
Vogue: Kerry for President—A Man in Full,
... Not John." Naturally, Kerry got so good at it that six years ago American Windsurfer magazine photographed his progress for an entire year. …
TheVoice of Reason.com – John Kerry Troll Doll causes anger – Launch …
… EXCLUSIVE We have discovered that up to 5000 John Kerry 'troll dolls' are being circulated by … On the other hand, Kerry is a keen windsurfer and once the wind …
windgirls-news
… Last but not least: Yes, John Kerry is a windsurfer [and kiteboarder]!! And all the credits go to American Windsurfer Magazine for ...
csmonitor.com |Kerry and the paradox of polish
… John Kerry is hungry. … But even here, he acts deliberately: An avid windsurfer, he sits with … enters the final stretch, this intense drive may give Kerry an edge …
Astrology Software for Research – John Kerry – astrology chart
... earned the label "Comeback Kerry." His athletic activities confirm that he is a risk-taker: he is an ardent windsurfer, kite-boarder … Who is the real John Kerry? …
Church vs. State—2004 Elections—Faith and Values.com
… A Windsurfer in the White House? … John Kerry on Faith and Politics The Interfaith Alliance asked the 2004 presidential candidates a series of four questions …
deseretnews.com|Kerry's ready for hard knocks
…the University of New Hampshire Wildcats, John Forbes Kerry… strategy aimed at showcasing Kerry's virile side. … a 1998 issue of American WindSurfer magazine with …
Boston.com/News/Nation/Old questions arise on patrician …
…the meeting, meantime, were given copies of Windsurfer magazine, which … Others seem to have a visceral disdain for Kerry. … I wouldn't vote for John Kerry if he …
New Zealand News—US Candidate Profile: John Forbes Kerry
… back to the first Massachusetts governor, John Winthrop… he is a Northeastern liberal elitist, Kerry has appeared…on the cover of American Windsurfer magazine in…
Philippine Headline News
John Kerry hates "Special Interests … Feeling, Feb 4, 2004, 11:11 PM: Windsurfer President… Moonyeen, Kerry may be a …
Spitznamen Gerecht: Comeback-Kerry
…Vorwahl der Demokraten ist John Kerry zum Topfavoriten…letzten Wochen krempelte Kerry sein Image um… Hobbypilot und Motorradfahrer, Windsurfer und Drachenflieger …
PANORAMA | Mondo | New York e America
…ma vinsero le elezioni: Howard Dean, John Edwards e… un elettore dell'Iowa, il senatore Kerry appariva sulla copertina di American Windsurfer, il mensile
Cellar Door
… but Senator John Kerry has earned the endorsement of the Cellar Door to be the next President of these United States. Okay, yeah, he's a windsurfer…
Catholic Politicians: Exposing Pro-abortion
… by the big-city and state political party bosses—men like Chicago's Mayor Daley and Connecticut's John Bailey. … As Kerry told Windsurfer magazine in …
deepfried.tv – news
… A Windsurfer in the WHITE HOUSE? 17.03.04 Part 2 of a series on the US front-runner Senator John Kerry [opposite..]. A Windsurfer in the WHITE HOUSE? …
xForums—What are your reasons for disliking Kerry?
…He's a political windsurfer who figures out which way the public opinion wind is blowing and…Excuse me, you may not know who I am, but I am Senator John Kerry?…
yaledailynews.com—Kerry's skates, Lieberman…
…orchestrated at the appropriately named John F. Kennedy …and politics" according to a Kerry media release. … flocks passed out copies of Windsurfer magazine, on …
Capital Games
… handing out thousands of copies of a 1998 issue of American Windsurfer magazine, which … an anti-Bush champion are responding to the idea of John Kerry more than …
LA Weekly: News: Battling the Orcs
… candidates finished far out of the money, with Senator John Edwards and … of copies of a 1998 issue of American Windsurfer that featured Kerry on the cover…
NewsMax.com: Teresa Heinz Orders Hunt for Windsurfing Secret Service Agent
… March 2004. March 31, 2004, Teresa Heinz Orders Hunt for Windsurfing Secret Service Agent. March 22, 2004, The Many Mansions of John and Teresa Kerry. …
News/Activism by keyword USSS
… the Independent reports, adding that Secret Service brass "are now – begrudgingly – on the hunt." Fellow windsurfer and Kerry friend John Chao describes the …
Gossip Roundup: Windsurfing Secret Service Agents Wanted Edition
The Secret Service is moving agents with windsurfing ability to Kerry's detail because John and Teresa are heading to a warm spot after Idaho.. …
Teresa Heinz Orders Hunt for Windsurfing Secret Service Agent
Teresa Heinz Kerry wants the Secret Service to know how to windsurf in order to better protect her husband, who's an avid practitioner of the sport.
According to Ireland's "Sunday Independent," the ketchup heiress recently "flummoxed the Secret Service when she asked that an agent who knows how to windsurf be added to her husband's detail."
"She was serious," the Independent reports, adding that Secret Service brass "are now – begrudgingly – on the hunt."
Fellow windsurfer and Kerry friend John Chao describes the Massachusetts Democrat as "really good at [the sport.]"
"There's a spiritual side of windsurfing, of facing the elements with just a little board and a tiny sail," Chao told the Manchester Union Leader. "That really appeals to [Kerry]."
Chao confirmed the search for windsurfing bodyguards to protect Kerry, telling the paper, "that Secret Service agents will have to pick up a new skill if Kerry does become President.
For the record, I never talked to the Manchester Union Leader nor confirmed the search for windsurfing bodyguards. I only asked the question in the 1998 interview published in American Windsurfer. If you would like to acquire one of the last remaining copies please call 541-386-3861 and ask for Carolyn. :-]