MELANCHOLY NOSTALGIA OF A NATIVE SON. After 8 years, Maui Meyer returned to Maui to find the warmth of old friends. (bellow) Early morning on Cort Larned's couch and phone rapping with Peter Cabrinha before a visit.  "It will never be the little town that I left." sighs Maui, whose Hawaiian heritage goes way back in history like those of Debbie Brown (above).
IT'S A GREAT JOY to watch a professional at work. Whether in a windsurfer, a writer or a businessman, professionalism is uplifting.
Maui Meyer is a long-time professional. At the age of 16, he became a professional windsurfer and traveled the World Cup for five years before retiring at the age of 21. Now at 27, with a degree from Cornell University, he owns a restaurant called the Sixth Street Bistro & Loft in Hood River, OR and is a contributing editor to American Windsurfer with an exclusive to the "Whispers" department.
Meyer's professional approach to life is  centered around hard work, efficiency, and doing everything with conscience and sensitivity.
His historic connection with windsurfing gives his writing perspective and his humanitarian interest adds a little more spice. "It is a celebration of the human spirit," says Meyer, who finds himself invigorated by his subjects. "These people have made a difference by what they've brought to the sport. Their contributions," he added, "are part of their human depth."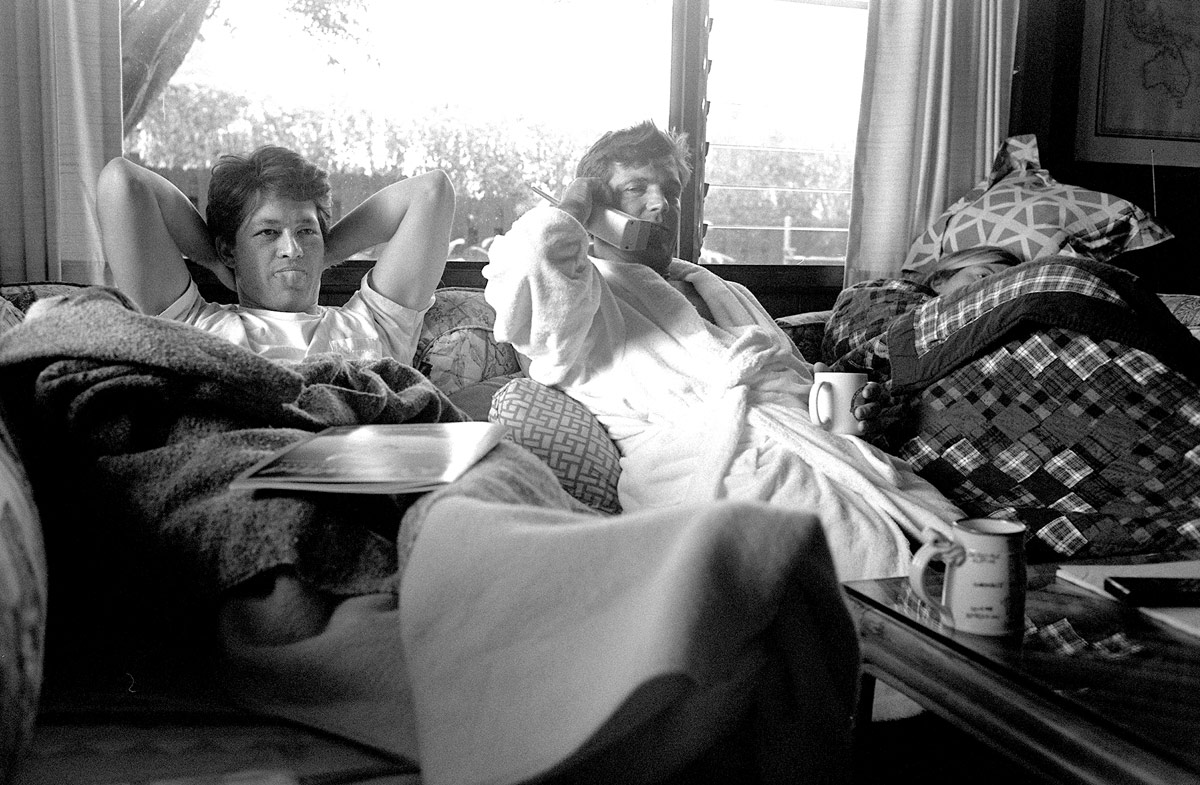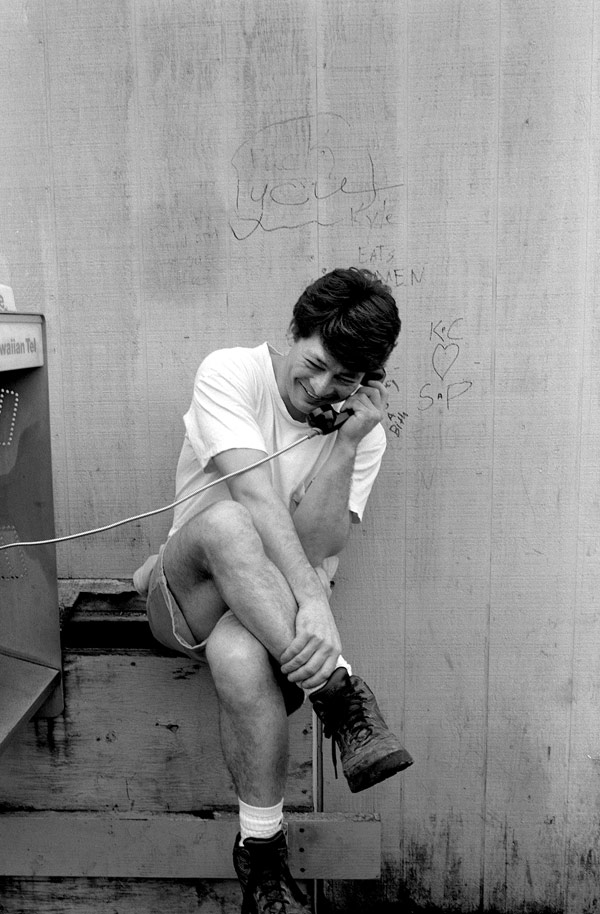 For this issue, however, Meyer's subject turned the tables and provided a new challenge to the writer's professionalism. "I had to work out a lot frustrations within me," says Maui concerning his interview with Craig Masonville. "I was forced to encounter what I perceived as religious hypocracy."
"I understood his objections to an ad in the magazine but I couldn't understand his response by witholding his message from it," says the one time World Cup racer. "At the same time I couldn't just dismiss the astounding amount of good work this guy has done." See "Forecast" and "Whispers" if you're wondering what this hoopla is all about.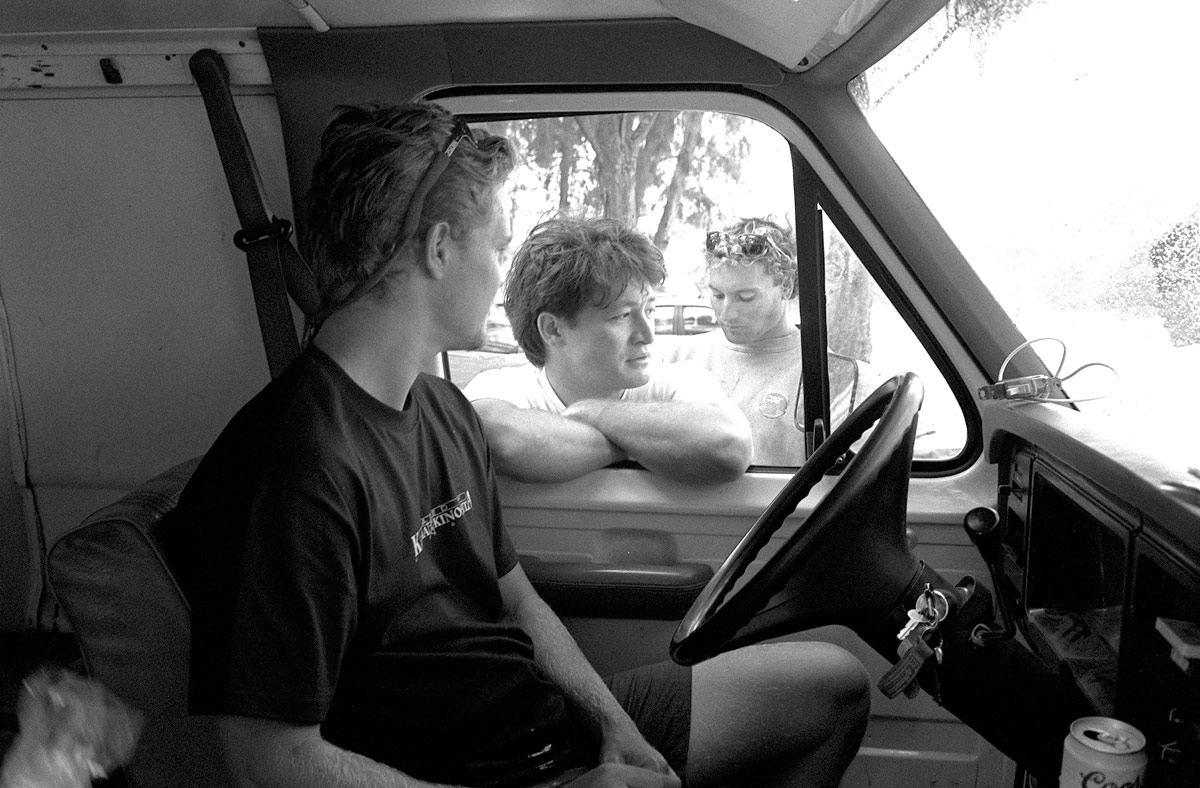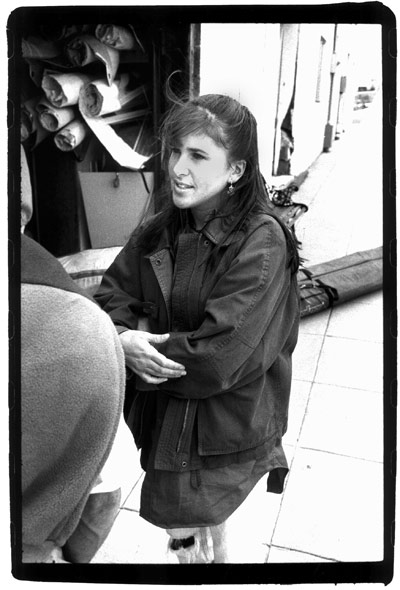 Professionalism is also behind the name of Nancy Richardson. Richardson, the author of "Meg Mackenzie and her Need for Speed" began a professional career as a writer for the Ringling Brothers Barnum & Bailey Circus. When the circus left town she became a senior campaign writer for fund raising at the University of California, San Francisco and, later, a children's fiction book writer for LucasFilm.
Last summer she moved to Hood River and explored the possibilities of combining professional writing and windsurfing. Soon after setting sail in the Gorge, she got wind of the opportunity to attend a graduate program in creative writing at the University of Boulder in Colorado.
Her first major book is in bookstores across the country. Feel No Fear is the title of the life story of Bela Karolyi, the famous gymnastic coach from Hungary. Her second book, on the life story of Julie Krone who is  the number one female jockey in the world, will be out later this year.
Richardson can be found rigging up again in Hood River this summer. Hopefully, she will be writing again soon for American Windsurfer.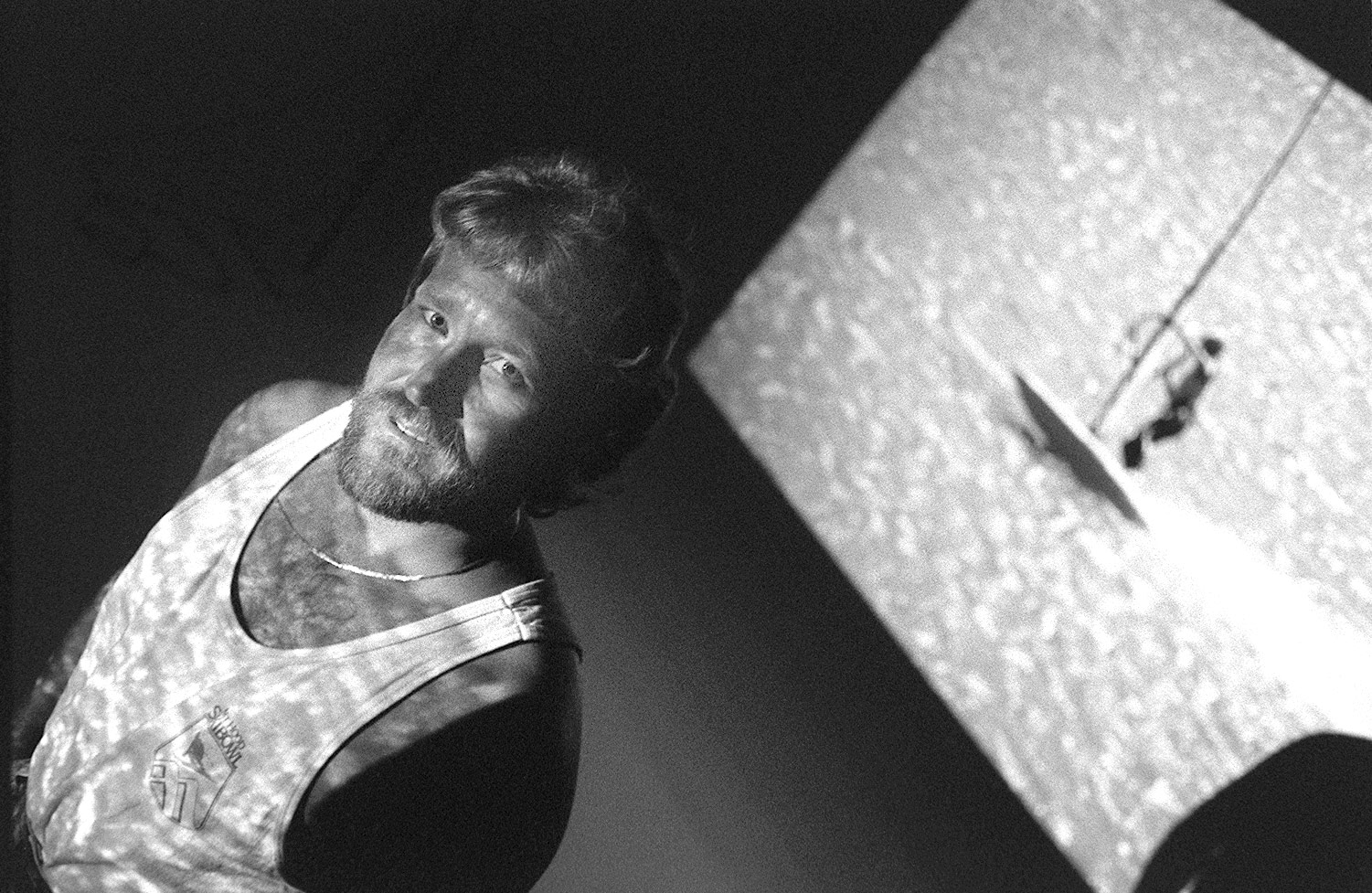 Illustrating Richardson's article are photographs by Michael Hildreth. Hildreth, a twelve-year veteran photographer from San Francisco, moved to Hood River to set up a full-fledged photography studio that could also accommodate his windsurfing needs.
Sailing at California's Waddell Creek, Hildreth found a fellow sailor in distress. He towed the windsurfer and his broken gear to the beach and in the course of the conversation discovered that the sailor was Clay Feeter (publisher, Windtracks) who at the time had a magazine called Bay Area Boardsailors. Shortly afterwards, a call from Feeter announced that Hildreth better start sending him pictures of windsurfers because his name is already on the masthead as a contributing photographer. Thus, a windsurfing photographer was born.
Indeed, auspicious beginnings make happy endings (we hope).
We may get paid peanuts at American Windsurfer but none of us can complain about the kind of globe-trotting assignments the staff gets to take. Associate Editor Greg Francke tracks to the snowpacked slopes of Mt. Hood to eat cheese and try windsurfing on the side of a mountain, and then he's off to the sunny island of Barbados for an upcoming issue. Meanwhile, editor John Chao flies to Italy to sail on the waters of Lake Garda and to interview Monty Spindler, an American sail maker living and working in Europe. It is a tough job but didn't someone say, "some fool has to do it?" We're on it!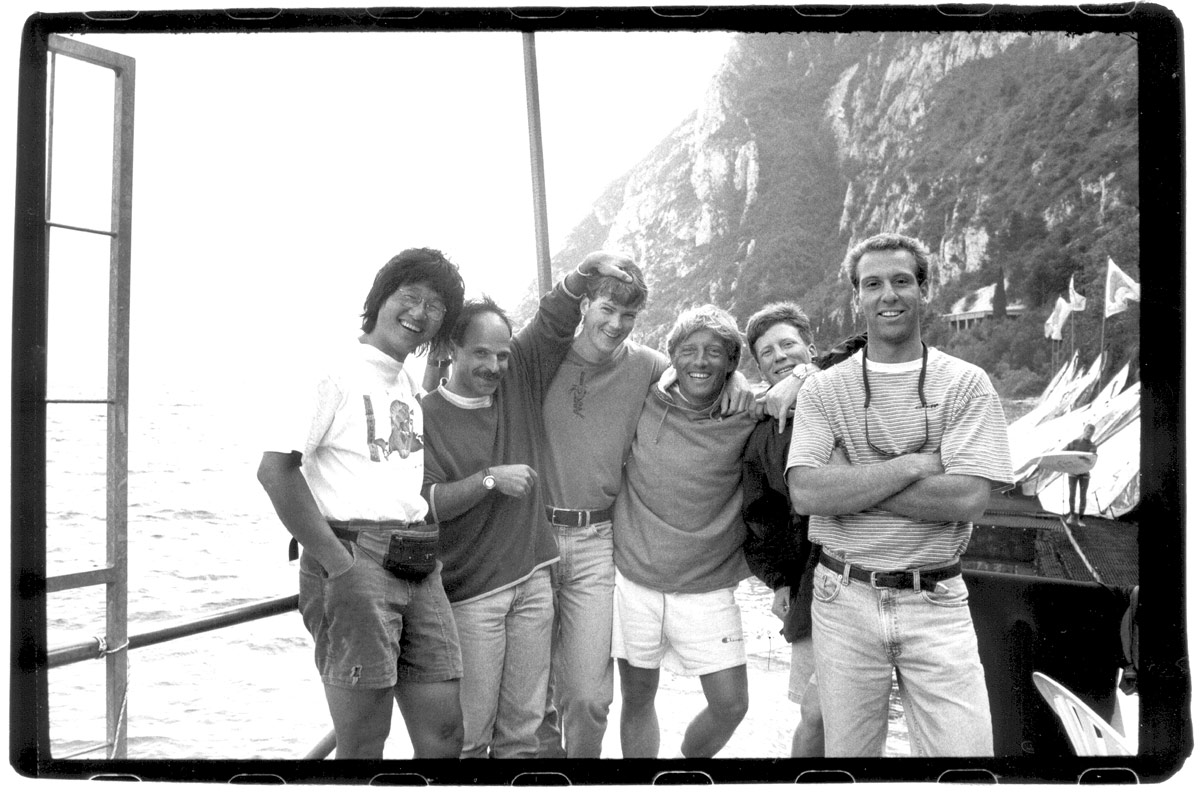 TOURIST ON LAKE GARDA: Editor John Chao at Michiel Bouwmeester's (third from right) Funboard Center with Mistral's Dave Buemi, Andy Church, Doug Harley and Mike Berube.
Speaking of tough jobs, Will Harper brings us part two of the Will Harper Chronicles entitled, "Fear and Loathing in the Windsurfing Business." We're sure after you read the second part of his "Why-I'm-not-a-Lawyer" testimony, you might run out and open your own windsurfing store or just take pity and start supporting your local shop because these guided (or misguided) souls are among the few who work for their passion.
Finally, have you heard any good Cowboy & Indian stories lately? We have, in fact the whole nation has. From the daily  national newspapers to the nightly Brokaw, Rather/Chung & Jennings sessions, we hear that Henry Spencer has got major Indian problems. No doubt American Windsurfer will get on the ball someday and bring you the full story, but for now: Cowboy Spencer purchases a large piece of waterfront land on the Columbia River Gorge from the R&R Company. Suddenly the local Indian Nation realizes that Spencer is no Rail Road Company, and decides to  claim imminent domain, in good 'ole American fashion.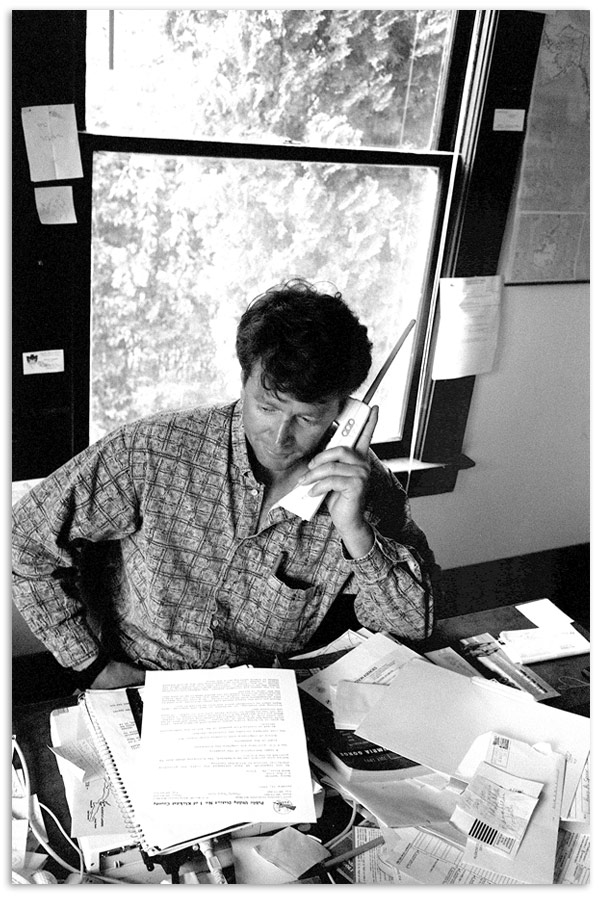 Stay tuned for this story. It may become a new Hollywood version the Poorboy & Indians version of the Windy West.
We are delighted that Spencer, a gifted writer and former editor of the defunct Boardsailor Magazine, has not lost his humor; in fact it is overflowing. He exhibits his style by contributing to Romancing the Wind with his article entitled  "Snap, Crackle, Pop." A 90's episode about meeting love through a personal ad in American Windsurfer.
Well… we must admit, Spencer penned and submitted several bogus personal ads for our last issue. Understandably, we needed a creative/perverse mind to get our system rolling and Henry Spencer certainly stood up to that challenge.
---