The phone rang on my last night in Maui. It was Francisco Goya, a top young professional windsurfer with a mature concern for the health of the sport. A few days earlier, I had suggested to Francisco that he find an old Windsurfer® brand board to be photographed for a Chiemsee ad. Christian Herles, the new marketing director of the popular German clothing company, had the idea that it would be nice to  produce an ad using the image of an old Windsurfer board as a "retro" fashion statement for the sport.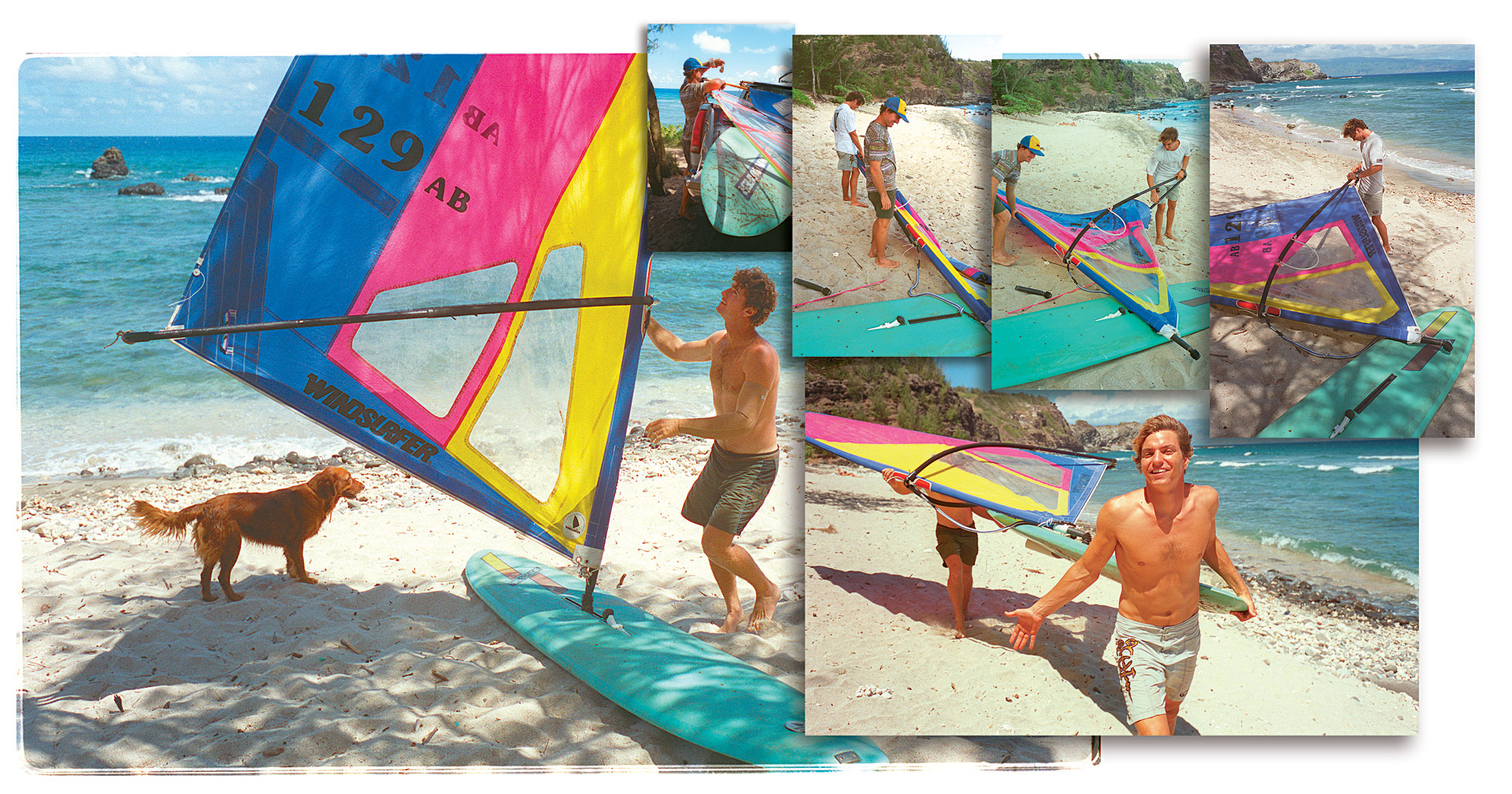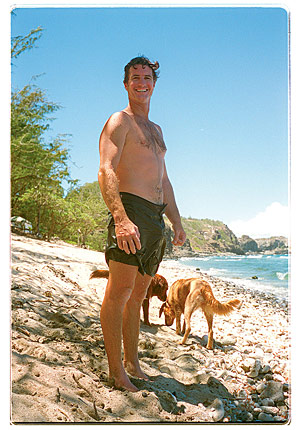 Thinking that Francisco had either forgotten or failed to find a board on Maui, I was pleasantly surprised when the young Argentinian  told me that he had not only found a board, but that Matt Schweitzer, the son of Hoyle (see interview) wanted to go sailing with us.
The next morning, on our way to find Matt, Francisco informed me that Matt had been quietly struggling with cancer for the past five years. I was shocked. While I had noticed Matt's conspicuous absence from the windsurfing limelight, I just assumed he had moved on to pursue different things in life. Indeed, he had.   
Matt Schweitzer's home is an hour drive from the windsurfing epicenter of Maui, in the south shore town of Kahana. It is filled with memorabilia and impressive antique equipment that would delight any windsurf historian. The relics not only decorate the household, but provide a graphic documentary of Schweitzer, who has lived with windsurfing as if it were his younger brother. He helped his father peddle the first boards out of their garage and later took on a serious and responsible role as "The Windsurfer® Ambassador".
Advertisement
In the late 80's, at the pinnacle of the sport, Matt was also among the top of the professional rank. From his vantage point, he could see that the industry began to court high performance windsurfing at the expense of entry level participation.
Matt's name was everywhere in the eighties, and his articles and images on freestyle and cruising appeared frequently in international windsurfing magazines and books. But in the early nineties, Matt slipped from the scene, having been diagnosed with Malignant Melanoma, a form of skin cancer caused by his prolonged exposure the sun's ultra-violet rays.
"I was really scared," says Schweitzer about his diagnosis, "but I never lost hope." With his parent's support and the help of his wife and windsurfing partner Shawneen, (they celebrated their 9th anniversary on the day I met them) Matt fought through his fear and endured a difficult physical battle that included fierce radiation treatments. Five years later, the doctors declared him "clean".

POWER WITH A FLAIR: Matt displaying a power flair jibe while Francisco–accustomed to double looping–find the beast too hot to handle. Matt with this old Windsurfer, is the origin of today's aerial assault.
For Schweitzer, who has sailed close to the edge and fought his way back to "normal", windsurfing fame seems less important than enjoying life, especially with Shawneen and their two boys and baby girl. Matt, age 8, has already started to compete in motocross, as well as following in the Schweitzer windsurfing tradition while Zane, age 3, has managed to get equal attention with his propensity for mischievous acts and  nine month old Shelby is just too young to make a quick impression.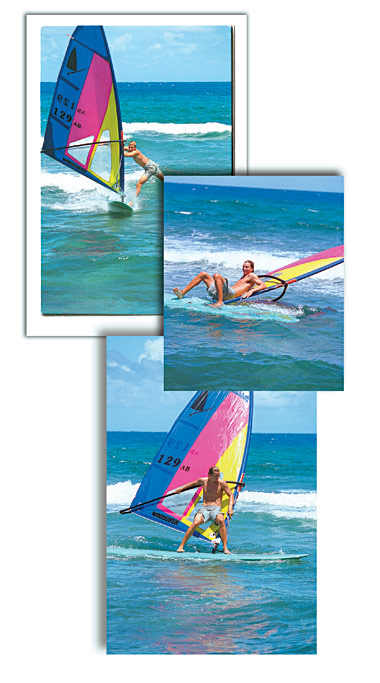 Still, what seems to resonate in Schweitzer's vision is the desire to bring back the lost art of "simple fun".  And that was what we planned to capture on film that afternoon.
Soon Matt, Francisco and I were back on the road headed for the nearby vacant home of Hoyle and Diane Schweitzer. If Matt's house is a museum then his parents' modest place, (as modest as a house can be when it's planted on an oceanfront lot) is a windsurfing temple. I felt like Dr. Moreau landing on a tropical  island, only to discover a population of windsurfer mutations beyond my wildest imagination. Board racks filled with windsurfing boards of all shapes and sizes, even a gigantic three person board, fenced the walls along the garage and the main house. The boards stood like relics brimming with exotic tales.
Matt and Francisco quickly grabbed a baby blue board and threw it in the back of Matt's pickup. We packed ourselves into Francisco's van again and followed Matt to a nearby beach.
During our photo session, Matt showed Franscisco some classical freestyle moves that have been long forgotten. As I snapped the shutter to capture their fluid maneuvers, I realized suddenly that Matt should be on our next cover. That idea came with a resounding "Yes!"   
The cover problem had been plaguing me for a while. I remembered thinking before I met Matt that if I put Jim Drake on the cover, it wouldn't be fair to Hoyle Schweitzer, and vice versa, since Jim and Hoyle each represented only half of the story.
Advertisement
But how was I going to get to Hoyle? In fact, one of the first questions I had asked Matt when we met that morning was, "Do you know where your father is?"   
He told me his parents were on their yacht, motoring around the world and currently were somewhere in Canada. "I have a phone number but haven't been able to reach them for the past five days." he said. "Besides, the last thing my father wants to do is to talk to a windsurfing journalist. He's been burned pretty badly by them."  
But as I watched Matt sail that day, I knew I needed to find Hoyle to make the story complete. Here I had the original manuscript, Jim Drake's interview, and now, Matt Schweitzer for the cover. But how the hell am I going to get hold of Hoyle if his son can't even reach him?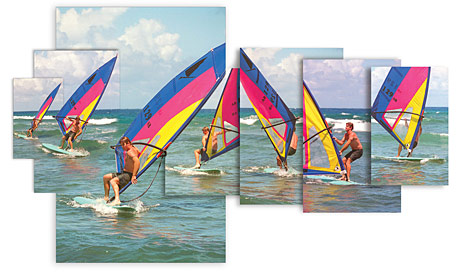 …he came out and said, "Hoyle's on the phone and would like to talk to you."
There is something about windsurfing that clears the mind and centers the soul. That was the effect painted on the faces of Francisco and Matt after their long hour of play. Through the lens of my camera, I tried to claim as much as I could. The joyous glow followed us back to Matt and Shawneen's home where conversation flowed from the old days to the future and back again, then to the smoked ahi Matt brought out to snack on.
The couple shared with me their aspirations of trying to help bring back the old Windsurfer® board to the United States. They also proudly announced that the 1998 Windsurfer Worlds will be held in Maui and how wonderful this event will be for themselves and for the island. In fact, Matt has already nailed down his comeback by recently winning the World Title for Freestyle in the Windsurfer World Championships held this past June in Sardinia.
Companies like O'Neill and Hot Sails have renewed their sponsorship committments along with loyal motorcycle sponsors such as Malcolm Smith and FMF in supporting Matt's comeback. Other companies like Chiemsee, are realizing the healthy message that Matt Schweitzer brings to the sport and their interests have also been perked.
At that point, it seemed to me that our serendipitous encounter, and Matt's resulting cover, was yet another omen for the success of his return. I was quietly thinking to myself how Matt's story is a perfect metaphor for the sport and what we are trying to do with American Windsurfer when Matt disappeared into the house. A few minutes later he came out and said, "Hoyle's on the phone and would like to talk to you."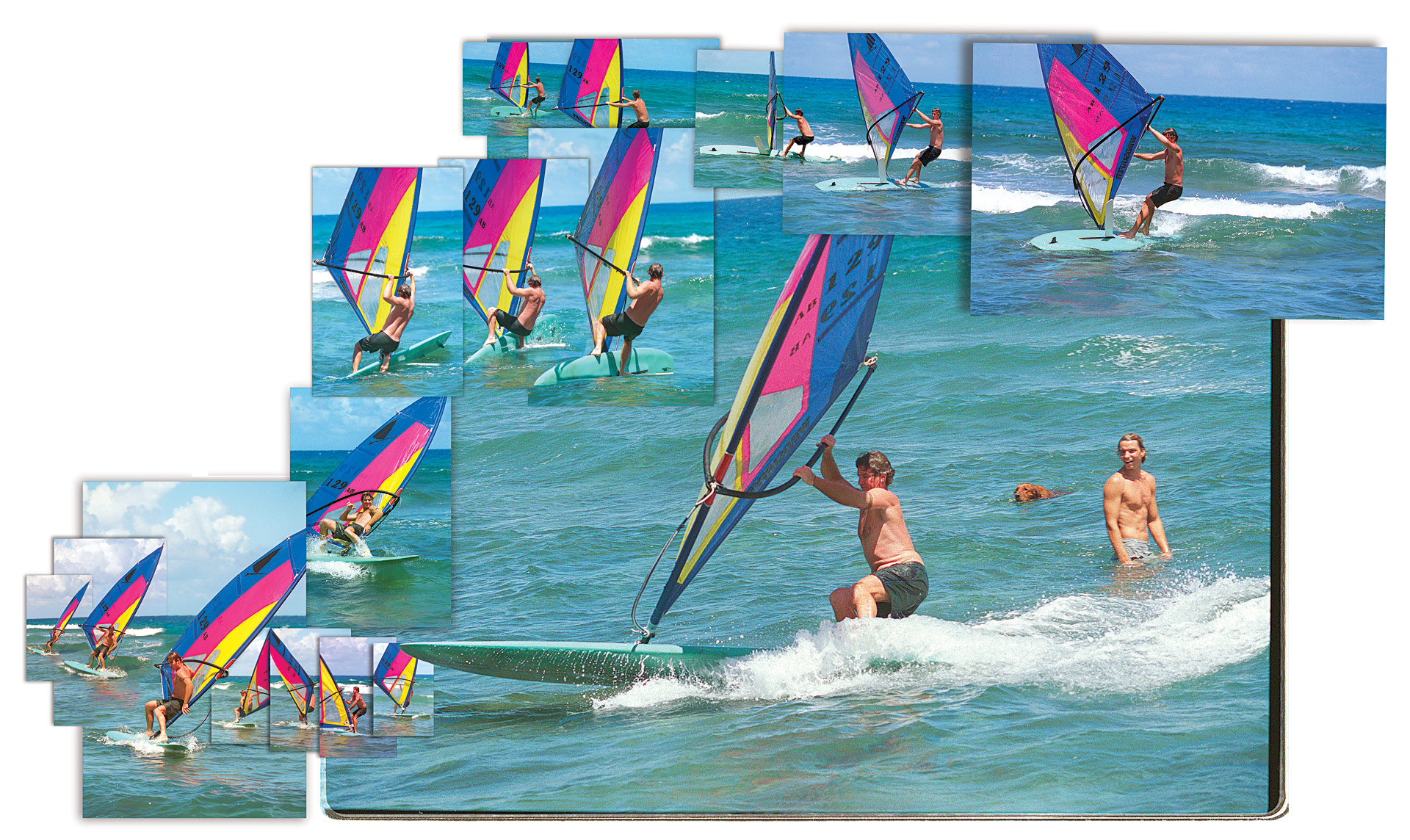 Happenstance never ceases to amaze me. From stumbling onto the original paper, to walking into the world of Matt Schweitzer, and now, talking to the man who put windsurfing on the map. I had to ask the question again, "What's going on here?"
As I hung up the phone after making arrangements to meet Hoyle in Toronto, I began to get a sense of how far the winds of fate can move our sport.
---