Click to Magazine View

HARDCORE SHREDDER: Former super model Bonnie Pfeifer finds delight in an early season session off Goff Point. The model turn AIDS activist regenerates  at her Long Island weekend home after a busy week on the fund raising circuit.  One of the first to windsurf on Long Island, Bonnie continues to fall in love with elements of the sport.
"The fun is just starting," laughs supermodel Bonnie Pfeifer as she loads her favorite custom glass wave board and two sails onto the roof rack of her SUV. Bonnie's laughter is contagious even on no-wind days, but now, with a hurricane blowing up the coast, it's a laugh that speaks to the heart of any windsurfer, male or female. (Stoke. Buzz.  Adrenaline. Let's go!)
When the Weather Channel meteorologists are advising everyone on Long Island to stay inside, Pfeifer is whipping her long, blonde mane into a ponytail, shimmying into her wetsuit, and heading for the windsurfing beach at Napeague. With its flat, shallow water and consistent southerly winds, Lazy Point at Napeauge is known as the Bonaire of the northeast. Just as people all over the world travel to that small Caribbean island to windsurf, travelers from around the world find their way across the 130-mile long island east of New York City to this isolated, barren, windswept field of sand off the Montauk Highway in Amagansett, New York. For a windsurfer, the macadam road that winds its way through the salt marsh and pine forests to end at the edge of the water is the most compelling reason to brave the summer traffic and overpriced motels and restaurants. Never mind that Amagansett and next door East Hampton are the summer stomping grounds for some of the biggest celebrities in Hollywood. Who cares, anyway, when the wind is twenty-five knots off the ocean, with more breeze to come as the day rolls on? For Bonnie and her friends, who make up a dedicated core of experienced "windsurfistas" on the East End of Long Island, the only thing that matters is getting out there. "Fantastic!" Bonnie's large hazel eyes light up as she scans the whitecaps. That laugh is definitely contagious.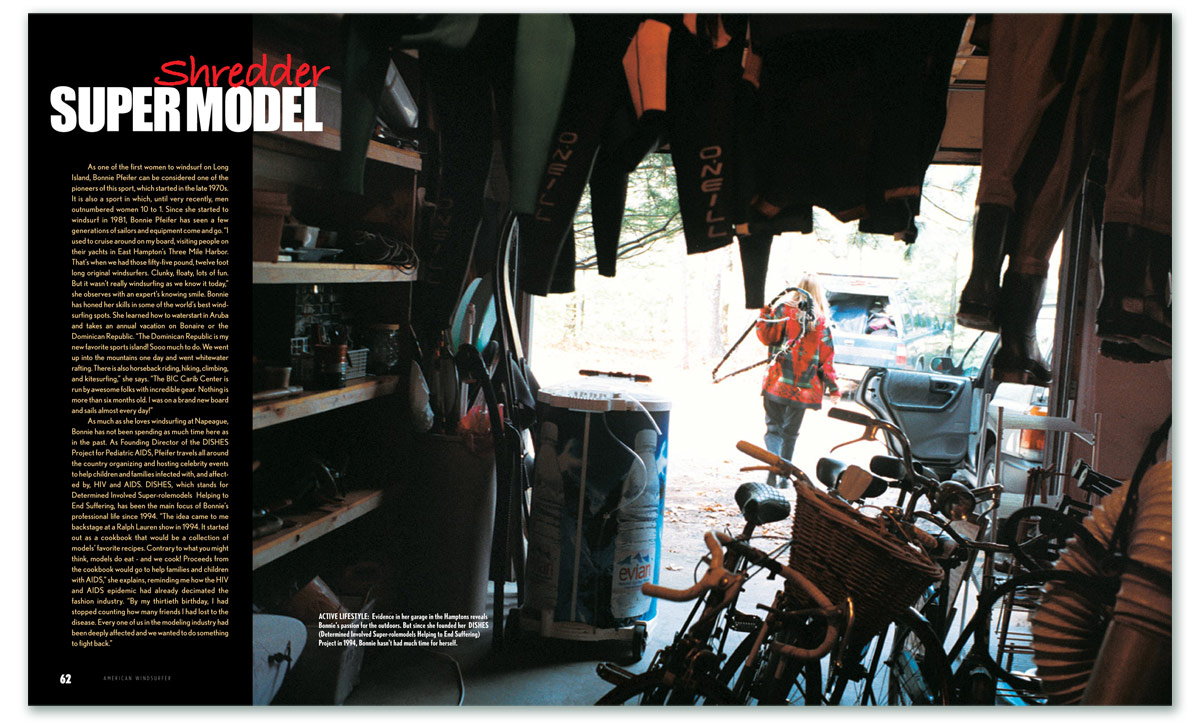 ACTIVE LIFESTYLE:  Evidence in her garage in the Hamptons reveals Bonnie's passion for the outdoors. But since she founded her  DISHES (Determined Involved Super-rolemodels Helping to End Suffering)  Project in 1994, Bonnie hasn't had much time for herself.
As one of the first women to windsurf on Long Island, Bonnie Pfeifer can be considered one of the pioneers of this sport, which started in the late 1970s. It is also a sport in which, until very recently, men outnumbered women 10 to 1. Since she started to windsurf in 1981, Bonnie Pfeifer has seen a few generations of sailors and equipment come and go. "I used to cruise around on my board, visiting people on their yachts in East Hampton's Three Mile Harbor. That's when we had those fifty-five pound, twelve foot long original windsurfers. Clunky, floaty, lots of fun.  But it wasn't really windsurfing as we know it today," she observes with an expert's knowing smile. Bonnie has honed her skills in some of the world's best windsurfing spots. She learned how to waterstart in Aruba and takes an annual vacation on Bonaire or the Dominican Republic. "The Dominican Republic is my new favorite sports island! Sooo much to do. We went up into the mountains one day and went whitewater rafting. There is also horseback riding, hiking, climbing, and kitesurfing," she says. "The BIC Carib Center is run by awesome folks with incredible gear.  Nothing is more than six months old. I was on a brand new board and sails almost every day!"
Advertisement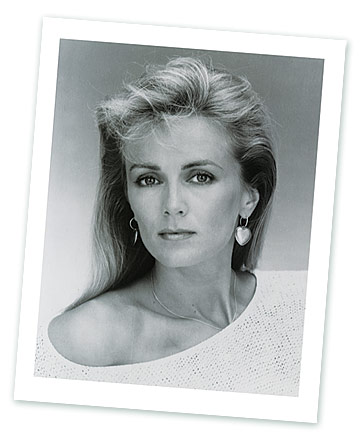 As much as she loves windsurfing at Napeague, Bonnie has not been spending as much time here as in the past. As Founding Director of the DISHES Project for Pediatric AIDS, Pfeifer travels all around the country organizing and hosting celebrity events to help children and families infected with, and affected by, HIV and AIDS. DISHES, which stands for Determined Involved Super-role models  Helping to End Suffering, has been the main focus of Bonnie's professional life since 1994. "The idea came to me backstage at a Ralph Lauren show in 1994. It started out as a cookbook that would be a collection of models' favorite recipes. Contrary to what you might think, models do eat – and we cook! Proceeds from the cookbook would go to help families and children with AIDS," she explains, reminding me how the HIV and AIDS epidemic had already decimated the fashion industry. "By my thirtieth birthday, I had stopped counting how many friends I had lost to the disease. Every one of us in the modeling industry had been deeply affected and we wanted to do something to fight back."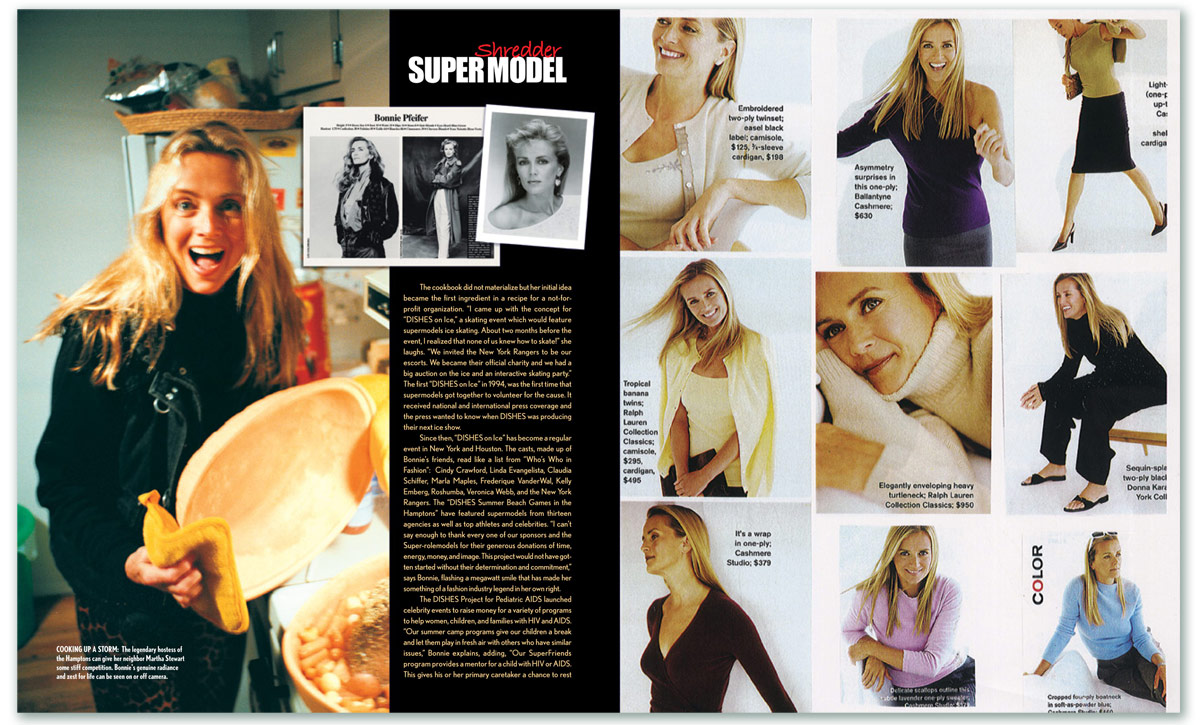 COOKING UP A STORM:  The legendary hostess of the Hamptons can give her neighbor Martha Stewart some stiff competition. Bonnie's genuine radiance and zest for life can be seen on or off camera.
The cookbook did not materialize but her initial idea became the first ingredient in a recipe for a not-for-profit organization. "I came up with the concept for "DISHES on Ice," a skating event which would feature supermodels ice skating. About two months before the event, I realized that none of us knew how to skate!" she laughs. "We invited the New York Rangers to be our escorts. We became their official charity and we had a big auction on the ice and an interactive skating party." The first "DISHES on Ice" in 1994, was the first time that supermodels got together to volunteer for the cause. It received national and international press coverage and the press wanted to know when DISHES was producing their next ice show.
Since then, "DISHES on Ice" has become a regular event in New York and Houston. The casts made up of Bonnie's friends, read like a list of "Who's Who in Fashion":  Cindy Crawford, Linda Evangelista, Claudia Schiffer, Marla Maples, Frederique VanderWal, Kelly Emberg, Roshumba, Veronica Webb, and the New York Rangers. The "DISHES Summer Beach Games in the Hamptons" have featured supermodels from thirteen agencies as well as top athletes and celebrities. "I can't say enough to thank every one of our sponsors and the Super-role models for their generous donations of time, energy, money, and image. This project would not have gotten started without their determination and commitment," says Bonnie, flashing a megawatt smile that has made her something of a fashion industry legend in her own right.
The DISHES Project for Pediatric AIDS launched celebrity events to raise money for a variety of programs to help women, children, and families with HIV and AIDS. "Our summer camp programs give our children a break and let them play in the fresh air with others who have similar issues," Bonnie explains, adding, "Our SuperFriends program provides a mentor for a child with HIV or AIDS. This gives his or her primary caretaker a chance to rest while the child goes to the movies, museums, or sporting events. We also have holiday parties and picnics, like our annual spring picnic in Prospect Park."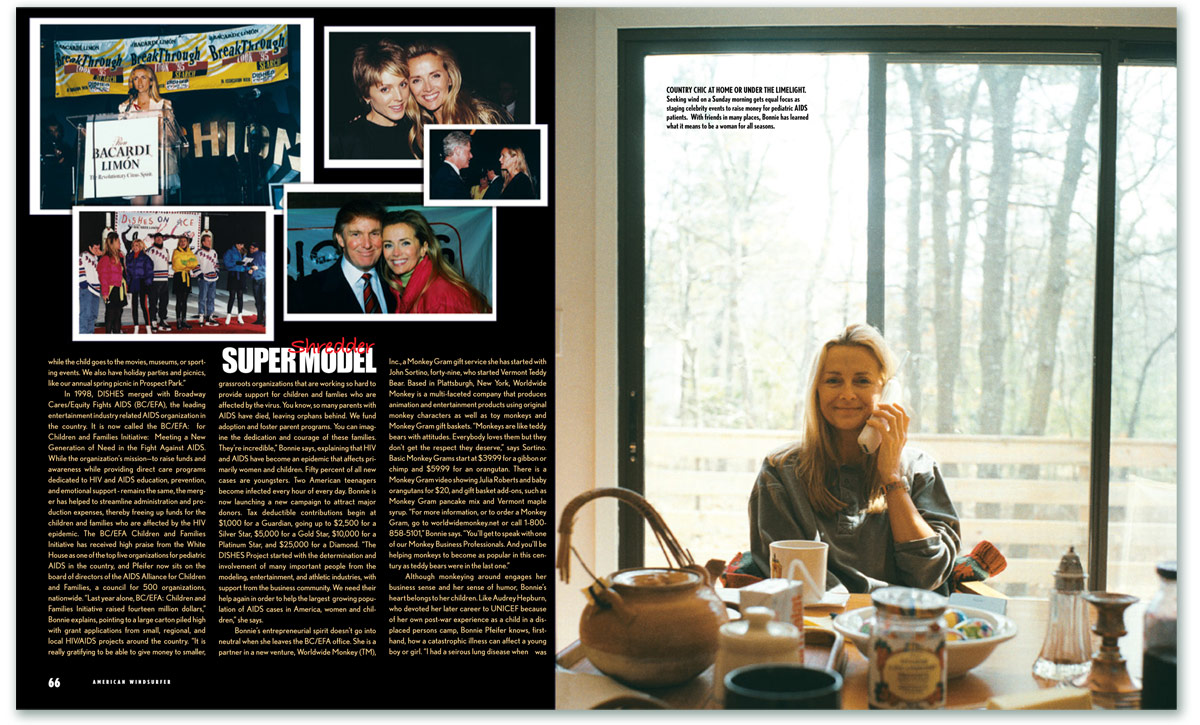 COUNTRY CHIC at home or under the limelight.  Seeking wind on a Sunday morning gets equal focus as staging celebrity events to raise money for pediatric AIDS patients.  With friends in many places, Bonnie has learned what it means to be a woman for all seasons.
In 1998, DISHES merged with Broadway Cares/Equity Fights AIDS (BC/EFA), the leading entertainment industry related AIDS organization in the country. It is now called the BC/EFA:  for Children and Families Initiative:  Meeting a New Generation of Need in the Fight Against AIDS. While the organization's mission—to raise funds and awareness while providing direct care programs dedicated to HIV and AIDS education, prevention, and emotional support – remains the same, the merger has helped to streamline administration and production expenses, thereby freeing up funds for the children and families who are affected by the HIV epidemic. The BC/EFA Children and Families Initiative has received high praise from the White House as one of the top five organizations for pediatric AIDS in the country, and Pfeifer now sits on the board of directors of the AIDS Alliance for Children and Families, a council for 500 organizations, nationwide. "Last year alone, BC/EFA:  Children and Families Initiative raised fourteen million dollars," Bonnie explains, pointing to a large carton piled high with grant applications from small, regional, and local HIV/AIDS projects around the country. "It is really gratifying to be able to give money to smaller, grassroots organizations that are working so hard to provide support for children and families who are affected by the virus. You know, so many parents with AIDS have died, leaving orphans behind. We fund adoption and foster parent programs. You can imagine the dedication and courage of these families. They're incredible," Bonnie says, explaining that HIV and AIDS have become an epidemic that affects primarily women and children. Fifty percent of all new cases are youngsters. Two American teenagers become infected every hour of every day. Bonnie is now launching a new campaign to attract major donors. Tax deductible contributions begin at $1,000 for a Guardian, going up to $2,500 for a Silver Star, $5,000 for a Gold Star, $10,000 for a Platinum Star, and $25,000 for a Diamond. "The DISHES Project started with the determination and involvement of many important people from the modeling, entertainment, and athletic industries, with support from the business community. We need their help again in order to help the largest  growing population of AIDS cases in America, women and children," she says.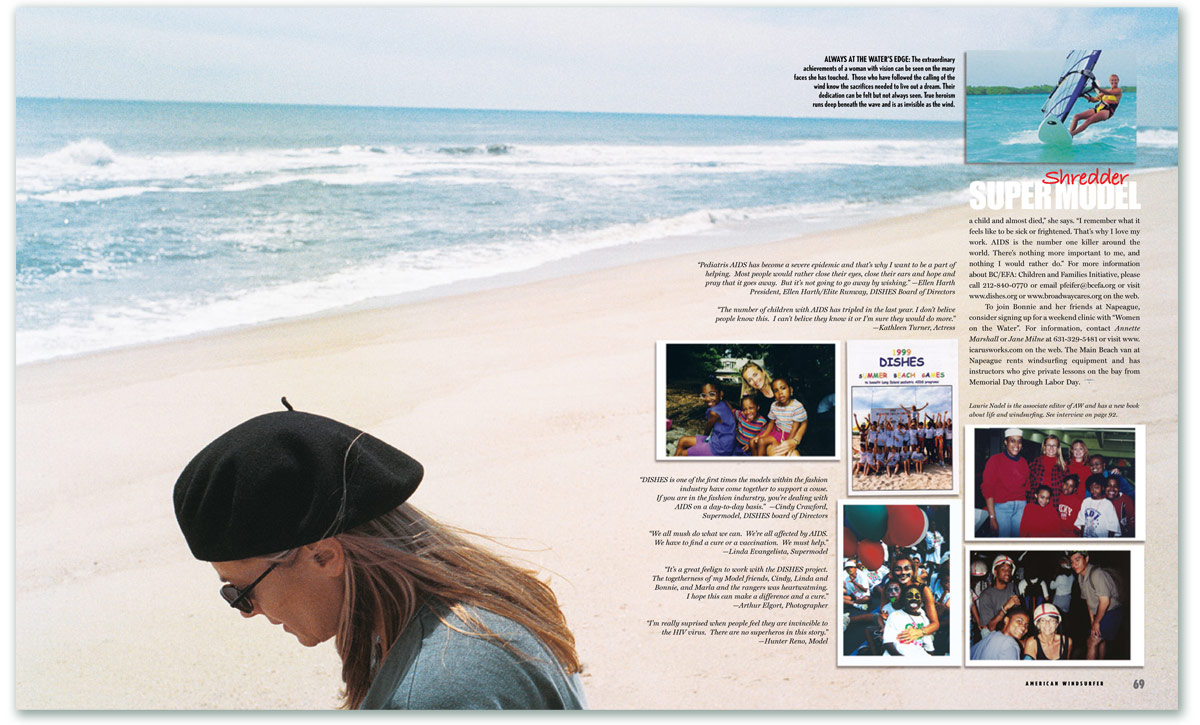 ALWAYS AT THE WATER'S EDGE: The extraordinary achievements of a woman with vision can be seen on the many faces she has touched.  Those who have followed the calling of the wind know the sacrifices needed to live out a dream. Their dedication can be felt but not always seen. True heroism runs deep beneath the wave and is as invisible as the wind.
Bonnie's entrepreneurial spirit doesn't go into neutral when she leaves the BC/EFA office. She is a partner in a new venture, Worldwide Monkey (TM), Inc., a Monkey Gram gift service she has started with John Sortino, forty-nine, who started Vermont Teddy Bear. Based in Plattsburgh, New York, Worldwide Monkey is a multi-faceted company that produces animation and entertainment products using original monkey characters as well as toy monkeys and Monkey Gram gift baskets. "Monkeys are like teddy bears with attitudes. Everybody loves them but they don't get the respect they deserve," says Sortino. Basic Monkey Grams start at $39.99 for a gibbon or chimp and $59.99 for an orangutan. There is a Monkey Gram video showing Julia Roberts and baby orangutans for $20, and gift basket add-ons, such as Monkey Gram pancake mix and Vermont maple syrup. "For more information, or to order a Monkey Gram, go to worldwidemonkey.net or call 1-800-858-5101," Bonnie says. "You'll get to speak with one of our Monkey Business Professionals. And you'll be helping monkeys to become as popular in this century as teddy bears were in the last one."
Advertisement
Although monkeying around engages her business sense and her sense of humor, Bonnie's heart belongs to her children. Like Audrey Hepburn, who devoted her later career to UNICEF because of her own post-war experience as a child in a displaced person camp, Bonnie Pfeifer knows, firsthand, how a catastrophic illness can affect a young boy or girl. "I had a serious lung disease when I was a child and almost died," she says. "I remember what it feels like to be sick or frightened. That's why I love my work. AIDS is the number one killer around the world. There's nothing more important to me and nothing I would rather do." For more information about BC/EFA: Children and Families Initiative, please call 212-840-0770 or email pfeifer@bcefa.org or visit www.dishes.org or www.broadwaycares.org on the web.
To join Bonnie and her friends at Napeague, consider signing up for a weekend clinic with "Women on the Water". For information, contact Annette Marshall or Jane Milne at 631-329-5481 or visit www.icarusworks.com on the web. The Main Beach van at Napeague rents windsurfing equipment and has instructors who give private lessons on the bay from Memorial Day through Labor Day.
---
Associate editor Laurie Nadel has a new book about life and windsurfing. See interview here.