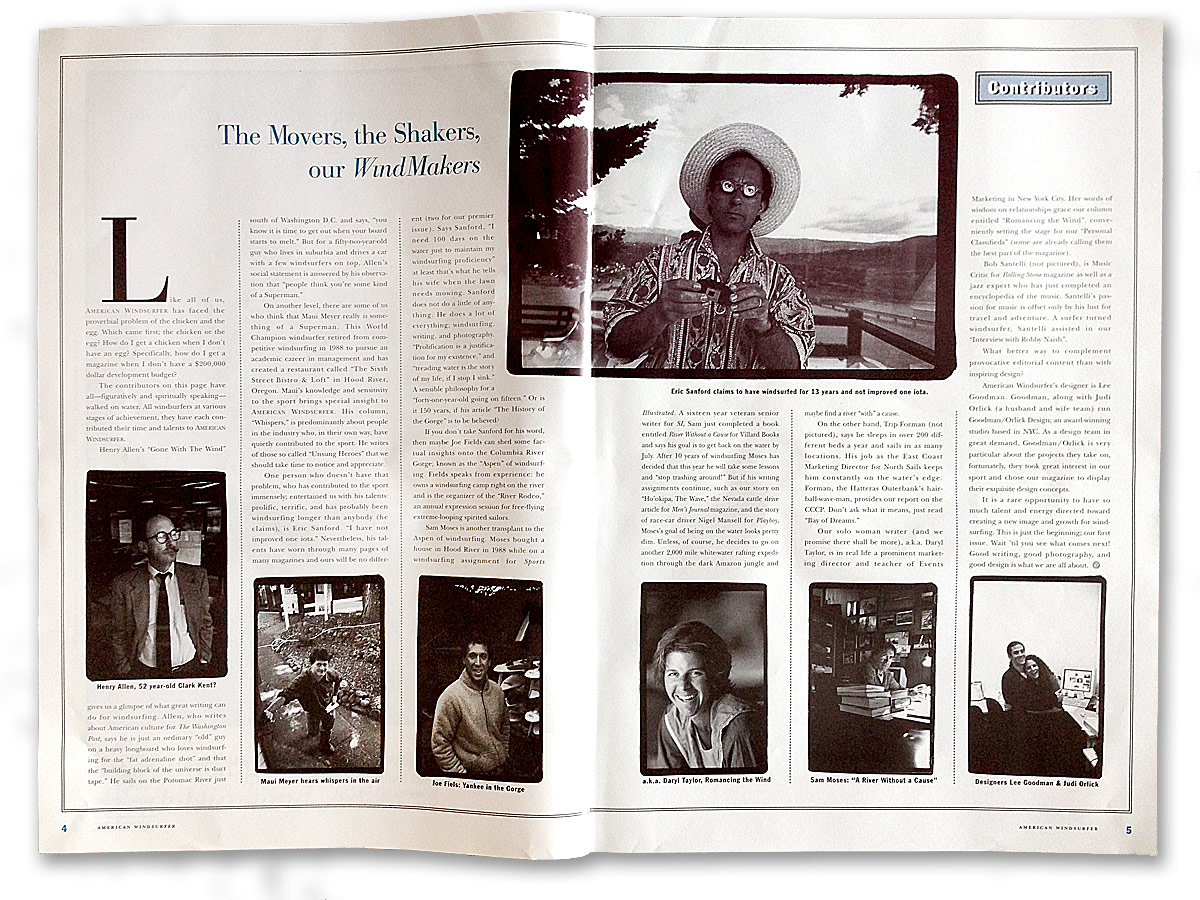 Like all of us, American Windsurfer has faced the proverbial problem of the chicken and the egg.  Which came first; the chicken or the egg?  How do I get a chicken when I don't have an egg?  Specifically, how do I get a magazine when I don't have a $200,000 dollar development budget?
The contributors on this page have all – figuratively and spiritually speaking – walked on water.  All windsurfers at various stages of achievement have each contributed their time and talents to American Windsurfer.
Henry Allen's "Gone With The Wind" gives us a glimpse of what great writing can do for windsurfing.  Allen, who writes about American culture for The Washington Post, says he is just an ordinary "old" guy on a heavy longboard who loves windsurfing for the "fat adrenaline shot" and that the "building block of the universe is duct tape."  He sails on the Potomac River just south of Washington D.C. and says, "you know it is time to get out when your board starts to melt."  But for a fifty-two-year-old guy who lives in suburbia and drives a car with a few windsurfers on top,  Allen's social statement is answered by his observation that "people think you're some kind of a Superman."
On another level, there are some of us who think that Maui Meyer really is something of a Superman.  This World Champion windsurfer retired from competitive windsurfing in 1988 to pursue an academic career in management and has created a restaurant called "The Sixth Street Bistro & Loft" in Hood River, Oregon.  Maui's knowledge and sensitivity to the sport bring special insight to American Windsurfer.  His column, "Whispers," is predominantly about people in the industry who, in their own way, have quietly contributed to the sport.  He writes of those so-called "Unsung Heroes" that we should take the time to notice and appreciate.
Advertisement
One Person who doesn't have that problem, who has contributed to the sport immensely; entertained us with his talents: prolific, terrific, and has probably been windsurfing longer than anybody (he claims), is Eric Sanford.  "I have not improved one iota."  Nevertheless, his talents have worn through many pages of many magazines and our will be no different (two for our premier issue).  Sanford says, "I need 100 days on the water just to maintain my windsurfing proficiency" at least that's what he tells his wife when the lawn needs mowing.  Sanford does not do a little of anything.  He does a lot of everything; windsurfing, writing, and photography.  "Proliferation is a justification for my existence," and "treading water is the story of my life if I stop I sink."  A sensible philosophy for a "forty-one-year-old going on fifteen."  Or is it 150 years, if his article "The History of the Gorge" is to be believed?
If you don't take Sanford for his word, then maybe Joe Fields can shed some factual insights onto the Columbia River Gorge; known as the "Aspen" of windsurfing.  Fields speak from experience: he owns a windsurfing camp right on the river and is the organizer of "River Rodeo," an annual expression session for free-flying extreme-looping spirited sailors.
Sam Moses is another transplant to the Aspen of windsurfing.  Moses bought a house in Hood River in 1988 while on a windsurfing assignment for Sports Illustrated.  A sixteen-year veteran senior writer for SI, Sam just completed a book entitled River Without A Cause for Villard Books and says his goal is to get back on the water by July.  After 10 years of windsurfing, Moses has decided that this year he will take some lessons and "stop trashing around!"  But if his writing assignments continue, such as our story on "Ho'okipa, The Wave," the Nevada cattle drive article for Men's Journal magazine, and the story of a race-car driver Nigel Mansell for Playboy, Moses's goal of being on the water looks pretty dim.  Unless, of course, he decides to go on another 2,000-mile white-water rafting expedition through the dark Amazon jungle and maybe find a river "with" a cause.
On the other hand, Trip Forman (not pictured), says he sleeps in over 200 different beds a year and sails in as many locations.  His job as the East Coast Marketing Directory for North Sails keeps him constantly on the water's edge.  Forman, the Hatteras Outerbanks hair-ball-wave-man, provides our report on the CCCP.  Don't ask what it means, just read "Bay of Dreams."
Our solo woman writer (and we promise there shall be more), a.k.a. Daryl Taylor is in real life a prominent marketing directory and teacher of Events Marketing in New York City.  Her words of wisdom on relationships grace our column entitled "Romancing the Wind", conveniently setting the stage for our "Personal Classifieds" (some are already calling them the best part of the magazine).
Bob Santelli (not pictured), is Music Critic for Rolling Stone magazine as well as a jazz expert who has just completed an encyclopedia of the music.  Santelli's passion for music is offset by his lust for travel and adventure.  A surfer turned windsurfer, Santelli assisted in our "Interview with Robby Naish".
Advertisement
What better way to complement provocative editorial content than with inspiring design?
American Windsurfer's designer is Lee Goodman.  Goodman, along with Judi Orlick (a husband and wife team) run Goodman/Orlick Design; an award winning studio based in NYC.  As a design team in great demand, Goodman/Orlick is a very particular about the projects they take on, fortunately, they took great interest in our sport and chose our magazine to display their exquisite design concepts.
It is a rare opportunity to have so much talent and energy directed toward creating a new image and growth for windsurfing.  This is just the beginning; our first issue.  Wait 'til you see what comes next!  Good writing, good photography, and good design is what we are all about.