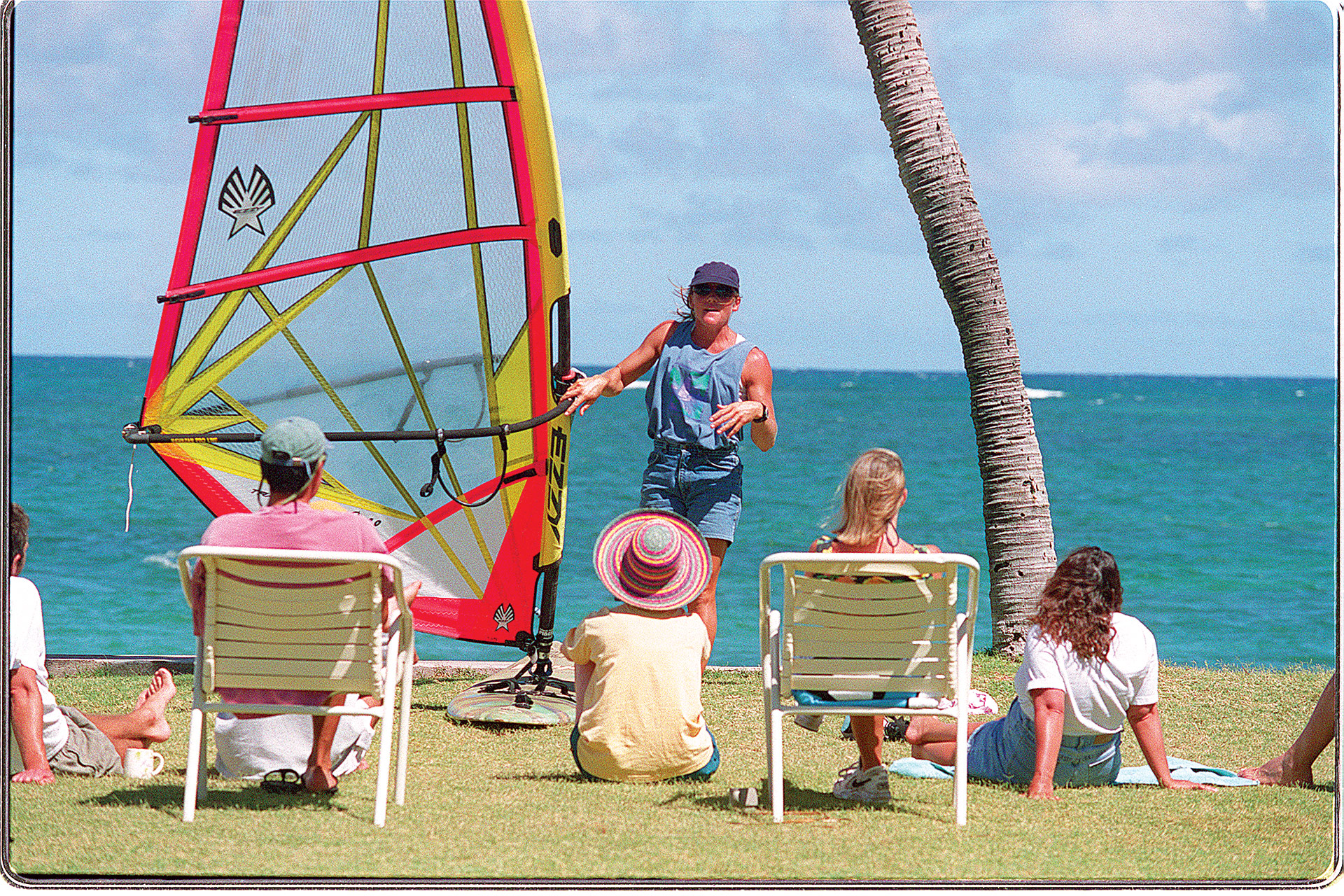 Carrie Robertson gave up the glory of newspaper journalism to teach windsurfing on Maui.
Robert Capa, the famous war photographer, once said, "If your pictures aren't good enough, you're not close enough." He knew what he was talking about when he landed on Omaha Beach during the first wave of the Normandy invasion. His pictures were not only good enough, they have become visual icons of World War II. Robert Capa's legacy has inspired a generation of photographers who bear witness not as casual observers but as elements of a scene. The proximity of our contributors to their subjects in this issue is especially reflective of Capa's axiom. 
A blind propensity for life's threatening situations as well as unquenchable curiosity has led photojournalist Carrie Robertson into the heart of some dramatic events. She has worked as a staff photographer for major daily newspapers throughout the Pacific Northwest, and in the summer of 1992 Robertson even grabbed a shovel and joined the US Forest Service's "Zig Zag Hot Shot Crew" to fight wild land fires in Oregon, Washington, Idaho, and California. 
Now teaching windsurfing on the north shore of Maui, Robertson continues to pursue interesting subjects with her pen and camera. In fact, her seemingly benign assignment titled "Gone Wind-Fishing" almost earned her a date with hungry sharks. Her accompanying piece, "There are Sharks in the Water!" chronicles her adventure of photographing a record catch in action while balancing precariously on a small wave board. Talk about close!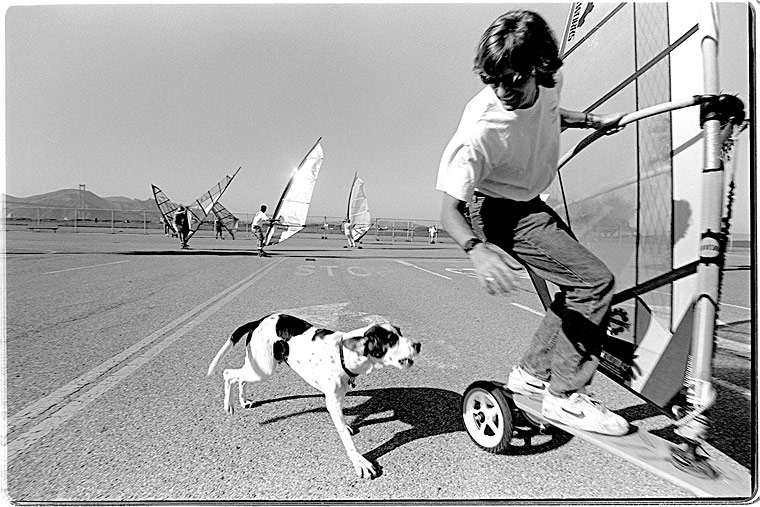 Writer Will Triggs and his dog Buddy skate-sail past photographer Byron Carlisle at Crissy Field.
Yet there's nothing closer than actually being involved in what you write about. In the parking lot of Crissy Field, beneath the Golden Gate of San Francisco, we encountered a writer by the name of Will Triggs who offered us an inside view of a terrestrial alternative to windsurfing called Skate-sailing. When the wind is too light to windsurf, and cool winter temperatures settle onto the city by the Bay, Triggs and his friends rig their sails, fasten them to skateboards, and become "Concrete Sailors". The 37 year old Triggs is a former International Sales Manager for a textile company who has taken time out to pursue writing and windsurfing (and writing about windsurfing) and "pretty much all the other things that I didn't have time for when I was working 9 to 5, like cooking, gardening, skate-sailing, friends, relatives, mental health, personal hygiene…"
Advertisement
To obtain the visual half of "Concrete Sailors", photographer Byron Carlisle spent many hours lying on the pavement at Crissy Field, while a pod of skate-sailors took turns threatening his safety each time they jibed around him. Carlisle also photographs many of the other unique inhabitants and events of San Francisco, and narrating stories with black and white images when he's not using his radio voice on Live 105.
As for the rest of the contributors for this issue, they are highlighted throughout the "Origins of Windsurfing" series. After all, how much closer can you get than the beginning?