SO YOU THINK THAT YOU'D LIKE  to try your hand at racing, but aren't really sure what it's all about? Competition in any sport can be intimidating, but it can also introduce you to a whole new world. Take for instance, the recent Colibri Mistral World Windsurfing Championships in South Africa this past December.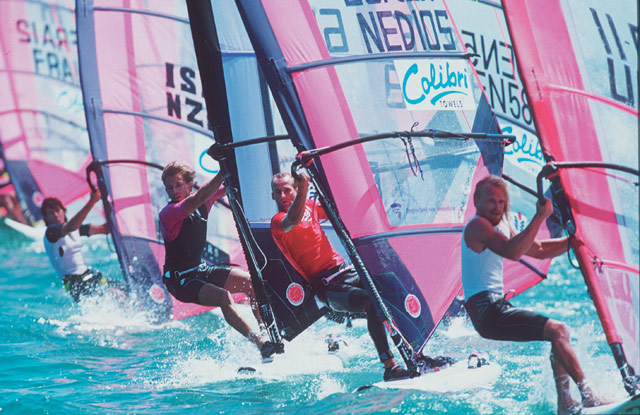 More than 220 racers from 39 countries descended on the warm waters of Port Elizabeth's Algoa Bay. Many countries would use results from the World Championships to elect one man and one woman to represent their flag in the 1996 Olympic Games in Atlanta in July. It was evident by the fervor with which the sailors were pumping—mind you, pumping in 25 knots of wind and ten foot swells, on a 7.4m sail and Mistral One Design Board- that for some of them, their Olympic dreams were on the line.
For others, the Olympic delegates had already been chosen and the Worlds were no more than another race to win. For the Americans, the Worlds were more about anxiety and planning in the shadow of the Olympics than they were about top results. The Worlds were not the time to peak, they were just one more series of races on the road to the trials in May, where the US Windsurfers will go head to head and the ripest and readiest racers will be plucked for Atlanta. Nonetheless, all were in Port Elizabeth and competing for the world title.
…

The Men's Gold Fleet blasts across the line at the start of the Colibri Mistral World Championships. (above) Anne Francois, FRA 64, sailing toward a silver medal on centerboard wings. Jeff Olson, far right, bears off in the early rounds.

…
It's part of the fun of being a racer, getting to visit foreign places for different events. It wasn't long ago that the idea of holding a large scale international windsurfing event in South Africa wouldn't have even been possible. South Africa's "system" of apartheid, (which when pronounced in South Africa sounds suitably like apart-hate) built an invisible wall that kept the rest of the world out. Years of discontent finally manifested themselves in sweeping change that has freshened the political breeze and now under a new flag, South Africa is working to become one nation. As a result, a new patriotism is developing. Not the kind of closed minded patriotism that divided South Africa and kept the white government convinced that the rest of the world was wrong about apartheid, but the kind of patriotism that unites a nation and lets them all cheer for one team.
Advertisement
As far as American visitors are concerned, South Africa is a relatively undiscovered territory. It has developed under European influence but its political history has left in it a strange mix of third and first worlds. While you can find any type of modern day amenity, you can also find immense townships- dense clusters of corrugated tin and cardboard shacks- a type of primitive living that was relegated to blacks under apartheid and still exists. Unfortunately, the appealing side of South Africa gets overshadowed by negative international media that dwells on incidents of violence and political controversy.
South Africa's coastline is well blessed with wind, and windsurfing sites are blissfully uncrowded. As long as you have a car and your own equipment, the possibilities are limitless. The discovery of what South Africa has to offer is what convinced the International Mistral Class Organization (IMCO) to hold the World Championships in Port Elizabeth.
The IMCO Worlds differ from other World Championships in that you don't have to go through a rigorous qualification process to enter. In fact you don't even have to own your own equipment. All you need is to be a registered competitor in your country of origin and pay the entry fee. Since all of the equipment is identical in One Design, you can rent a Mistral One Design board and 7.4m rig right at the beach. For the Worlds, Richard Downey of   Durban Boardsailing imported about one hundred boards and rigs that the competitors could rent for the Championship. When the event was over, he was able to sell them to local sailors at a discount rate. Many South Africans were grateful for the opportunity, since imported goods are outrageously expensive in South Africa. It's not uncommon to see many of the local windsurfers out sailing yellowed custom boards built in the 80's.
While some sailors were racing for medals, others arrived just for the experience. A team from Zimbabwe, generally considered an unlikely country for windsurfing, travelled 2.5 days to get to Port Elizabeth. Peter Drummond, a tobacco farmer by trade but a windsurfer at heart, drove his four sons down from "Zimba" just to get some experience racing against someone other than themselves. It was the first time that the boys had actually sailed boards with adjustable downhauls and outhauls and in winds greater than they were accustomed. On Lake Kariba, along the border of Zimbabwe and Zambia, a windy day means "gusts" of ten knots. The Zimbas don't have to worry about sharks, like ocean sailors do. "If you fall in,"says Peter, "you get up quick, so the crocodiles don't eat you."
The sharp teeth of the metal ramp at the Paris indoor event that chomped on PBA World Champion Jessica Crisp's leg last March took Jessica off of the Pro tour for a while and brought her back to One Design. Jessica appeared in Port Elizabeth and signed up a day before the event began. Jessica insists that the chance to make the Olympics had nothing to do with returning to One Design, where she excelled before turning pro. "I just love windsurfing and competing." She said. "I was sitting around in Maui this fall, and there wasn't much wind, so nobody was sailing. Then one day Teddy [Huang] talked me into going sailing on longboards. So for a couple of weeks I went out and did a lot of sailing. I saw more of Maui from the water than I ever have before. The decision to come to the worlds wasn't a hard one." The competition however, was tough and although Jessica didn't vault right to the top of the result sheet, in the series of 10 races her results incrementally improved.
Advertisement
As for the echelon battling for podium places, Maud Herbert of France successfully defended her World Champion title, sneaking past countryman Anne Francois and Lai-Shan Lee of Hong Kong. In the Men's gold fleet, Portugal's Joao Rodrigues unseated Greek Nikos Kaklamanakis in a battle that was left undecided until the last race. American Jeff Olson brought home a handcrafted trophy to his family for Christmas for his second place finish in the Silver Fleet.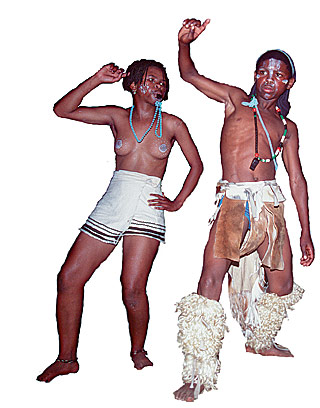 The popularity of One Design racing is growing, especially as more people realize that by eliminating the element of equipment, competition can be reduced to tactics and athleticism, not technology. The ability to race One Design in almost any wind creates the possibility to race anywhere in the world! If you missed South Africa, don't worry, the next World Championship is in Israel.
Photograph by Kos Evans, one of England's premier action photographer.